The global tourism industry has been put on pause due to the COVID-19 pandemic, and with instructions that it is still not safe to travel, the sector continues to be at a standstill. However, we do know that travel will return and that we will again be welcoming visitors to our communities. So, as a business, it's important that you continue to reach out to your followers to educate, inspire, and provide a reprieve from the heaviness of the current conversation.  Social media is a great platform to be able to connect and share content that will have visitors dreaming of travelling to Kelowna as soon as it's safe to do so. 
We understand that you are likely focused on adapting your business operations, so we have pulled together a few documents that will be able to guide your messaging and provide real-time examples, helping facilitate some simple strategies. 
Tourism Kelowna's Message Guidance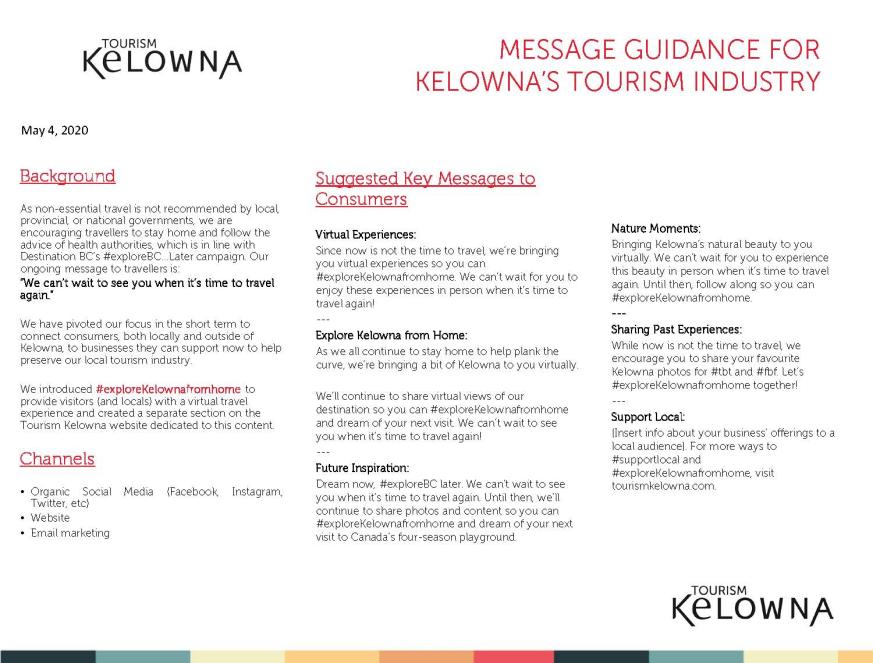 Once the global pandemic was announced and non-essential travel was discouraged, Tourism Kelowna adapted to the situation and pivoted its focus. The hashtag #exploreKelownafromhome was launched, with the main objective being to connect people with our local businesses, to promote our region virtually, and to inspire future travel. We have put together a Message Guidance document for our stakeholders so they can align themselves with our message and content. This messaging is also in line with Destination BC's (DBC) #exploreBC....Later campaign. You can find DBC's messaging framework and guidance by clicking here
British Columbia's Regional Tourism Secretariat's #RoamBCFromHome Social Media Toolkit.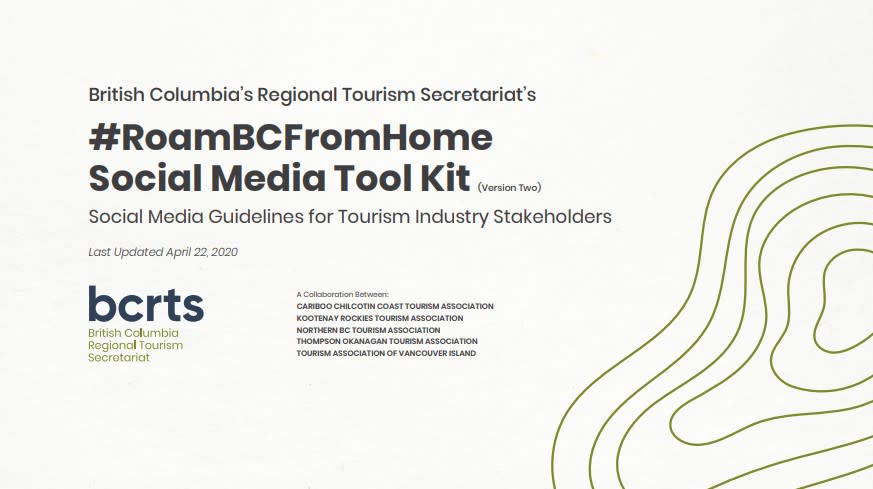 This is one of the most comprehensive and useful guides that we have come across. It provides straightforward and practical tips, starting with some general social media guidelines and then condensing the content into five broad themes:
Culinary & Agriculture
Local Love
Artists & Artisans
Nature
Family at Home
Each theme includes a list of Dos and Don'ts, trending hashtags you might want to use, and examples to follow. The toolkit also offers some basic knowledge links, how to post of Facebook or Instagram, information on the different types of content you can share, messaging for the long weekend, as well as engagement responses that cover how to manage negative comments or how to find the appropriate tone. Click here to download the #RoamBCFromHome social media toolkit. 

Destination British Columbia's Virtual Experiences Best Practices 

Creating virtual experiences and sharing them through your social media channels is another great way to stay connected with your followers, and these don't need to be of professional quality or require a large budget. DBC has put together a Best Practices Guide which details the different options for virtual experiences together with some great examples to inspire your own. The guide also includes tips and tricks on how to capture video content with your mobile phone, which we know can be intimidating. These practical suggestions will make sure you capture compelling and engaging videos. Click here to download the guide.  
If you have any questions about these resources or would like further information, you can contact me at sara@tourismkelowna.com.