The fall is a wondrous time to take in the local trails in the Okanagan Valley. The lower temperatures, clear skies, and stunning Okanagan scenery make a beautiful canvas for the array of fall colours. While there are a multitude of hikes in the region, certain ones stand out for providing a spectacular foray of crimson, golden yellow and vibrant oranges amongst the greenery.
Mission Creek Greenway & Scenic Canyon Regional Park
Further, into Kelowna, more spectacular fall colours can be witnessed along the Mission Creek Greenway trail network. Phase 2 of the Mission Creek Greenway trails extends into the phenomenal Scenic Canyon, which includes Layer Cake Mountain.
While defined for the most part as an Easy hike, there are sections of this trail network which include steeper grades and unstable footing, so caution is required by novice hikers and children. The deciduous trees provide a vibrant colourful scene nestled in the shadow of Layer Cake Mountain and rimming Mission Creek. The trail extends 9.2 kilometres into the park; however, you can traverse 13.68 kilometres from the main parking lot to a waterfall past the ranger station. A definite outing not to be missed at this time of the year!

Angel Springs Trail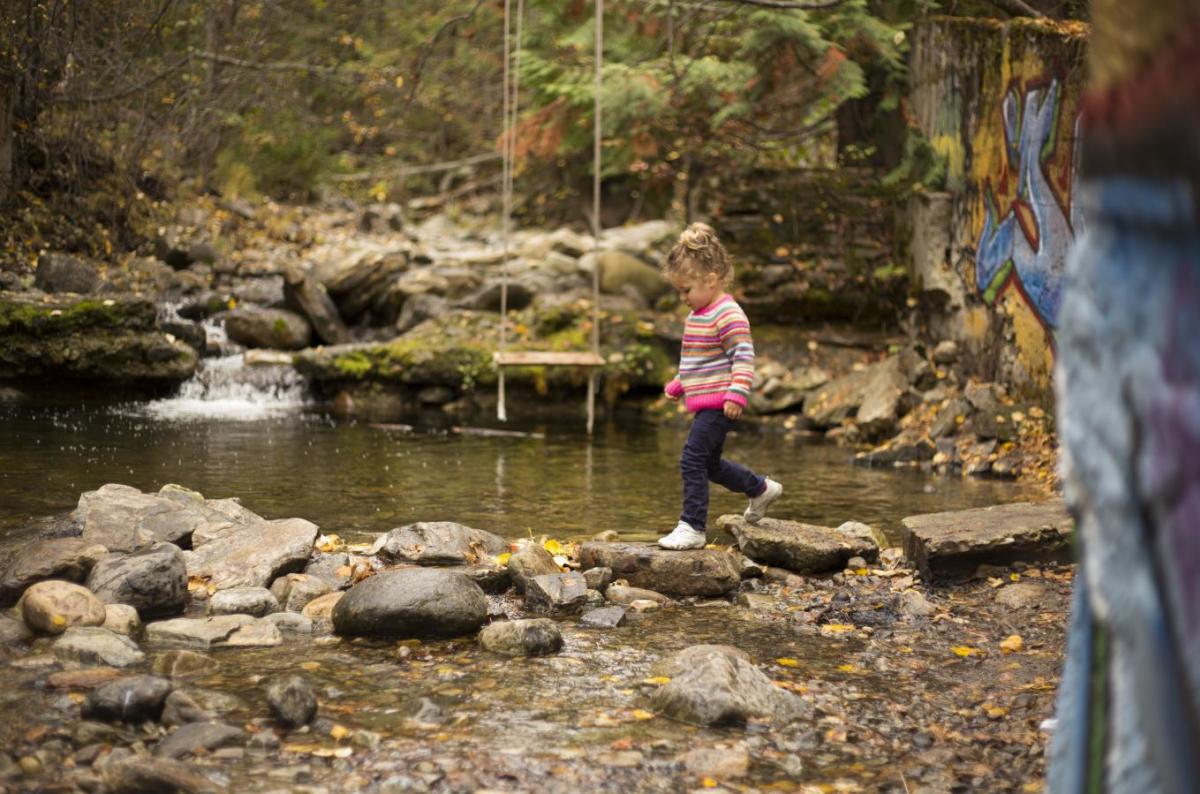 Photo by: Matt Ferguson Photography
Heading further east, Angel Springs provides an opportunity for hikers to take in the fascinating fall colours while witnessing interesting geological formations and natural heated underground springs. Located off Little White Forestry Road, the area can be cool at this time of the year, so come prepared for sudden weather changes.
The trail is relatively easy, and meanders 7.48 kilometers through the lush forest across the riverbed a number of times. The springs are identifiable by orange hued tufa deposits, which are formed when calcite crystallizes after evaporation. The springs themselves are lukewarm at 25 degrees Celsius and are not suitable for bathing.

Glen Canyon Regional Park
Starting on the Westside, Glen Canyon Regional Park trail network provides a multitude of trails which follow an old flume system. The beautiful lake views are framed by the fall foliage. Rated moderate for difficulty, the network of trails at this regional park can be up to 7.19 kilometres in length. A great landscape to take in all the Okanagan has to offer at this time of year!
While the Okanagan is known for its fabulous summers, fall provides an amazing time to take in the local scenery in all its boldness and vibrancy!