Close to Horizon Trail in West Kelowna, watercress grows in abundance in what looks like a drainage ditch. This leafy, green vegetable, which belongs to the same family as kale, horseradish, and broccoli, would likely go unnoticed by most folks out walking their dogs on this crisp November day. But to the trained eye of Scott Moran, it's an open invitation to the salad bar.
He hops down next to the leafy bunches and quickly fills a bag with the nutrient-dense green. Moran, the man behind Kelowna Forager and Everything WILD, might sell the watercress to local restaurants like RauDZ, Old Vines at Quails' Gate or Home Block at CedarCreek, offer it up at his table at the Kelowna Farmers' & Crafters' Market or eat it himself in salads, soups or on sandwiches. The broad leaves have a peppery taste, not unlike a radish, and make a healthy additive to a variety of dishes.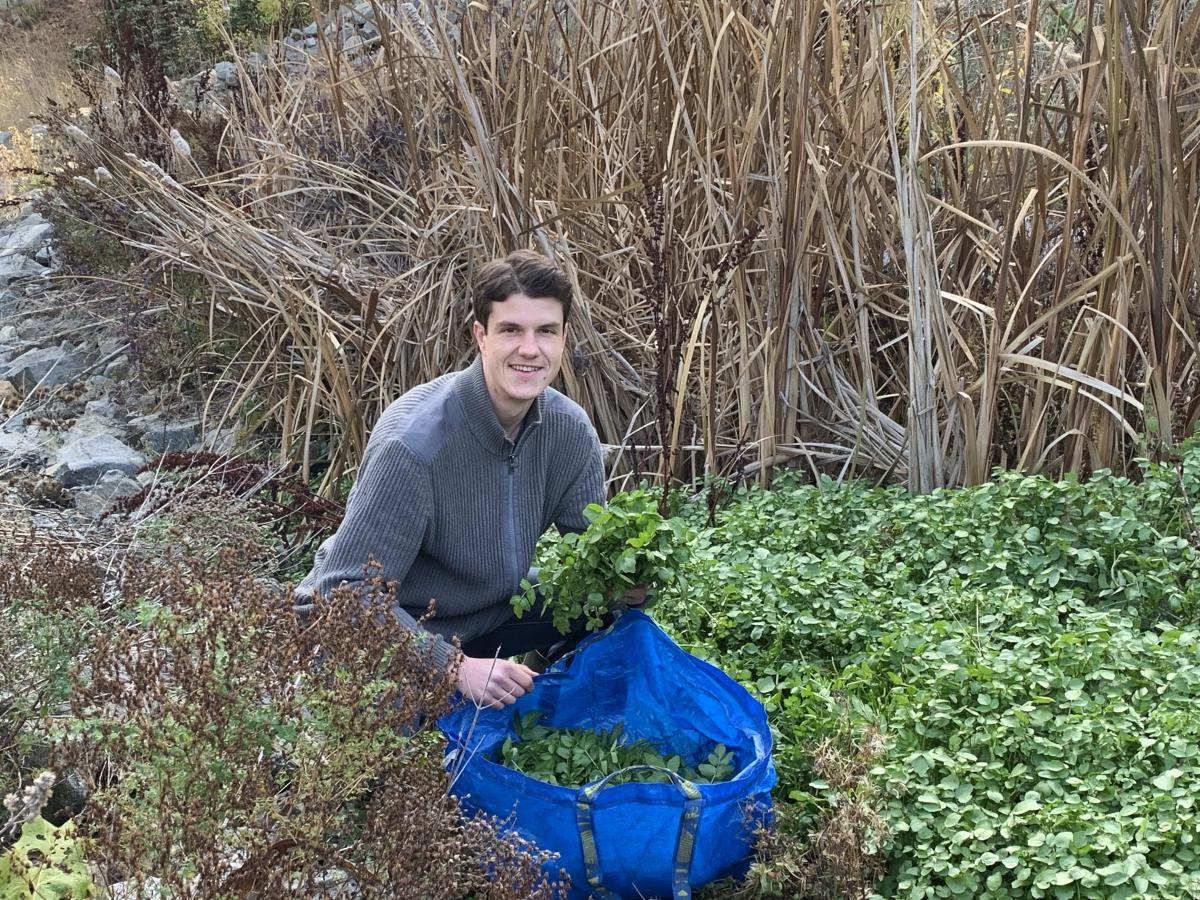 Watercress is but one ingredient you can find while foraging in Kelowna. 
"There's so much here," says Moran, who first gathered morel mushrooms with his family in 1999, when he was just nine years old. He got hooked on foraging and started selling mushrooms to Kelowna restaurants in 2010. His business took off from there and he now has a loyal following.
Though you can't really find chanterelles or pine mushrooms in Kelowna (Moran travels to Nakusp for his fungi), the land here offers a bounty of greens that grow wild, from lamb's quarter (similar to spinach) and lily spears (kind of like asparagus), to stinging nettle (popular in tea) and wild mustard. You just need to know what you're looking for—and where to look.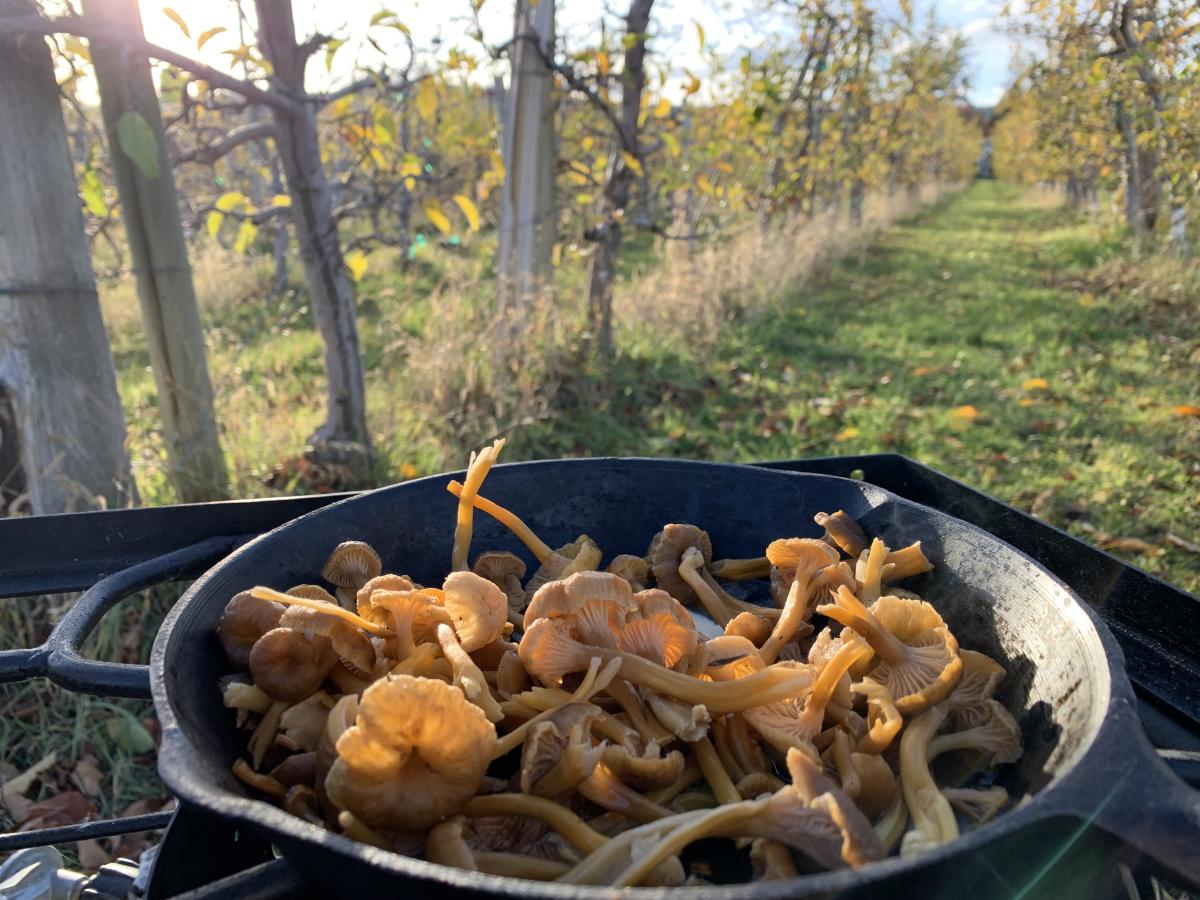 Scott Moran foraged these winter Chanterelles near Nakusp 
After collecting what appears to be a lifetime supply of watercress, we head to Westbank Harvest Orchard to search for burdock. The tuberous root grows wild in the loose composted soil off to the side of the rows of planted trees, and when dug up reveals what looks like the love child of a potato and a carrot. You can boil it and eat it like any other starch, says Moran.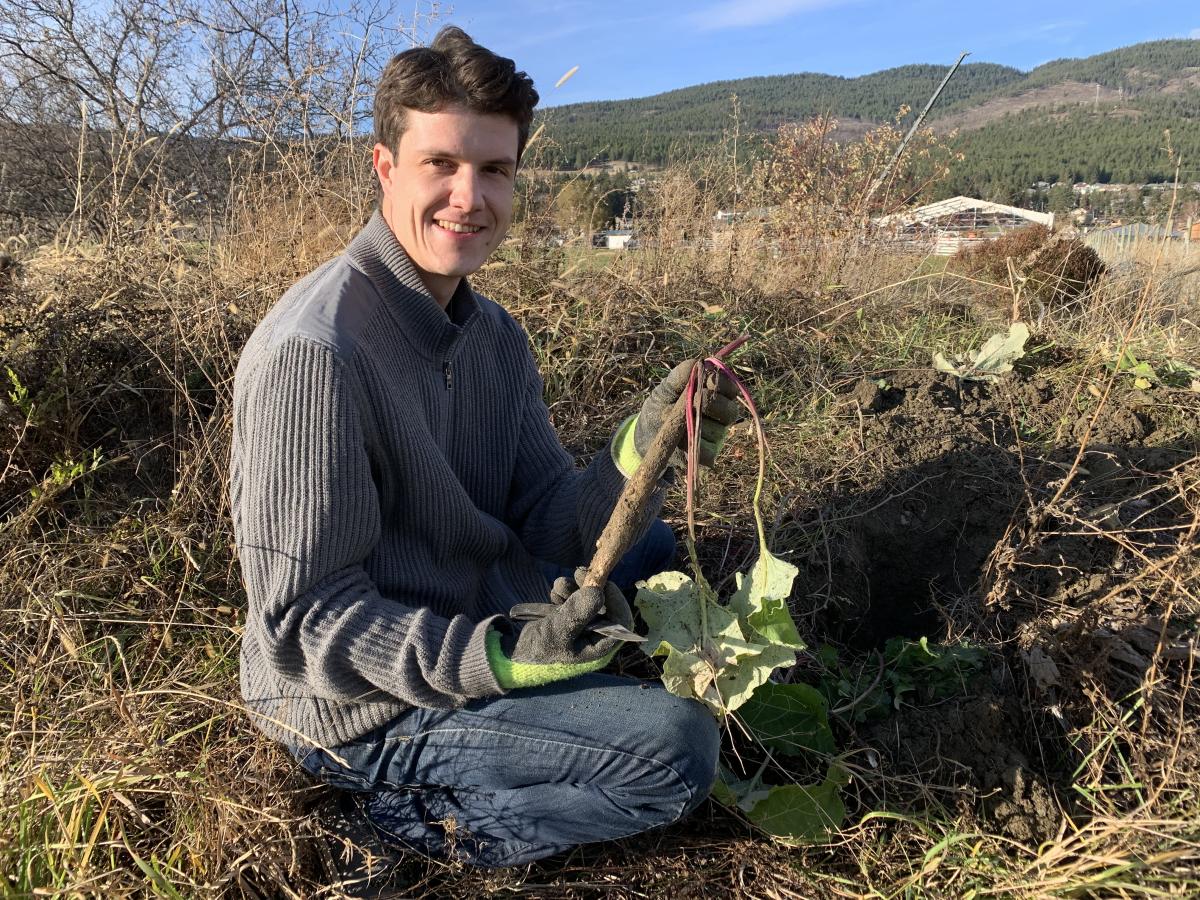 As we walk along the denuded apple trees looking for burdock, Moran points out catnip also growing wild, and shares what he loves about foraging.
"It's something tangible and tasty. I like the nutrients you get, and just the understanding of food—knowing where food comes from," says Moran. He appreciates the freedom of turning to nature—rather than a grocery store or farm—for food. "It's a really nice way to live."
It's also a sustainable way to live—taking what you need with the knowledge that more mushrooms will literally pop up overnight. Still, Moran finds himself explaining what he does, and selling the concept of gathering local greens and herbs, to people who stop by his table at the farmers' market. The notion of going on a hike or walk and collecting food strikes many as survivalists (e.g. something you do during an apocalypse) rather than mainstream.
"Some people have a mental block and think everything needs to come from a farm," says Moran. "My version of sustainability is so far out from what most people think. It's telling them, 'Hey guys, you don't have to buy your ingredients. You can just go get them.' It's not just a survivalist thing. It's something you can do."
It's also something humans have done for millennia, long before agriculture. A good starting point might be picking berries, which we've all done from time to time, to make a pie or to sprinkle atop cereal. Plus, it's much easier to identify Saskatoon berries, or wild raspberries or strawberries, than it is to spot watercress and burdock. 
Moran also runs foraging tours and classes in the spring (check his website) that show participants where to go and what to look for, with delicious results. He's noticed a bump in demand during Covid as more people have cottoned on to the idea of food freedom during lockdown.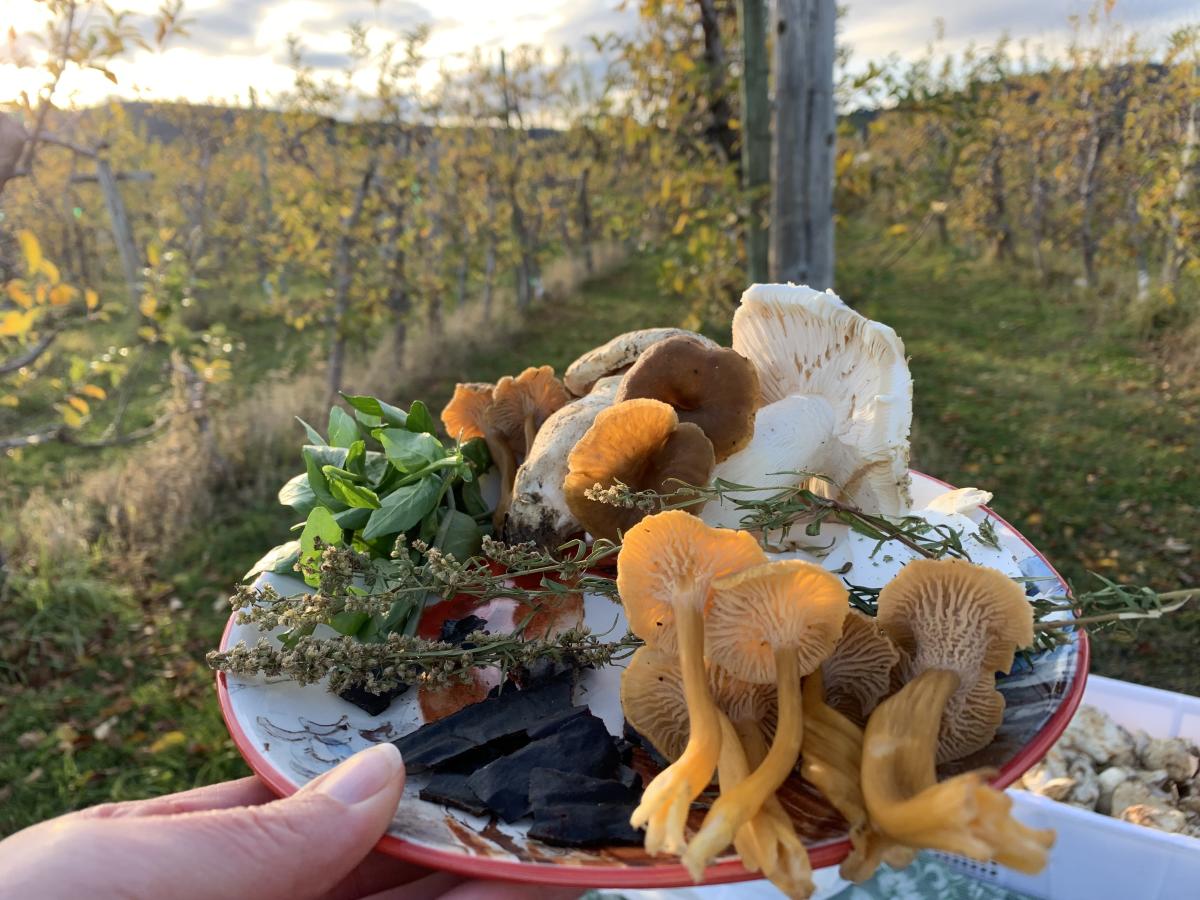 Foraged BC bounty including mushrooms, watercress, and rosehips turned into fruit leather
After finding a suitable root, we sit at a portable picnic table in the orchard and feast on boiled burdock (it tastes like al dente asparagus), fried up chanterelles seasoned with salt, and rosehip fruit skin that Moran makes himself. It's delicious, but perhaps what's most satisfying is the knowledge that the ingredients were recently gathered from the land.
I can hardly wait to bring home my bag of watercress to add to salads and lentil soup, plus a couple of pine mushrooms to level up my ramen. I'm probably not ready to forage these ingredients myself, mind you, but it's fair to say the seed has been planted.