Rooty, rocky trails span from the Kettle Valley Railway, through cedar forests, and down into the exposed landscape with blossoming shrubs growing in the aftermath of the 2003 Okanagan Mountain Park Fire. The Crawford trail network is a perfect spot for a taste of Okanagan Mountain Biking, with trails that can satisfy riders ranging from total beginners to advanced gnar seekers. The network is part of Myra-Bellevue Provincial Park and currently boasts 109 trails listed on the Trail Forks app, 21 of them rated green, 58 rated blue, and 15 rated black.
If you're coming to town and don't have room for your bike, check out Smith Creek Cycle's full-suspension mountain bike rental fleet or Mountain Lifestyle Outlets mountain bikes and full-suspension e-bikes.

Where
Crawford is located in the southeast of Kelowna near the Kettle Valley Neighbourhood. The trails can be accessed via Stewart Road East at the Myra Bellevue Provincial Park parking lot. To get there, take Gordon Drive travelling south from Hwy 97, take a left onto Casorso Road, follow it until it turns into Bedford Road and stay on Bedford Road until you hit an intersection and travel straight through onto Stewart Road East, which will take you right into the parking lot. View Google Maps Myra-Bellevue Provincial Park Parking Area Location to access the Crawford trail network.

What to Expect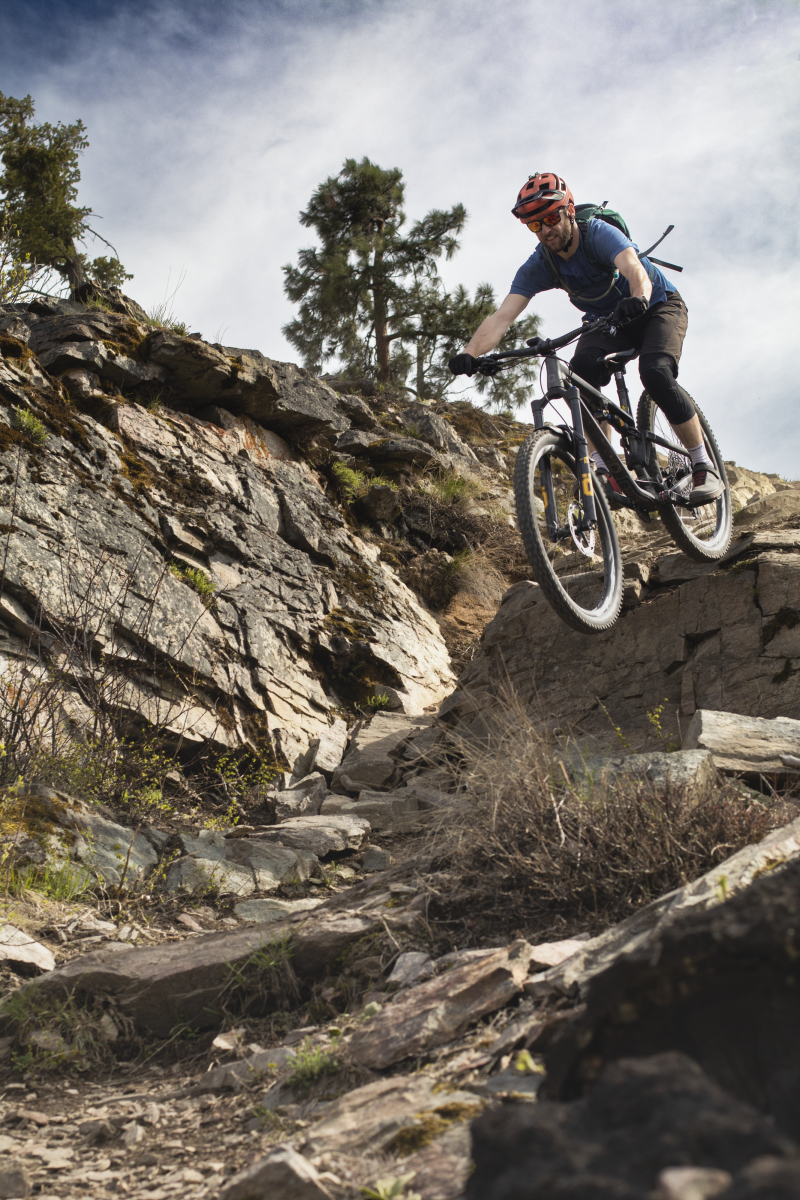 Mountain Biking at Crawford Trails
The downhill trails in the Crawford Network are best accessed by climbing the Lost Lake Trail. However, some will choose to shuttle via June Springs Road and take one of the two popular descents that drop in from the Kettle Valley Railway: Crawford Canyon DH and Vapour. The Lost Lake Trail is a double-track climb with some single-track climb trails that braid off of it, such as the Spring Bypass Trail. The Lost Lake Trail eventually meets a fork named the "Teddy Bear Junction," where riders either continue left on the Lost Lake Trail or branch off to the right onto Pink Highway. No matter which way you go, you will find yourself with a wide range of downhill options, from smooth green trails that weave through the shrubs and young trees, blue trails with fast turns, small drops, and a light introduction to the chunky granite that can be found in the network, and black trails with janky rock gardens, drops, granite slabs, and challenging tech.  
It is important to note that this network is shared with horseback riders and hikers, and mountain bikers should yield to both these groups.

Recommended Beginner Ride
Pedal up Lost Lake Trail and continue for a little while past Teddy Bear Junction until you see a trail called Galloping on your left. Galloping is an easy descent with swooping turns through the trees at a moderate slope. At the bottom of Galloping, you will reach a split. Turn riders left onto Fairlane. Fairlane is marked blue and should be approached slowly. There are some slightly steeper sections along with two rock features that can either be ridden around or walked. This is a good trail for progression at a beginning stage, but remember to know your limits and to "look before you leap." Near the end of Fairlane, there will be a junction with the trail Lower Bench that will take you back to the parking lot.

Recommended Intermediate Ride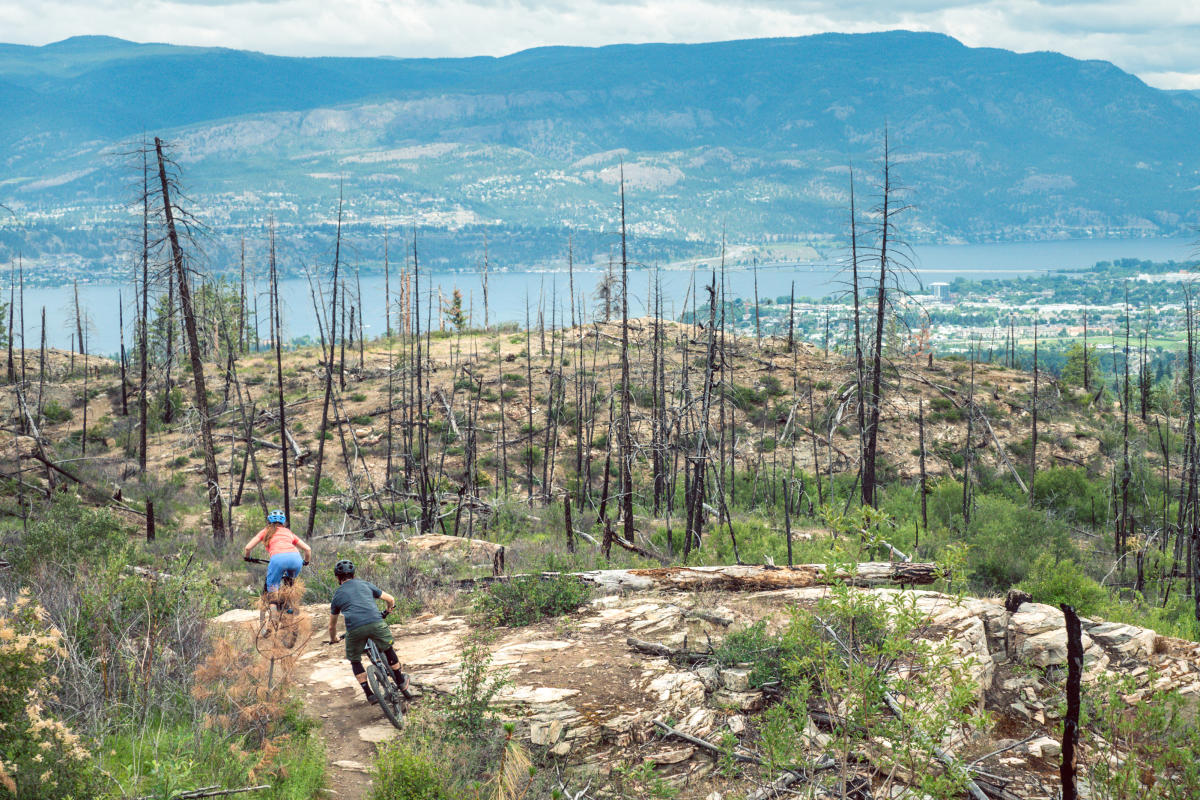 Photo credit: Mountain Biking BC. Crawford Trails (Myra-Bellevue Provincial Park)
Pedal up the Lost Lake Trail and turn right at Teddy Bear Junction onto Pink Highway. Ascend the Pink Highway until you reach Boris. Boris is full of chunky rocks and can be ridden fast. A more challenging rock feature about 2/3 of the way down the trail is a good progression feature to prepare riders to move from the blue to the black trails in the network. From the bottom of Boris, turn right onto Earing until it meets Connector. Although rated black, this lower section of Connecter is fast with fun corners and no surprise features along the way. From the bottom of Connector, follow Upper Bench and descend Earing until you reach the parking lot.

Recommended Advanced Ride
Pedal up Lost Lake Trail beyond the Teddy Bear Junction until you reach Grassy, climb Grassy and turn right onto Outhouse when you reach the junction. Continue onto Outhouse until you reach Vapour. This lower section of Vapour starts in the trees with rooty sections and continues into the open landscape with lots of exposed granite rock features. The trail is full of drops, views of Kelowna, and techy rock features. At the bottom of Vapour, turn left and pedal up Pink Highway until you reach Connector. Connector starts with a moderate tech climb up to an epic view of Kelowna that is best enjoyed just before sunset with enough time to make it to the parking lot before dark. Connector is full of chunky rock lines and drops with a little bit of slab. Continue down Connector until you reach Heckle, where there are two great options to continue down. If Connector was as gnarly as you wanted to go, continue down Heckle for a fast descent with smaller rock drops and loose corners. If you are craving a little more spice, take a short climb up to Rocky Screech which starts with a fast section with some rock jumps, then moves into some steep rock rolls, a narrow slab into a 4ft drop, and a challenging right tech corner with a rock step. From the bottom of either of these trails, turn left onto Upper Bench and descend Earing back to the parking lot.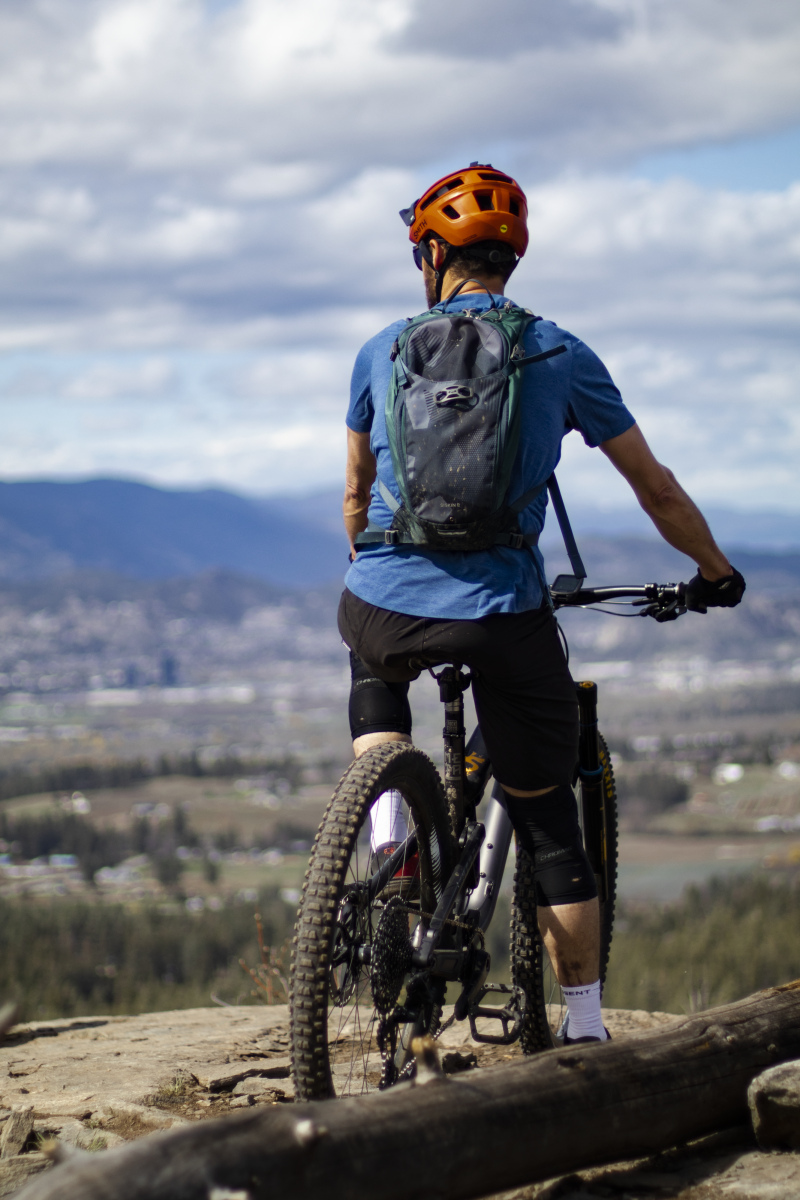 Great Views of Kelowna while Mountain Biking at Crawford Trails
Crawford is easily the most popular pedal-accessed trail network in Kelowna, and for good reason! There is something in the trail network for everyone to enjoy; the network offers some of the most incredible views of Kelowna, and the unique granite rock features are a ton of fun. After a long day of shredding the dirt, there are plenty of beaches, wineries, and local craft breweries nearby to enjoy in Kelowna. And if you are coming from out of town, there are countless places to stay, ranging from campgrounds to hotels, motels, and high-end luxury hotels.