"Are you video-ing?" my daughter hollers from the wooden platform before transferring her full weight to a rope and ziplining into Okanagan Lake. The free, over-water zip is a highlight at Gyro Beach, and I'm expected to capture the excitement on my phone. When the kids tire of waiting their turn for the zipline, they swim, stand-up paddleboard, and beg us for money to spend at the concession. Meanwhile, my husband and I relax with books under a beach umbrella.
Sizzling summers in Kelowna are made for lazy days near a large body of water. The city's proximity to Okanagan Lake - with its warm temps of between 19 and 23°C - is one reason families choose to vacation in the valley.
Our family of four visits the lake regularly in July and August so we've mastered the art of cramming an inconceivable amount of gear into the car, unloading it in one trip, and setting it up in record time to maximize our fun in the sun. Not sure how to be a professional beach bum? These tips will up your lake game.

Choose a beach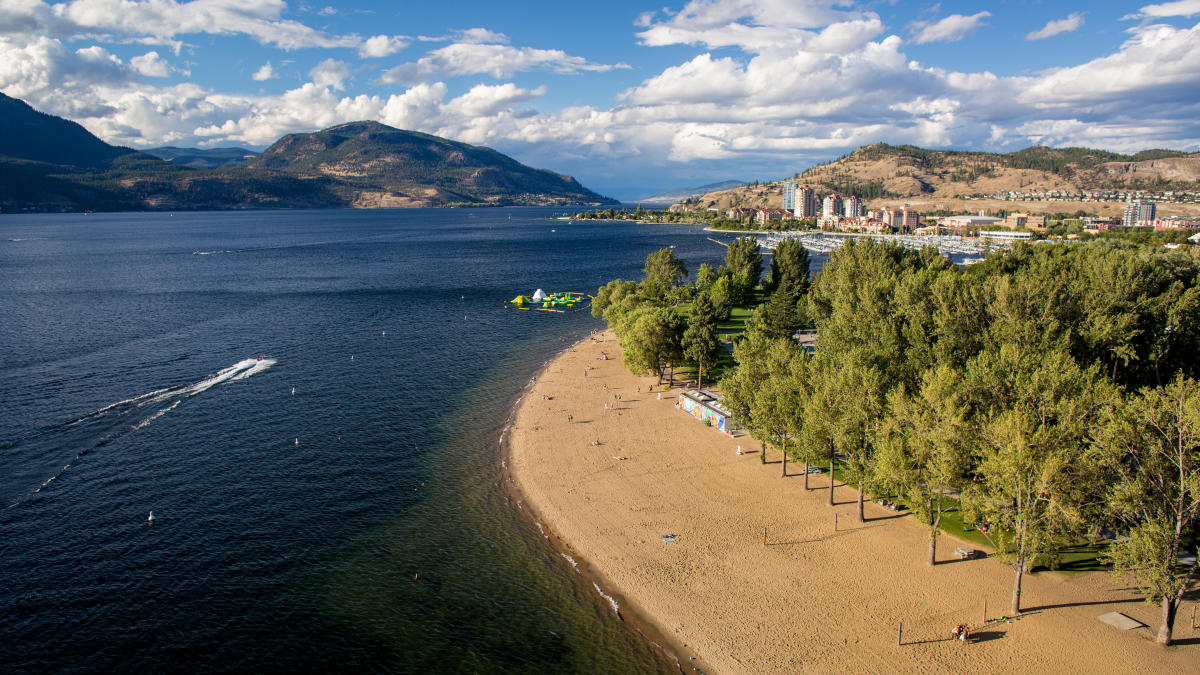 Photo by: Shawn Talbot Photography. Hot Sands Beach at City Park
Kelowna boasts over 30 beaches, and not all stretches of sand are created equal. Some spots have amenities such as concessions and watercraft rentals, while others are just sand and water access, with a private feel to them. Where you go will depend on the experience you're after. If you're just visiting, though, you might not have all the gear, so it's nice to hit some sand with tourist infrastructure nearby.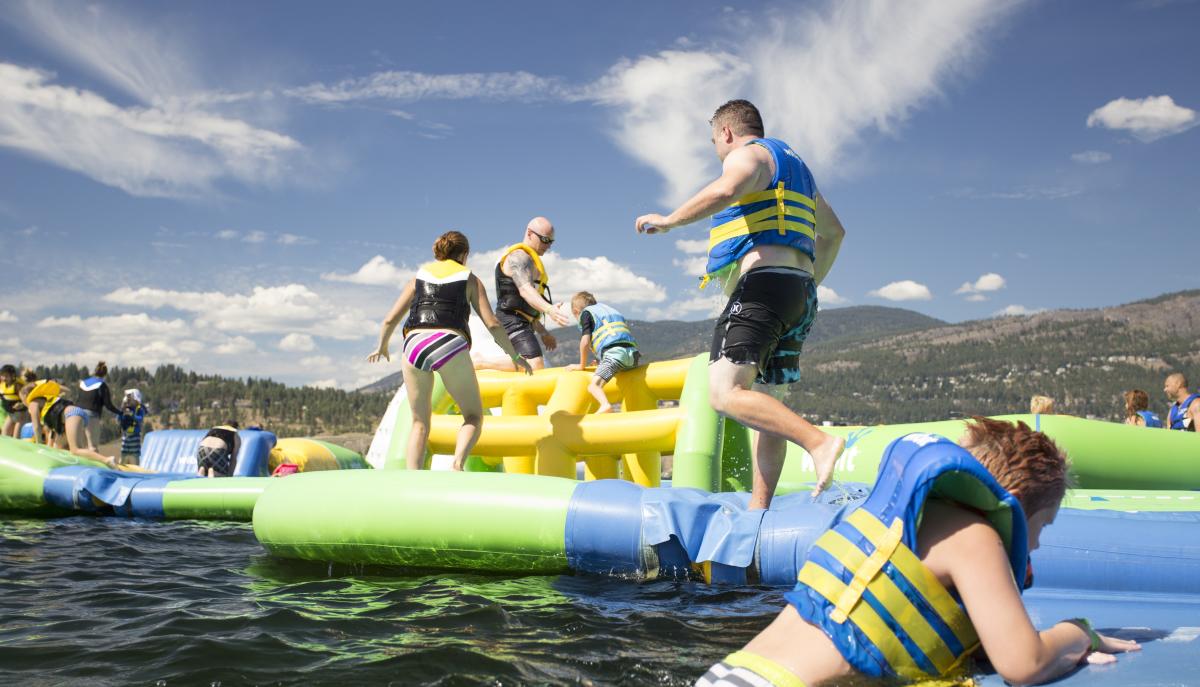 Photo by: Matt Ferguson Photography
Located downtown near the action, City Park features a spray park, playground, sand volleyball courts, and even tennis courts, so you could turn a day at the lake into a multi-sport outing. There's also a Wibit waterpark (basically, an inflatable obstacle course and climbing structure) located just offshore. Bonus: you'll be within easy walking distance of restaurants, food trucks, and ice cream shops.
Photo by: Kerri-Jo Stuart
Famous for its concession in the shape of a red apple, this beach in Lower Mission/Pandosy has the aforementioned zipline, plus a playground and sand volleyball courts. You can also rent stand-up paddleboards, kayaks, pedal boats, canoes, or inflatables on-site from Okanagan Beach Rentals.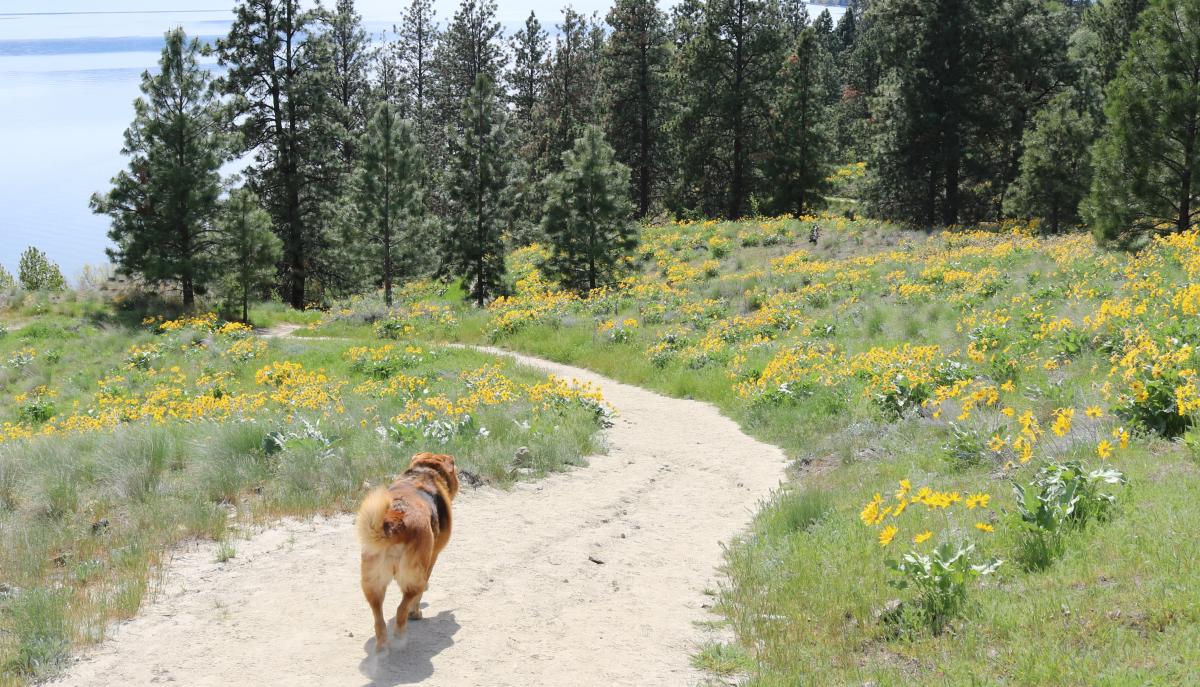 There are fewer services at this lakeside beach park in West Kelowna, which is nice if you're looking to get away from the crowds… with your dog. Canines are welcome off-leash to swim at the beach (remember to pick up after pup), and there is an accessible dock with a canoe and kayak launch, as well as a swimming platform.

What to pack
Your swimsuits and towels, obviously, and perhaps a beach ball or Frisbee. Other items that will elevate your lake experience include:
1. Beach umbrella and chairs. When the mercury blasts through 30°C you definitely need some shade. Invest in a portable shade tent or small beach umbrella to keep the sun at bay. Camp chairs are rather bulky to haul on holiday, but if you're driving to Kelowna consider stuffing a couple of inexpensive, foldable beach chairs into the car.
2. Cooler with snacks and cold drinks. This is easy to pull off when you're road tripping and you will be happy to have ice-cold water or juice boxes handy for the kids, along with a bag of chips and perhaps some fresh B.C. cherries to munch on in between water activities.
Don't forget…
Public beaches in Kelowna do not have lifeguards on duty. If your child is not a strong swimmer be prepared to accompany them into the water and consider bringing a life jacket as an extra safety precaution. (Life jackets are included with rentals at Okanagan Beach Rentals locations around town.)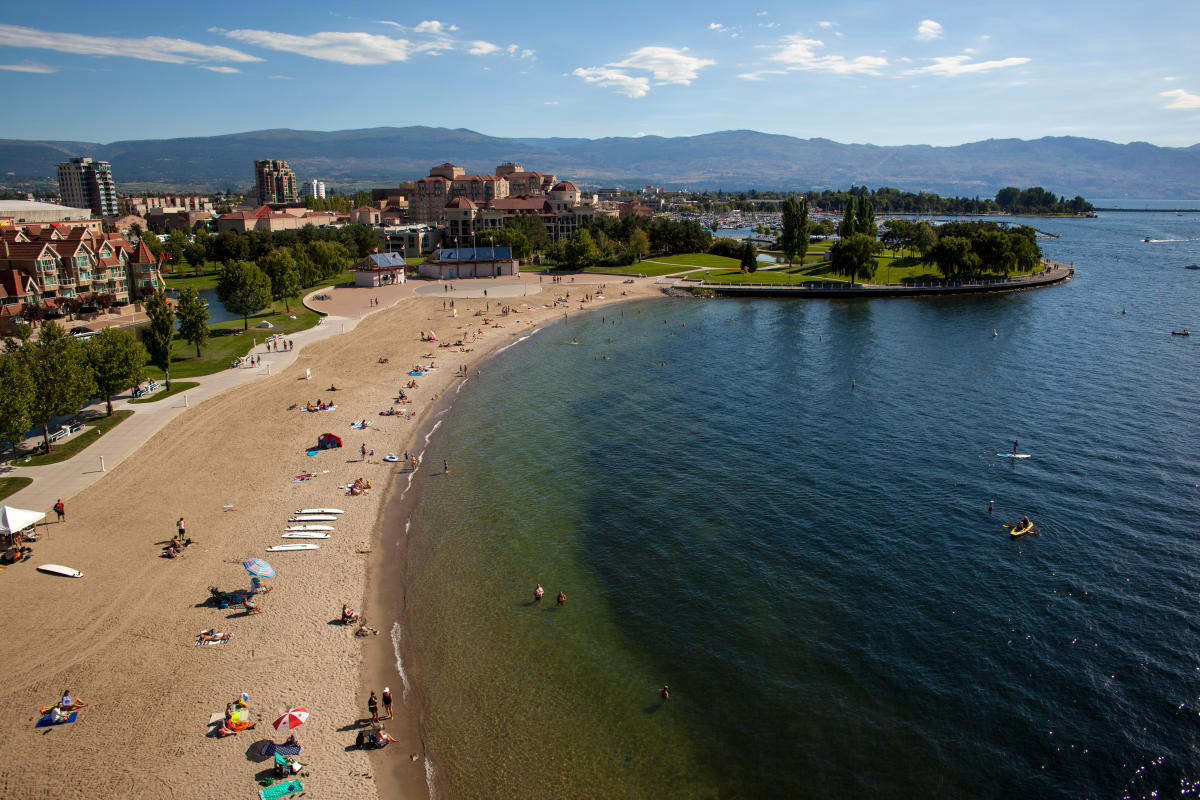 Photo by: Shawn Talbot Photography. Tugboat Bay Beach
I also like to bring binoculars for peace of mind. Swimming areas at popular beaches can be insanely crowded with splashing children, making it almost impossible to spot your kid on a distant floatie while squinting into the reflective glare off the water. Bonus: having binoculars handy may just help you spot Ogopogo, the lake's legendary creature!
---
Article originally published in July 2019 and has been edited for accuracy.