Kelowna is made up of several distinct neighbourhoods and communities, all of which add something uniquely their own to Kelowna's vibe. This Guide to Rutland is part of a series designed to give you an overview of the places you can discover when you #exploreKelowna.

Rutland
On the east side of Kelowna, you'll find Rutland, once its own town that merged with the city of Kelowna in 1973. Named after John Rutland, an Australian farmer who moved to the area in 1902, this neighbourhood has numerous dining options, many natural spaces, and activities for the whole family. 

Accommodations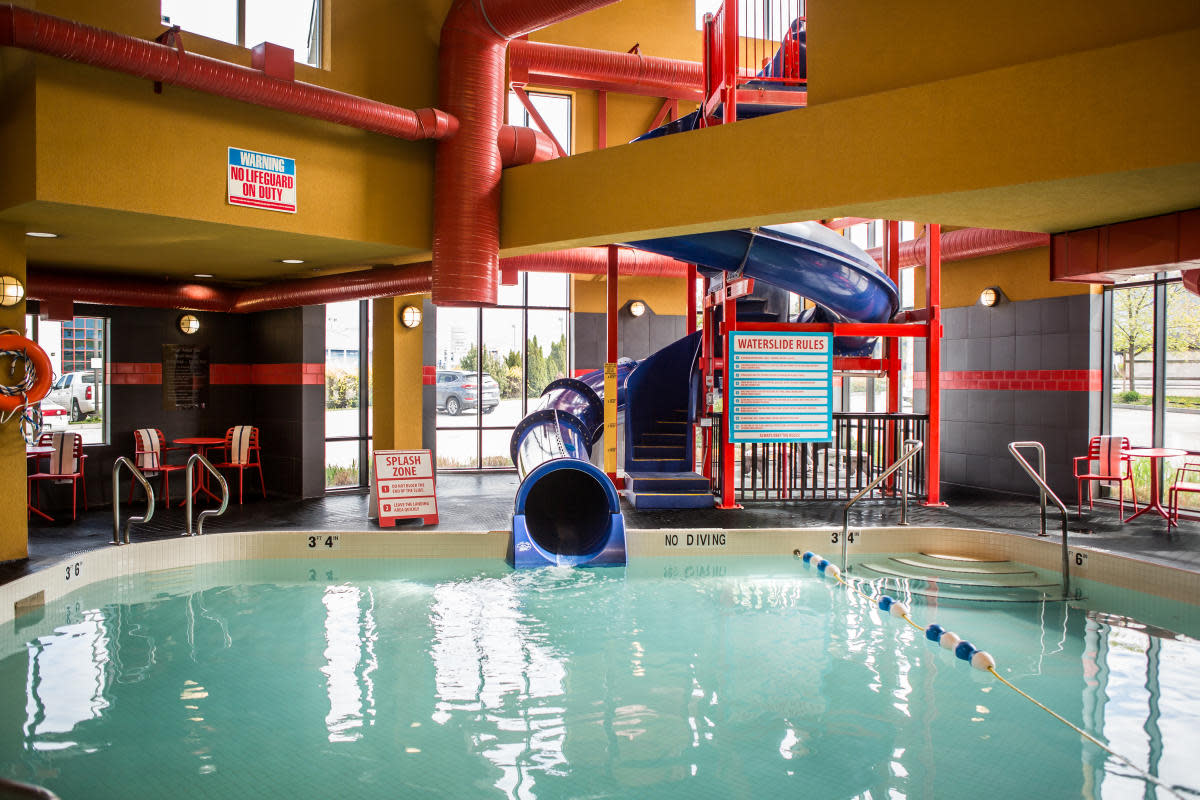 Comfort Suites indoor pool. 
Nearby Rutland, along Hwy 97 and a short distance from the Kelowna International Airport, you'll find numerous accommodation options suitable for couples, groups of friends, and families. 
Self-described as the "Okanagan's Green Hotel," the Best Western PLUS Kelowna Hotel & Suites is a Biosphere Committed Company with a LEED-certified Environmental Wing, solar hybrid water heating system that heats almost 90% of the properties water during the summer, and numerous electric vehicle charging stations for guests to use. In addition to its standard and wheelchair-accessible rooms, the hotel offers pet-friendly and allergy-friendly options. 
Families will love Comfort Suites thanks to its complimentary hot breakfast buffet, indoor pool, and waterslide—plus, youth 13 and under stay free. The all-suite hotel, which is 100% non-smoking, offers a range of options, including family suites, pet-friendly and wheelchair-accessible suites, and executive jacuzzi suites.  
The nearby Fairfield Inn & Suites is another excellent choice for families, thanks to its heated outdoor pool and waterslide, which is open most of the year. Certified through the Green Key Eco-Rating Program, Fairfield's sustainability initiatives include energy-efficient lighting and water, elimination of single-use plastics, reduced food waste, and more. The hotel offers a complimentary breakfast, with hot eats and grab-and-go items. 
Across the street from the Fairfield sits the Holiday Inn Express & Suites Kelowna – East, which opened in 2018. Guests can start their day with the complimentary breakfast buffet before setting out to explore Kelowna. The hotel comprises 120 rooms and 35 suites and has an indoor pool, fitness centre, and business services. 
There is also Hillcrest Bed & Breakfast, located along Hwy 33 with views of the valley and area farms and orchards, as well as a handful of budget-friendly options in the area, including Canada's Best Value Inn, Okanagan Seasons Resort, and three Wyndham properties, Days Inn, Microtel Inn & Suites, and Super 8.

Activities & Attractions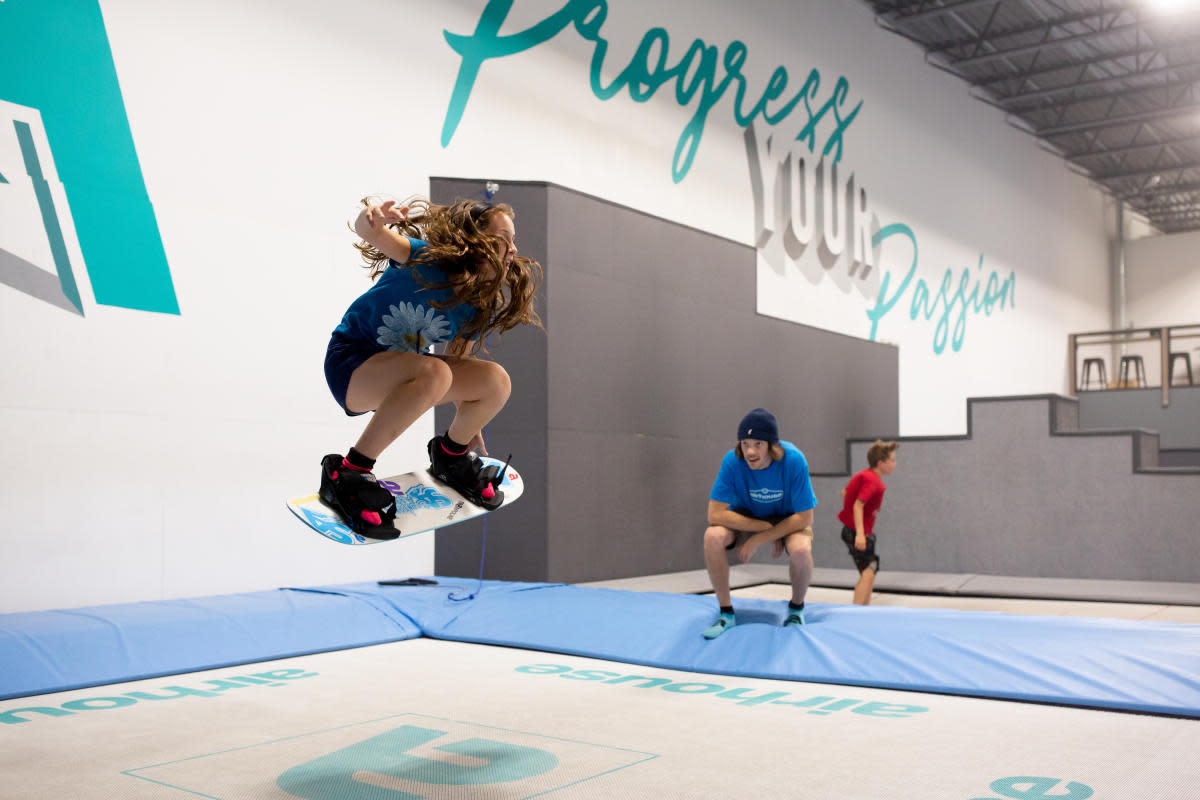 Airhouse Kelowna
Family-friendly activities and attractions abound in and around Rutland. For instance, kids can stay active during the warmer months at the playground, basketball courts, and skate and water parks in Rutland's Ben Lee Park. Other nearby spots that'll deliver loads of family fun for kids of all ages include:

Food & Drink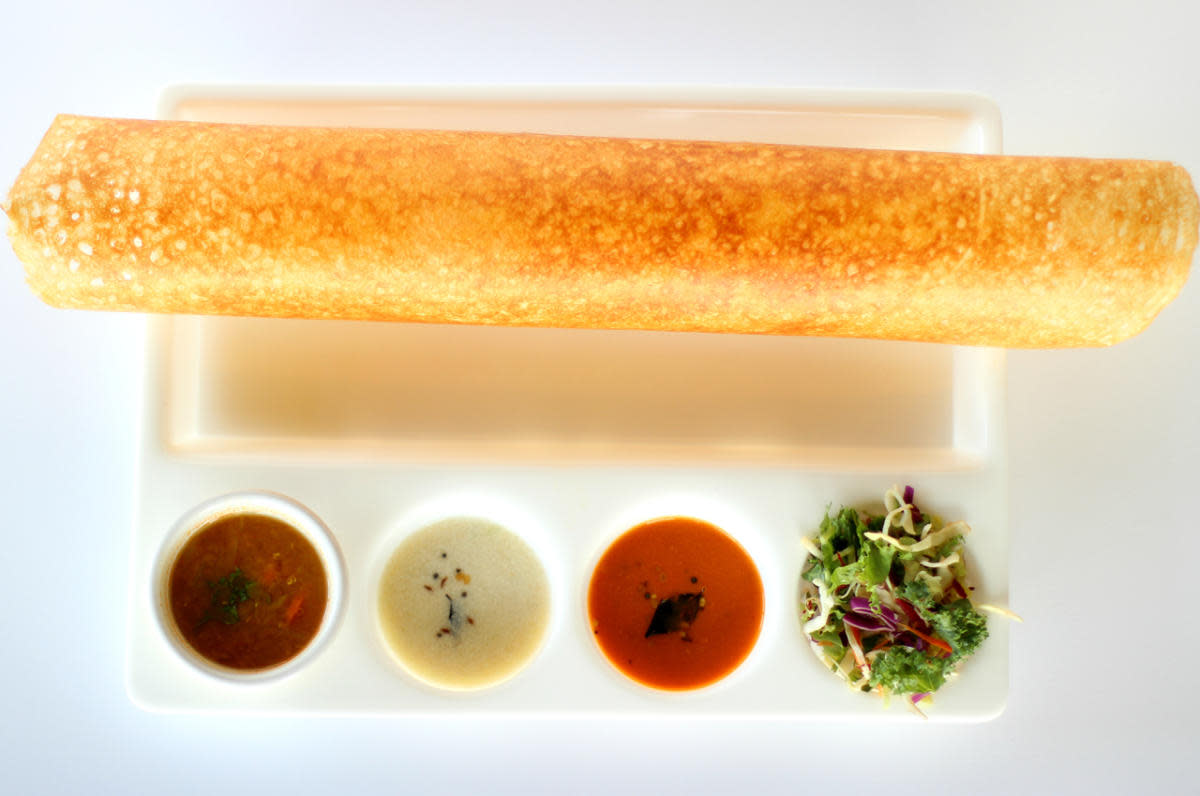 Dosa Crepe Cafe
You won't go hungry on a trip through Rutland! In this diverse neighbourhood, you'll have an array of cuisines to choose from:
The area also has several pizza spots, pubs, and fast-casual dining establishments, as well as a number of cafes and bakeries, including:
For a taste of Kelowna's craft beverage scene, visit Farming Karma's agri-tourism facility and tasting bar, where you see the production facility and sip on a selection of handcrafted sodas made with locally-grown fruit. There is also an onsite RV park, for those who want to camp in the area, as well as a dog park for your four-legged family members to burn off some energy. 

Shopping
In Rutland, all your basic shopping needs are covered thanks to the neighbourhood's grocery stores, delis and bakeries, pharmacies, and more. You're also only a few minutes from Hwy 97, along which you'll find numerous stores and Orchard Park Shopping Centre. 
There are also several specialty shops in the area:
Indian goods, clothes, and jewellery at spots like Jhumka Bazaar, Pankh Jewellers, Punjab Fashion Hut Kelowna, and Punjab Spice World and Produce Market.
Outdoor gear at Mountain Lifestyle Outlet, which also offers bike rentals, along with nearby stores A & C Sports, Play It Again Sports, and TW Outdoors.
Thrift shopping at several stores, including iThrift, MCC Thrift Shop, Rutland Thrift, The Salvation Army Thrift Store, and Value Village.

Arts & Culture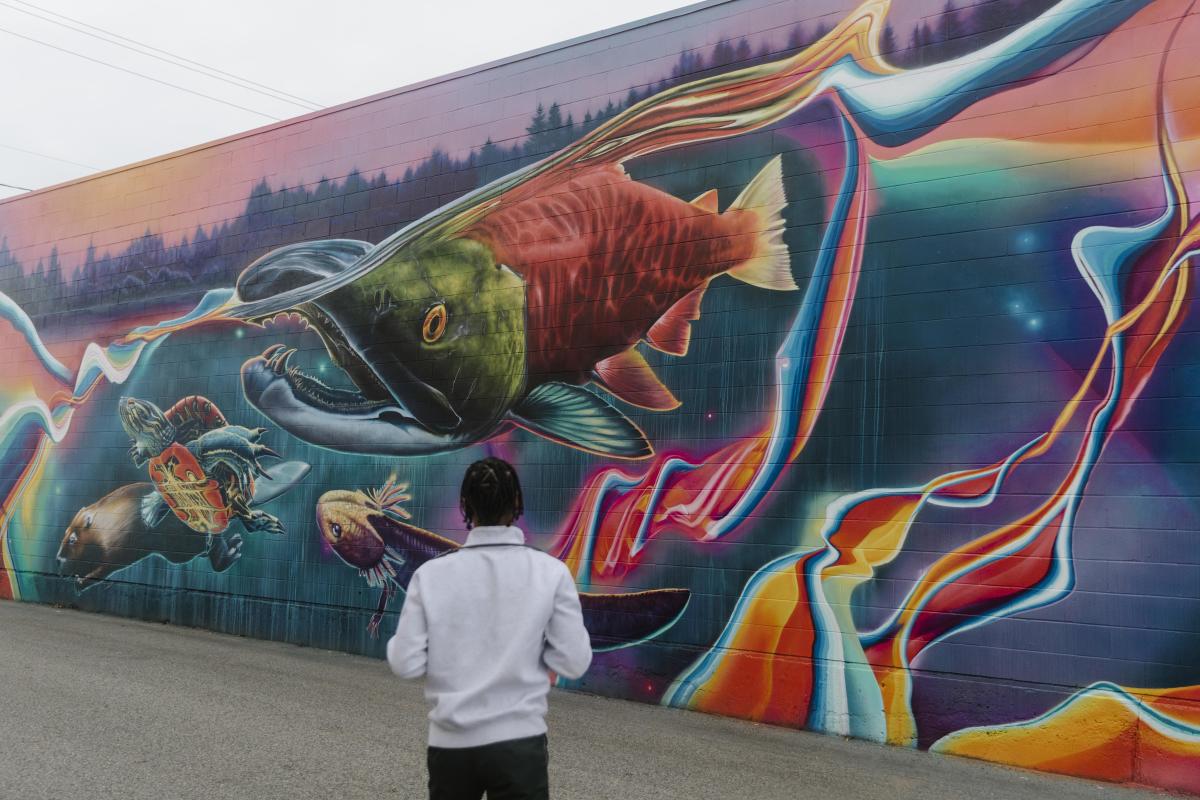 Spirit of the Lake mural by Nick Sweetman, on the side of the Taki Japanese Grill Building (115 Roxby Road). Image credit: Mirae Campbell
In partnership with local artists David and Jorden Doody, the Uptown Rutland Business Association (URBA) launched the Uptown Mural Project in the summer of 2019. Since that first summer, more than 20 murals have been brought to life on buildings throughout Rutland, created by more than 24 local, regional, national, and international artists, including:
When checking out the artwork, sign up for the #exploreKelowna Uptown Rutland Murals Pass. If you visit every mural on the list you'll be eligible to receive a Love for Kelowna or Kelowna Vibes t-shirt!

Parks & Outdoor Space
In addition to Ben Lee Park mentioned earlier, the neighbourhood is home to Rutland Centennial Park, Rutland Lions Park, Rutland Sports Fields, and several smaller local parks. 
On the south edge of Rutland, just off Hollywood Road, is the entrance to Scenic Canyon Regional Park, part of the Mission Creek Greenway Trail. As you wind your way through the park alongside Mission Creek, you can marvel at the western redcedars, and take in the calming sounds of the running water and chirping birds. The park offers a network of easy-to-moderate trails, which will allow you to discover the unique geological formation of Layer Cake Mountain and the Rock Ovens cultural site, once used by Chinese labourers.