January in Kelowna
The Kelowna views in January are pristine and magical thanks to mountaintops and vineyards blanketed with snow, and the still, glassy waters of Okanagan Lake. 
Read on to find out more about what you can discover, and what to expect, in and around Kelowna when visiting at this time of year.

Discover Local Flavours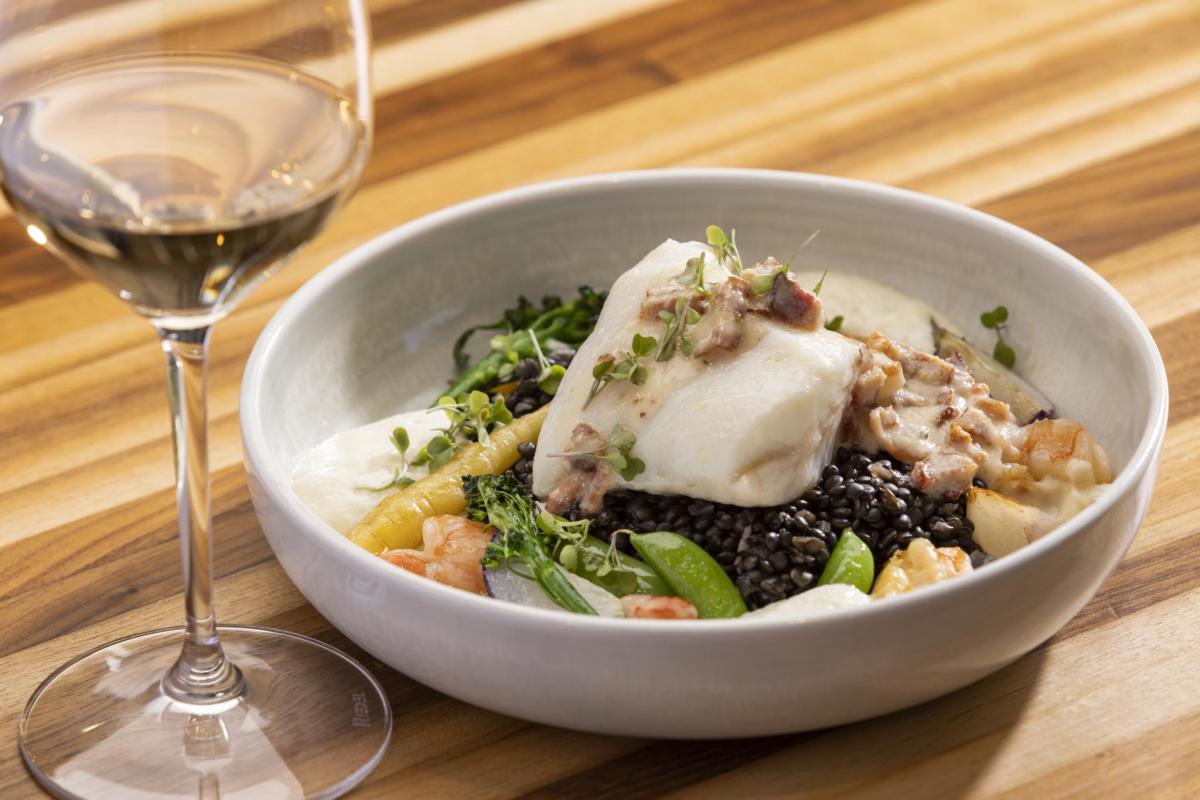 The Lookout Restaurant at Gray Monk Winery. Photo by: Shawn Talbot Photography
While you can indulge in Kelowna's culinary scene at any time of the year, January brings a couple of unique opportunities to discover some of the best local eats and sips.
The annual Dine Around festival sees restaurants in and around Kelowna offering three-course menus at set price points ranging from $25 to $65 per person. This year's launch party is taking place on January 17, with guests getting to sample food, wine, and beer at 10 stations set up by participating restaurants while also enjoying live music. The festival then runs from January 18 to February 9, offering plenty of opportunity to get out and enjoy your favourite restaurants or discover new favourites. Stay tuned to the Dine Around website for menus from participating restaurants, and check out the Dine and Stay packages available from local accommodators.
In addition to Dine Around, January also marks the return of the Okanagan Hot Chocolate Festival, which launched in 2021. The flavour map is still in the works, so mark your calendars for January 14 to February 14 and keep an eye on the event website for all the delicious details!
If you prefer to get more hands-on with your culinary adventures, the newly launched classes at Lakehouse Kitchens Cooking School will be right up your alley. January classes include gnocchi and Italian soups, as well as a Date Night Series demonstration class on the tastes of Italy. Delizioso!

Adventure in the Snow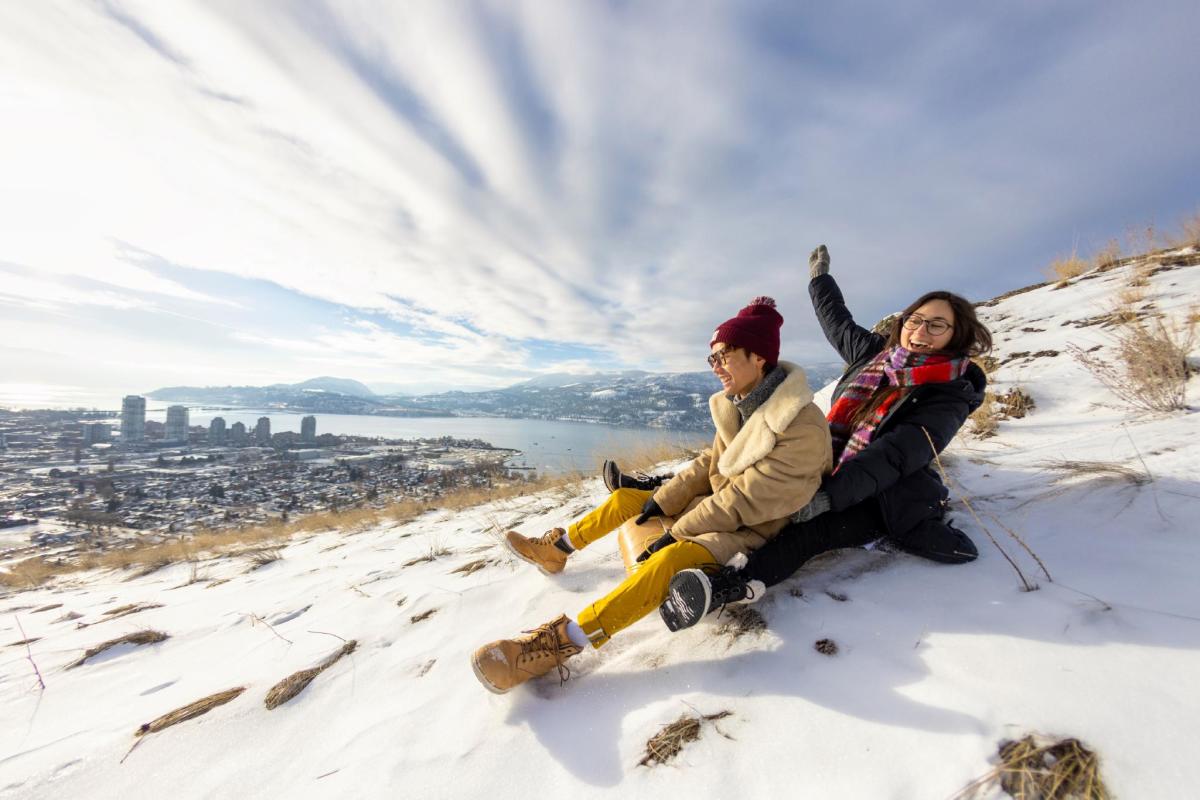 Knox Mountain Park. Photo by: Darren Hull Studios
The winter fun and outdoor adventures continue in January as more snow accumulates in the mountains surrounding Kelowna.
Snowshoeing and Nordic skiing are fantastic options for those who prefer a bit less adrenaline with their outdoor adventures. Telemark Nordic Club in West Kelowna and Kelowna Nordic, which are about 30 and 60 minutes from downtown Kelowna respectively, offer groomed trails that will take you through the peaceful, treed landscape. By January, there is typically lots of snow on the trails, with generally mild temperatures making for a fun day out in nature. Telemark has onsite equipment snowshoe rentals for adults and youth, while Play It Again Sports in Kelowna also offers rentals. Both Big White Ski Resort and SilverStar Mountain Resort also have Nordic and snowshoe trails, as well as numerous other outdoor activities if Alpine skiing or boarding is not your thing.
Find more info about outdoor activities (or indoor attractions if snow isn't your thing) here.

Sip Kelowna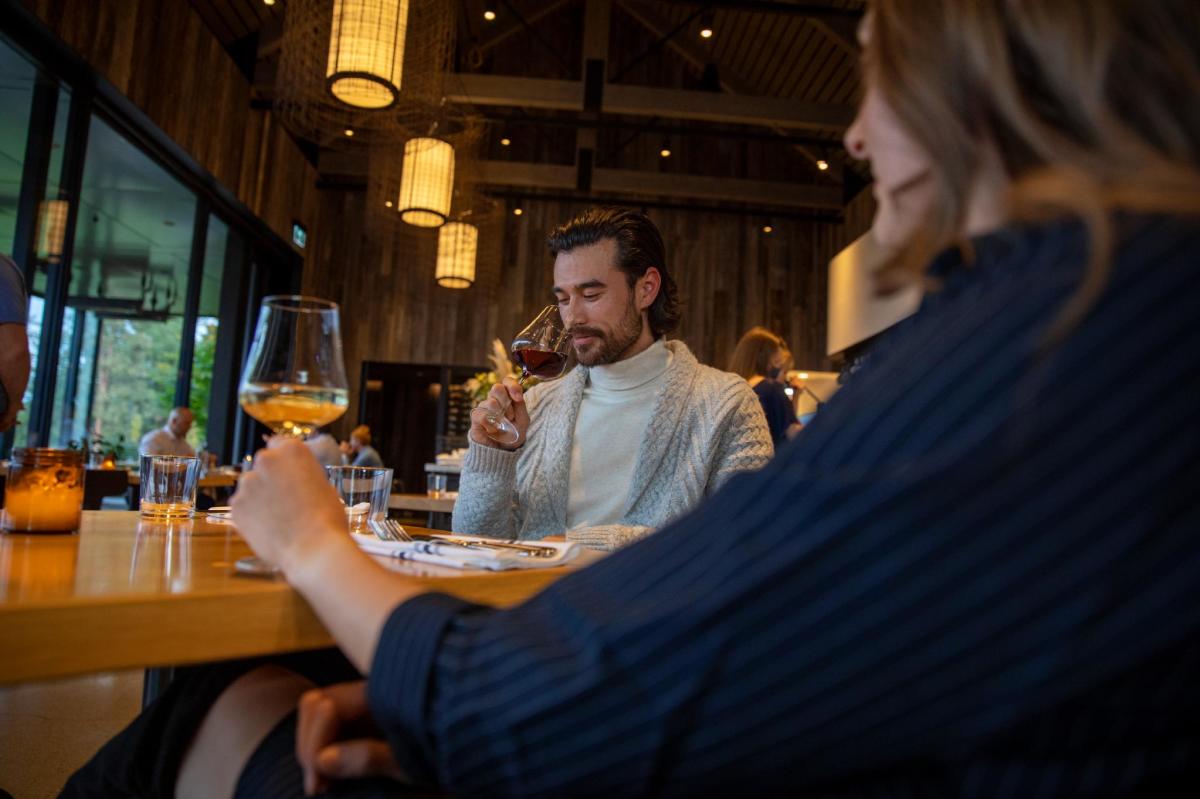 Home Block at CedarCreek Estate Winery. Photo by: Darren Hull Studios
With more than 40 wineries in and around Kelowna, many of which are open year-round, winter wine touring is one activity you can add to your list for a January visit. You'll witness the beauty of the snow-covered vineyards and have a better chance of meeting the winemaker. You can also combine your love of the outdoors and wine at The View Winery's Slip & Sip, where you'll snowshoe through the orchard and vineyard and finish off with a tasting. Ice Wine grapes are also harvested once the temperature drops, so you may get to see that firsthand—if not, you can always find Ice Wine in the tasting room.  
If you prefer beer, spirits, or cider, the Central Okanagan has you covered. For beer lovers, there are now almost 20 breweries in and around Kelowna, with 10 of those centred downtown and in the North End brewery district. There are also five distilleries and close to ten cideries should you wish to branch out further from wine and beer.
Book a guided wine tour to leave the driving to the professionals and learn more about the region while driving between wineries.

Local Events

Photo by: Marshall Lu
For more events in and around Kelowna, visit our online Calendar of Events.

Weather
December and January are typically the coldest months of the year in Kelowna, with average temperatures for both months at 1°C / 34°F on the high end and -6°C / 21°F on the low end. When the weather sticks to these mild averages, most of the snow right in the city will melt quickly. If you're going to be adventuring outdoors, be sure to pack appropriately and keep in mind that it will be cooler near the lake and at higher elevations. January is usually the most overcast, cloudy month of the year. You can monitor current conditions through the live webcam at the Kelowna Visitor Centre. 

Helpful Planning Resources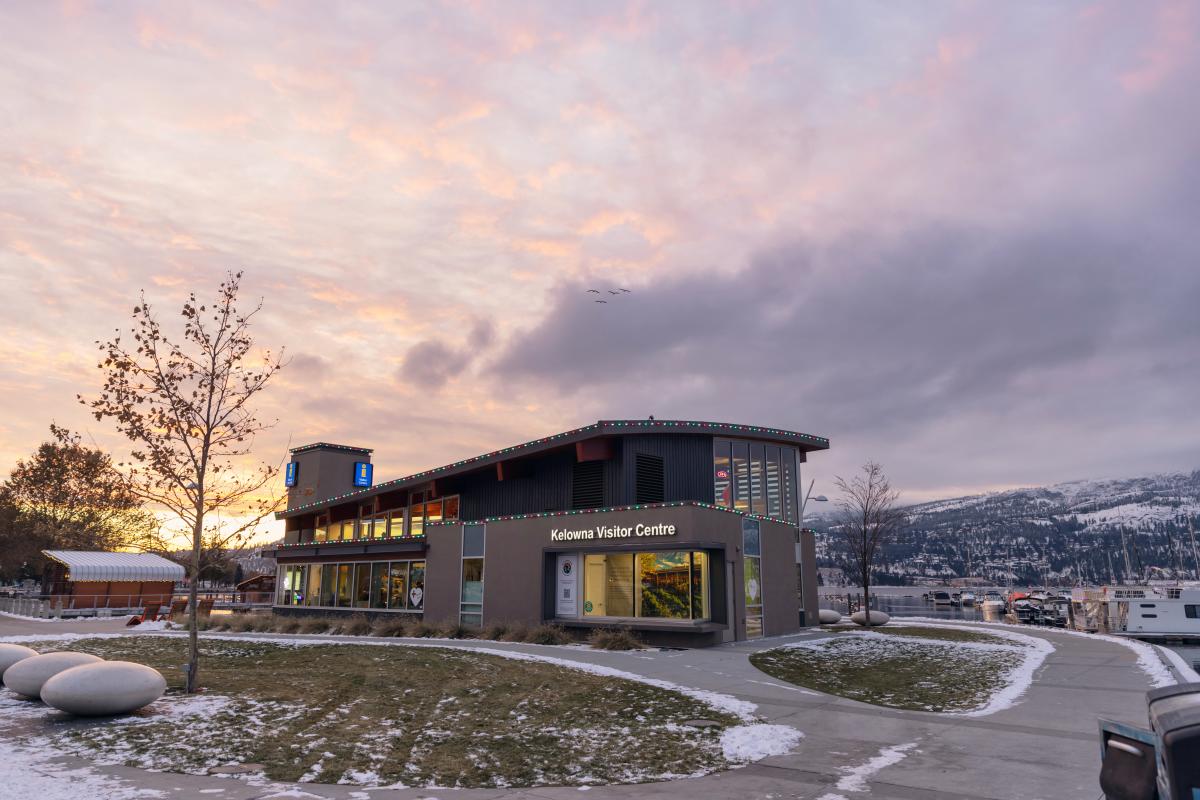 Photo by: Darren Hull Studios
Plan a purposeful and rewarding trip to Kelowna by using the resources available on our website:
Have more questions about your trip to Kelowna? Connect with our team at the Kelowna Visitor Centre.
Be sure to follow us on TikTok, Instagram, and Facebook for more inspiration and share your adventures using #exploreKelowna.