Kelowna is made up of several distinct neighbourhoods and communities, all of which add something uniquely their own to Kelowna's vibe. This Guide to Downtown Kelowna is part of a series designed to give you an overview of the places you can discover when you #exploreKelowna.

Accommodations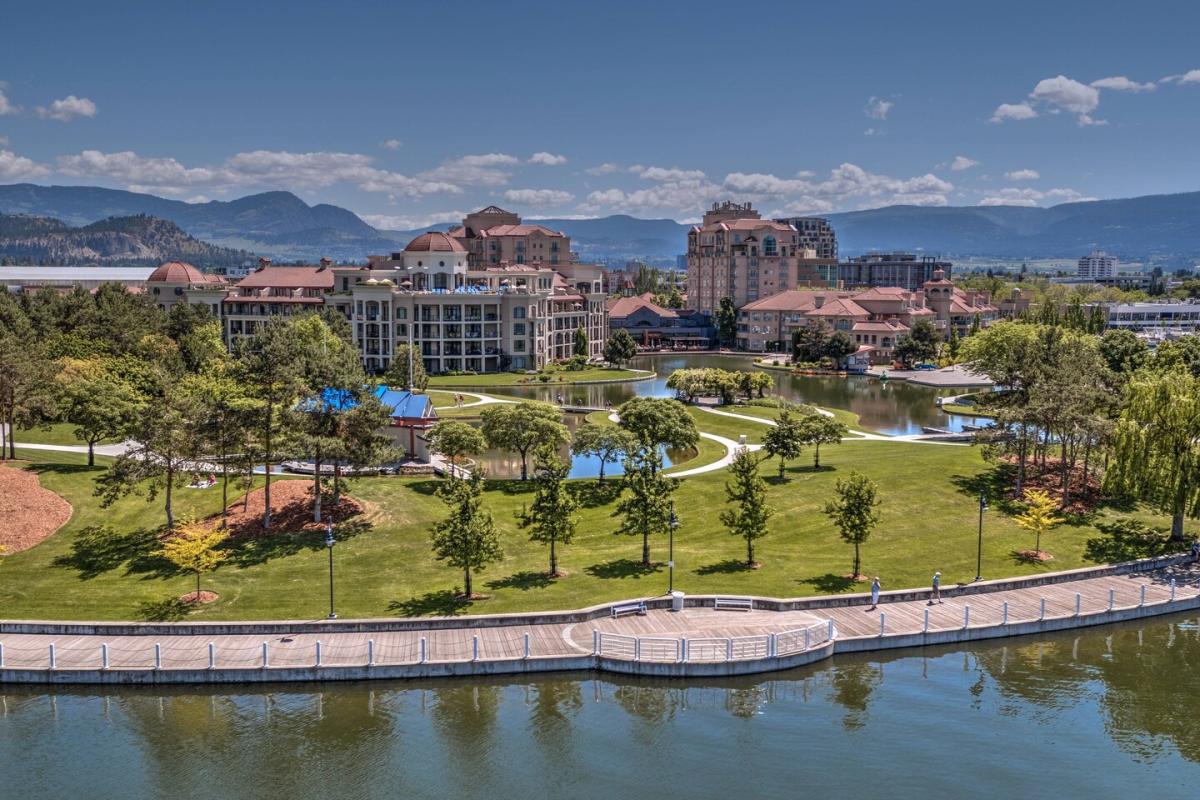 Delta Hotels by Marriott Grand Okanagan Resort (right) and The Royal Kelowna (left)
Downtown Kelowna is home to the region's largest resort, Delta Hotels by Marriott Grand Okanagan Resort, which sits lakeside next to Waterfront Park. A mainstay in the city since 1992, the hotel offers numerous onsite amenities, including dining at OAK + CRU Social Kitchen & Wine Bar, spa services at Damara Day Spa, an outdoor pool and poolside bar, and more.
Next door to the Delta Grand, as it's referred to by locals and return visitors, you'll find The Royal Kelowna, an all-suite waterfront hotel that features some of the region's largest luxury suites—all of which include gourmet kitchens and in-suite laundry—and has a rooftop infinity pool where you can take in sprawling Valley views.
Slightly south, in the heart of downtown on Bernard Avenue, sits the historic Royal Anne Hotel. The centrally located hotel will keep you within walking distance of all the action, nearby restaurants, cafes, shops, and so much more. The Royal Kelowna and the Royal Anne Hotel offer complimentary shuttle service to and from the Kelowna International Airport through Kelowna Concierge's Shuttle.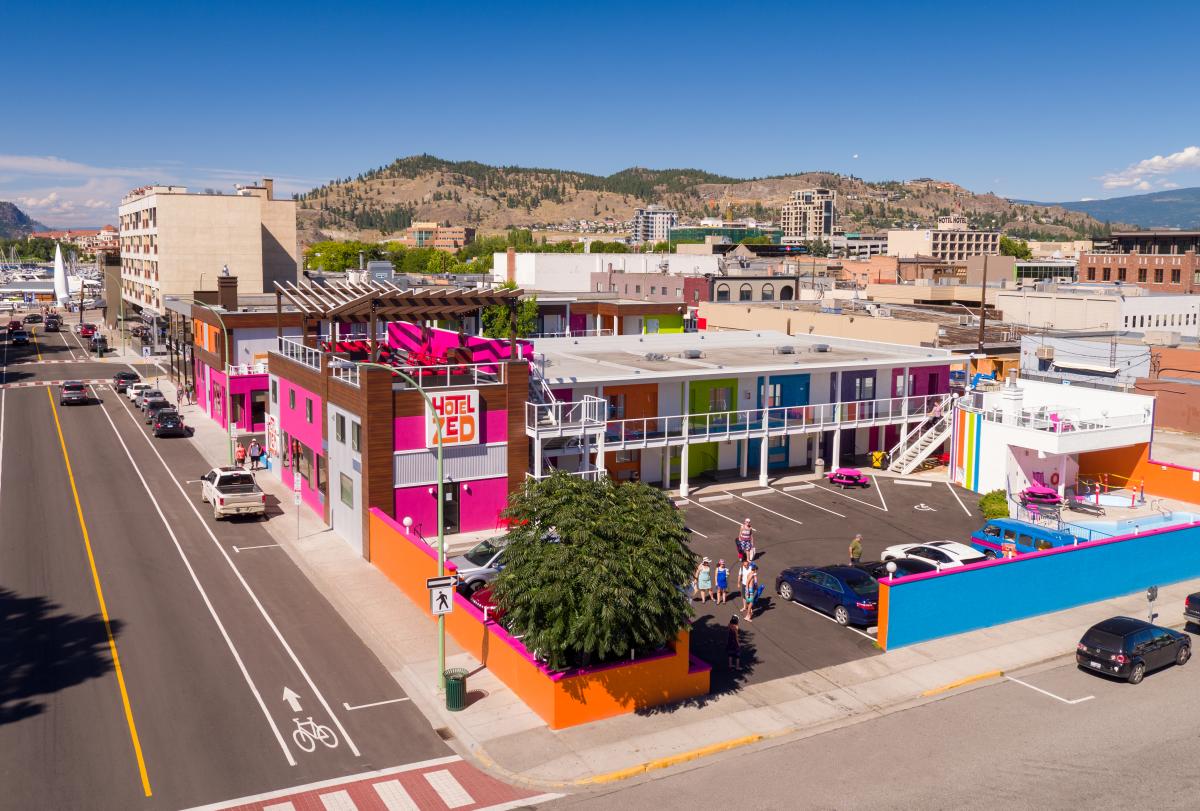 Along the furthest south edge of downtown, you'll find Hotel Zed and Prestige Beach House within one block of each other. Bright colours, a retro vibe, and lots of fun are the hallmarks of Hotel Zed. The motel-style property's amenities include a seasonal pool, free roller skate and bike rentals, a vinyl listening station, a ping pong lounge, and three rooftop patio spaces with views of City Park and Okanagan Lake.
The vibe at Prestige Beach House is all about bringing the beach life indoors. Light colours, beach-themed décor, and comfortable furnishings will allow you to transition seamlessly from Kelowna's sandy beaches. The hotel has an indoor pool and hot tub, free seasonal sports equipment rentals, on-site e-bike rentals during the summer from Lakeside Eco-Sports, and onsite dining at West Coast Grill & Oyster Bar.
Other specialty accommodation offerings downtown include Ogopogo B&B, My Kelowna Discovery, Kelowna Resort Accommodations, Okanagan Vacation Home Rentals, Signature Short-Term Rental, and Urban Shores.

Activities & Attractions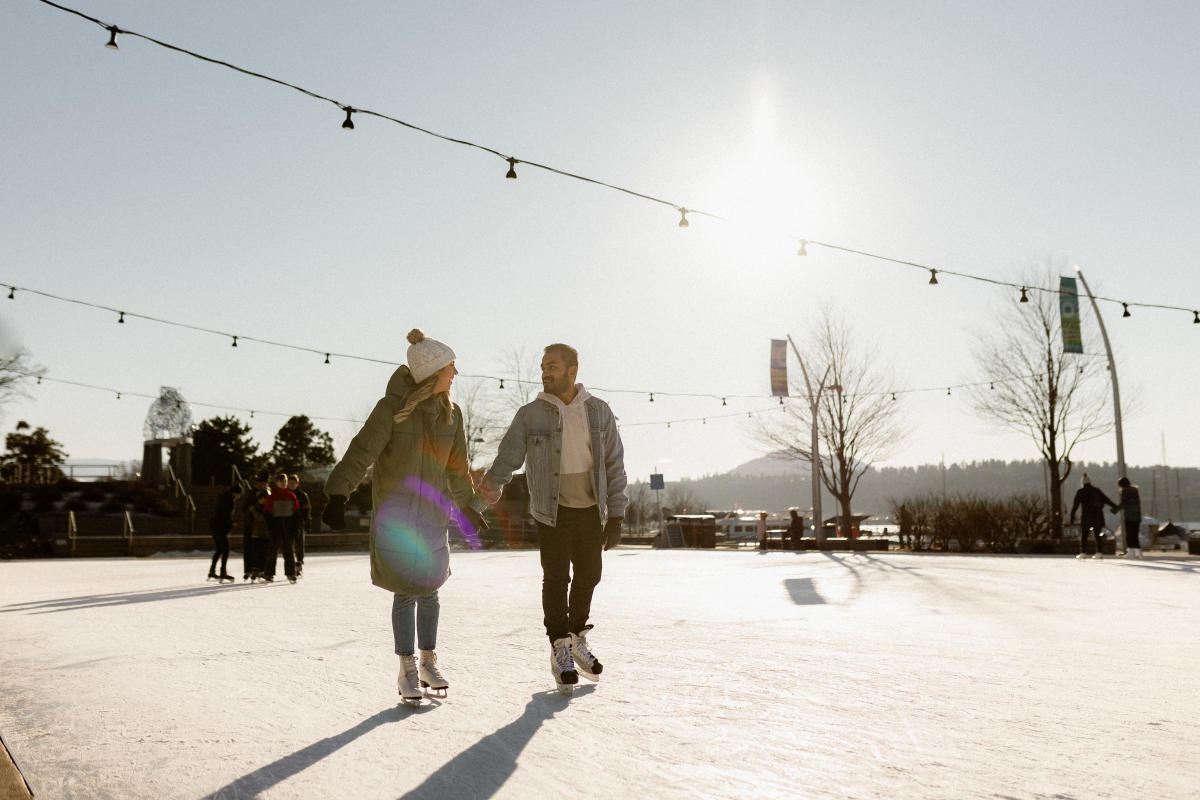 In the warmest months of the year—from May long weekend through to early October—you'll find the largest selection of activities and attractions to choose from. If you want to explore Okanagan Lake, choose from various rentals, like speed boats, standup paddleboards, and kayaks, or activities like flyboarding and parasailing. Don't miss the Kelowna Paddle Trail if you're renting a human-powered vessel.
You can take a floatplane sightseeing tour with AirHart Aviation, hop on Smile Cycle Tours' 15-seat bike to explore downtown or indulge in the city's best eats with a food tour. During the winter, Stuart Park is transformed into a lakeside skating rink with onsite rentals. 
Be sure to stop by and chat with Tourism Kelowna's Community & Visitor Engagement Team at the Kelowna Visitor Centre for more information on things to see and do downtown and beyond.

Food & Drink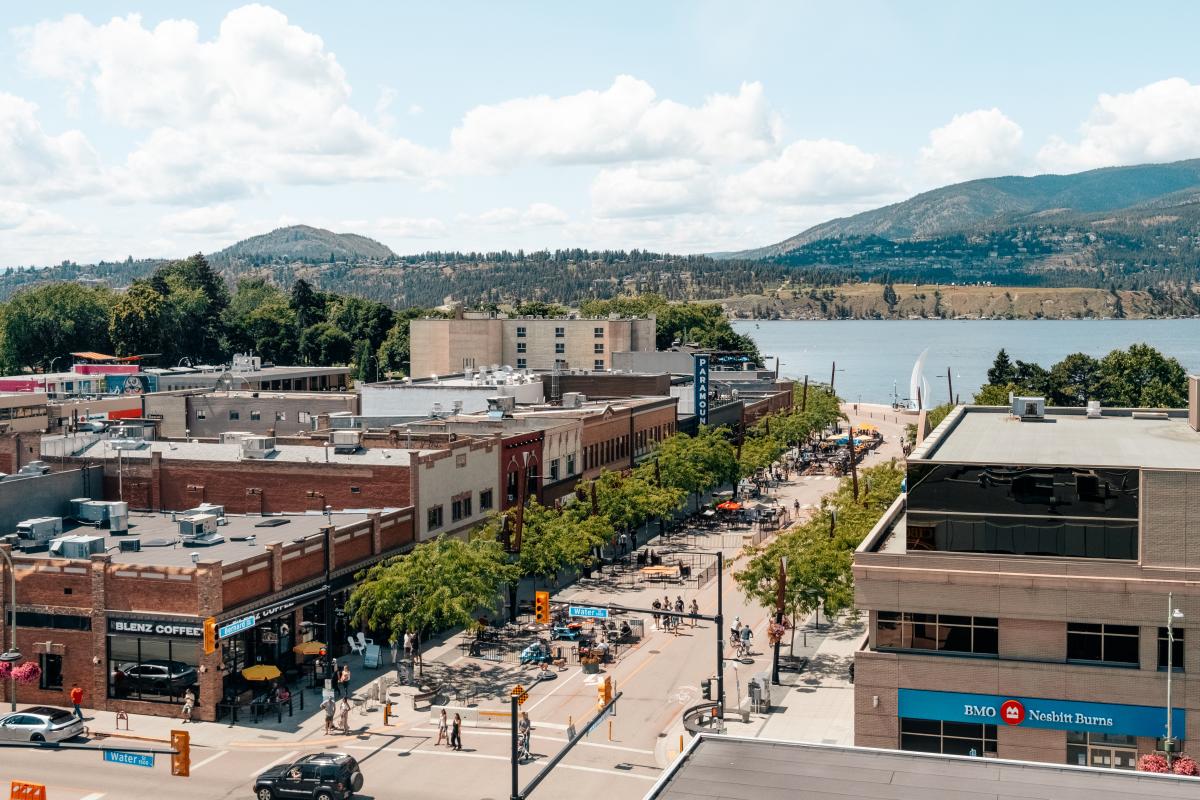 It's hard to know where to begin with food and drink in downtown Kelowna because there are so many options to choose from, including several farm-to-table restaurants focusing on serving local whenever possible. No matter the cuisine you are craving, you'll be sure to find it in Kelowna's city centre. Some of the newest additions to downtown Kelowna's food scene include:
You can browse a selection of downtown Kelowna restaurants, pubs, coffee shops, and bakeries here. 

Shopping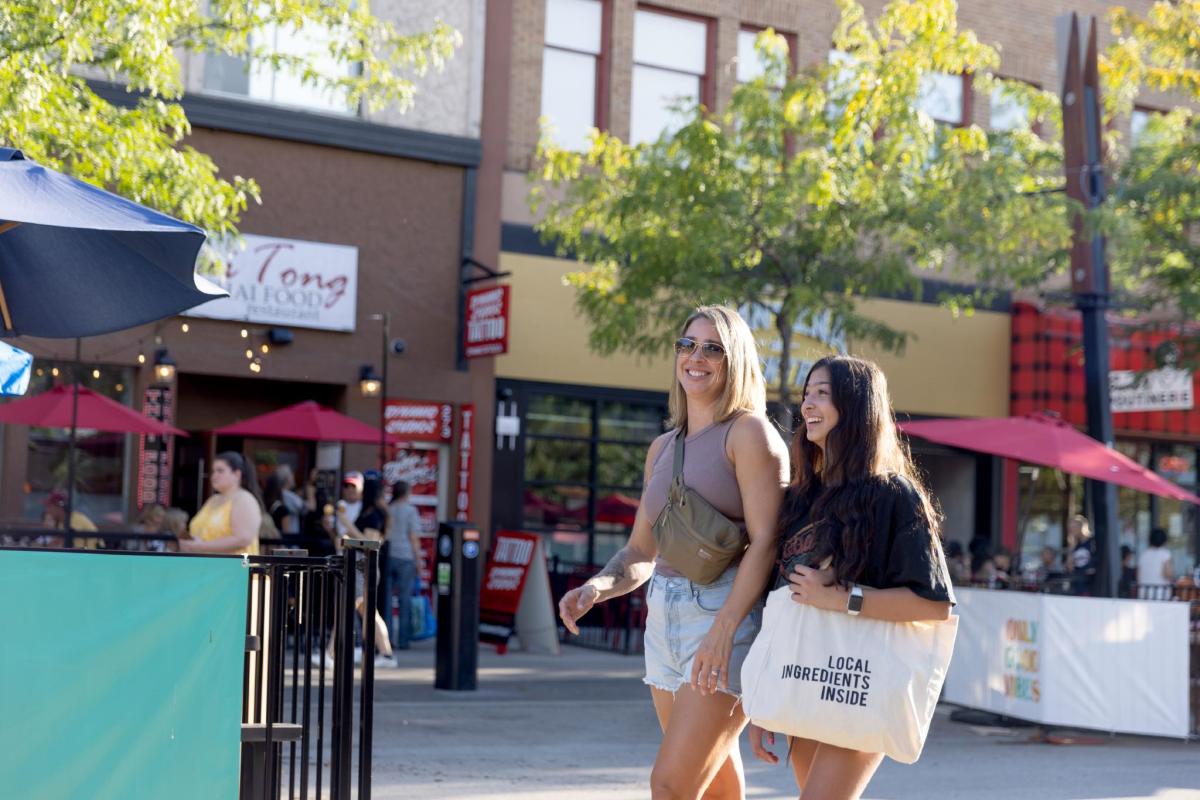 Whether you're looking to treat yourself or to find the perfect memento to take back to a loved one, you're sure to find something that fits the bill in downtown Kelowna.
On the east end of the city centre, you'll find The District on Bernard, home to several apparel shops as well as The Artful Hand, which showcases goods from local artisans. Walking along Bernard Avenue towards Okanagan Lake, you'll find an array of local shops offering everything from books and home goods to clothing and jewellery. Be sure to wander up and down Ellis, Pandosy, and Water Street, too, for other local shops you won't want to miss!
Click here to learn about some of downtown Kelowna's shopping offerings, or stop by the Kelowna Visitor Centre, where you'll find art, apparel, and goods from more than 130 local artists, artisans, and vendors. 

Arts & Culture

Downtown Kelowna is home to the city's Cultural District, where you'll find an assortment of theatres, galleries, event venues, and museums, including the Kelowna Community Theatre, Rotary Centre for the Arts, Kelowna Art Gallery, Prospera Place, and Okanagan Heritage Museum.
Within the Cultural District, there are also 21 pieces of public art, along with the historic Laurel Packinghouse, which houses the Okanagan Wine & Orchard Museum. Set out on your own self-guided tour of the area—pick up a brochure at venues within the area or use the mobile-friendly tour—or join one of the free tours offered during the summer (stay tuned to the City of Kelowna website). Beyond the Cultura District, you'll find numerous other public art pieces to discover. 
As you start to explore parks and beaches in the area, be sure to visit the Cultural District's Kasugai Garden Park, a Japanese garden celebrating the relationship between Kelowna and its sister city, Kasugai, Japan.

Parks & Beaches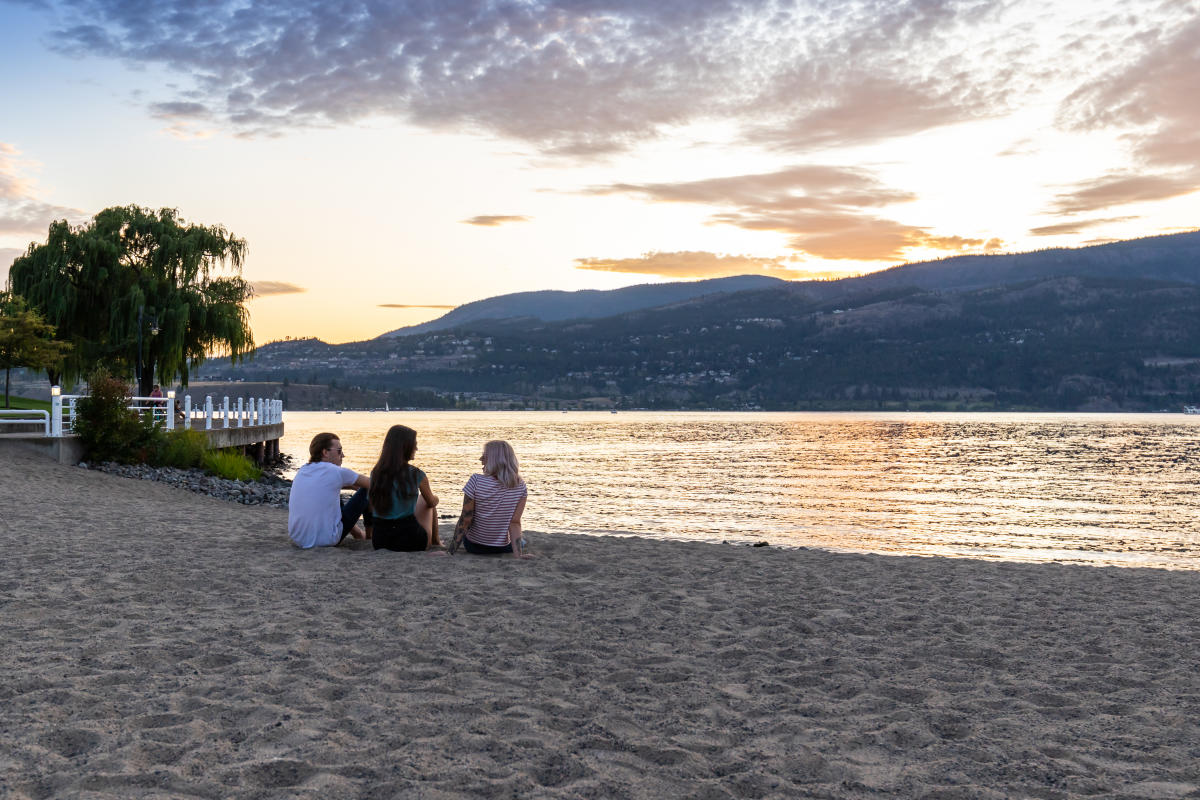 Tugboat Bay Beach
Nestled along Okanagan Lake in downtown Kelowna is the city's largest beach, Hot Sands Beach, located within City Park, where there is also a playground, volleyball and basketball courts, a spray park, and more. As you head north along the waterfront boardwalk, you'll pass through Kerry Park and Stuart Park, both of which are activated throughout the year—in the winter, Stuart Park is transformed into a lakeside skating rink.
Continue travelling north to pass through Waterfront Park, and you'll end up at Tugboat Bay Beach, which is adjacent to one of Kelowna's birding spots, Rotary Marsh Park. If you're looking to take a quick hike that will reward you with stunning views, be sure to visit Knox Mountain Park, just north of downtown.