Tires kick dust into the air as a bike shoots through a berm and into a wooden stunt. For those looking for free bike-park-like trails in Kelowna, Gillard is the spot! In the early 2000s, the Gillard Trail network was a well-kept secret illegally built by rogue trail builders. Thankfully, Gillard has since been sanctioned by Recreation Sites and Trails BC due to the hard work of Mountain Bikers of the Central Okanagan (MTBCO). Since the partnership between MTBCO and Recreation Sites and Trails BC, the Gillard Trail Network has adopted IMBA and Whistler trail-building standards to make the trails safer and more sustainable. Currently, 67 trails in the network are included on Trailforks, 15 of them rated blue, 19 rated black and 16 rated double black. If you're coming to town and don't have room for your bike, check out Smith Creek Cycle's full-suspension mountain bike rental fleet or Mountain Lifestyle Outlets mountain bikes and full-suspension e-bikes.

Where
Gillard is located in the south of Kelowna near the Kettle Valley Neighbourhood. The trails can be accessed via Lakeshore Road. -> Chute Lake Road -> Gillard FSR. There is Recreation Sites and Trails BC parking lot about 3.8km up Gillard FSR from the turn off of Chute Lake Road. View Google Maps Gillard Trails Parking Area location.

What to Expect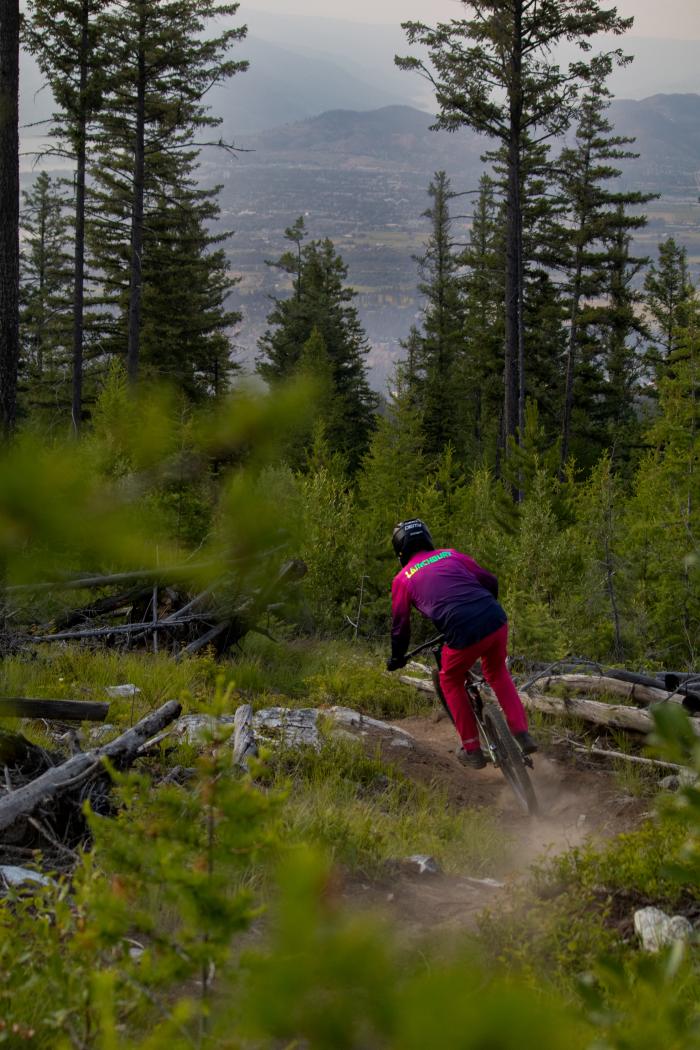 Moose Knuckle Trail
Gillard is more suitable to intermediate and advanced riders and currently best ridden as a shuttle access trail network, meaning that unless you want to pedal up the busy and often dusty FSR, you will need someone to drive you to the top. Fortunately, MTBCO is building a climb trail for the network, which will significantly increase access to the trails! And a roughed-in portion of the climb trail called Honey Ryder Climb has been opened early, providing access to the lower trails. When travelling up the FSR, there are several points where you can start your descent, marked by parking icons on Trailforks. Driving all the way to the top of the trail network where Gillard FSR meets the Kettle Valley Railway is recommended to maximize the descent! As this is a freeride-focused trail network, it is highly recommended to use a full faced helmet and a full-suspension bike that will allow you to take full advantage of the trails. While riding downhill, riders can expect to find fast single track, wood stunts, gap jumps, skinnies, rock gardens, slabs and more. 

Note for Beginners 
As Gillard is more suitable for intermediate and advanced riders, it is recommended to check out some of the other great mountain bike trail networks in the Kelowna area, such as Crawford, Knox, Smith Creek, or Rose Valley.

Recommended Intermediate Ride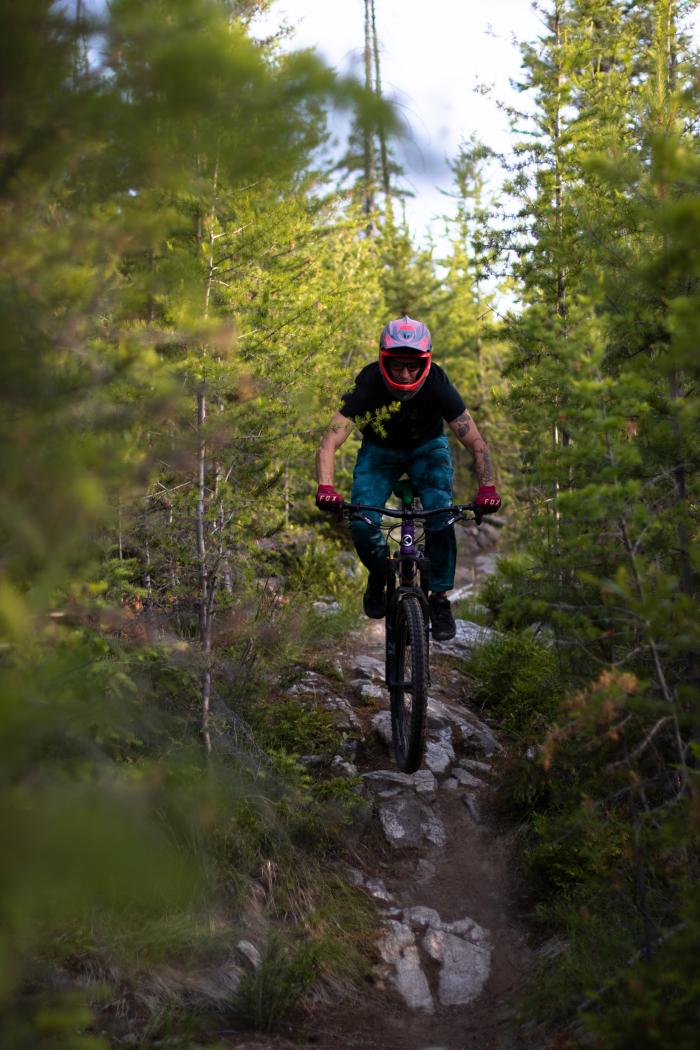 Moose Knuckle Trail
Drop into the blue trail called Moose Knuckle and enjoy its fast single track, berms, and rock gardens. The trail travels through young forest and glides along the edge of a small-but-scenic canyon. From the bottom of Moose Knuckle, you can hop onto the blue trails Lower Kerplop and St. Ripper, both flowy trails with optional rock slabs and wooden A-frame style jumps. From the bottom of St. Ripper, riders looking for a bit more challenge may approach the black trail called Wobbly Pops (pictured on header image), which was previously rated blue, but has since been changed to a black rating due to a gnarly rock garden near the bottom of the trail with no optional ride-around. Riders who feel like they were already on the edge of their comfort zone should ride down Gillard FSR from the bottom of St. Ripper back to the parking lot.

Recommended Advanced Ride
Start from the KVR and drop into the black trail called "Kerplop," where you will find a mix of wood stunts, gap jumps, a mid-trail rocky flat pedal, and some fast and rowdy rock gardens. From the bottom of "Kerplop," turn right down the dirt road and connect onto the double black-rated trail called Rubber Down. On Rubber Down, you will find dirt gap jumps and medium-large wood-to-dirt gaps with optional ride-arounds. From Rubber Down, you will naturally transition to the bottom of St. Ripper, where you will catch the final two A-frame wood features. From the bottom of St. Ripper, turn left onto Gillard FSR until you reach the black trail called "Boss Hog" Boss Hog has a mix of woodwork, drops, slabs and berms. About a third of the way into Boss Hog, riders will notice two optional double black features an iconic wood drop and a big slab into a tight corner. Boss Hog finishes with a super fun jump into a big mellow rock slab leading right back into the parking lot. If you finish this ride wanting even more, check out Casino Royal, which has some of the gnarliest features in the Okanagan and was recently covered in a video by The Loam Ranger. 
Gillard is an excellent place for intermediate and advanced riders to test their skills and ride bike-park-like trails for free. The two recommended rides above should be a great way to get a taste of the network, but the upside of shuttling is that there is time for more than one run. So, take advantage of that time and explore more of the 67 trails in the network. Those who opt for shuttling are sure to have some energy left at the end of the day to continue exploring in town after the ride. If you're visiting from out of town, there are countless places to stay nearby, ranging from camping to high-end hotels. And things to do before and after a day full of shredding the dirt, including visiting the beaches, wineries and local craft breweries.