Kelowna and the Okanagan are celebrated for their abundance of fresh, local fare, which is plentiful during the summer and fall months. Read on to find out what delicious eats you can discover throughout the fall—your taste buds and memory bank will be sure to thank you!

Experience the Bounty of Harvest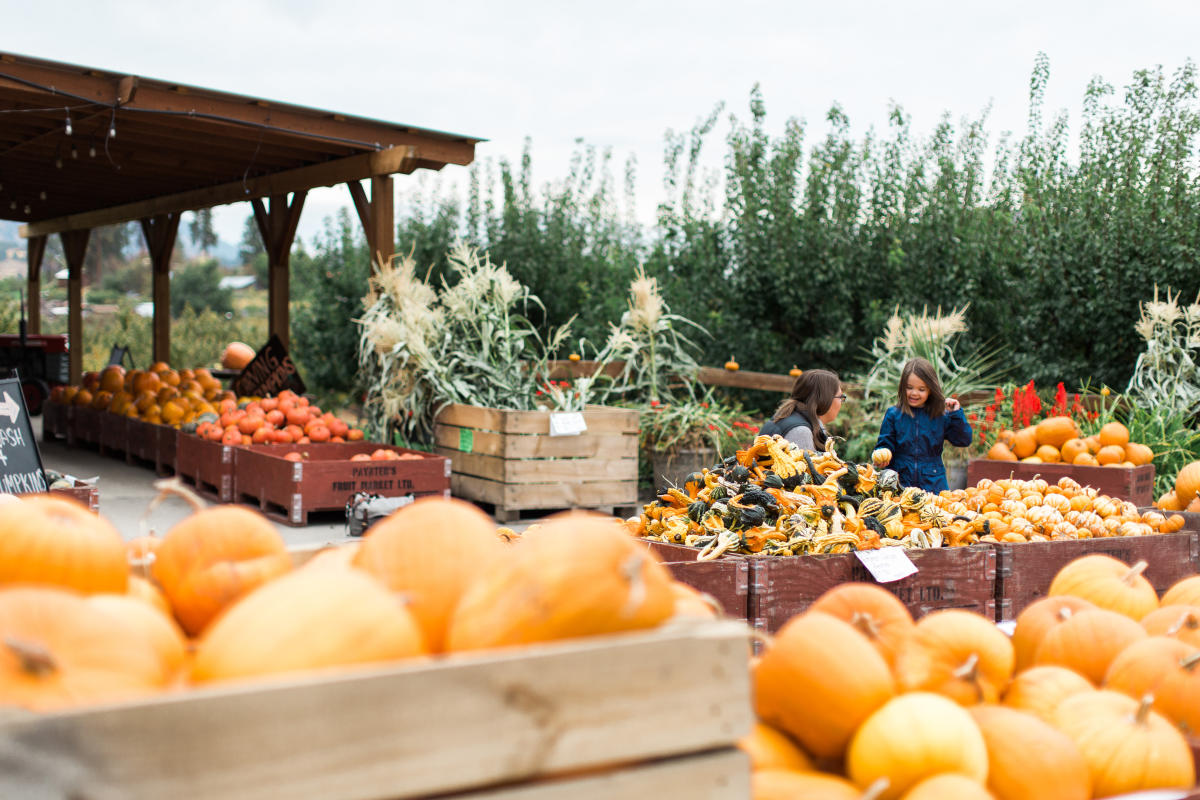 Paynter's Fruit Market. Image credit: Wines of British Columbia (@winebcdotcom)
Visiting during the fall means you get to see harvest in full swing. Local wineries will be picking grapes from the vines for the year's vintages, while fruit and vegetables like apples, carrots, and squash will be gathered up and distributed to local markets. Connect with the team at the Kelowna Visitor Centre or with the orchards and markets directly to find out what's in season and in stock.
In addition to showcasing the freshest fruit and produce, several area orchards and markets also host family-friendly activities. At Davison Orchards, located north of Kelowna in Vernon, you can take a tractor farm tour and pick your own apples from the orchard. The onsite market and café also offer an array of seasonal items, including the pure apple juice Davison's is well known for. Don-O-Ray Farms and Janzen Garlic Acres also have fun activities onsite for the kids.  
For an adults-focused fall bounty experience, plan to attend Okanagan Feast of Fields, which is returning this September. The annual event offers locals and visitors the opportunity to connect with some of BC's top chefs, farmers, and food artisans, as well as vintners, brewers, and distillers. Feast of Fields is held outdoors, taking advantage of the typically warm late-summer/early-fall weather, with gourmet creations and sips ready to be devoured.

Devour Delicious Local Fare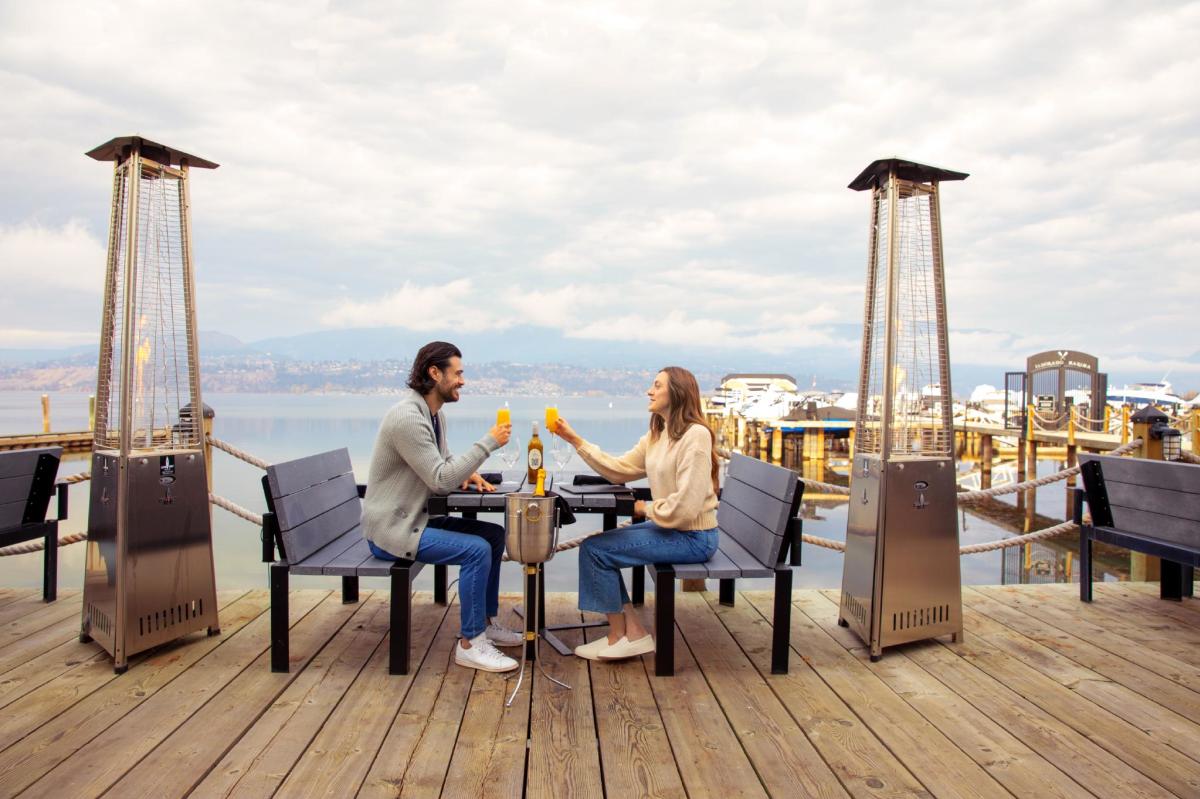 Lakeside Dining at Eldorado Resort. Image credit: Darren Hull Studios (@dahul)
Dining at local farm-to-table restaurants, several of which are located at local wineries, means you'll get to experience the best of Kelowna on your plate, with seasonal menus highlighting the freshest fare possible. Plus, you'll often have the option of sitting on a sunny patio where you can take in the expansive lake and Valley views as you dine.
If you're travelling with die-hard foodies, why not plan to take a tour with A Taste of Kelowna Food Tours or Okanagan Foodie Tours? These guided walking tours will have you tasting some of Kelowna's best eats over the course of a few hours. Those who want to explore on their own can check out the self-guided farm-to-table tour or take a wander through downtown Kelowna, where the eateries (and patios) are plentiful.
For those who like to get hands-on with their food, be sure to stay tuned for the schedule of fall cooking classes offered by The Okanagan Table. 

Sip the Best of the Okanagan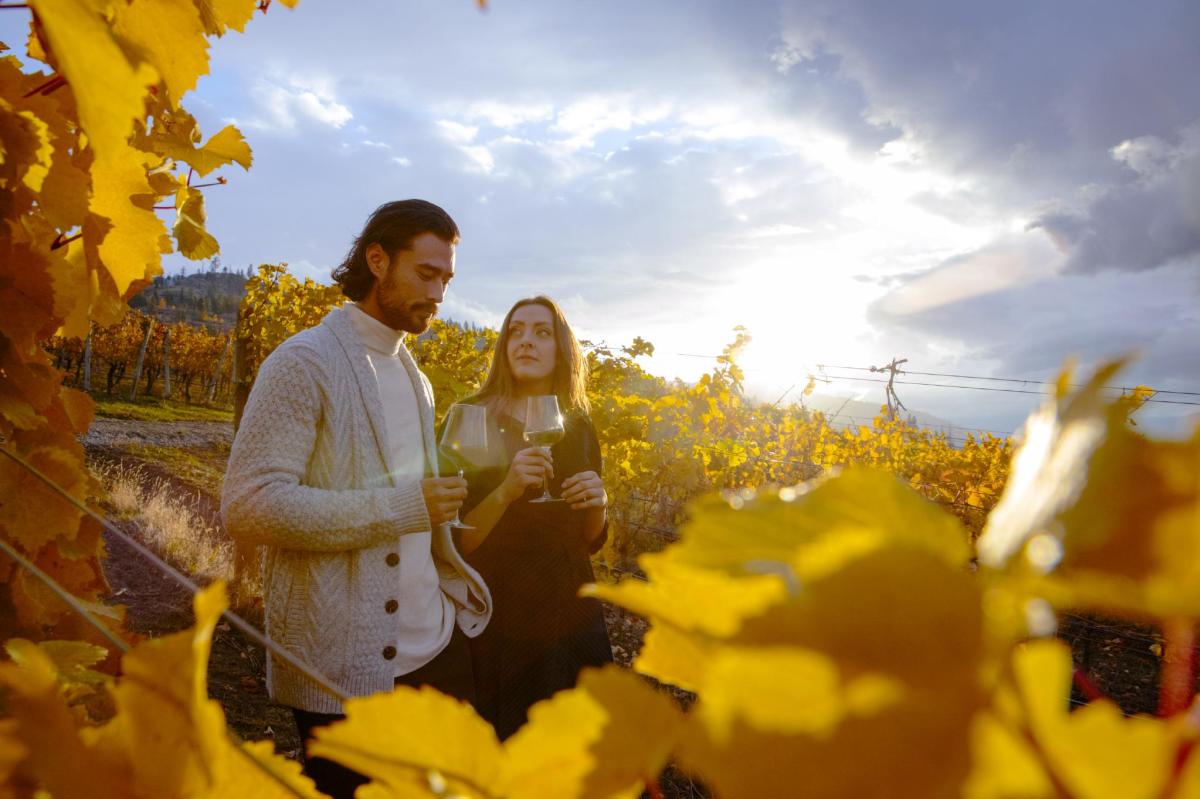 Vineyard at CedarCreek Estate Winery. Image credit: Darren Hull Studios (@dahul)
Come fall, Kelowna celebrates all the sips with the Hopscotch Festival of Whisky, Beer, & Spirits in September and the Fall Okanagan Wine Festival in October, so there is no shortage of fun to be had.
You can easily explore Kelowna's wine trails and breweries, cideries, and distilleries on your own, with someone in your group as the designated driver; however, there are also local tour companies that will organize all your stops and provide you with a knowledgeable guide to give you lots of interesting and fun info during your journey.
If you are exploring on your own, set out to discover the winding roads of southeast Kelowna, where you can also taste wine, cider, spirits, and mead as you journey along the Sip South East Kelowna trail. Be sure to check the schedule for the East Kelowna Market, too, so you can uncover more local goods as you explore the area. 
Don't miss out on Kelowna's fall bounty—explore packages and promotions and savour every bite (and sip) to make the most of your experience.