Kelowna is made up of several distinct neighbourhoods and communities, all of which add something uniquely their own to Kelowna's vibe. This Guide to Kelowna's North End is part of a series designed to give you an overview of the places you can discover when you #exploreKelowna.

Kelowna's North End
On the edge of downtown sits Kelowna's North End, sometimes called the brewery district by locals, thanks to the nearly 10 breweries in the area. But, breweries are not all this centrally-located neighbourhood has to offer. Those who want to get active will find several options, while those who want to do a little shopping and grab a bite to eat can do so, too. You'll have plenty to explore when you travel to the North End!
 
Accommodations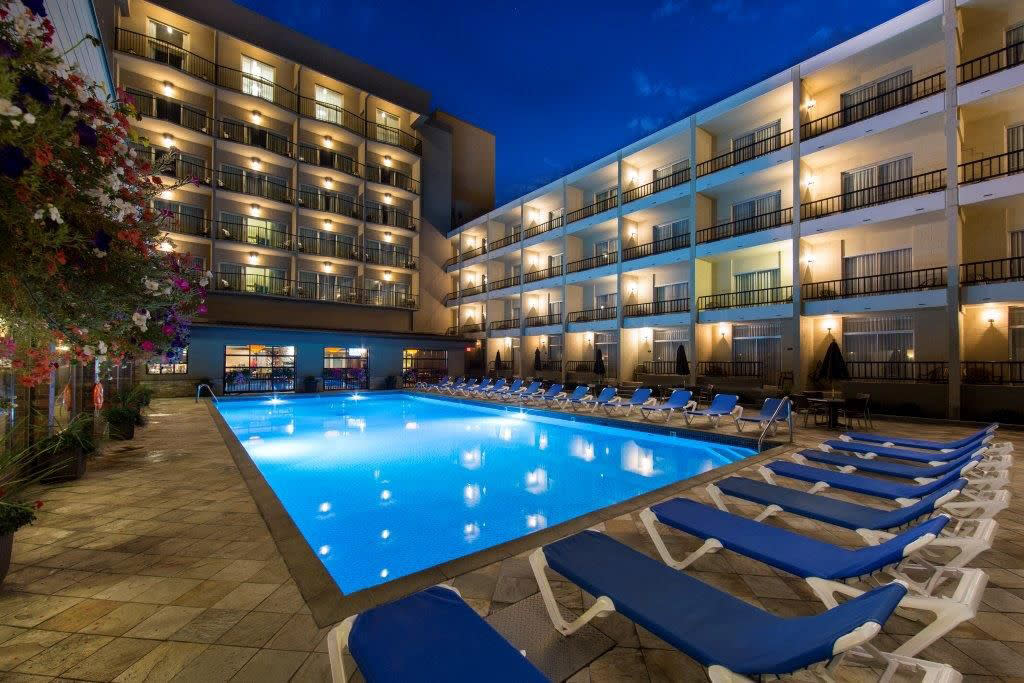 Coast Capri Hotel outdoor pool.
Given that the North End is immediately adjacent to downtown Kelowna, you can enjoy the same accommodation options that were highlighted in the Guide to Downtown Kelowna article along with several other options just outside of downtown. A 5-minute drive or less than a 30-minute walk from the North End will have you at the doorsteps of three Kelowna properties: Accent Inns, Coast Capri Hotel, and Econo Lodge Inn & Suites, all three of which have ample free parking on site and offer accessible rooms. 
Accent Inns and its sister property, Hotel Zed, operate under the Accent Inns Inc. group, the first hotel chain in Canada to have all of its properties certified through the Canadian LGBTQ+ Chamber of Commerce's Rainbow Registered program, requiring businesses to meet strict standards ensuring 2SLGBTQIA+ clients feel safe and welcomed. Accent Inns offers Suites and Kitchenettes, perfect for travelling families or visitors looking to do some cooking on their own—they are also pet friendly. There is a small seasonal outdoor pool onsite, as well as Ricky's Restaurant and Starbucks just steps away from the main entrance. 
On the south side of Hwy 97 from Accent Inns sits Coast Capri Hotel, which is also pet friendly and offers an array of room configurations. Relaxation is easy at the Coast, thanks to the onsite Beyond Wrapture Day Spa and the heated seasonal outdoor pool, open spring through fall. In addition to the numerous dining options in the North End and near the hotel, you'll also find Vintner's Grill, which showcases seasonal, local fare, and Coffeecopia Gourmet Coffee Bar onsite.
Large groups or families looking for some extra space can take advantage of the loft suites at Econo Lodge & Suites Kelowna, which offer 2 or 3 Queen beds per room. There are also kitchenettes and dog-friendly rooms available. Onsite amenities include an indoor pool and hot tub, and Mekong Restaurant, serving up Chinese cuisine. 
Other specialty accommodations near the North End, in addition to those mentioned in the first guide, include A Vista Villa Couples Retreat and A Touch of English B&B, perfect for visitors looking for the quaint and social experience offered at a B&B. 

Activities & Attractions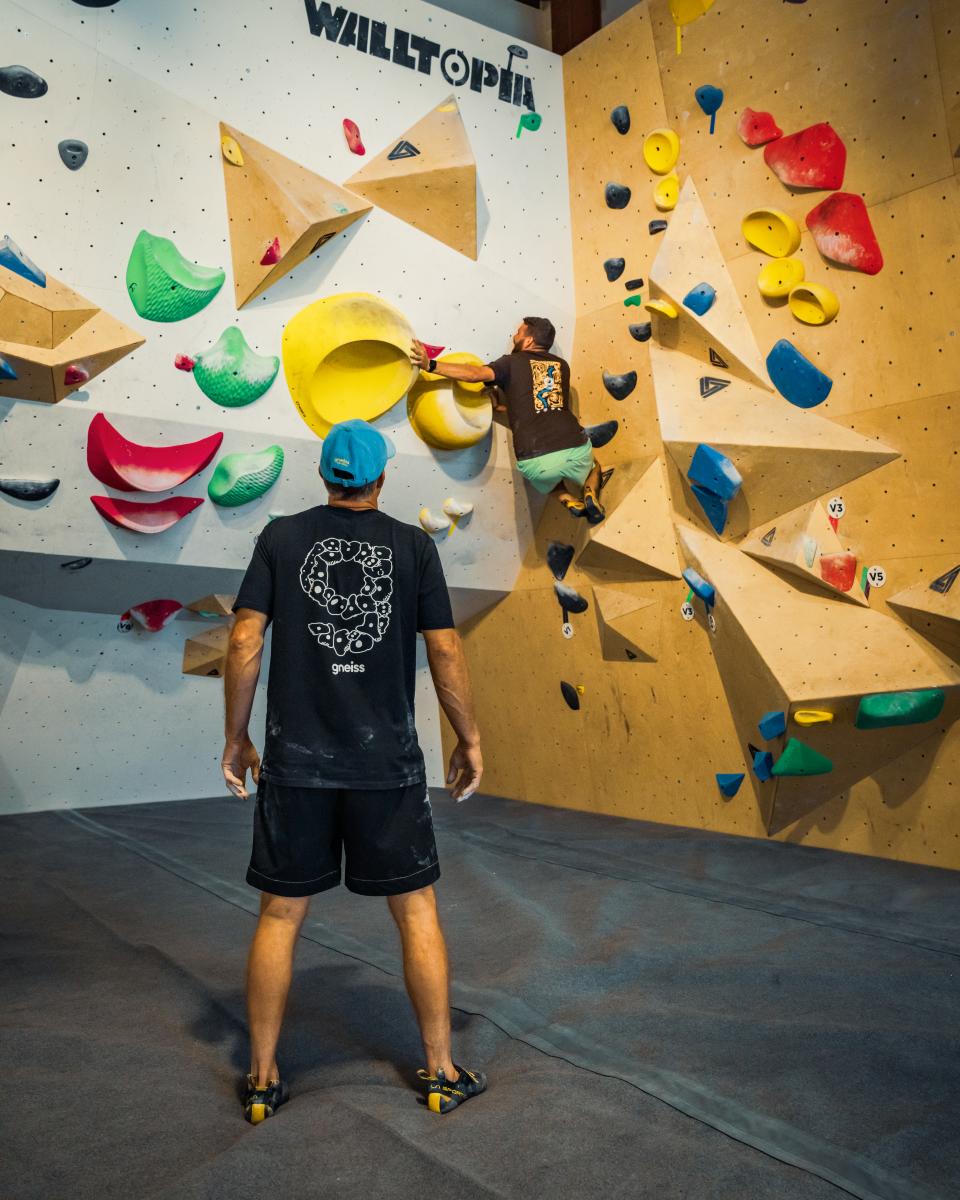 Gneiss Climbing Gym. Photo by: Ken Hagen
Sports lovers will be drawn to the North End, thanks to several facilities in the area. The Kelowna Curling Club regularly hosts regional, national, and international tournaments, such as the upcoming Pan Continental Curling Championships, which will take place in the fall of 2023. Nearby, the Kelowna Badminton Club also hosts tournaments, most recently the 2023 BC Masters Provincial Championship. During the summer, you can catch a Kelowna Falcons baseball game at Elks Stadium and then pop into Kelowna's newest sports bar, Pretty Not Bad. 
Looking to get active rather than watch sports? Central Sports Club—adjacent to one of the North End's most popular eateries, Central Kitchen + Bar—offers drop-in ball hockey during the summer, while Gneiss Climbing's newest location offers bouldering and rope climbing for climbers of all levels. Didn't bring your bike? Kelowna E Kruise is conveniently located in the North End, so you can rent an e-bike to explore.

Food & Drink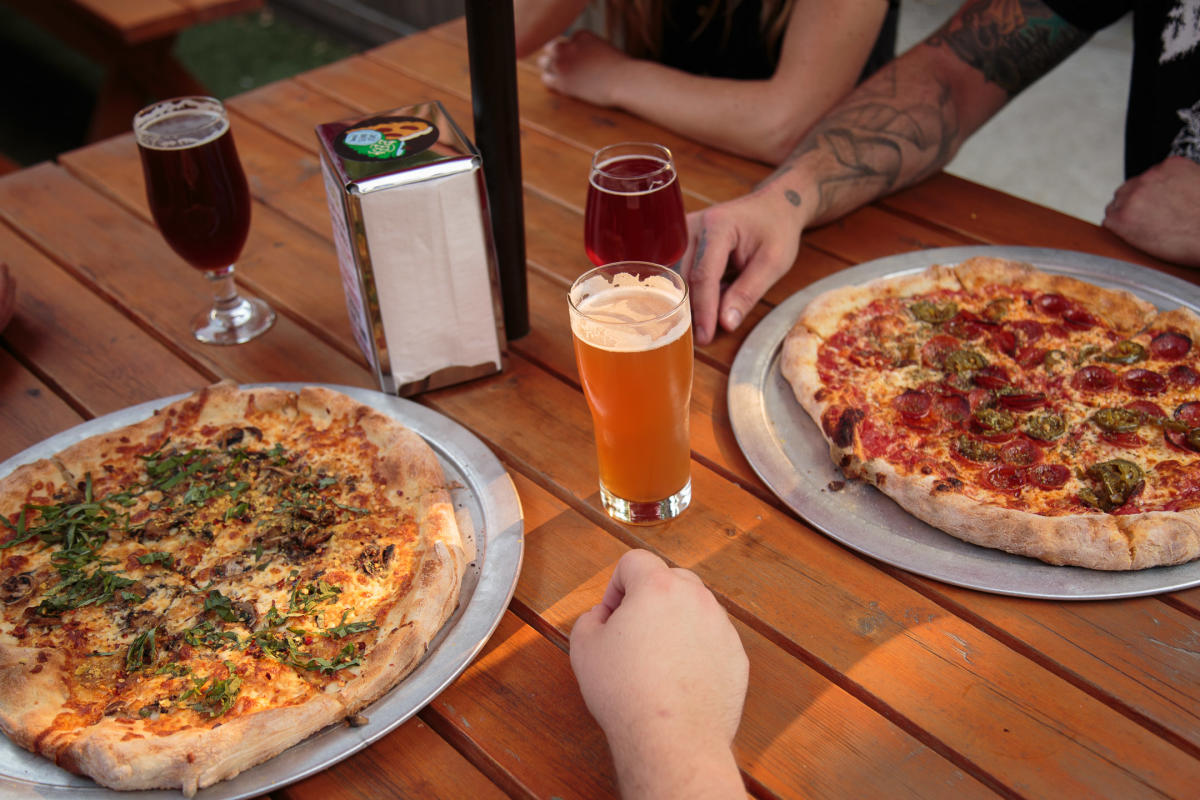 Pizza and beer at Jackknife Brewing. Photo credit: BC Ale Trail.
The North End is a beer lover's dream, thanks to the breweries that call this neighbourhood home. You're sure to find a beer and a vibe that fits your style at one of the following spots, most of which have exceptional food offerings and dog-friendly patios:
In addition to beer, the North End is home to BC's oldest winery location, originally home to Calona Wines and now housing Sandhill's urban tasting room, where you can sample award-winning wines and take advantage of daily happy hour specials, including a small bites menu, after 3 p.m. 
Other craft beverage producers in the area include:
Some other foodie spots in the North End include:

Shopping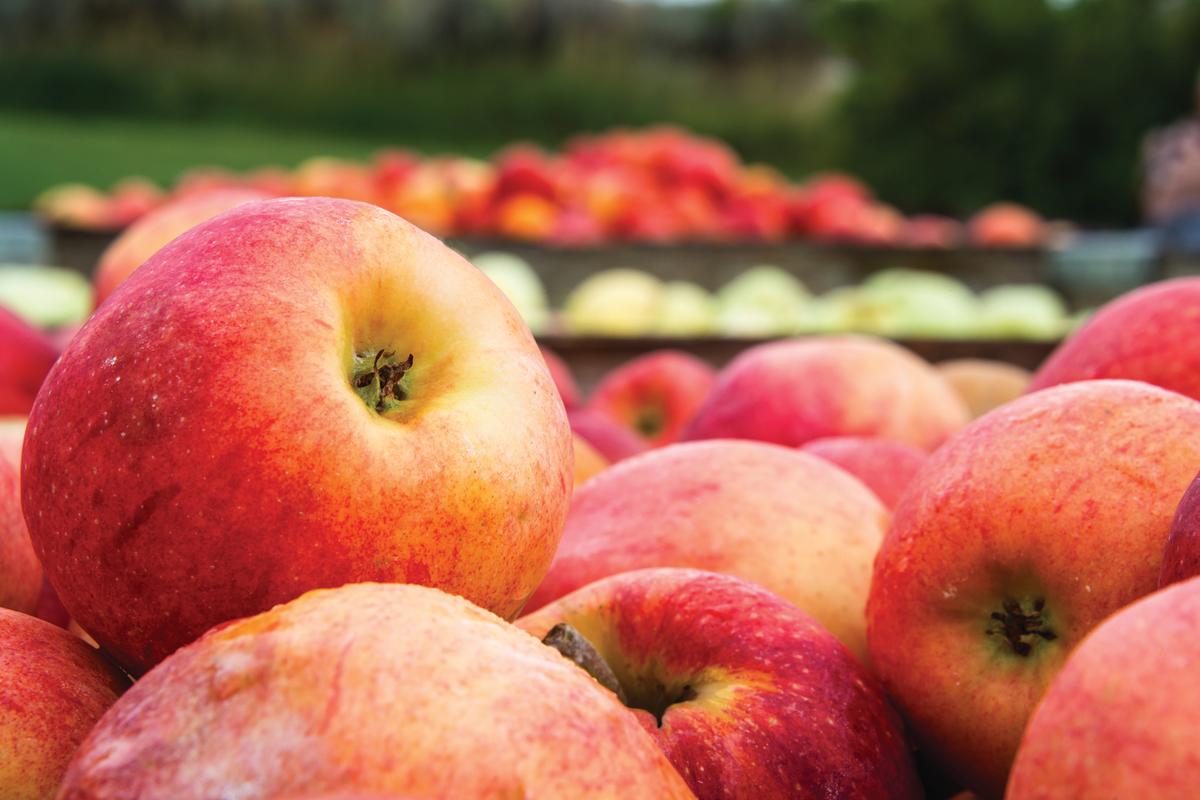 The foodie adventures can continue while shopping in the North End. Operating year-round, BC Tree Fruits Market offers fresh, local fruit grown by more than 400 growers, along with produce and packaged goods. For specialty cheeses, head to nearby Perseval & Young Cheesemongers, with more than 350 cheeses in rotation.
Other specialty shops in the area include:

Arts & Culture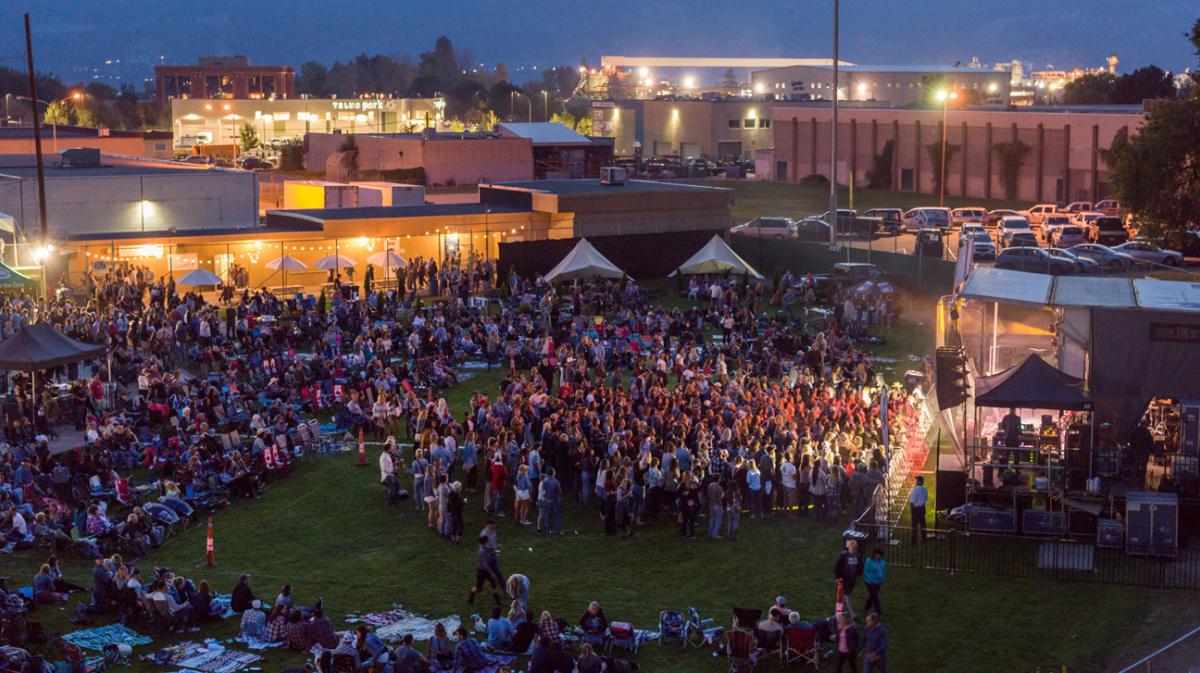 Denim on the Diamond 2018.
While downtown Kelowna and the Cultural District are only a short walk away, you'll still be able to indulge in some Kelowna culture in the North End. Red Bird Brewing completed an expansion of its space to include larger performance spaces for the live music it regularly hosts, including its annual musical festival, NestFest. The 2023 festival, which takes place August 4, 5, and 6, will include live performances from a vast array of musicians, including the final headliner of the weekend, JUNO Award-winner, Bahamas. 
One month later, on the Labour Day long weekend, Denim on the Diamond returns for its fifth year. Now a 2-day festival, Denim showcases music from numerous genres, including hip hop and rap, R&B, pop, country, and more. Festival goers are encouraged to put on their Canadian tuxedos—full denim outfits, for those not familiar—and get ready to take in all the fun the event has to offer. 

Parks & Beaches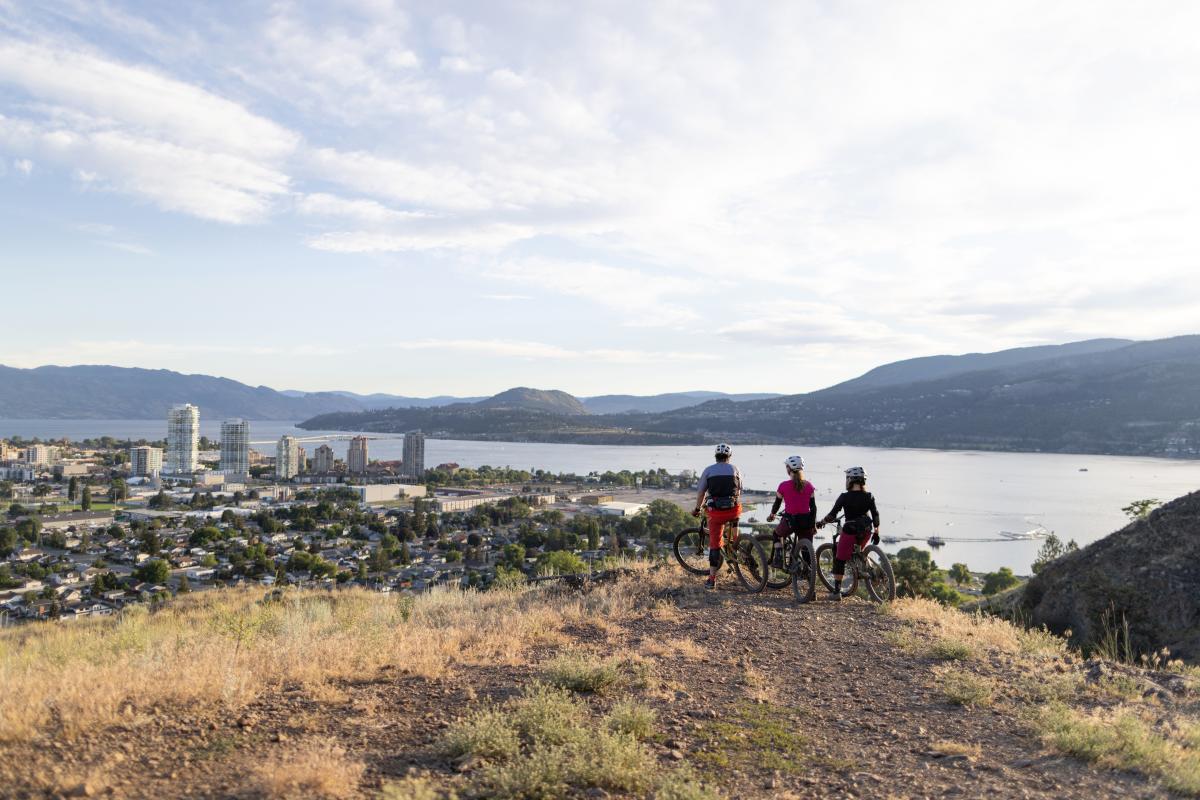 View of downtown Kelowna from Knox Mountain Park. Photo by: Darren Hull Studios.
The North End is home to one of Kelowna's most popular hiking spots, Knox Mountain Park. The park has numerous hiking and mountain biking trails for explorers of all levels, along with a disc golf course. The Paul's Tomb Trail winds along the side of the park, with a gradual descent that ends with a small access point to Okanagan Lake. Other lakeside spots in the area include Poplar Point Beach and Sutherland Park.
Be sure to stop by and chat with Tourism Kelowna's Community & Visitor Engagement Team at the Kelowna Visitor Centre for more information on things to see and do in the North End and beyond.