With blooming orchards, wildflower-studded parks and well-tended community gardens, spring in Kelowna is a pretty and fragrant affair. If you know where to look between mid-April and late May, you and the kids can get your fill of yellow Okanagan sunflowers, pink cherry blossoms, and purple lilacs—and perhaps make a daily bouquet to beautify the home. Read on to find out the best places for flower spotting.

Okanagan Sunflowers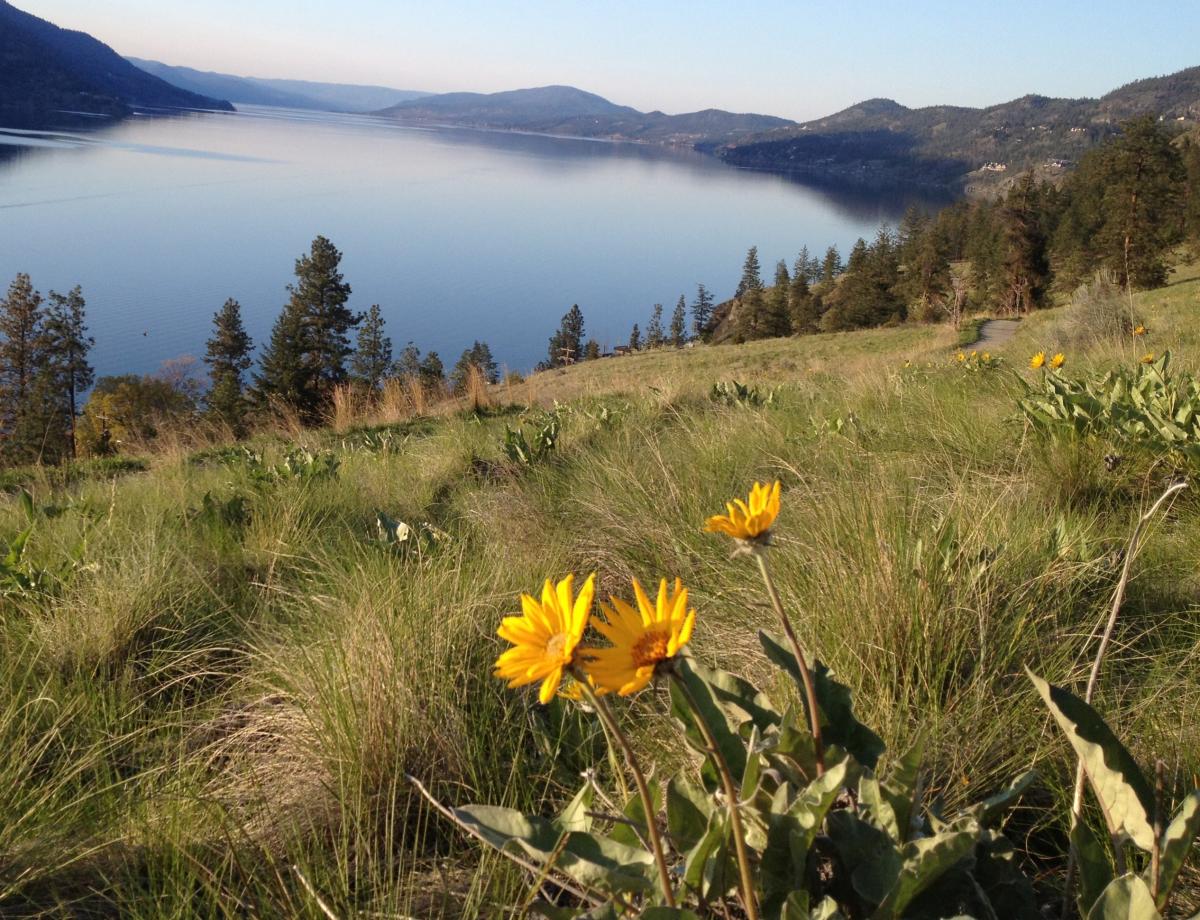 Arrowleaf balsamroot at Knox Mountain Park
This happy yellow bloom is the official flower of Kelowna, and for good reason. Arrowleaf balsamroot—so called for the shape of its leaves and the fragrant balsam resin in its roots—grows like a weed on hillsides all over town between mid-April and the end of May.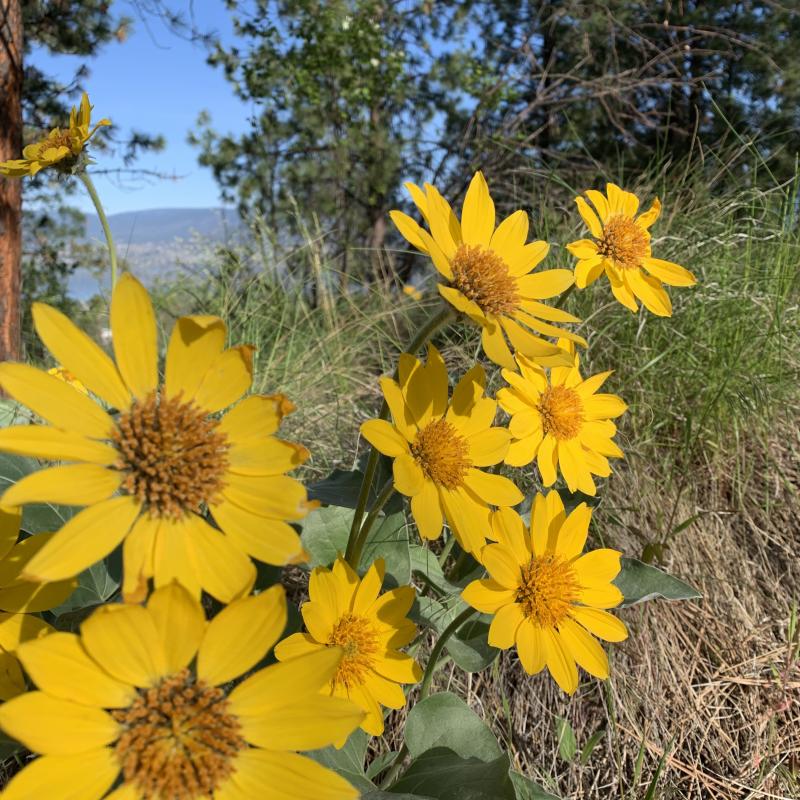 Take the family for a hike in Knox Mountain Park, Dilworth Mountain Park, or Kalamoir Regional Park in West Kelowna and you're almost guaranteed to see fields of yellow perennials basking cheerfully in the sun. We see lots of them in Mission Ridge Park, too.

Orchard Blooms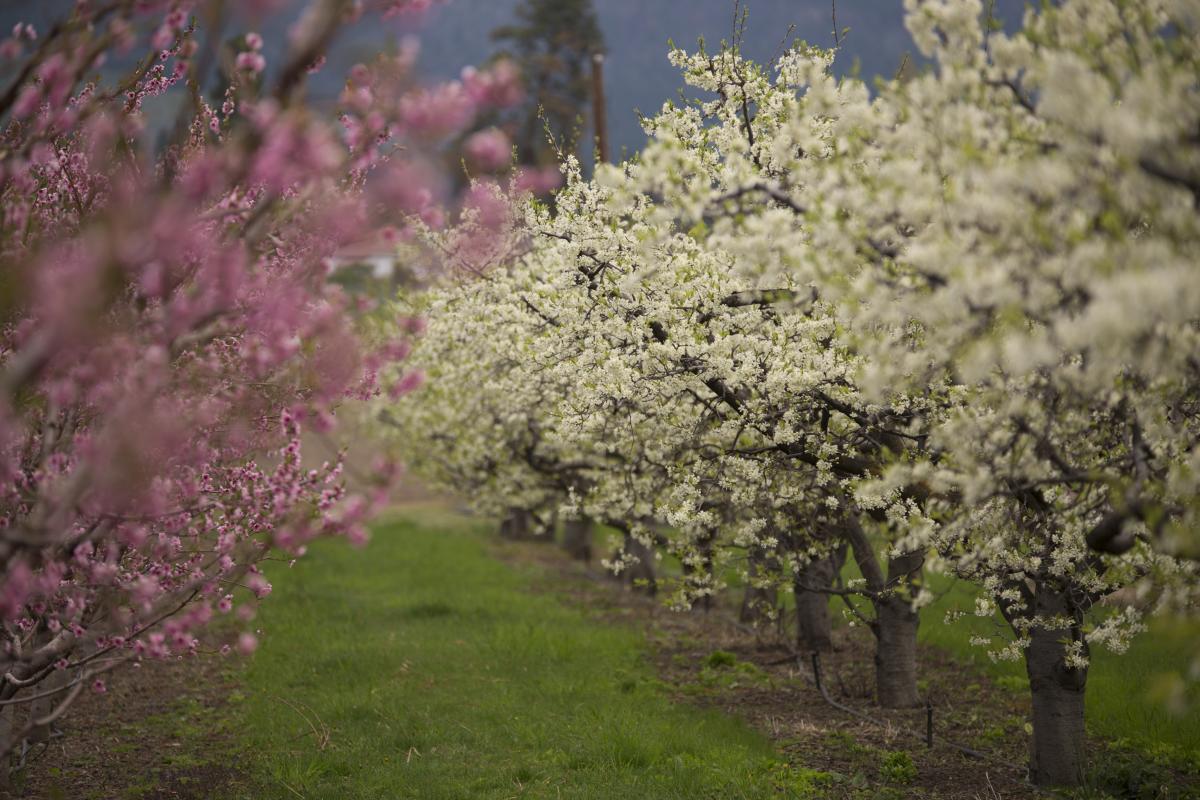 Tree Fruits Orchard in Bloom. Photo by: Matt Ferguson Photography 
Cherry blossoms get all of the attention in cities like Vancouver and Washington D.C.—and they're gorgeous here in Kelowna, too—but all of the other fruit-bearing trees burst into white-, pink- and peach-hued flowers at nearly the same time, usually during a three-week window from late April to early May.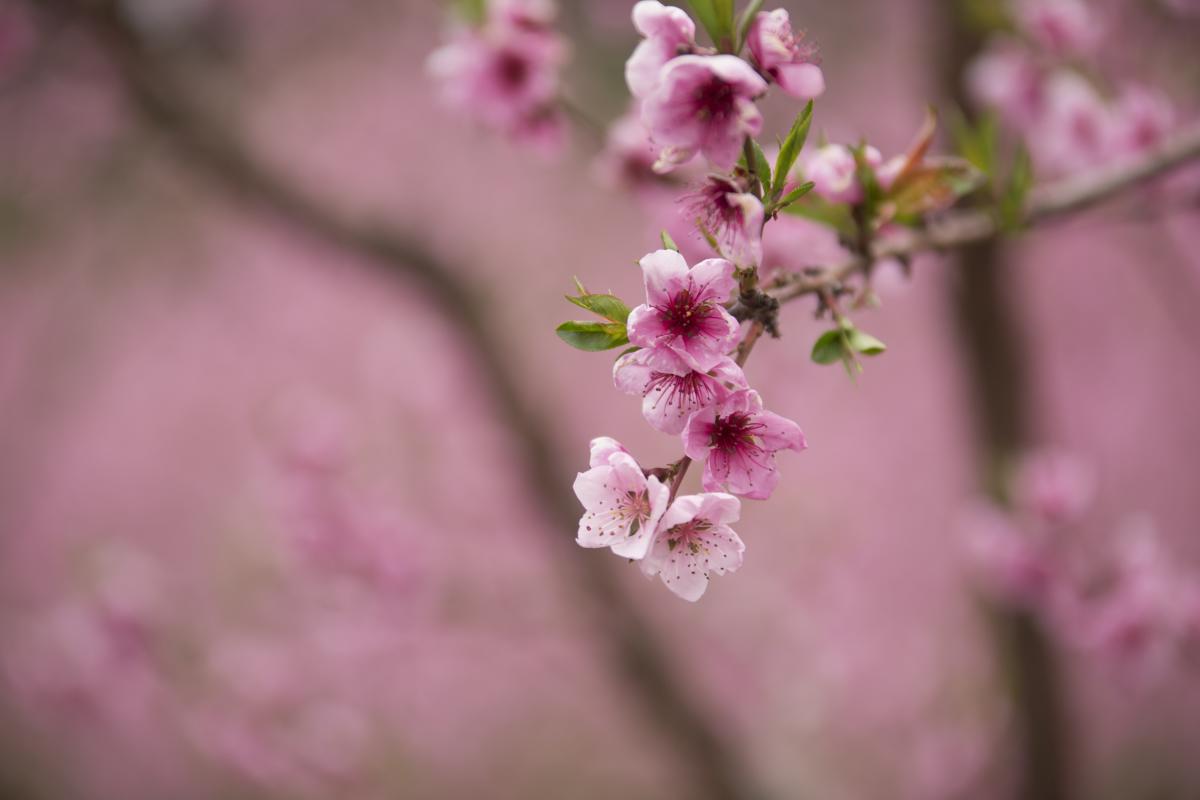 Photo by: Matt Ferguson Photography
Visit any orchard with apricot, cherry, peach, pear or plum trees during this time to admire their pretty flowers all at once! When they finish up, the apple trees get blossoming until the end of May. On the west side, Paynter's Fruit Market is a u-pick orchard that welcomes families to wander the grounds in spring. In south Kelowna at the intersection of Lakeshore and Barnaby, the triple threat of Mike & Lizzy's Cherry U-pick, Twin Oaks Organic Orchard, and Kuipers Family Fruit Farm ensures a scenic spring drive.

Community Blossoms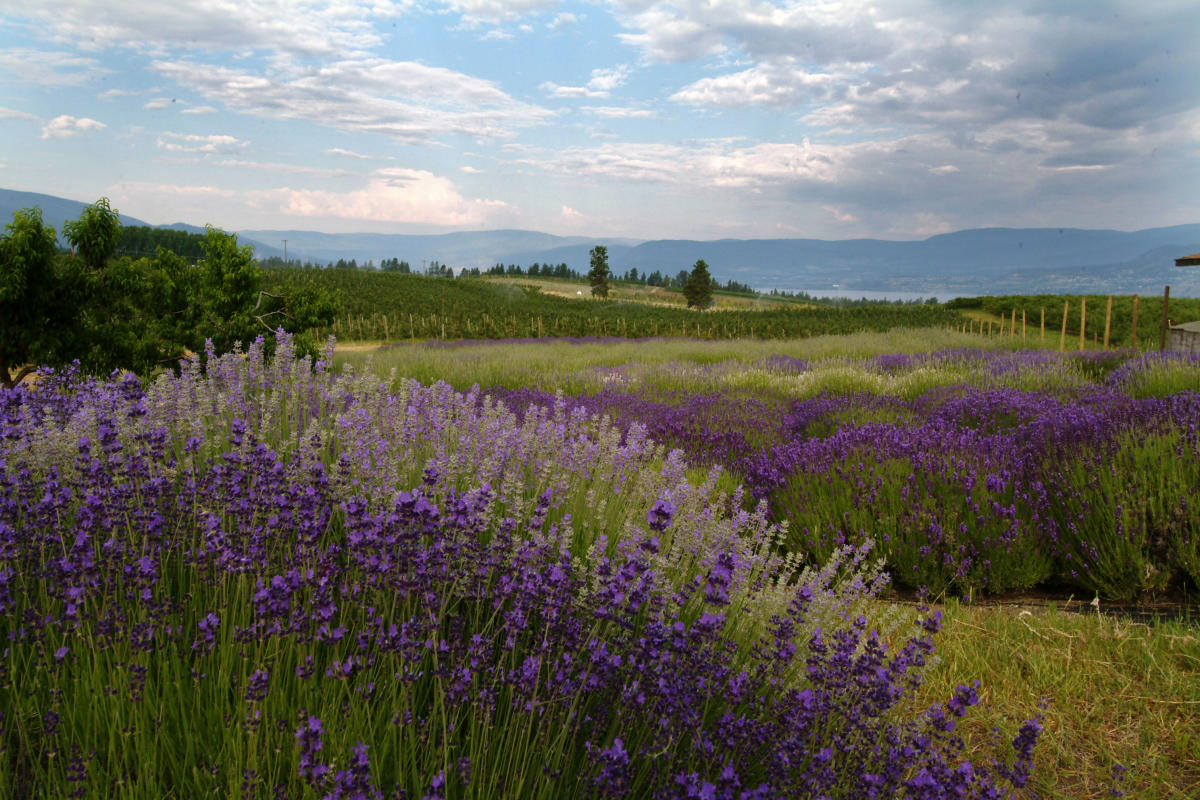 Okanagan Lavender & Herb Farm
Stroll around downtown Kelowna or along residential streets and you're bound to see colour springing up everywhere, from yellow daffodils to purple pansies. Delicate magnolias are early bloomers and you'll find them outside the Kelowna Community Theatre and in front of City Hall. In May look for lilacs, which are as ubiquitous for their violet shade as for their intoxicating aroma, and in June look out for lavender as it flowers around town.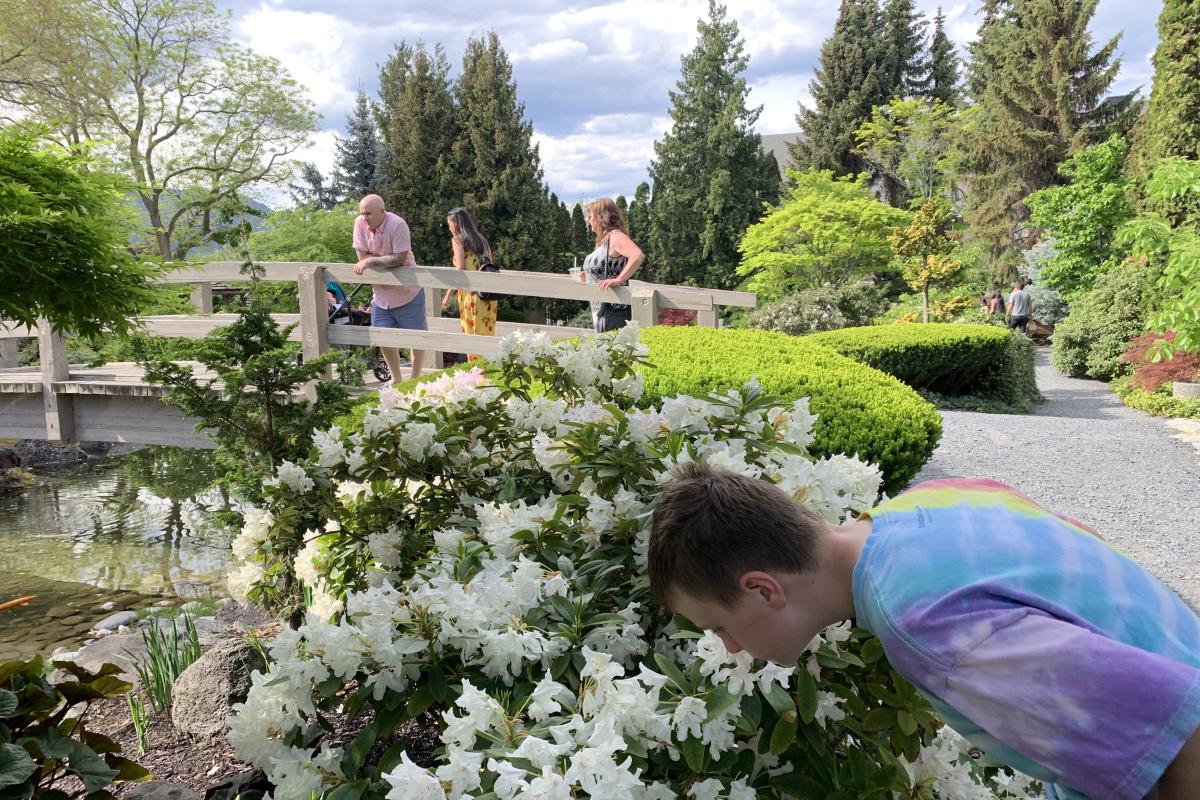 Kasugai Gardens 
For more guaranteed flower sightings, head to Guisachan Heritage Park to see a riot of tulips and lilacs, or duck into Kasugai Japanese Gardens downtown to enjoy weeping crabapples and rhododendrons blooming in early May.