One of the benefits of living in the Okanagan is being able to enjoy the four seasons. Each one here is very distinct and offers locals the classic, storybook spring, summer, fall, and winter.
On point, autumn is spectacular. Not only is it picture perfect, with every hue of yellow, gold, orange and red painting the landscape but it's also harvest season. This means that we have reached the crescendo of the vineyard's production cycle and now move into the winemaking process.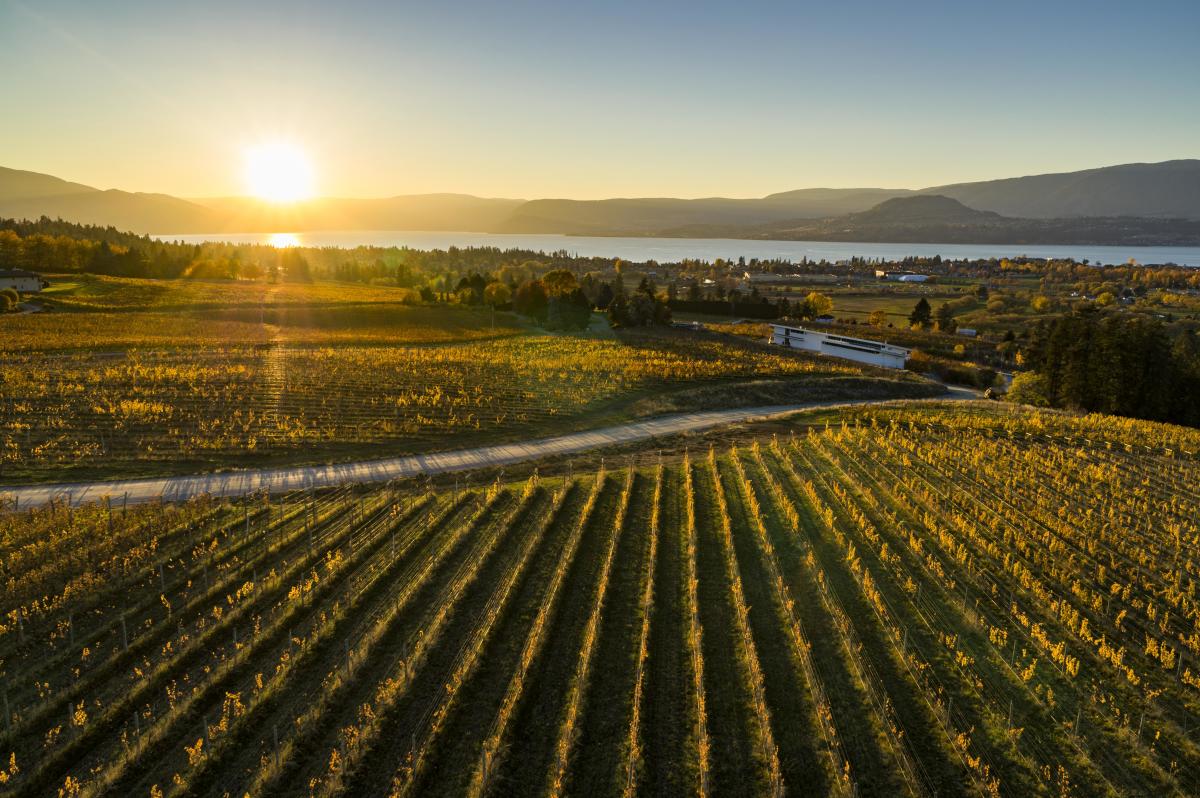 Tantalus Vineyards. Photo by: Shawn Talbot Photography
Of all our seasons, this is the time to truly feel the magic of wine country. Vineyards and wineries are buzzing with activity as the final grapes are being picked and moved inside where our winemakers are crushing the fruit and thus beginning the transformation into wine. 
Here in the Kelowna area, there is so much beauty to take in this time of year. I suggest planning separate day trips to tour each area including West Kelowna and Lake Country. Choose one of our gorgeous winery restaurants to lunch at on your journey and then build your tour around that. Don't forget to bring your camera and take plenty of selfies while standing amongst the colourful vines before the final leaves fall and they go to sleep for the winter.
Here are some itinerary suggestions:

West Kelowna Day Tour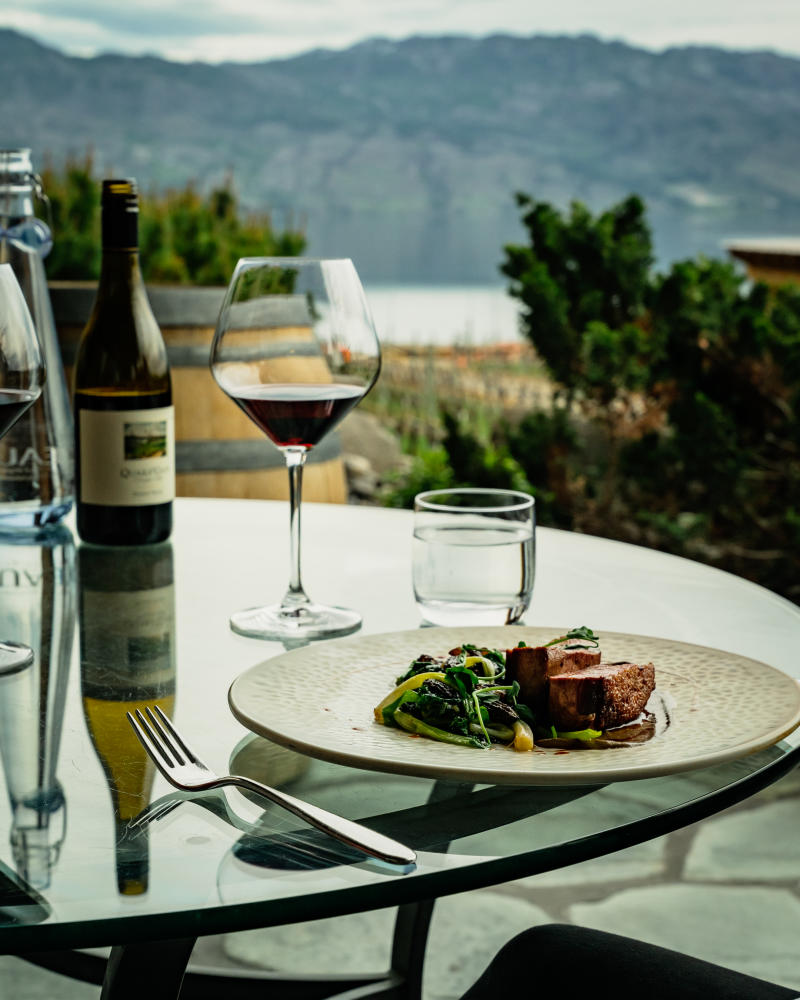 Old Vines Restaurant at Quails' Gate Winery. Photo by: Ken Hagen
Make a lunch reservation at Old Vines Restaurant at Quails' Gate Winery and book a tasting there prior to that in their beautiful tasting room. Here at one of our industry's most gorgeous wine venues, you can also wander through the vines and get amazing photos with the lake as your backdrop.
After lunch drive up the road and pop into Volcanic Hills Estate Winery for a tasting. This family run winery has a wide range of award-winning wines to quaff. After that, handily located just behind them you will find the spectacular newly transformed Mt. Boucherie Winery. Here you will marvel at this modern architecture and take note to book lunch here next time. 

Kelowna Day Tour
Home Block Restaurant at CedarCreek Estate Winery. Photo by: Darren Hull Studios
Make CedarCreek Estate Winery your lunch destination at the end of Lakeshore Road. The drive along Okanagan Lake en route is alone worth it this time of year. The beautiful tasting room beside their Home Block Restaurant will be happy to provide a pre-lunch tasting and before you continue on with a wine-paired lunch complete with a stellar vineyard and lakeview.
Wind your way back to Kelowna with a stop at Kelowna's destination organic winery, Summerhill Pyramid Winery for a bubbly tasting and more lake and vineyard eye candy. From there, head up to South-east Kelowna and enjoy the onsite farm vibes at The View Winery where can enjoy both a wine and a cider tasting. Call ahead to see if you can book a tasting in the orchard. Then, just up the road, Spearhead Winery can be your final stop where you can enjoy their colourful wineshop set amongst the vines and fantastic wines (Pinot Noir lovers will freak).

Lake Country Day Tour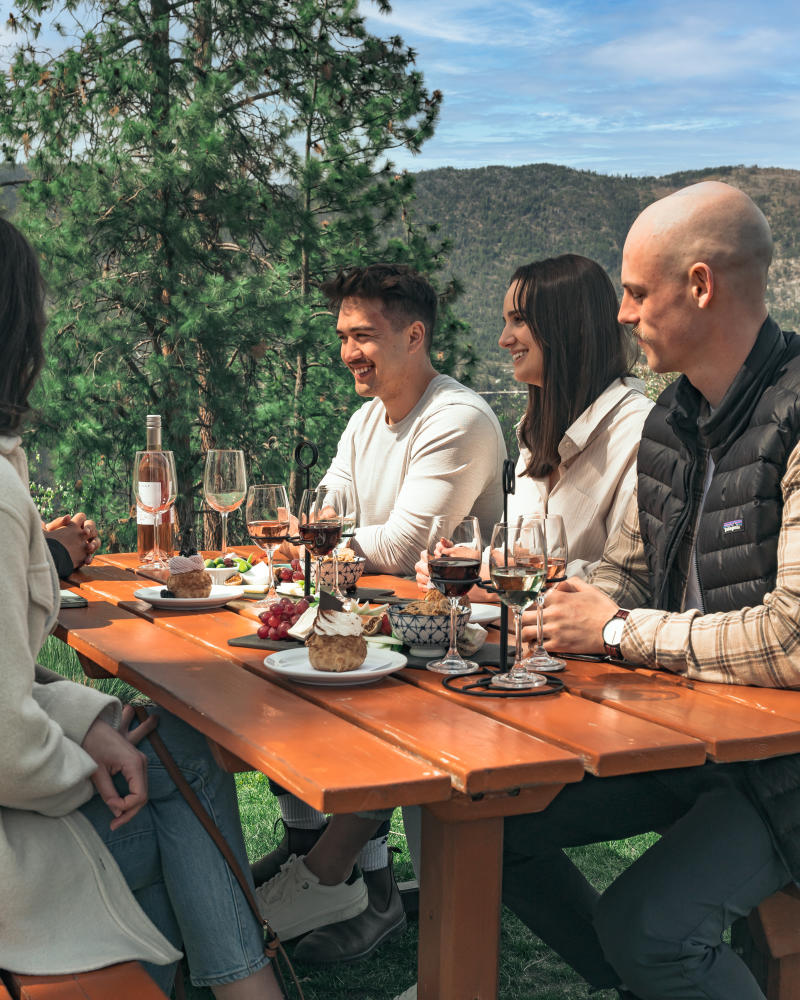 Arrowleaf Cellars. Photo by: Ken Hagen
This is another stunning drive to enjoy. Book a table at O'Rourke's Peak Cellars Garden Bistro and then start with wine tasting here at one of our industry's most buzzed-about wineries. Learn about the epic plans in the works for phase II of the O'Rourke family's incredible new winery and caves.
After lunch, drive or walk across the road to the awesome tasting room offered at Intrigue Wines. Here they have a wide range of wines to discover as well as a shopping experience for wine-themed gifts that you won't be able to resist.
Next on the itinerary, Arrowleaf Cellars will blow your mind with their epic lakeview. Here you can sample their delicious wines and if you are lucky, some special baked goods that they sometimes have on offer.
There are many more wineries to explore with over 40 just in the Kelowna area. Extend your stay to get the full Kelowna wine experience.