Forget the 100-mile diet. At Gatzke' Farm Market in Lake Country, 3rd generation farmer Alan Gatzke wants you to experience the 100-metre diet.
Here, on his 25-acre scenic orchard and farm situated along the Pelmewash Parkway that parallels Wood Lake, you'll find 50 species of tree fruits including 21 varieties of apples, from Ambrosia to Fuji. He also grows apricots, cherries, peaches and nectarines, pears, raspberries, strawberries and haskaps, plus garlic, corn, basil, tomatoes, peppers, peas, squash, sweet potatoes and even tobacco.

Fresh from the farm (or fruit tree)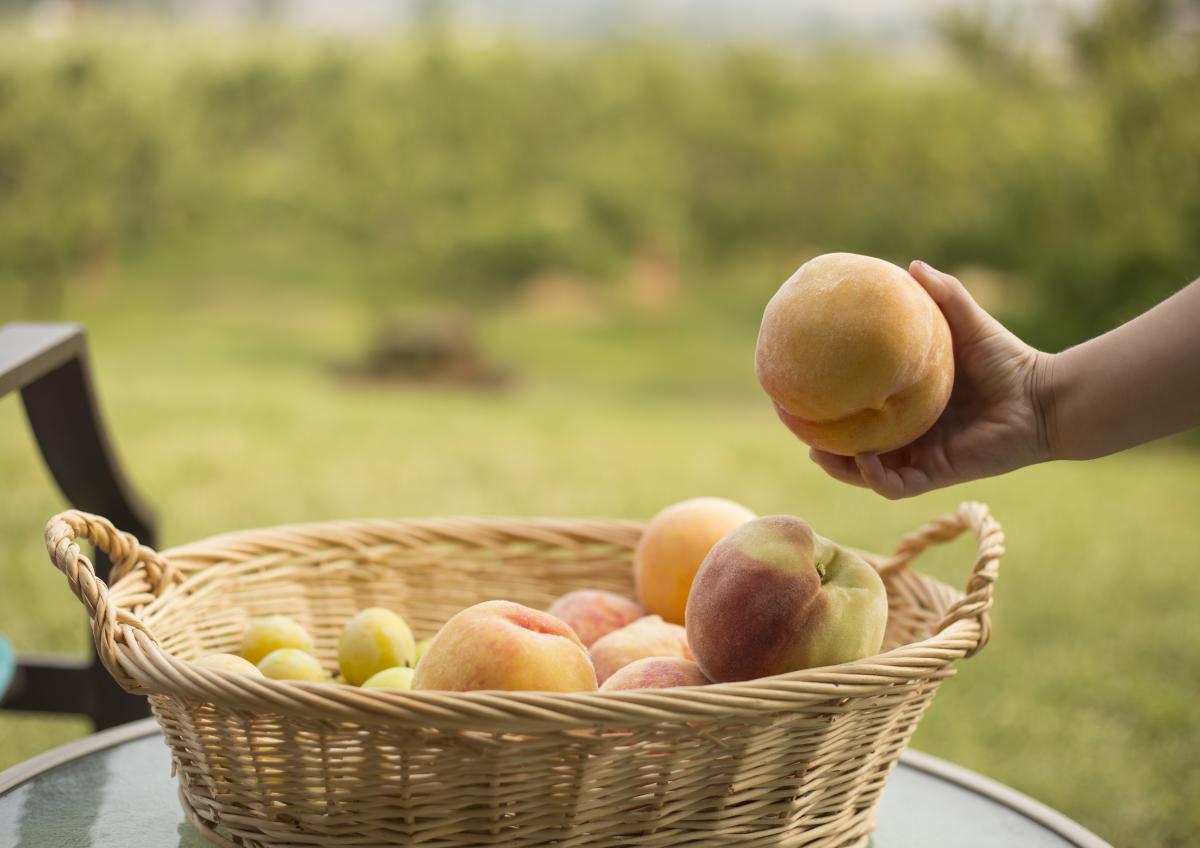 Photo by: Matt Ferguson Photography
During the summer and harvest season you can stop in and—if it's July, for example—pick cherries right from the tree and purchase them by the pound in the farm market. It's almost guaranteed to be fewer than 100 metres from the cherry tree to your mouth.
"People love variety and fresh off the tree," says Gatzke. "From the beginning of June to the end of October there's something for you to go and pick off a tree in our orchard." 
Because different varieties of cherries and apples ripen at different times, it really extends the season (fact: nobody is ever tired of cherries by September!).

Strength in diversity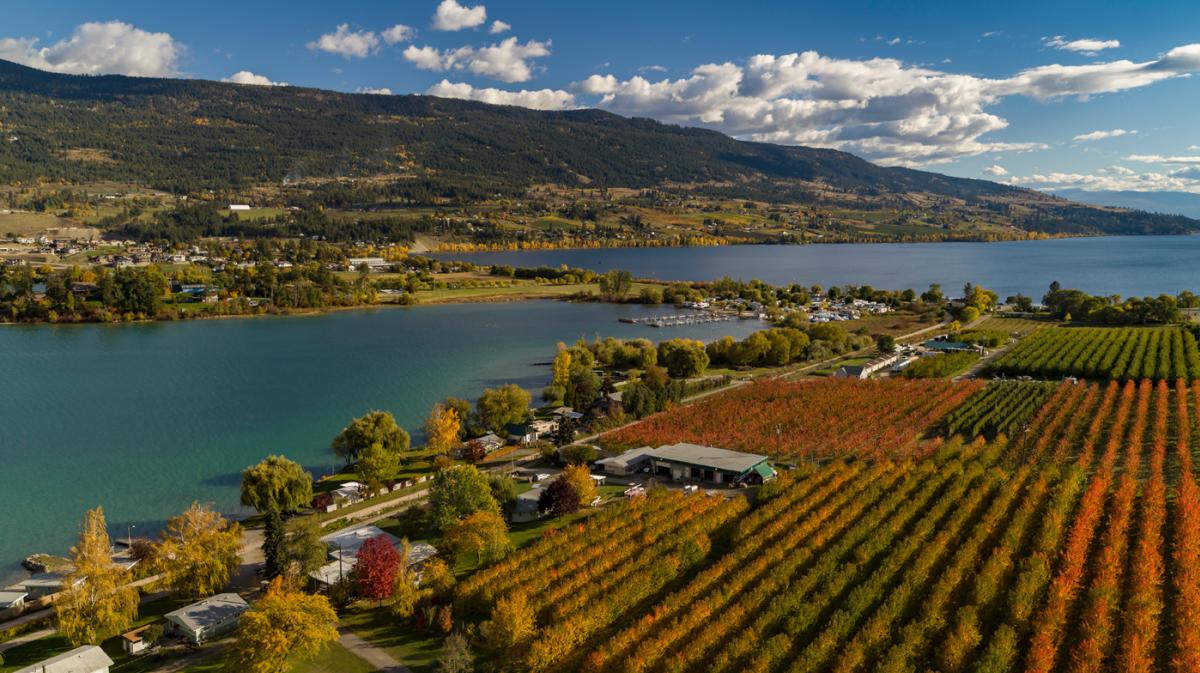 Orchards in Lake Country. Photo by: Shawn Talbot 
Gatzke's orchard is what those in the industry call a polyculture enterprise, meaning it grows many different crops and even species within a crop (14 kinds of cherries, for instance). It's fairly unique among farms in the valley. Many tend to specialize for efficiency, which translates into higher yields and more profit. Growing a variety of fruits and vegetables as Gatzke does is inefficient because it requires more labour all season long as different produce ripens.
"Sometimes that inefficiently is challenging, but it also sets us apart," says Gatzke. "Our strongest competitive advantage is less about what the diversity in the store is, and more about authenticity." 
You can actually watch the chef run out of the kitchen to grab some chives, which then appear fresh on your plate with your meal. It doesn't get more farm to fork than that.
What's more, most things thrive in the Okanagan Valley, so why wouldn't you plant every kind of fruit tree possible? Gatzke attributes the favourable growing conditions to a combination of good soil, great weather, and a dry climate. 

A sustainable farmer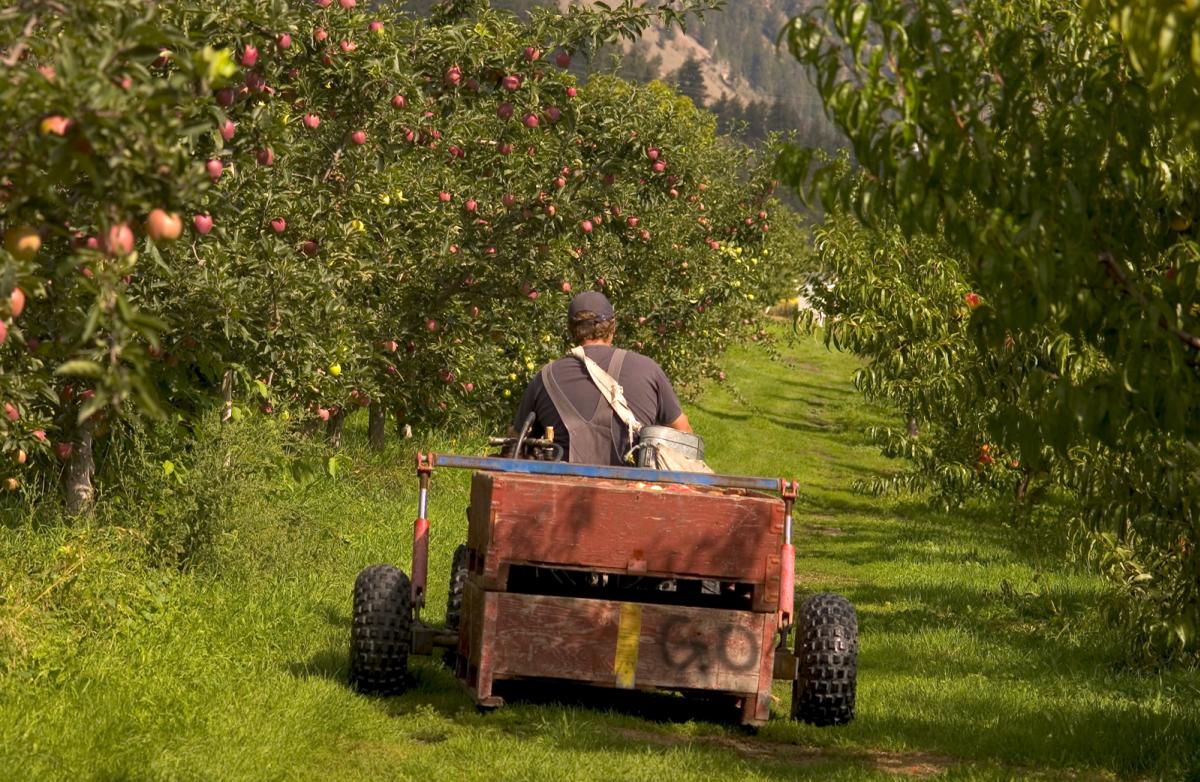 His orchard is situated on what used to be a lake bottom, so the soil is silty loam with lots of organic material. Gatzke enriches his soil through compost and a practice called bio-char. Basically, Gatzke Orchard burns tree prunings that are too large to be composted (think branches) and turns them into charcoal. When combined with compost, bio-char creates a living soil that acts like a natural fertilizer.
"We're growing soil and the byproduct is fruit," he quips.
Gatzke didn't always run an agritourism business. He used to sell exclusively to a co-op, but after a particularly hard year in 1989, he changed his model and began selling fruit direct to tourists. He found he could make more money selling $12 apple pies and bags of apples at 50 cents a pound to vacationing families, than selling bulk crates of apples to the co-op.
Customers benefit from buying direct from the orchard, too. They're getting fruit that's not only fresh, but costs less than it would at a grocery store. Plus, there's the priceless experience of eating an apple or slice of pie on the land where the fruit was actually grown. 
Nurturing this connection to the land is part of Gatzke's philosophy, which he calls "foodism." He believes in working with nature to grow food in a sustainable way, and share it with visitors who then become ambassadors for sustainability and hyper-local food. (In addition to the composting and bio-char, he chooses organic pesticides and uses them as sparingly as possible.)

Agritourism is growing
His agritourism model works so well in the Okanagan because we already have a tourist base. The valley is popular with travellers from Vancouver and Alberta, and a big draw for them is the fruit and vegetable bounty (plus the wine, of course). More and more, people want to know where their food comes from, and go right to the source. 
Gatzke hopes to take his business to the next level in the coming years. He has plans to open glamping tents with a view of Kalamalka Lake, so guests can have a farmstay experience that includes dinner at Pane Vino (which uses fresh basil and cherry tomatoes from Gatzke Orchard on its pizzas), an e-bike rental from Pedego Oyama, also located on site, and a cooking class where they get to make their own peach salsa to bring home. 
In the meantime, visitors will have to be satisfied with self-guided farm tours, picking or stocking up on fruit (or fruit jams, salsas and syrups in the off season), and a 100-metre fruit pie.