May in Kelowna
While May is the peak of spring, with rainy days scattered throughout the month, the atmosphere towards the end of the month has summer written all over it. Temperatures rise, and sunny days multiply as the month progresses, making it perfect for outdoor adventure and savouring Kelowna's best. Read on to learn more about what you can discover and what to expect in and around Kelowna when visiting this time of year.

Explore Nature's Playground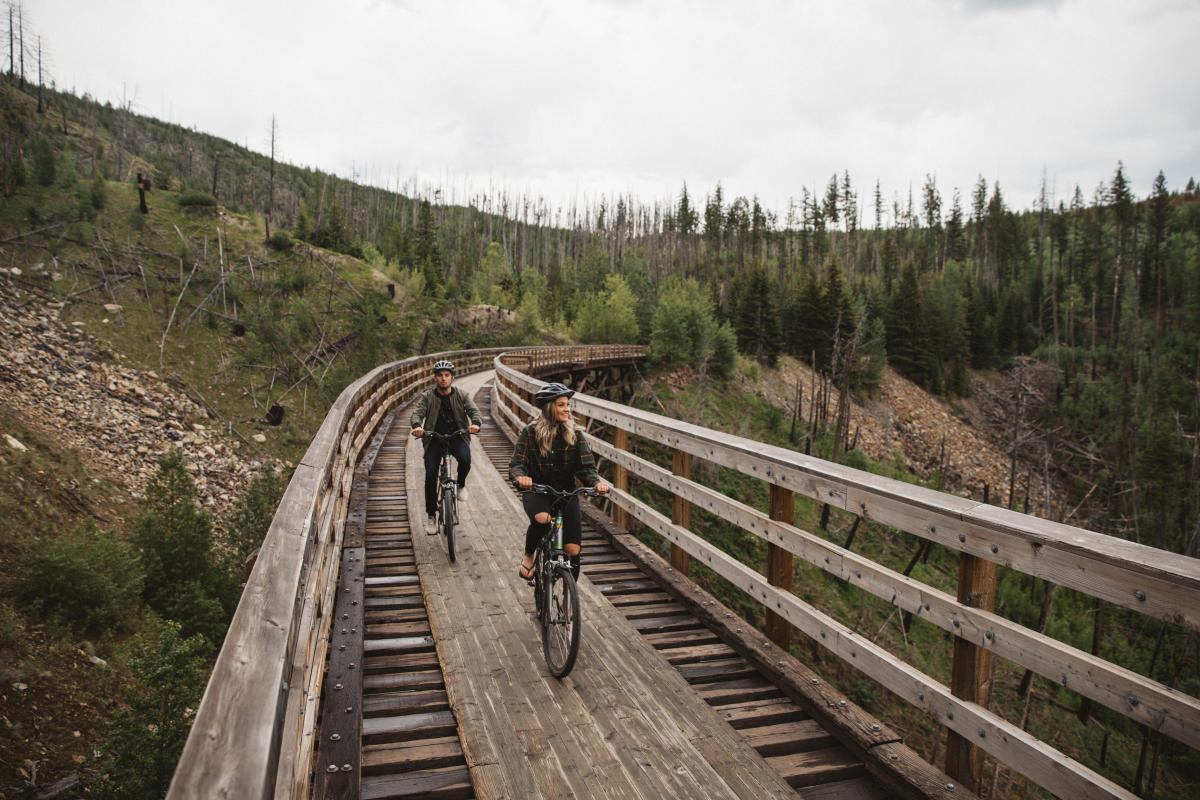 Myra Canyon Trestles. Photo by: Scott Bakken Productions
May is the unofficial kick-off to summer, which means many seasonal outdoor activities are back in full swing. In the spring, you can take advantage of all Kelowna's outdoor playground has to offer but with fewer crowds.  
The biking season at Myra Canyon Trestles Trail kicks off in early May. The scenic trail, part of an old railway system now known as the Kettle Valley Railway, is a 24 km (15 miles) round trip. The virtually flat trail makes it accessible to adventurers of all abilities and families with strollers or small adventurers. If you complete the trail one way, you'll bike across 18 trestle bridges and go through 2 tunnels. If you don't have bikes with you, there are a few rental options, including Myra Canyon Bike Rentals, which operates at the trailhead and opens for the season on May 5, 2023.
Lake activities start for the season on the May long weekend, which arrives towards the end of the month. Adventurers can participate in fun activities, including parasailing, stand-up paddleboarding, kayaking, and more. Boat rentals are also available so you can take your friends or family out on the water for a day of exploration on Okanagan Lake or one of the other lakes in the area. Visit the Lake Activities page on our website for more information.

Celebrate Kelowna's Craft Brews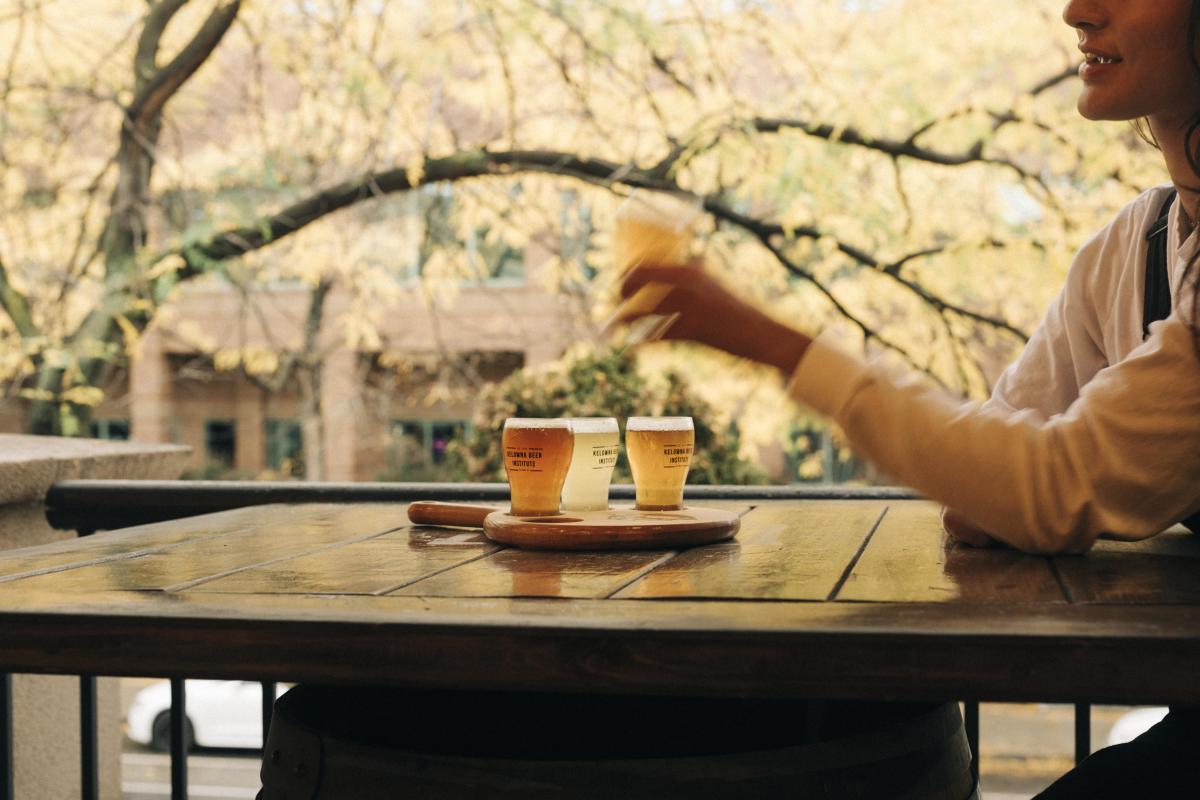 Kelowna Beer Institute. Credit: Nathaniel Atakora Martin (@nathanielatakora)
Local craft brews will take centre stage at the inaugural Kelowna Beer Fest in City Park on Saturday, May 13, 2023. Over 30 Kelowna breweries and cideries will be featured at the newly created event, produced by Thick as Thieves Entertainment, who also produce local events Denim on the Diamond, AltiTunes, and Island Time.

Kelowna Beer Fest will support local breweries/cideries, with a portion of every ticket sold going towards the Central Okanagan Brewers Association (COBrA), a new initiative created to unify the brewery community in and around Kelowna.
If you can't make it to Kelowna Beer Fest, find details about breweries in and around Kelowna here. 

Show off Your Love for Kelowna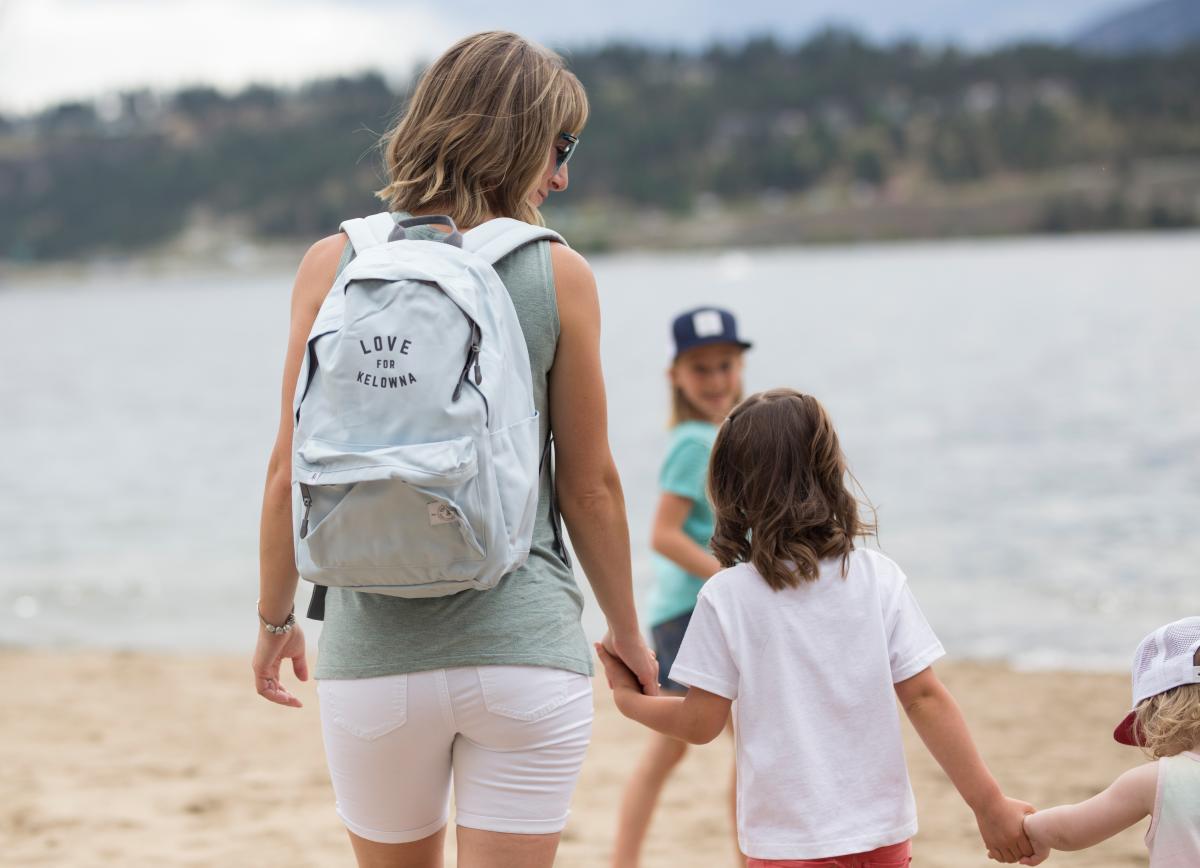 The 4th annual Love for Kelowna Day takes place on Saturday, May 27, 2023, paying tribute to the local tourism industry and celebrating all the amazing things Kelowna and the Central Okanagan offer.
Starting May 20, visitors and locals can get in on the fun with the Love for Kelowna Bingo Contest, exploring the region, taking advantage of special offers from local tourism businesses, and entering to win a prize valued at $2,500!
On May 27, head to the Kelowna Visitor Centre for a day of events including:
A "sidewalk" sale of Love for Kelowna and Kelowna Vibes merchandise
Local vendors and Love for Kelowna treats (while quantities last)
Cultural walking tours
Tastings of local craft beverages (must be 19+)
Click here to learn more about the day and to see all the offers and promotions from local businesses. 

Local Events
Asian Heritage Month
The Kelowna Taiwanese Cultural Society, in partnership with Okanagan Kongcept (Hong Kong) and UBCO Asian Student Association, will host the Okanagan Asian Culture Festival on May 21, 2023, at Red Bird Brewing.
On Saturday, May 27, you can attend the following events:

Asian Heritage Okanagan is putting on a free, family-friendly Community Showcase at Rutland Centennial Hall starting at 5 p.m.
Kelowna Museums will host a Tombstone Tour of the Pioneer Cemetery in honour of Chinese, Japanese, and Indo-Canadian communities. 
Knox Mountain Hill Climb
Live Shows
Arts & Culture
Ballet Kelowna is celebrating its 20th Anniversary this season. On May 5 and 6, 2023, the company will perform its final show of the season, Transformations. The program will feature the in-person premiere of Kirsten Wicklund's hauntingly beautiful Disembark and the world premiere of Cameron Fraser-Monroe's evening-length reimagining of Wild West archetypes.
The Okanagan Symphony Orchestra will also conclude its 2022/23 season in May, with its Northern Lights show on May 12, featuring guest artists Ariel Barnes on cello and the OSO Chorus. 
Browse our online calendar of events to see what else is happening in and around Kelowna this May. 

Weather
The average high in May is 20°C / 68°F, though temperatures can be warmer towards the end of the month. The evenings and nights will cool down, with average lows of 5°C / 41°F, so depending on where you're visiting from, you may want to have a jacket or sweater on hand to stay warm.
May is one of the wettest months of the year in Kelowna, though the average amount of rainfall is 28 mm / 1.1 inches for the entire month. Showers tend to be light, and the hiking areas around the city will have started to dry out thanks to the rising temperatures and sunshine.

Helpful Planning Resources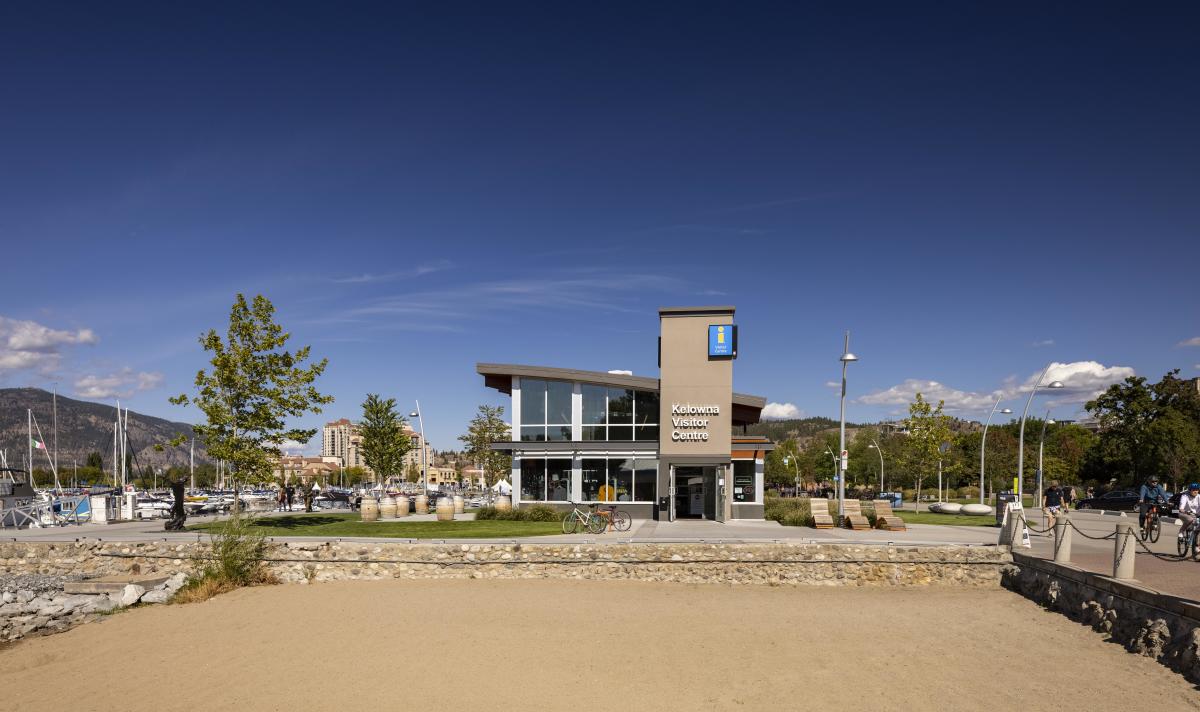 Photo by: Shawn Talbot Photography
Plan a purposeful and rewarding trip to Kelowna by using the resources available on our website:
Have more questions about your trip to Kelowna? Connect with our team at the Kelowna Visitor Centre.
Be sure to follow us on Instagram and Facebook for more inspiration and share your adventures using #exploreKelowna.