April in Kelowna
Spring has definitely sprung once April rolls around! Read on to find out more about what you can discover, and what to expect, in and around Kelowna when visiting at this time of year.

Explore Outdoors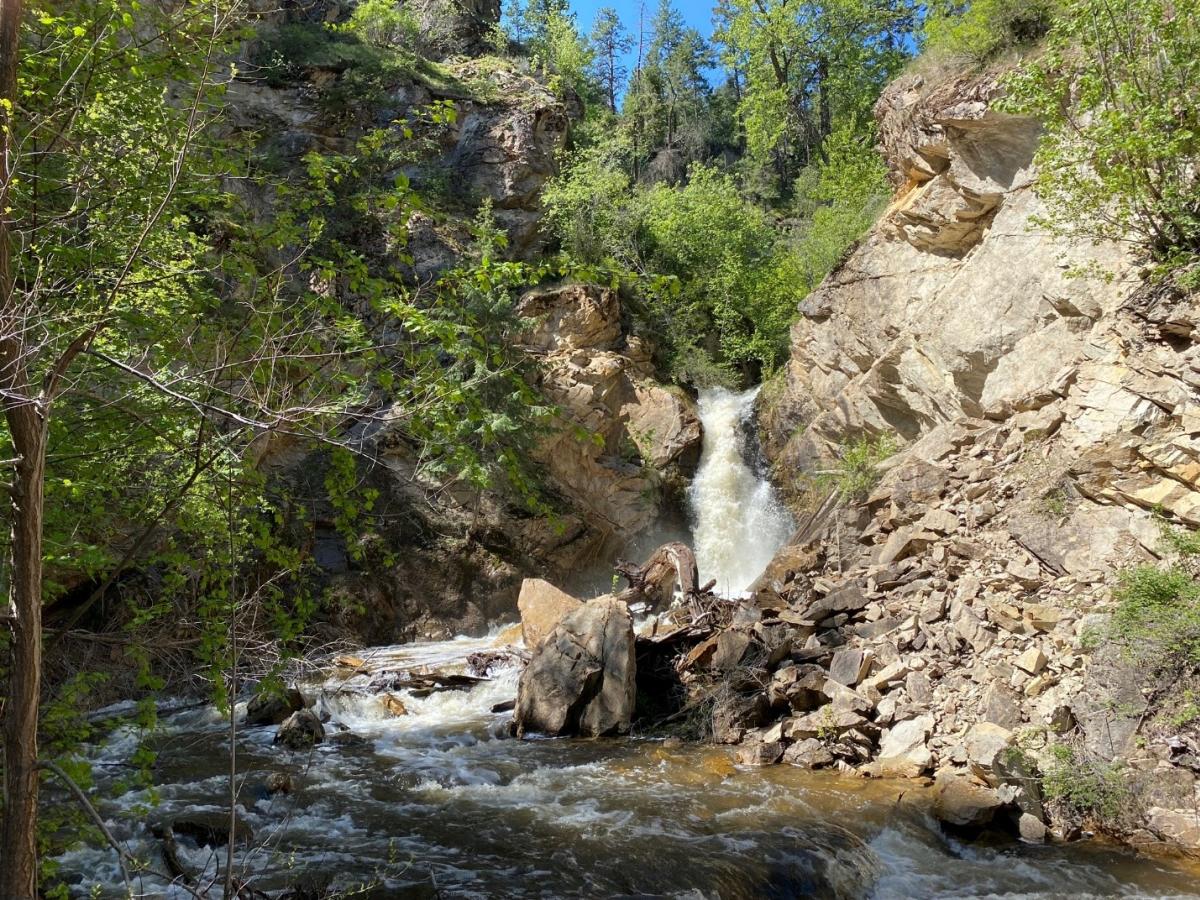 Hardy Falls Regional Park. Photo by: Melissa McCluskey
Melting snow from the mountains makes April the perfect time to discover some of the waterfalls in and around Kelowna.
South of Peachland you'll find Hardy Falls Regional Park. The short, approximately 1 km (0.62 miles) path to the falls is flat and easily accessible for hikers of varying abilities, including people using wheelchairs or families with strollers. Connect with your creative side by joining Watercolours by the Water at Hardy Falls, a one-hour course offered by the Regional District of the Central Okanagan (RDCO) on April 30, 2022.
Other parks with waterfall hikes include Mill Creek Regional Park in Kelowna and both Fintry Provincial Park and Bear Creek Provincial Park in West Kelowna. Be sure to reference our Outdoor Safety page for helpful reminders when exploring outdoors.
PRO TIP: Head back to Hardy Falls in September to catch the annual salmon spawning!

Discover the Best of Kelowna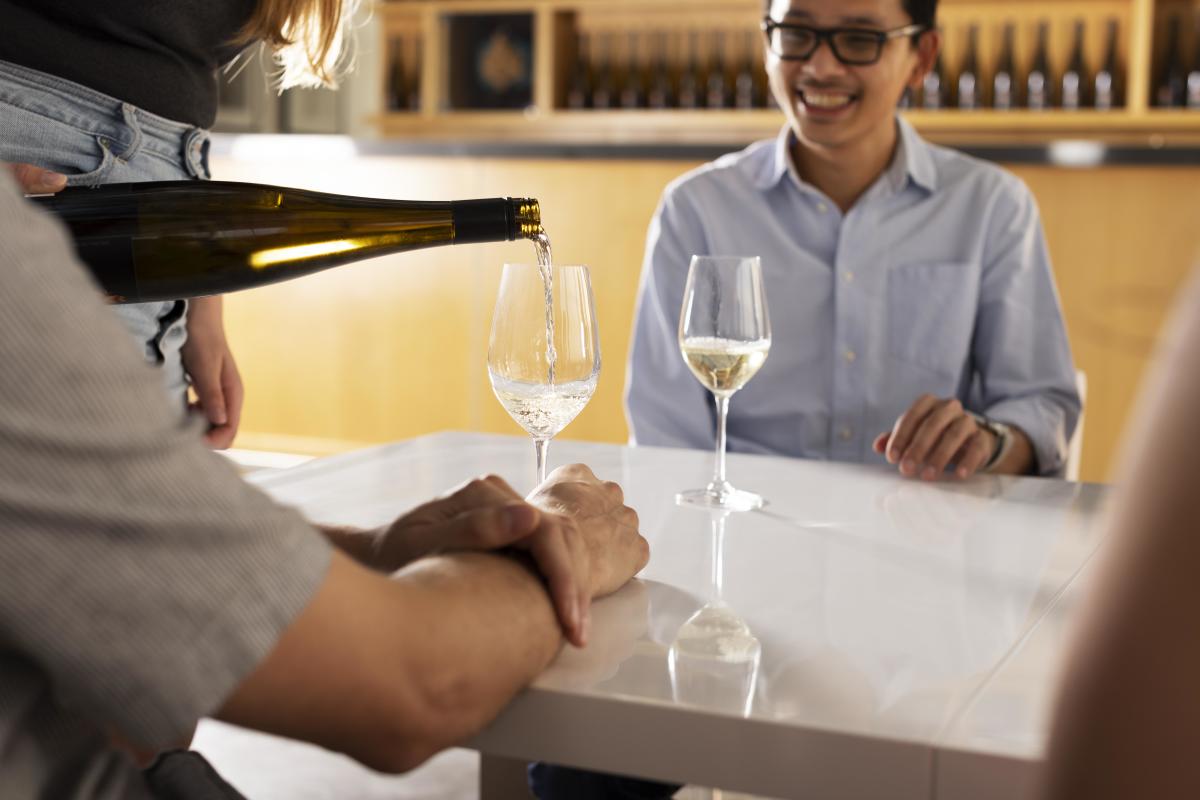 Tantalus Vineyards. Photo by: Shawn Talbot Photography
Kelowna is the birthplace of BC wine, with more than 40 wineries in and around the city. In April, it's time to celebrate BC wine month and the arrival of new wine releases, particularly aromatic white wine varietals. Read our blog post to find out why spring wine touring in Kelowna is incredible! 
Fruit trees in the area also start to bloom—those who love golf can be surrounded by blossoms when playing a round at The Harvest Golf Club, which is nestled amongst fruit trees and vineyards. You'll have expansive views of Okanagan Lake from the greens, too.
The increasing temperatures mean outdoor markets start to reopen, too. The Kelowna Farmers' & Crafters' Market, which celebrated its 25th Anniversary in 2020, will kick off its outdoor season on April 2. You'll want to visit often as the selection of fresh produce will grow and change as fruit and vegetables come into season. The market runs on Wednesday and Saturday, from 8 a.m. to 1 p.m., at the corner of Dilworth Drive and Springfield Road.

Attend Local Events
Events are coming back in full force, making it easy to fill your calendar with fun things to do while you explore Kelowna this April. 
Live Music
It's been a long wait for the launch of Kelowna's newest music festival, AltiTunes, which was originally scheduled to take place in April 2020. This high-energy, outdoor festival will be taking place at Big White Ski Resort on April 2—the lineup includes Daysormay, Lights, and headliners, Arkells. Learn more and purchase tickets on the AltiTunes website. 
Childhood favourite of multiple generations, Fred Penner—who released his first album, The Cat Came Back, in 1979—will take the stage at the KCT on April 10. Later in the month, on April 24, Will's Jams Family Concert will take place at the Rotary Centre for the Arts. Tickets for both events can be purchased online: Fred Penner | Will's Jams Family Concert

Markets
More than 100 vendors will be showcasing local goods at Craft Culture's Spring Market, which is taking place at the Kelowna Curling Club from 10 a.m. to 5 p.m. on Saturday, April 9, and from 10 a.m. to 4 p.m. on Sunday, April 10. Visit the Craft Culture website for more information and to see a full list of vendors.
Celebrate Easter weekend with the Egg-stra Special East Kelowna Market, taking place on Sunday, April 17, from 10 a.m. to 2:30 p.m. In addition to the more than 60 local vendors that will be onsite, the event will also feature an Easter egg hunt, egg painting, live music, and more.

Heritage, Arts & Culture
Get ready to have some fun with fungi at the Okanagan Heritage Museum! BC's Marvellous Mushrooms, a travelling exhibition created by the Royal BC Museum, will introduce visitors to "the province's most fascinating fungi." Visit the Okanagan Heritage Museum website to learn more about the exhibit and for hours of operation. The exhibit is on display until May 23, 2022.
Kelowna Museums is also hosting its popular traditional syilx plant use walking tour, part of the ongoing na̓k̓ulamən (what we do) series, from 6 p.m. to 8 p.m. on Wednesday, April 20. Join the tour to learn more about how the syilx/Okanagan people use different local plant species in their everyday life. The tour starts at the Laurel Packinghouse.

A friendly reminder that some COVID-19 restrictions have eased while others remain in place; be sure to confirm requirements in advance.

Prepare for the Weather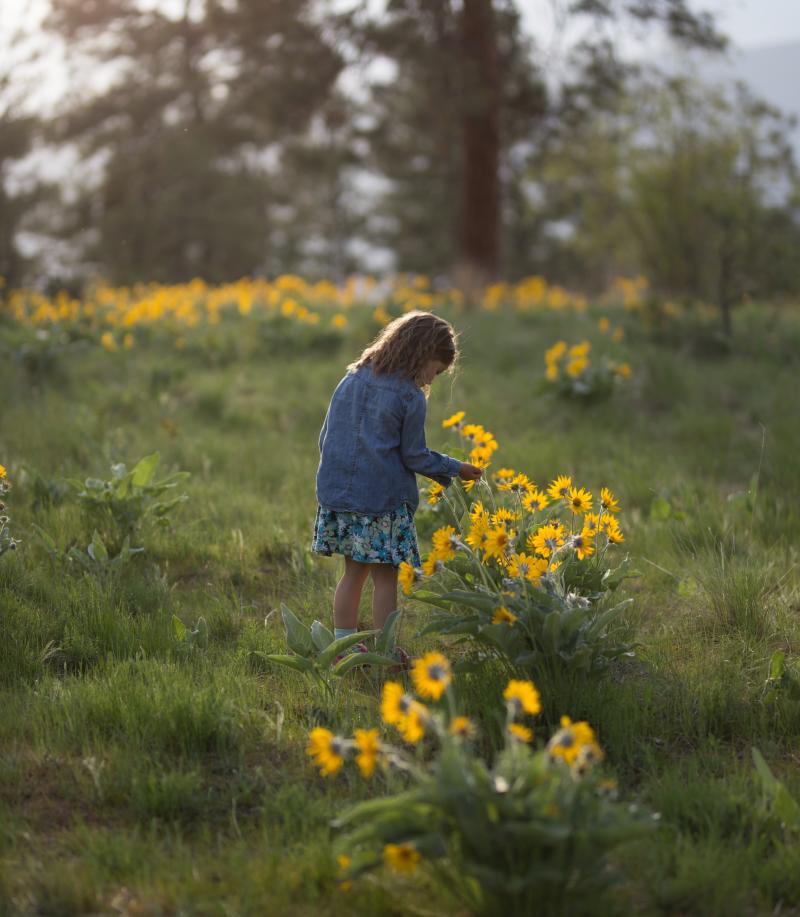 Arrowleaf Balsamroot Flowers at Knox Mountain. Photo by: Matt Ferguson Photography
Temperatures continue to increase throughout April, reaching an average high of 16°C / 61°F. Temperatures do cool off later in the day, so it is good to be prepared with layers so you can adjust for your desired comfort. In need of a warmer layer? Stop by our Kelowna Visitor Centre to check out the selection of hoodies and crewneck sweatshirts.
April tends to be dry, with light showers on and off delivering an average of less than 1 inch of rain for the entire month. Higher elevation areas will be quite muddy from snowmelt, so be prepared with proper footwear, and avoid areas that might be inaccessible due to unstable ground.

Helpful Planning Resources
Kelowna Visitor Centre. Photo by: Shawn Talbot Photography
Plan a purposeful and rewarding trip to Kelowna by using the resources available on our website:
Have more questions about your trip to Kelowna? Connect with our team at the Kelowna Visitor Centre.
Be sure to follow us on Instagram and Facebook for more inspiration and share your adventures using #exploreKelowna.