With 2022 around the corner, now is the time to plan your marketing and advertising efforts for the year ahead. Tourism Kelowna offers a selection of advertising and marketing programs that will help increase awareness and exposure of your business. 
Please review these programs and advertising opportunities and select the options that best optimize your exposure to the millions of travellers that Tourism Kelowna reaches every year. 

Advertising at the Visitor Centre
Each year, our team at the Kelowna Visitor Centre welcomes thousands of visitors and locals who are looking for information about Kelowna and area. Get in front of these visitors by placing your ads on the digital screens or in the display areas. 
Digital Advertising in the Visitor Centre: Select from two options available: a 48" screen or 110" video wall; you can use one 20-second video or two still ads (each one runs for 10 seconds). Digital Ads can be booked by season. 
Display Advertising at the Visitor Centre: The Kelowna Visitor Centre has three distinct display areas: 
Exterior Display Window: A large display window on the north side of the building, looking directly towards the boardwalk. Over 400,000 walk the boardwalk per year. 
Entrance Shelf: Located directly in front of the Visitor Centre entrance doors.
North Wall: Large interior wall.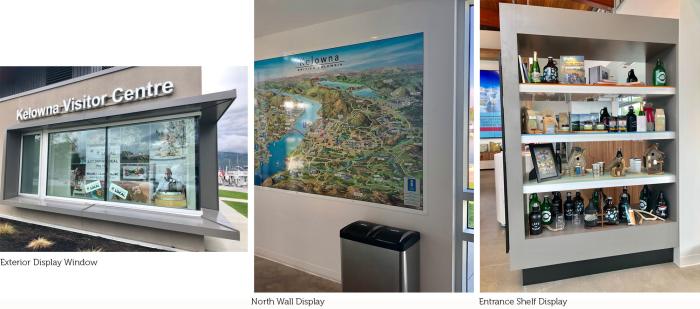 Brochure Racking at the Airport Information Kiosk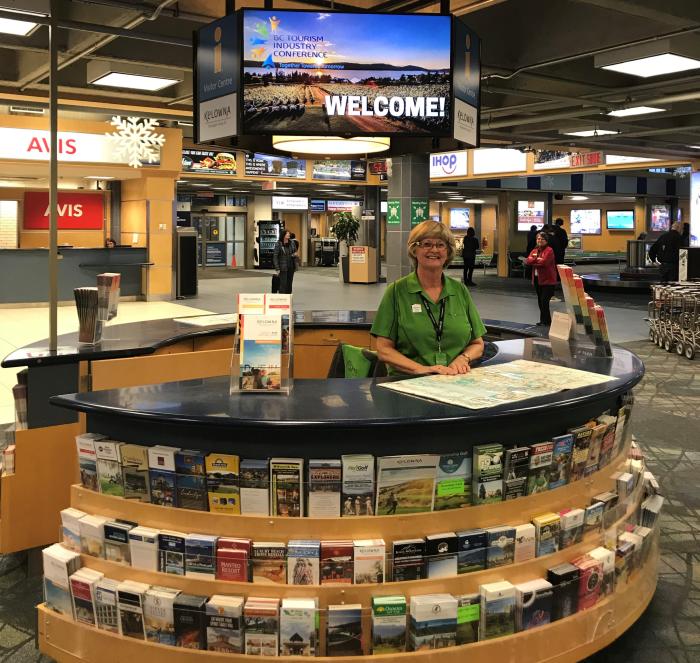 Rack your brochure at the Kelowna International Airport (YLW) Information Kiosk for exposure to travellers.

Wine Trails Program
The Kelowna Wine Trails program promotes the Central Okanagan as a highly desirable Canadian wine region. A network of five different wine trails cross-promote each other, resulting in increased business for all. 

Local Flavour Programs
This proven, self-guided tour generates visitor traffic for participating businesses through expanded exposure and cross-promotion. The farm-to-table and -glass experience comes alive for visitors and celebrates the connection between local farmers, artisan producers, local chefs, and mixologists. Email us for more information about the program.

Meetings & Conferences Program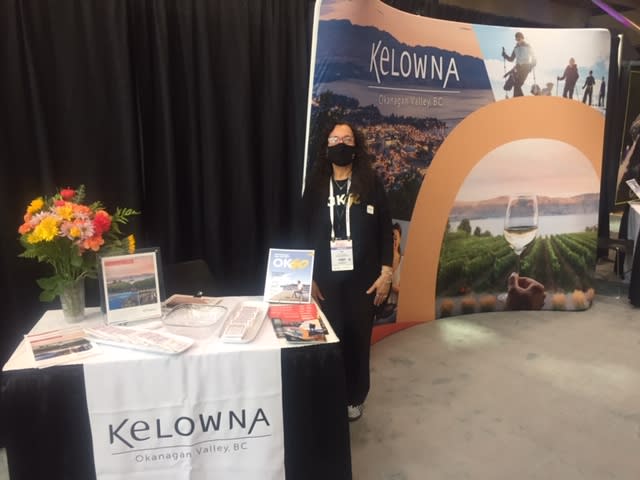 Tourism Kelowna has designed a cooperative sales program for those stakeholders that want to generate meetings and conference business. The program provides participants with opportunities to sell their venues and services directly to industry executives throughout Canada and the Pacific Northwest US. Participants share trade show and event costs making exposure more affordable.

Relocation Guide
Enhance your visibility with this comprehensive Relocation Guide, specifically targeting those visitors who are looking to make a permanent move to Kelowna and the Central Okanagan.
Specifications
24-page magazine
10,000 printed copies
Distributed at the Kelowna Visitor Centre and its satellite locations, as well as at the Central Okanagan Economic Development Commission (COEDC) office
Available online for users to view or download
Email us for more information about the relocation guide.
Click here to can access the full listing of marketing and advertising programs. If you have any questions or would like further information about any of these opportunities, please reach out to me directly at sara@tourismkelowna.com or call (250) 861-1515 ext. 218.