Our business development team, along with Mission Hill Family Estate, Cove Lakeside Resort, 50th Parallel Estate Winery, and Delta Hotels by Marriott Grand Okanagan Resort, hosted our second virtual destination showcase last week. The two-day event was attended by 43 meeting planners from across the country, joining in from four different time zones. 
We know that familiarization tours (FAMs) are a vital tool to generate business events—to ensure planners consider and book, they need to see and be familiar with our destination. With the current travel restrictions, hosting a virtual destination showcase was a great opportunity to connect with planners and provide them with fun experiences, interesting stories, and a new perspective on our community. 
The first day started off with lots of laughter as the Cove Lakeside Resort showcased an incentive trip to their resort featuring a most discerning guest experiencing all the great amenities of the resort and surrounding area. Three videos from Gord Hotchkiss, owner of Giro Okanagan, demonstrated his knack for storytelling and really gave our attendees a feel for our history and roots. The first day closed with an entertaining happy hour hosted by 50th Parallel Winery. 
On the second day of the showcase, planners enjoyed a wellness presentation and chair stretch from Tracy Steen, owner of Move Daily Fitness. Later that morning, Central Okanagan Economic Development Commission Manager, Krista Mallory, delivered a presentation about the OKGo campaign, which was followed by a presentation about the new KF Aerospace Centre for Excellence from the centre's Executive Director, Paula Quinn.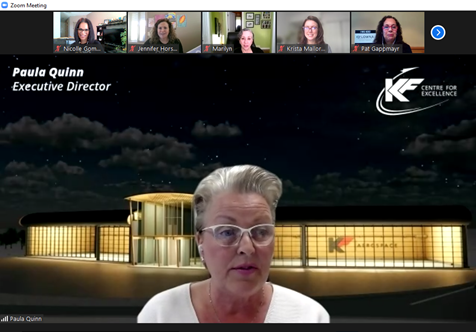 During her presentation, Quinn shared the exciting news that KF Aerospace had recently received an $800,000 funding grant from Natural Resources Canada through its Green Construction through Wood (GCWood) Program for building the Centre for Excellence. The 60,000 sq. ft. centre—which will include a state-of-the-art exhibition hall and conference centre—is scheduled to open in spring 2022.
Our final session of the virtual showcase was a cooking demonstration and wine tasting, which truly showcased collaboration from the teams at the Delta Hotels by Marriott Grand Okanagan Resort and Mission Hill Family Estate. 
It was phenomenal to see how much we have all adapted to virtual experiences, with attendees joining us from their backyards, living rooms, or kitchens, and really engaging on the chat, sharing stories, saying hello, and asking lots of questions. Our partners really seized the opportunity to showcase their venues with creativity and professionalism. 
The event was very successful with many glowing reviews and notes from planners that Kelowna and the Central Okanagan are now on their radar for future events. 
For more information on this event and other business development activities, please contact me at jennifer@tourismkelowna.com or at 250-717-6732.