As COVID-19 cases and hospitalizations continue to decline and with close to 80% of eligible adults having received their first vaccine, BC will move forward with the next step of its restart plan on July 1 as planned. The move to Step 3 is exciting news for the tourism industry in particular, as the province gets set to welcome back visitors from across the country for recreational travel. 
 "Step 3 is a major milestone for British Columbians," said Ravi Kahlon, Minister of Jobs, Economic Recovery and Innovation. "We can now resume more of the activities and occasions we enjoy, workplaces and businesses will have more flexibility, and it opens the door for more economic activity as we transition into summer. We are able to take this step because of the work everyone is doing to keep themselves and each other safe."

Step 3 Updates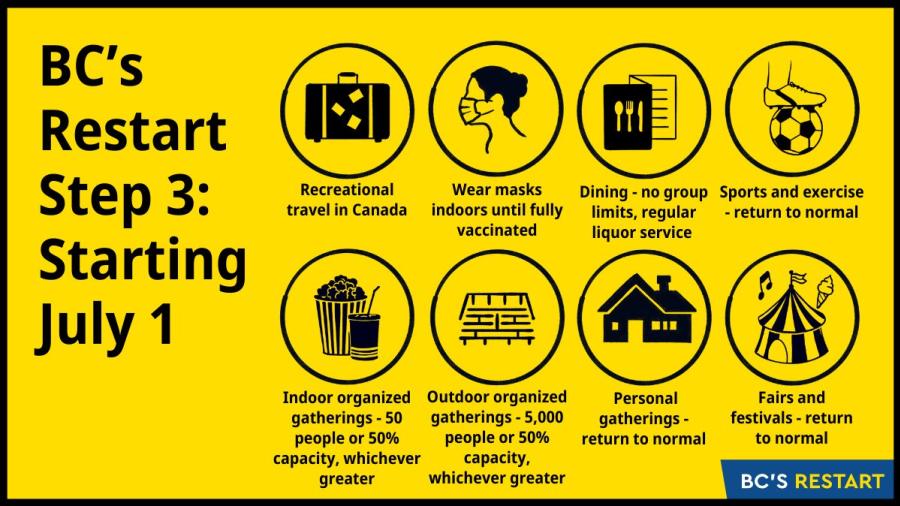 Image captured from Government of BC Twitter Feed
As the provincial state of emergency is officially lifted at the end of the day June 30 and Step 3 begins July 1, the current orders and restrictions will be lifted or amended with new guidelines in place. Further details of Step 3, including information on the items highlighted in the infographic above, can be viewed online. Once the Provincial Health Officer (PHO) orders are amended or lifted, updated information will be available on the Government of BC website. We will also update our COVID-19 page with all pertinent information as it becomes available.

Travel
With Canada-wide recreational travel set to resume as part of this next step, visitors are reminded to remain careful and cautious until they are fully vaccinated and to research and plan ahead when travelling. Our team will continue to share content and messages about exploring safely in Kelowna, both through our online channels and through the service provided at the Kelowna Visitor Centre. 
Moving forward in the restart plan means Tourism Kelowna can continue to expand our destination marketing activities beyond our region, inviting those from outside our province to visit Kelowna. Since Kelowna is a popular summer destination, the majority of our marketing efforts will be focused on driving visitation into the fall and winter.

Health & Safety
While COVID-19 Safety Plans have been an integral part of the fight against the virus, businesses will now move away from these plans and towards communicable disease prevention for the long-term management of the virus.
WorkSafeBC developed these new guidelines in conjunction with public health and businesses—they have compiled in-depth resources on their website and created a guide for employers to make the transition as easy as possible. Unlike the COVID-19 Safety Plans, communicable disease prevention plans will not have to be written or posted, nor will they have to be approved by WorkSafeBC. On Monday, July 5, from 2-3 p.m. PDT, go2HR is hosting a webinar to provide attendees with information about the revised health and safety guidelines to assist in making this transitional step as easy as possible; more information and registration details can be found on Eventbrite.  
While wearing masks will no longer be mandated, health officials continue to recommend that individuals 12 and up who are not fully vaccinated wear masks when in indoor public spaces.  

Tourism Industry Toolkit
The latest tourism industry toolkit, created for Step 3 by Destination BC, Tourism Industry Association of BC, Indigenous Tourism BC, BC Hotel Association, and British Columbia Regional Tourism Secretariat, provides a wealth of helpful information about the following topics: health and safety protocols, communications, workforce, and marketing. 

For a full press release from today's announcement, click here, or visit the Government of BC website for all the details regarding BC's Restart Plan, the final step of which is tentatively scheduled to begin September 7.