Since moving to Kelowna, we've hosted our share of visiting friends and family. After a few summers we've perfected the art of where to take them for fun in the sun, sometimes with a glass of wine (yes, even when they bring their kids).
Last summer was a bit of a miss because of Covid, but we expect there will be a pent-up demand for loved ones to vacation in the Okanagan Valley when travel restrictions ease this summer. With that in mind, here are some ideas to start planning your kid-friendly hosting season, including putting them up at a local accommodation so you can enjoy the vacation together.

Hit the beach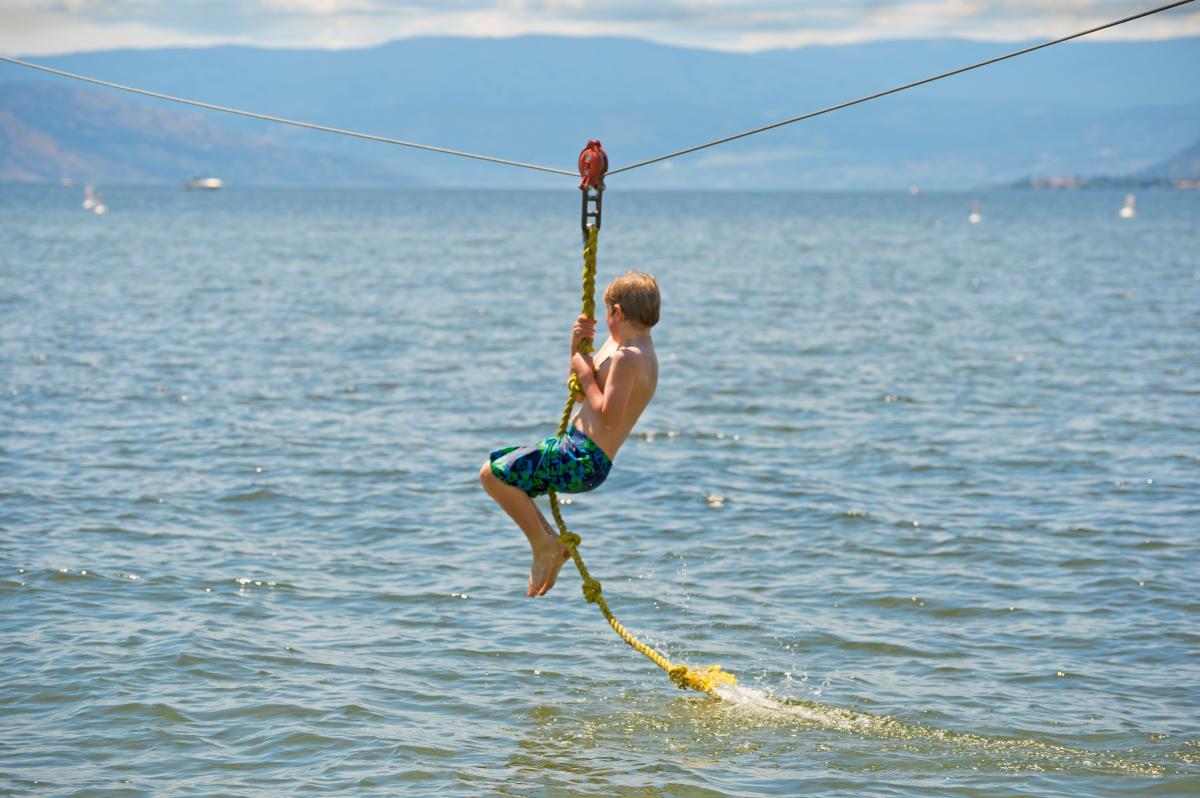 You can't welcome guests without hitting Okanagan Lake at least once. There are more than 30 beaches to choose from around town, but we gravitate toward a couple that appeal to kids of all ages. Our go-to is Boyce-Gyro in Pandosy. It features a legendary zipline that ends with a splash in the lake. Okanagan Beach Rentals operates a kiosk here, so families can rent kayaks, stand-up paddleboards or pedal boats to take out onto the water.
If teens are in the mix consider City Park Beach downtown. They'll have hours of fun on the Wibit, an inflatable floating playground just offshore that features climbing walls, slides and trampolines (2021 opening dates TBD). There's also a waterpark and a regular playground for tots, and Parlour Ice Cream is a quick walk from the hot sand for a cool treat.

Go fruit picking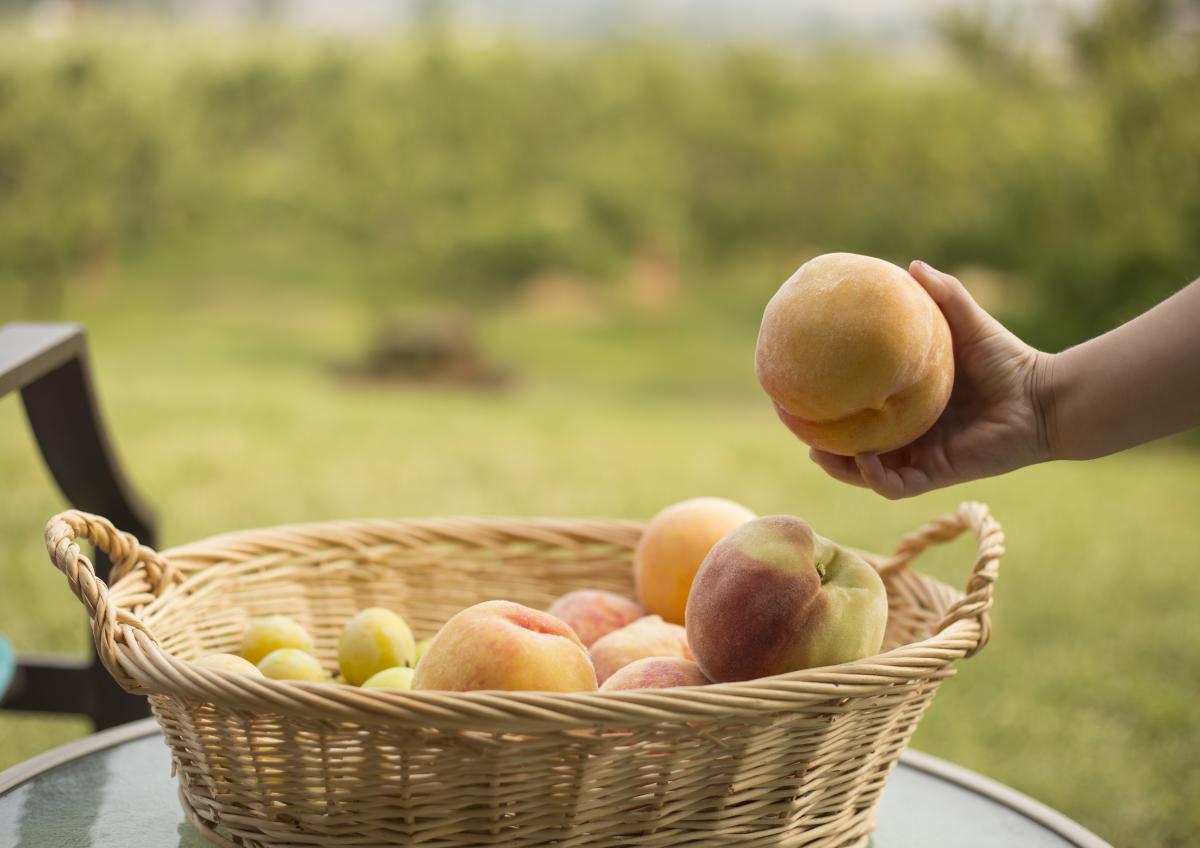 Photo by: Matt Ferguson Photography
It's no secret everything grows in the Okanagan Valley, including delicious kid-pleasing fruits, starting with cherries in late June and ending with apples and pears in the fall. Kelowna residents might take u-picks for granted because we live here, but guests never get tired of hand picking ripe cherries, apricots, plums or peaches right from the tree. Our favourite spot is Twin Oaks Organic Orchard in Upper Mission, but there are plenty to choose from. Just pull off when you see a u-pick sign and see what's available.

Explore downtown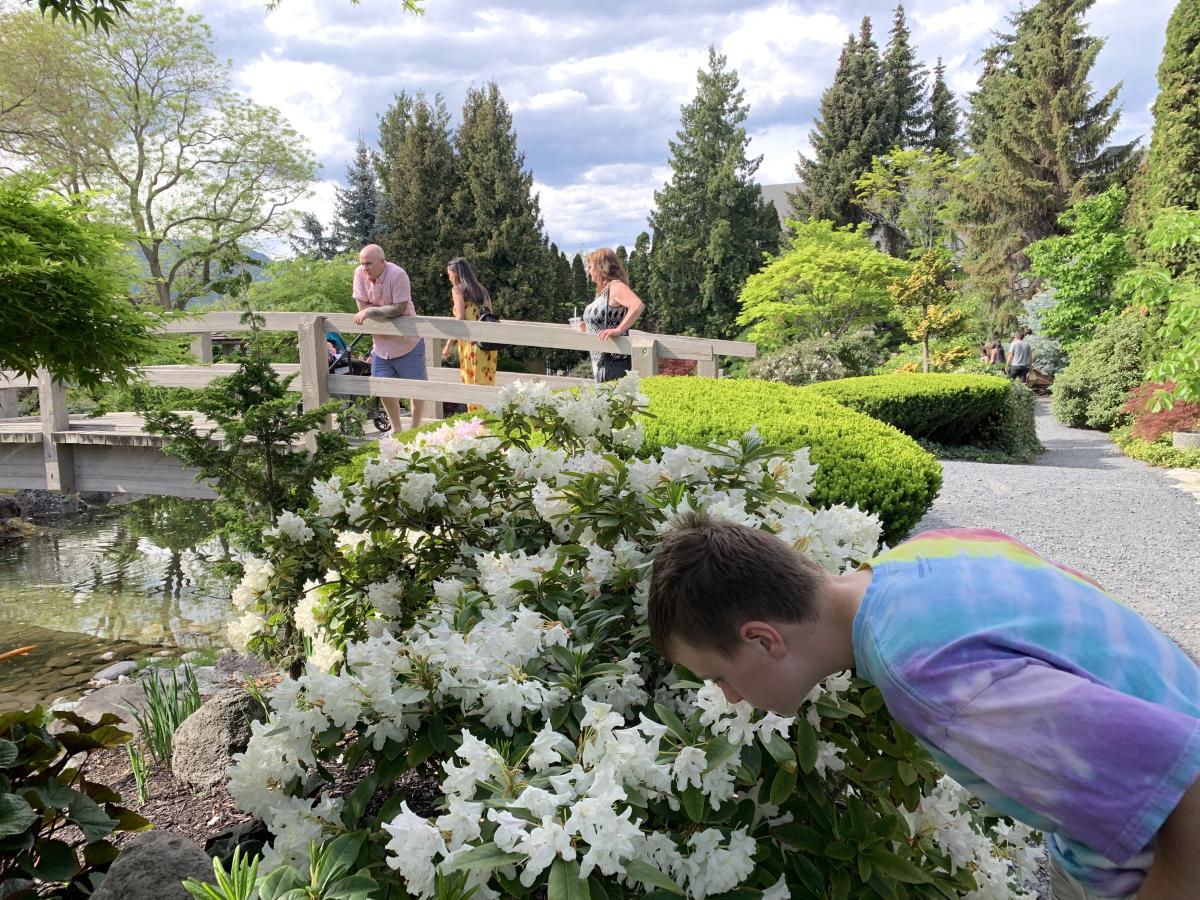 Visiting friends and family always tell us that they love Kelowna's compact, pedestrian-friendly downtown, which comes to life in spring and summer. We always start with a visit to Kasugai Gardens, the public Japanese gardens located behind city hall. Then, pop in to your favourite spot on Bernard Ave. for lunch, and carry on toward the cartoon statue of Ogopogo located in Kerry Park (stop for a photo op). From here we like to walk north along the Waterfront Walk all the way to Tugboat Beach and beyond to Rotary Marsh Park, where kids can look for ducks and red-winged black birds perched atop cattails.

Try kid-friendly 'spirited' touring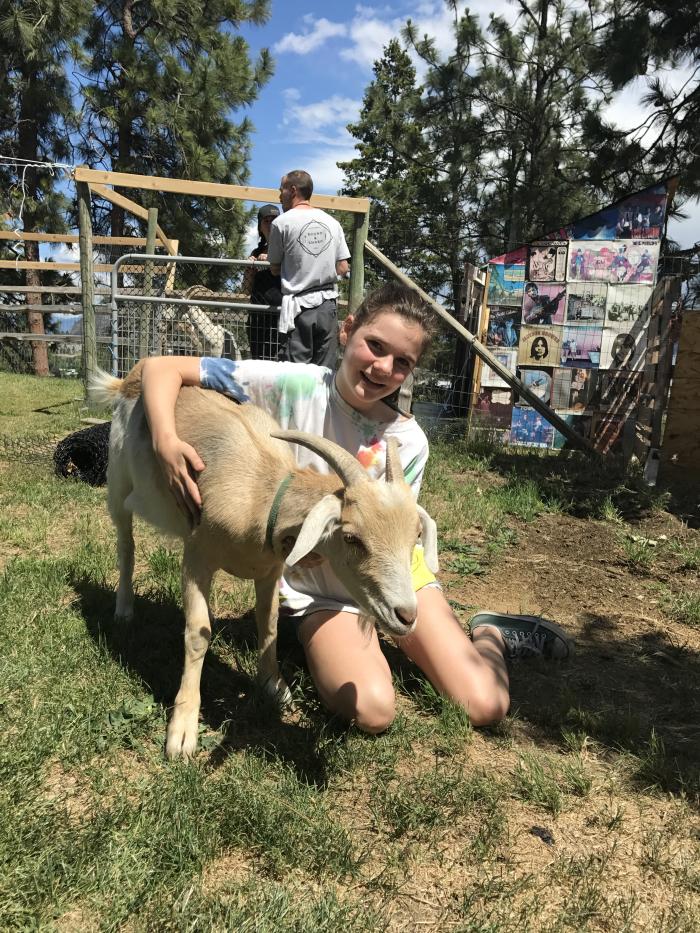 There are more than 40 wineries in Kelowna and it seems an impossible task to visit even one if your guests arrive with children under 19. But this is not the case if the kids are of a reasonable age (meaning, they are somewhat independent). While you should always tour responsibly with a designated driver, consider stopping into a few spots where the adults can taste wine, mead or cider, while the kids interact with animals.
First up is Soma Craft Cidery, which is located on an alpaca farm/apple orchard in southeast Kelowna. While your buddies sample flights of cider in the tasting room, the kids can explore the farm and feed the adorable alpacas.
Nearby is Meadow Vista Honey Wines, which makes different styles of mead from the honey of resident bees. Friends or family can sample the honey wine while the children can take a self-guided tour around the property that passes a fruit and vegetable garden, and ends next to beehives where the busy honey makers buzz in and out all day long.
Last, in West Kelowna, you'll find Off the Grid Organic Winery, which is like a little hobby farm. There are resident goats to pet, and kids like watching the turkeys spread their tail feathers. Meanwhile, the adults should tuck inside the tasting room to try a selection of wines and learn about the winery's commitment to sustainability.

Take a hike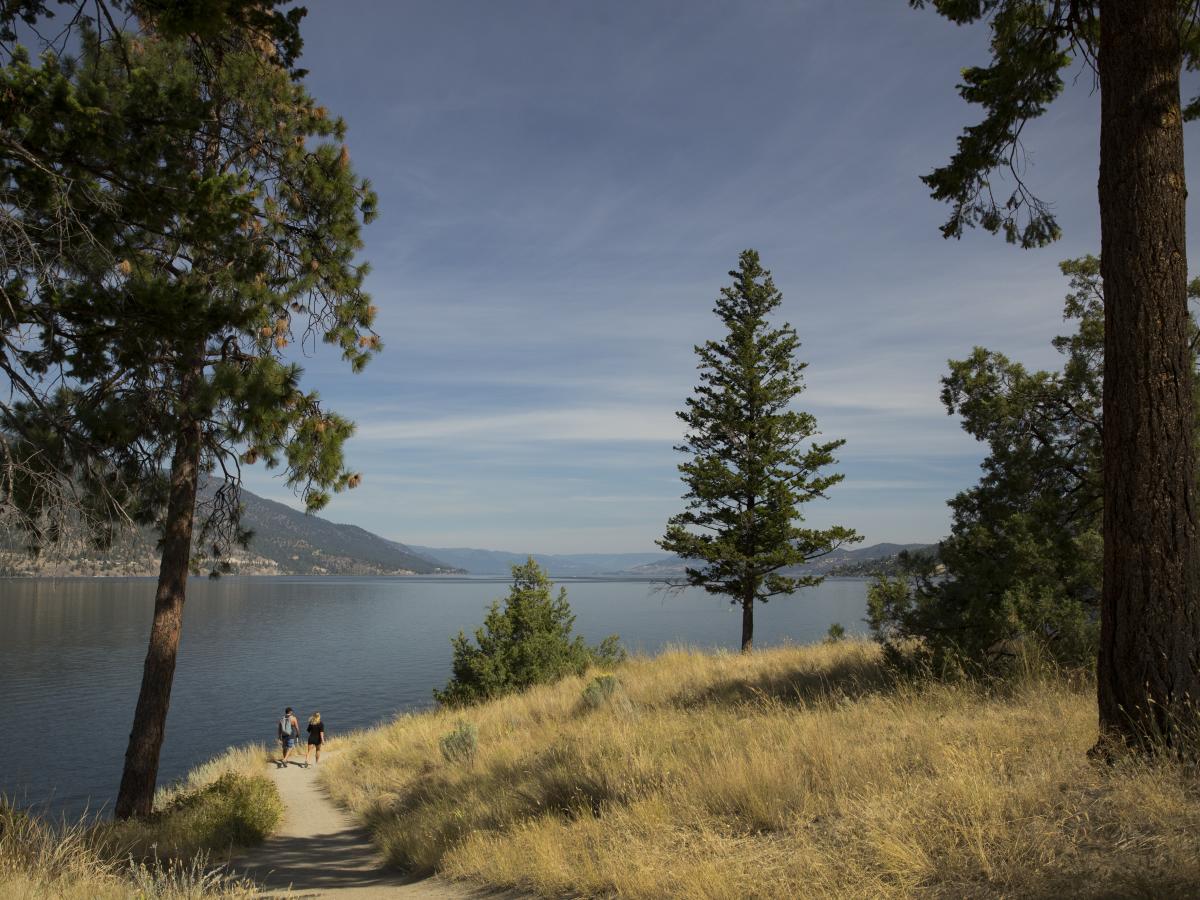 Paul's Tomb Trail at Knox Mountain. Photo by: Matt Ferguson Photography
Depending on the age of the kids in question—and their endurance—there are lots of hikes around town, most of which feature fabulous lake views. A good beginner hike that's stroller friendly is Paul's Tomb, a flat trail that hugs the base of Knox Mountain alongside Okanagan Lake. It ends at a lovely beach that doubles as a scenic picnic spot. For longer legs, Kalamoir Regional Park in West Kelowna features easy sections along the lakeshore and harder trails that ascend up the slope and afford views across the lake.

Check them into a hotel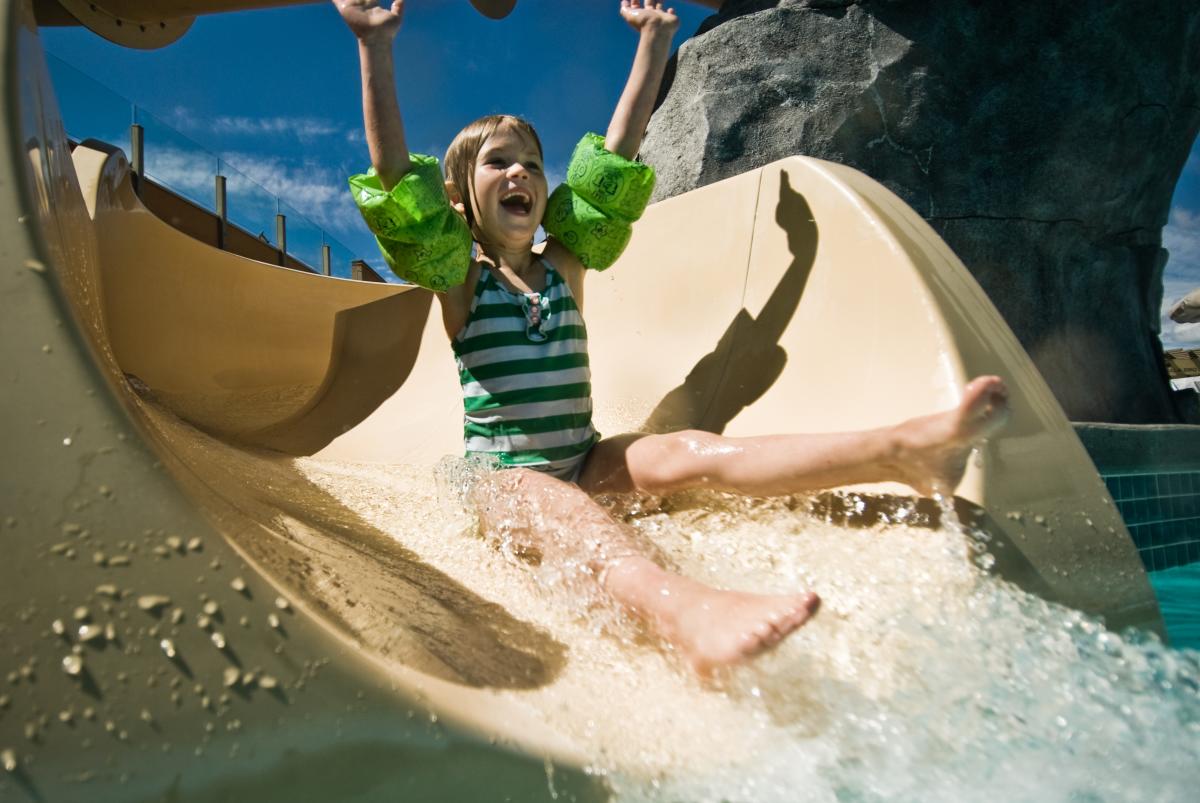 Photo by: Eldorado Resort
You know that old saying, "Fish and visitors stink after three days"? Well, metaphorically, it's true. These may be your best friends in the world—or your cherished brother and his kids—but if they're coming to Kelowna for any length of time (or if you have work or other obligations during their stay), suggest they book a hotel instead.
Not only will it give them their own space and some much-needed downtime, it will give you a break from playing hostess with the mostess, cooking all the meals, and entertaining 24-7. Plus, they'll be able to take advantage of hotel amenities like a pool and waterslides, or even lake access, and it will give them time to explore on their own. A win for everyone!
It's great to welcome friends and family back to #exploreKelowna together. And with so much to see and do in Kelowna, suggest they spend an extra day or two so you can take more time together.
---
Consider Exploring Kelowna Together in the Fall
Summer is the busiest time in Kelowna, which may lead to not being able to do everything on your list. In the Fall the pace of Kelowna slows down, which gives more time to explore everything on the list. Friends and family can stay a little longer at a hotel or B&B since the rates will be less expensive giving more opportunity to enjoy more of Kelowna together. Explore activities to enjoy in the Fall.