"Gripping, moving, spellbinding" are just a few of the words Simone Orlando uses to describe Ballet Kelowna's Macbeth. Orlando is the Artistic Director and CEO of Ballet Kelowna, and she is eagerly anticipating the World Premiere of Macbeth on May 6.
Based on William Shakespeare's iconic tragedy, the production marks a significant milestone for both Ballet Kelowna and Canadian dance. Macbeth is the first full-length work commissioned by Ballet Kelowna. It also marks the first time in over 40 years that a Canadian ballet company has commissioned a female Canadian choreographer to create a full-length work (Anne Ditchburn in 1977 being the last).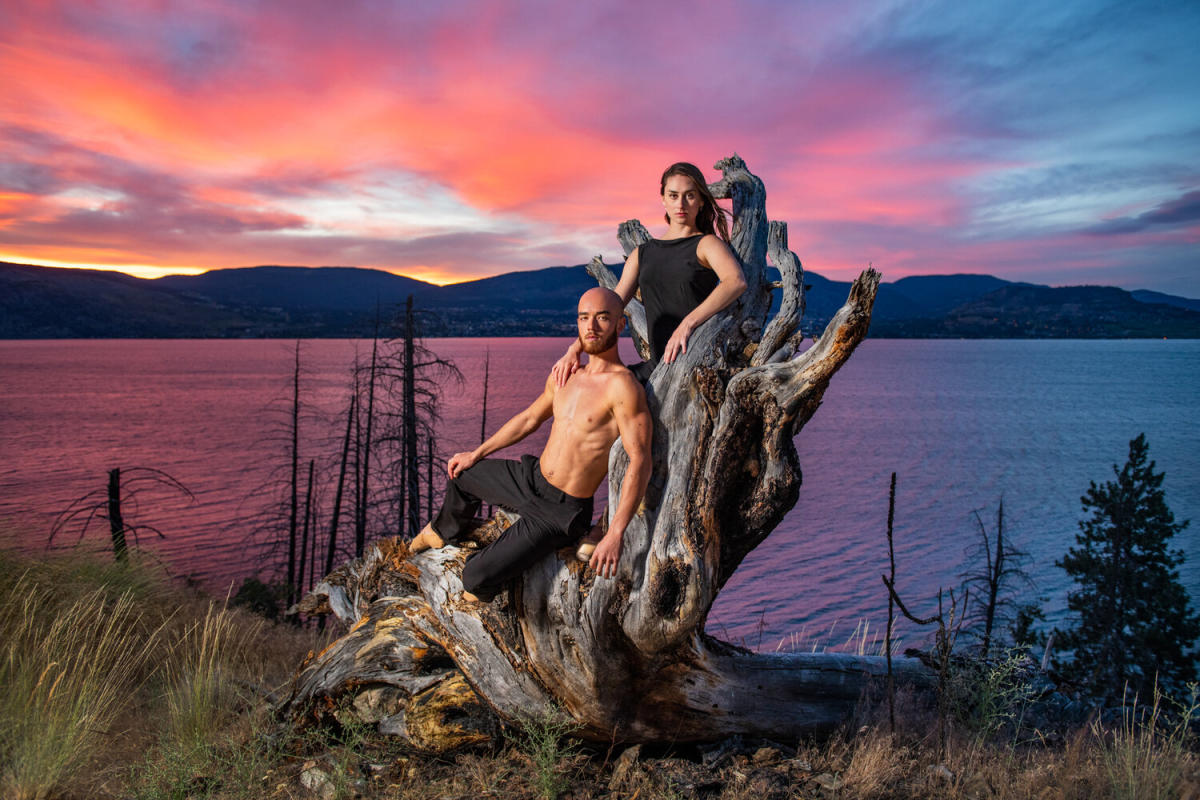 Photo by: Emily Cooper — Dancers Valentin Chou and Desiree Bortolussi
Alysa Pires is the choreographer of Macbeth and the woman breaking the 40-year-plus record. Pires has also seen her work performed by the National Ballet of Canada, Ballet Edmonton and the Alberta Ballet. I spoke to her as she was deep in her work at the Kelowna Community Theatre. She revealed a part of the driving force behind her art:
"A huge part of my work is accessibility. However, when the word accessible or accessibility gets thrown around, people often think dumbed down, but that's not it. There's still a lot of complexity and choreographic richness to the work. Someone described some of the fighting [in Macbeth] as like watching an action movie. You don't have to know anything about ballet to enjoy this work. You don't have to know anything about this story to come and enjoy it either."
The performance invites you to leave all your preconceived notions at the door. Forget what you think you know about ballet and Shakespeare, and let the art take you on a journey. For instance, the score, written by Adam Sakiyama, has an electric guitar in it!
"Visceral is the word I would use for Adam's music," explains Orlando. "It just really gets you. I found myself yesterday [in rehearsal] watching a solo by Desiree [Bortolussi] as Lady Macbeth, and the music came up, and it moved into my heart and continued to build until I had a lump in my throat. It suddenly grabs you at certain points, and it's almost overwhelming."
The score, combined with the choreography and visual design by Jane Everett, is sure to move many in Kelowna. And while Macbeth is a tragedy that has been told many times, Pires feels it's still important today:
"I think the themes are still very relevant. Themes of power and corruption, gender norms, and breaking away from the expectations placed upon you because of your sex... Macbeth has been timely for over 400 years, and it's still relevant today as we continue to see violence around the world." 
Alysa Pires. Photo by: Karolina Kuras
However, the Macbeth premiering in Kelowna in May is different from the many tellings that have gone before. Pires has brought her unique athleticism and contemporary touches to the legendary tale, talents which are part of why Ballet Kelowna commissioned her to create a full-length piece. Doing ballet a little differently and demonstrating that ballet can be something other than tutus and pointe shoes is something that matters to Orlando and Ballet Kelowna:
"I want to demonstrate to audiences that dance and ballet can be something much different than tutus. We use ballet as a foundation, but from that, we can depart into a more contemporary language and aesthetic."
The scale and scope of the production itself are also beyond anything Ballet Kelowna has ever put on before, and Pires feels the 100-minute show has something for everyone:
"Macbeth is theatrical, dynamic and emotional. Hopefully, there's an element for everyone, whether it is the incredible athletic feats of the dancers, the theatricality, the blend of the projections and the set and the light and the music, or the deep emotional and psychological sections. I think it's probably unlike anything that's been on stage here in Kelowna before. Whatever you think you know about ballet, whatever you think you know about Shakespeare, come and see for yourself... It's an action movie mixed with a deep, emotional drama."
Macbeth has its World Premiere at the Kelowna Community Theatre (1375 Water Street) on May 6 and 7 after a long wait. It was initially scheduled to premiere in May 2020 but was postponed due to the COVID-19 pandemic (much like this column which has also been on hold for the past two years. I'm delighted to be back). The show starts at 7:30 pm each night, and General Admission tickets start at $54. You can buy your ticket now.
If you're still not convinced and are a bit nervous about taking a chance on the ballet, take comfort from the fact you won't be the most nervous person in the audience. It turns out that incredibly talented choreographers still get butterflies before a premiere.
"I choose what I'm going to wear to the premiere based on what I can sweat through!" laughs Pires. "I used to say that my pieces were like my babies, and now that I have an actual baby, that's not really that true. Now, I describe it like I'm in an autopsy or like I'm in surgery. I feel cut open. I feel like everyone's looking at my guts. So if people don't like it, if the reaction is not what I hoped, it's like a little bacteria, and I feel like I get infected. I am very soft-hearted, and I think that makes me a good artist, but it also makes it really challenging."
Whether you're a ballet buff or someone who's never been to the ballet before, you don't want to miss Macbeth. You might just find one of your new favourite pieces of art, and you can't put a price on that.