Southeast Kelowna is known for its rolling hills, open farm fields, orchards and vineyards, and winding country roads. Once you are in the area you feel like you are in a completely new place, Kelowna's own hidden rural community.
One of the most popular places to go in Southeast Kelowna is Myra Canyon Trestles, this highly-scenic portion of the Kettle Valley Railway (KVR) runs along a steep-walled canyon. Originally built by hand at the turn of the last century, this impressive landmark is highlighted by 2 tunnels and 18 trestle bridges that are too spectacular for words.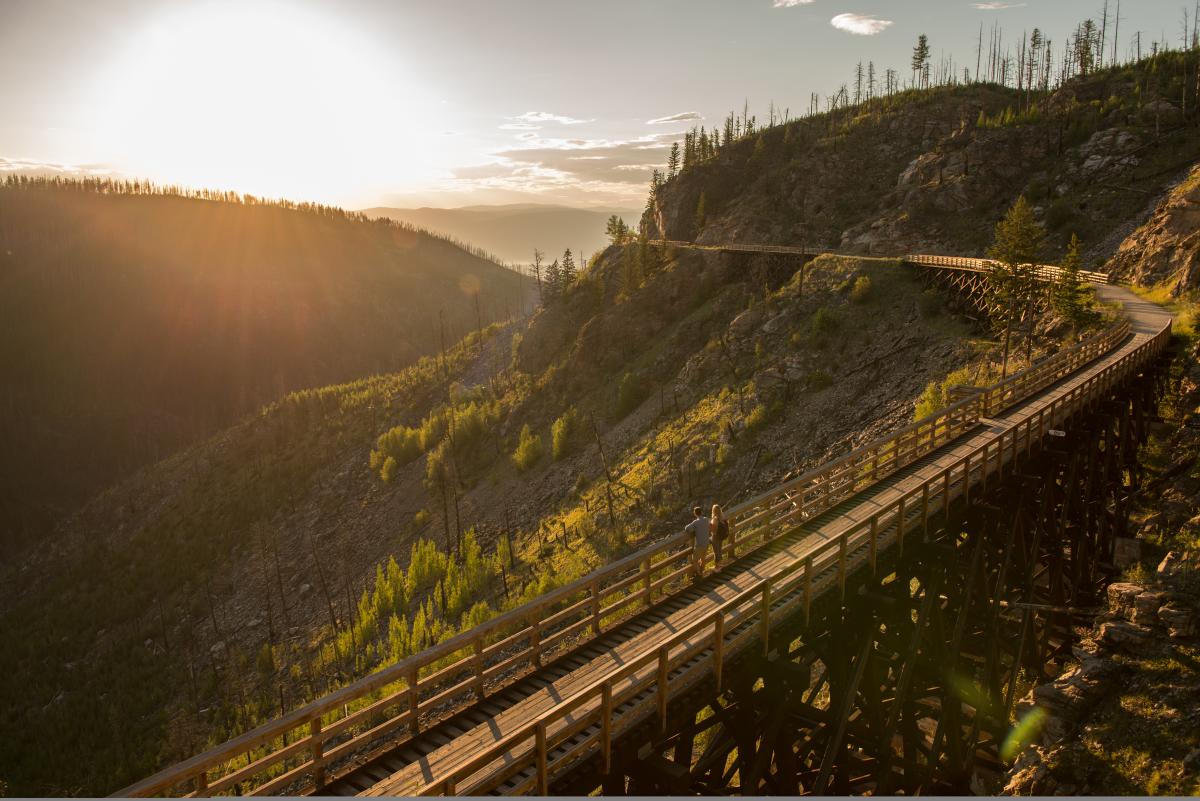 Photo by: Destination BC and Kari Medig
Myra Station (the main entry point to the trestles) is located only a 40-minute drive from downtown Kelowna. Once you are at Myra Station, hop on your bike or lace up your hiking boots to explore the trestles. Bike rentals and guided tours are typically available through with Myra Canyon Bike Rental & Tours, who are located on-site. Please book ahead and contact the business to ensure they are open and have a bike available for you.
After your excursion at Myra Canyon Trestles, you have most likely worked up quite the appetite and are in need of some tasty food. Only 20 minutes away from Myra Station is Canyon Bar & Grill at the awe-inspiring Gallagher's Golf & Country Club. Beyond its picturesque setting alongside Scenic Canyon and Layer Cake Mountain, the Canyon Bar & Grill has everything you know and love, from hearty soups and sandwiches to juicy burgers, which are guaranteed to crush your appetite. Pair your meal with an Okanagan wine while sitting on the patio - it can't get much better than that, sipping on wine, enjoying a bite to eat, and taking in the warm sun on a patio.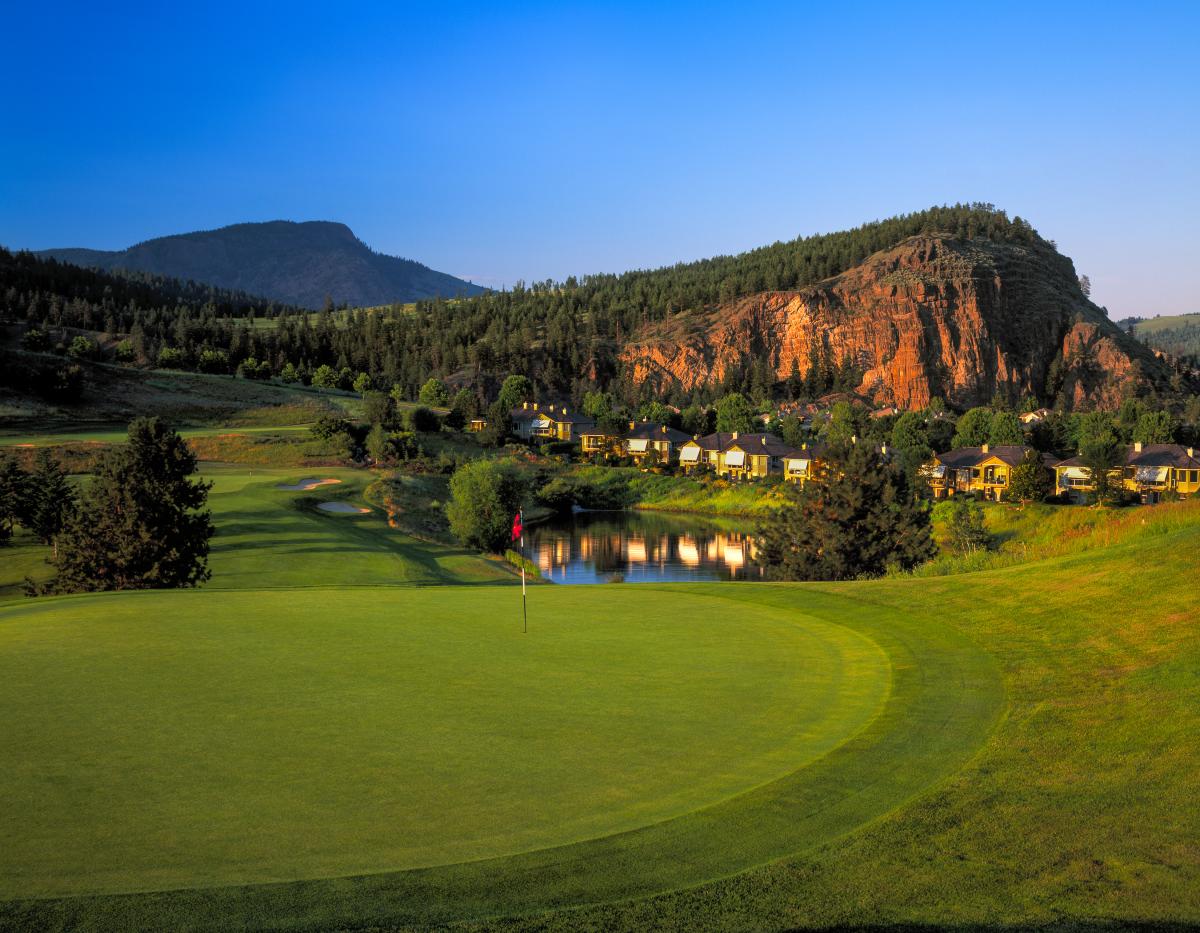 Photo by: Henebrys Photography
Once you have finished your meal and depending on how adventurous you are feeling, you have a choice to either play a round of golf at Gallagher's Canyon or go on a scenic drive along the country roads taking in the views and picking up wine along the Southeast Bench. 
If you choose to take a scenic drive, here are some spots that you must check out. 
A short 3-minute drive from Gallagher's Canyon will have you at Meadow Vista Honey Wines. The quaint tasting room is surrounded by loads of flowers and a self-guided walking tour of the gardens. At the end of the tour, you are greeted by the thousands of friendly bees working away to create the tastiest of honey. Check Meadow Vista's website for the tasting room hours or to purchase some honey wine (mead) for later. 
Arguably one of the most scenic drive-up lookout points in all of the Okanagan is at this small pull out along McCulloch Road. Overlooking The Harvest Golf Club, vineyards, orchards, Okanagan Lake, and the surrounding mountain, you are going to want to stop here, snap a picture, and just take in the view. 
Photo by: Matt Ferguson Photography
Located on one of the oldest family-run orchards in Kelowna, The View Winery & Wards Cider knows a thing or two about growing apples and grapes, producing a wide variety of ciders including the Sangria Cider that combines their grapes and apples into a fresh, delicious patio sipper. Pick up a couple of bottles (or cases) of wine and cider and you have yourself a trio of tasty beverages: mead, cider, and wine. 
Want to carry on exploring this beautiful area of Kelowna? You'll also find Kitsch Wines, Camelot Vineyards, The Vibrant Vine, Nagging Doubt Winery, House of Rose Winery, Priest Creek Family Estate Winery, Spearhead Winery, and Frequency Winery. There are also two distilleries that are definitely worth a visit: Wiseacre Farm Distillery and Forbidden Spirits Distilling. Nearby, you'll also find the East Kelowna Market, which features local artisans, crafters, and food vendors.
There are so many things to do and experience, why not pamper yourself and make it a staycation? There a couple of great places to stay that keep you close to the area. Nearby, Manteo at Eldorado Resort sits lakeside and offers an array of amenities, perfect for families or couples. Within walking distance from Gryo Beach, in South Pandosy you can find Siesta Suites, perfect for those looking for a few more amenities such as a kitchenette. Centrally located, with easy access to K.L.O. Road (which will take you to southeast Kelowna) and to downtown, you'll find Kelowna Inn & Suites, Accent Inns, and Coast Capri Hotel. If you're looking for something a bit more remote, check out Myra Canyon Ranch, which is located right beside Myra-Bellevue Provincial Park. For a full list of accommodations in Kelowna, check out this link.
While you're exploring, remember to be mindful of those around you, allow for adequate physical distancing, wear a mask in indoor spaces, and follow current COVID-19 health advice.
More Staycation Inspiration