When it comes to hiking in Kelowna, there are six trails that stand-out for their spectacular views, vistas, and/or abundance of flora, fauna, and geological formations. If you're looking for some of the best hiking trails in Kelowna, then this list is for you.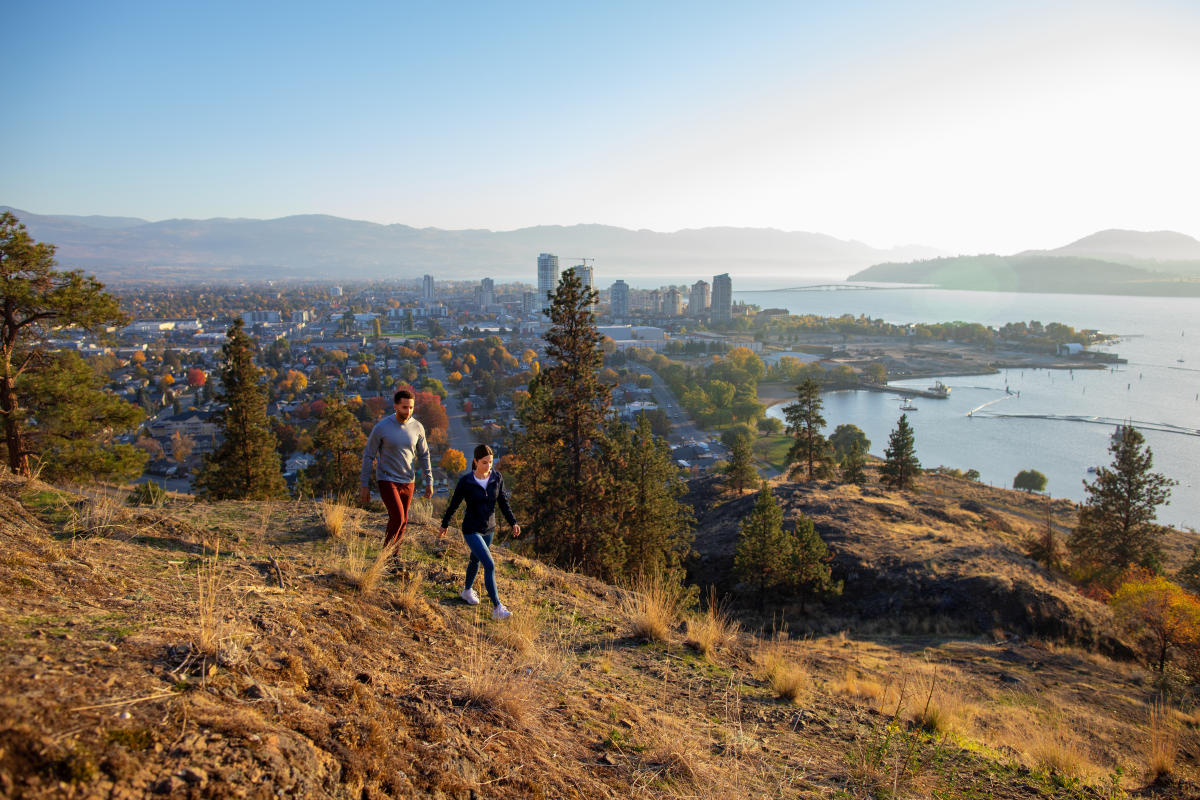 Photo by: Darren Hull Studios
Knox Mountain is a pinnacle of downtown Kelowna, and a paradise for hikers, runners, mountain bikers, and photographers. The Apex trail can start either from the base, or the parking lot halfway up the mountain*. With steep ascents in spots, it travels 2.1 km to the top, from which hikers are welcomed by panoramic views of Kelowna, West Kelowna and Okanagan Lake.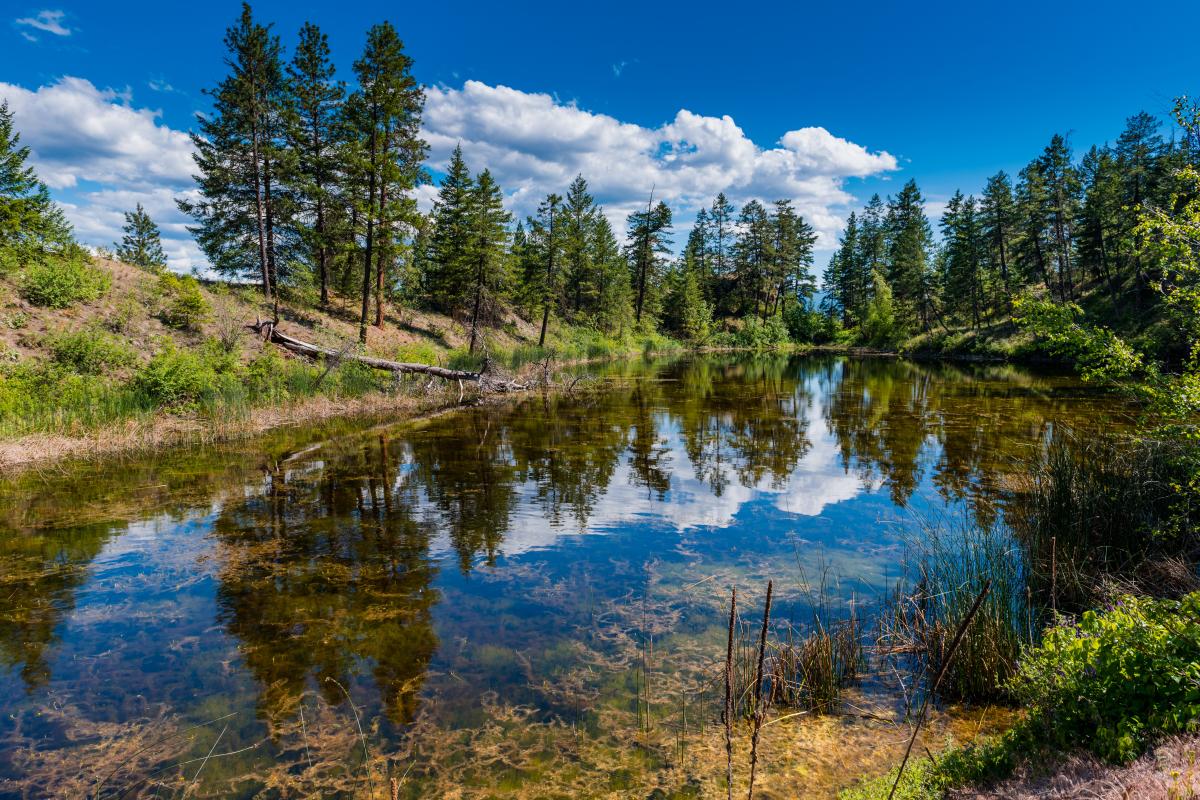 Photo by: ©RDCO & Michael Hintringer
Stephens Coyote Ridge Regional Park in Glenmore offers a variety of trails for hikers to explore above the dog park. One trail, however, stands out in particular. The Light Blue Lake trail is moderately challenging and meanders up the hillside for 3 km. From the top, one can take in fantastic views of the Glenmore area.
Mount Boucherie is accessed via East Boundary Road in West Kelowna, is a moderate-difficult hike that has switchbacks and steeper sections, but the views are well worth this 5.57 km round trip hike. The mountain can be seen from many parts of the Kelowna area and is actually an extinct volcano that is over 50 million years old. Making this hike even more unique, you actually hike over ancient lava rock and through antelope brush.
Another favourite hike is the Lebanon Creek trail located in the John Family Nature Conservatory in the Upper Mission area of Kelowna, this well-developed gravel trail goes up Cedar Mountain. From the top, hikers can take in spectacular views of Kelowna and Okanagan Lake. This is also an amazing place to watch the sunset!
Angel Springs via KLO Creek provides hikers with an 11.6 km (round-trip) trail through a lush forest. During the first part of the trek through the KLO Creek, hikers can admire the views of the canyon and the fascinating geological foundations. The springs themselves are heated geo-thermally and are identifiable by the tufa deposits created by the crystallization of calcite.
*Pro-tip: With the creek, a deep walled canyon, and lots of tree cover, this hike is excellent for those hotter days. 

6. Myra-Bellevue Provincial Park - Teddy Bear Loop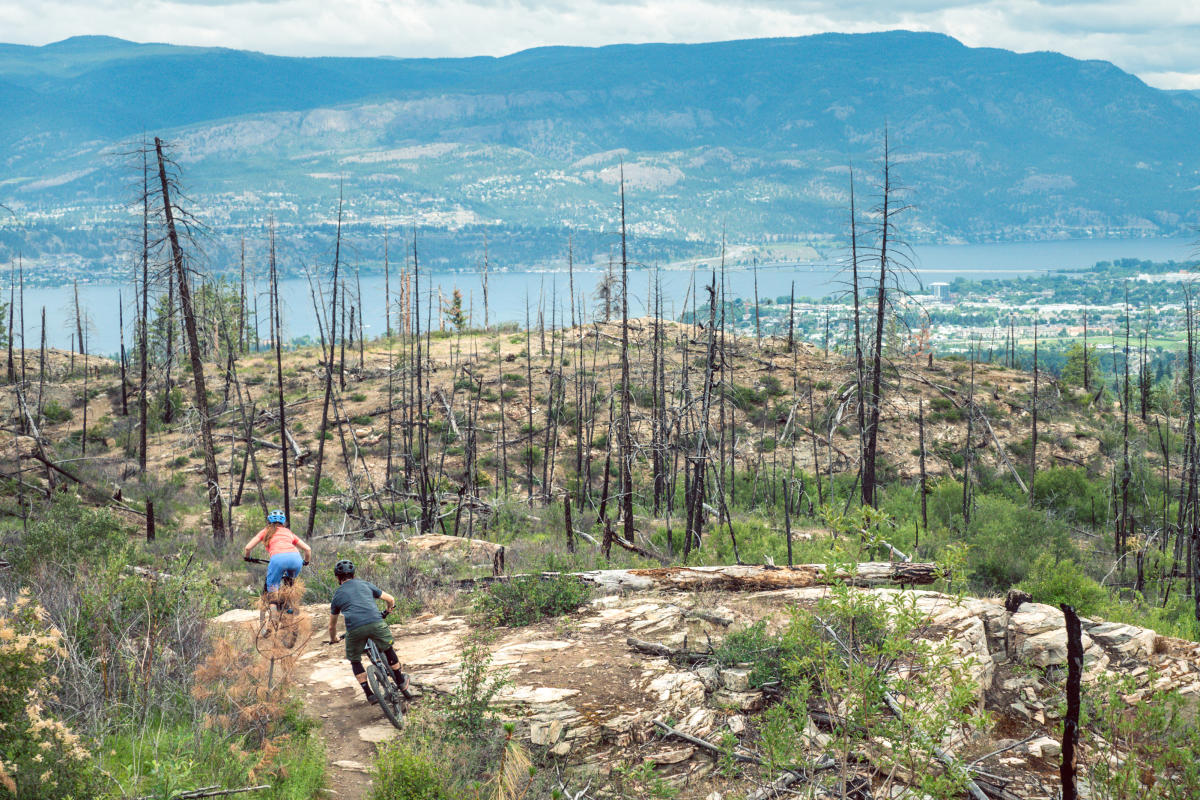 The Teddy Bear Loop trail traverses through 6.29 km (circular trail) of terrain which was devastated by the fire in 2003. Lush regrowth can be seen amongst the burned remnants of trees. There are some lookouts along the trail which reveal magnificent vistas of Kelowna and the Central Okanagan Valley.

When venturing out for a hike, it's always important to practice the three T's: 
Trip Planning: Plan your route, check the weather, and the trail terrain conditions. Always make sure you have plenty of water and the right gear and let someone know of where you are going and how long you expect to be away. 
Training: Know your limits when outdoors and ensure you have done your research to have the skills and abilities needed for the activity you are setting out for. 
Taking the essentials: Hiking in the summer means taking lots of water, sun protection, sunscreen and appropriate clothing and footwear.  A flashlight or headlamp, cellphone, and mosquito repellent are always a good idea to take with you too. 
For more information on tips to keep safe on the trails and the outdoors, click here.