Birds are chirping as a light breeze whispers through the stands of ponderosa pine and the sun is climbing through the blue Okanagan sky, stretching its rays through the tree branches down to a group of cyclists rolling over a gravel trail. The Kettle Valley Rail Trail (KVR) was built between 1910 and 1915 to provide a connection between the Kootenays, the Okanagan, and the main Canadian Pacific Railway line on the coast. It has been several decades since trains have passed over the KVR and today, the decommissioned rail line is part of the Trans Canada Trail. As a result, the KVR has become a hotspot for bikepacking, and one of the most scenic sections of this trail is right in Kelowna's backyard.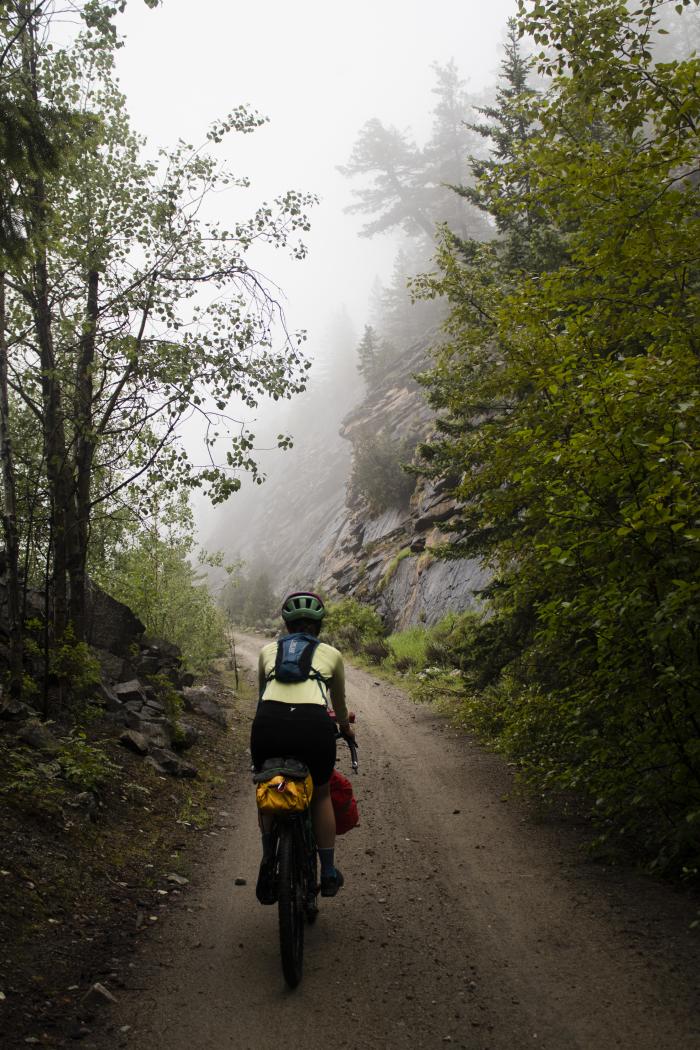 Bikepacking on the Kettle Valley Rail Trail.
Bikepacking is essentially a cross-over between traditional cycle touring and backpacking where the cyclist leaves the pavement in favour of gravel roads and dirt trails to enjoy a more immersive experience in nature, often carrying all the gear needed for camping in the backcountry. The section of the KVR between Kelowna and Penticton is the perfect stretch for a first-time overnight bikepacking trip and this article will help get you started on planning your trip. 
The recommended route for a first-time bikepacking trip starts at the top of Myra Canyon Forest Service Road (FSR) and travels a total of 76km to Penticton. The route trends downhill the whole way, making for an easier pedal, and Chute Lake makes for a perfect halfway stopping point. Chute Lake has a variety of accommodation options from tenting at the rec site to glamping tents and cabins at Chute Lake Lodge, which also happens to have a kitchen that serves a great burger and the best garlic parmesan fries! This variety of options for food and stay allows first-timers to cater to their level of comfort and carry less food and gear on their bike if opting for a stay at the lodge. Additionally, this range of options also makes this a perfect trip for families wanting to test the waters for bikepacking with their kids!

Recommended Itinerary
Before you start:
If travelling from out of town, it is best to arrive in Kelowna the night before you plan to ride and choose from one of many accommodation options in the city and treat yourself to a nice dinner to fuel yourself up for a big ride.
Transportation can be challenging as this is a point-to-point route but there are a few options to overcome this challenge:
Some people may opt to drop a vehicle off at the end of the route in Penticton ahead of time and shuttle themselves back to their second vehicle at the trailhead.
There is a shuttle service that if booked in advance, will shuttle people and their bikes from Penticton back to their cars at Myra Canyon in Kelowna.
Some cyclists looking for a bigger adventure may choose to extend their trip and make it a loop.
Day one:
Arrive at the top of Myra Canyon FSR early to allow yourself lots of time to get to Chute Lake, a total distance of 36km. Expect to be biking for 2-4 hours depending on how fast you pedal and how many breaks you take. There are many great views to be had in this section while passing over the Myra Canyon Trestles, the Bellevue Trestle, and the views continue as you travel beyond Gillard FSR.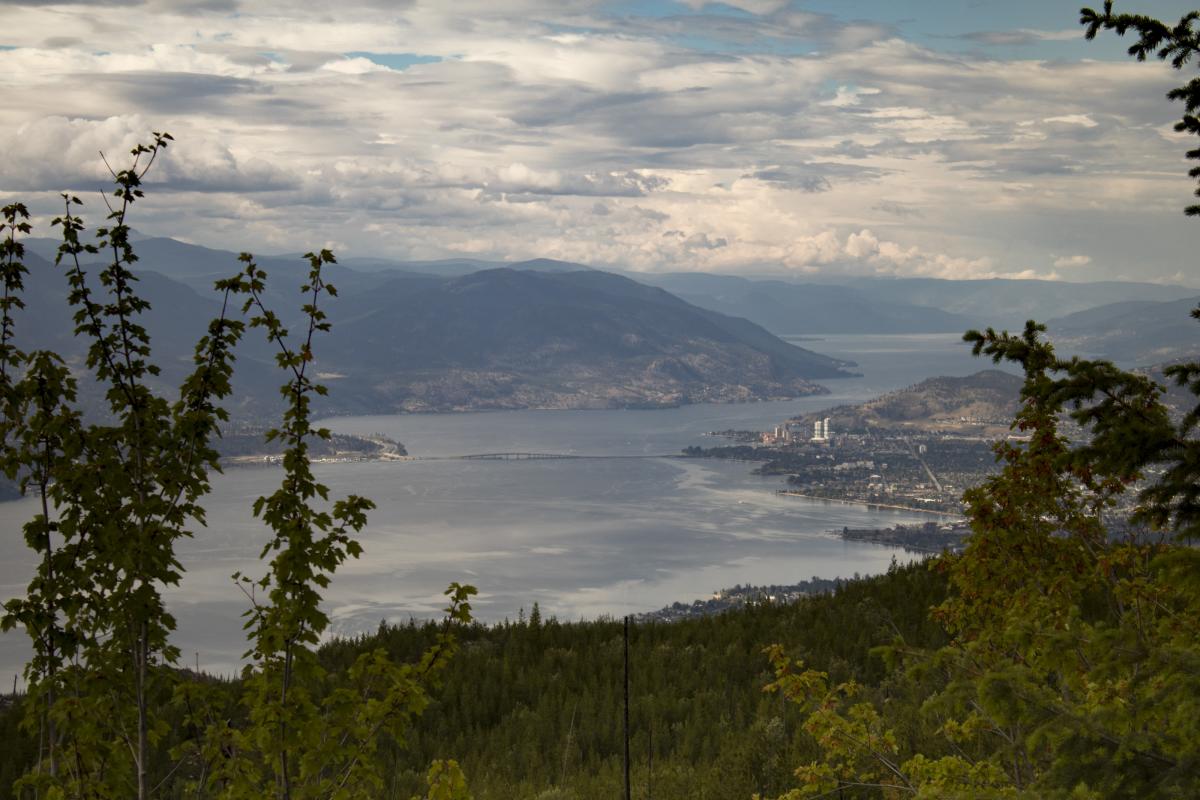 View of Kelowna from the Kettle Valley Rail Trail
Day two:
Leave Chute Lake and follow the KVR into Penticton, covering the remaining distance of 40km. Enjoy a downhill ride, views of Okanagan and Skaha Lakes, and sections that roll through vineyards in Naramata.

Recommended Gear
While there is a wide range of gear options that ultimately come down to personal preference such as the type of bike you use and what kind of bags you use, there are some things that are necessities:
A bike with 47mm or wider tires with dirt/gravel-friendly tread
Bike helmet
Water bottles capable of carrying 2L of water per person
Moisture-wicking clothing, a warm layer, and a rain jacket – weather can be unpredictable in the mountains, and it is best to be prepared
Snacks – Protein bars are a great option!
First aid kit
Basic bike repair kit (spare tube, multi-tool, etc.)
For cyclists planning on staying and eating at Chute Lake Lodge, the gear above should cover the necessities and you could get away with carrying what is needed in a backpack, but if interested you could venture into other cycle-specific bag options. Cyclists interested in camping at Chute Lake Rec Site for a more rugged (and cheaper) trip will need to carry more gear. Make sure to research bag options and what to pack before heading out.
Whether it is your first or fiftieth bikepacking trip, this route between Kelowna and Penticton on the KVR is sure to be a good time full of stunning views and great memories. So, pack up your bike and head to Kelowna for an unforgettable experience!