One industry that's really suffered during the Covid-19 pandemic is entertainment. With indoor gatherings on hold, the days of sporting events, theatre and live concerts are currently paused.
"Last year we played a few shows," says Tega Ovie, the lead singer and one of the founding members of Kelowna indie band Post-Modern Connection (PMC). So far, 2021 has been quiet, so Ovie and his four bandmates, lead guitarist Georges Nasrallah, bassist Steven Lin, synth player and violinist Mitch Howanyk, and drummer Cameron Wilks, have done like many businesses, and pivoted.
"We've been focusing on creating and recording," says Ovie.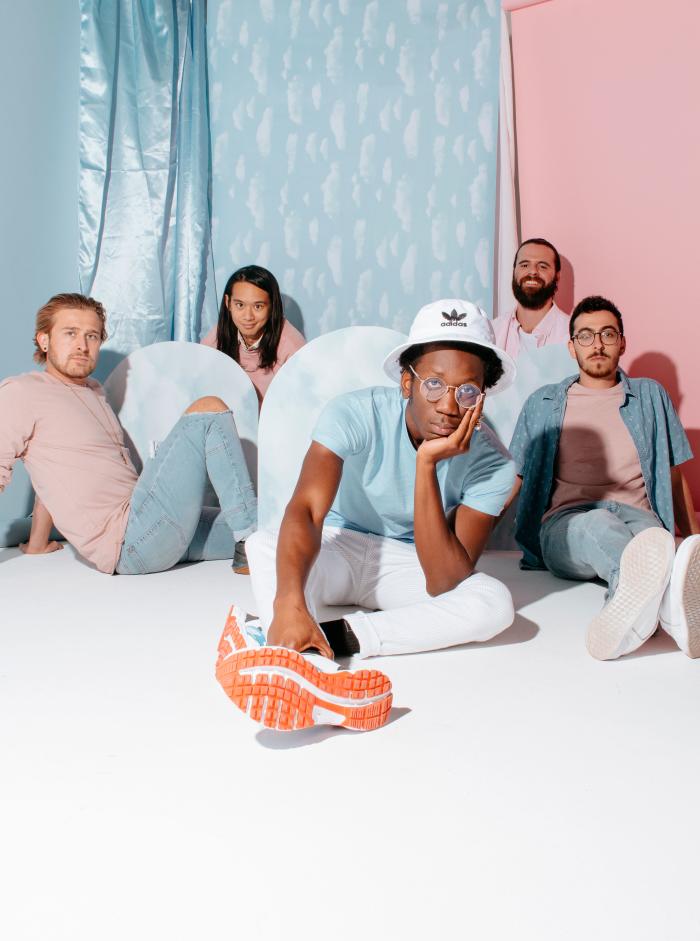 Ovie, Nasrallah and Lin all met during their second year at UBCO. They formed PMC in late 2017—the band's name is a nod to their unique sound, which defies convention—and started playing at venues around town in 2018. Howanyk and Wilks joined Post-Modern Connection in 2019. Ovie believes their jazz-meets-folk, soul-tinged sound has been a welcome addition to Kelowna's music scene.
"We've been able to get a lot of support from the local musicians and the venues looking to bring in a band that's different from the typical classic rock or pop sound," says Ovie, who appreciates Kelowna's supportive creative community. "It's the people here who are willing to help other people. The passion to support live, local music is great."
Tourism Kelowna caught up with lead singer and guitarist Tega Ovie to find out what else he loves about Kelowna.
Q: What do you love about Kelowna?
A: I like the community… just the really interesting people you can meet through doing your craft.
Q: What do you do/where do you go when your friends and family come to visit?
A: When my mom comes to visit we usually just go for walks and enjoy the scenery. We go on hikes, go by the lake. We're very easy. She likes to walk the rail trail, which is pretty fun. Or she'll walk all the way from Glenmore to Gyro Beach.
Q: What is one of your favourite hidden gems in Kelowna?
A: There is a nice park in Rutland—Scenic Canyon Regional Park. I think it's a pretty cool spot. It's very remote and it doesn't feel like you're in Kelowna. It feels like you're in a completely different place.
Q: What do you think draws people to Kelowna?
A: I think the weather, number one. It's probably the best weather in Canada. And my mom, who lives in Alberta, agrees. I think being so close to the lake, and all the things you can do in the lake, like paddleboarding and flyboarding (an extreme sport where participants strap a hydro-flight device to their feet and it levitates them above the water). I have not done the jet pack thing yet it but I want to!
Q: When restrictions lift, where will people be able to catch Post-Modern Connection playing live and in person?
A: We have something planned at Red Bird Brewing in June, depending on restrictions. Follow us on Instagram and Twitter for updates.