As part of Tourism Kelowna's annual destination marketing campaign, we've focused on increasing visitation in spring, fall, and winter. With the additional challenges in August, we've added additional marketing activities to help support local tourism business recovery.
A bridge marketing campaign was launched in late August to let visitors know "Kelowna is Open." This campaign, which ran until early September, was focused on digital marketing tactics within Western Canada to answer the primary questions we were receiving from consumers: "Am I able to travel to Kelowna? Is it safe to visit the Central Okanagan?" We also added content marketing activities through a partnership with the Kelowna Hotel Motel Association (KHMA).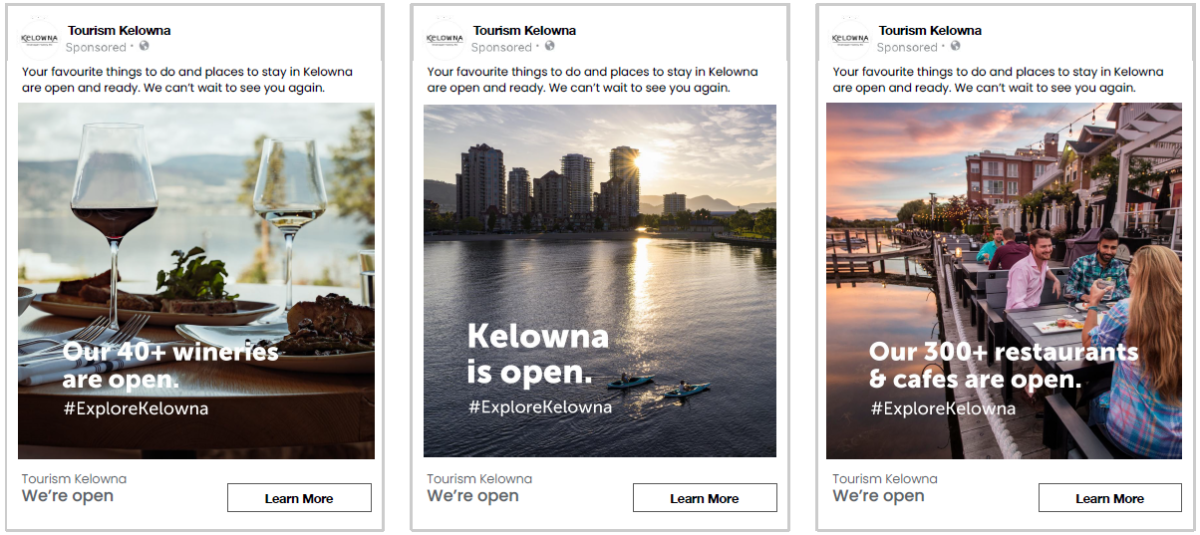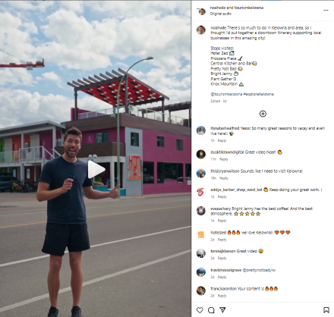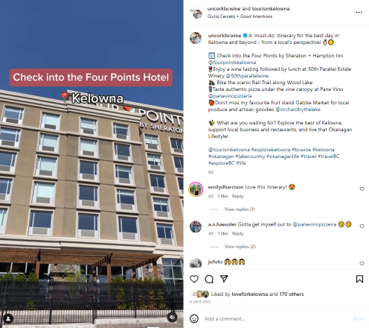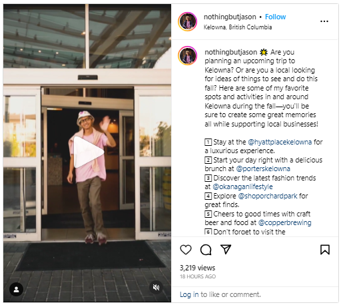 We have now transitioned into our fall destination advertising campaign, which positions Kelowna as "the destination you've been seeking for a fall getaway," showcasing the region's unique mix of a relaxed pace with pockets of urban energy surrounded by beautiful scenery. The campaign also highlights Kelowna's fresh, tasty food and wine scene and light and lively outdoor adventures.
To help our local tourism industry rebound, we have increased our fall advertising campaign. We've drawn funds from our marketing reserve fund, which is used in case of emergency or urgent need. With these funds, we increased our spending in Western Canada to support wildfire recovery further. We understand that the impact was significant, and this impact was on top of challenges over the number of past years, and that recovery will not be immediate.
The fall campaign runs in British Columbia, Alberta, Ontario and Quebec—with some additional marketing tactics that run nationally—and includes television ads, digital online video ads, digital out-of-home ads, cinema ads, native and custom content ads, paid social media ads, online digital ads, Google ads, and content partnerships with online travel sites. The media plan is comprehensive and robust; it runs through mid-November, when we will switch to winter advertising tactics.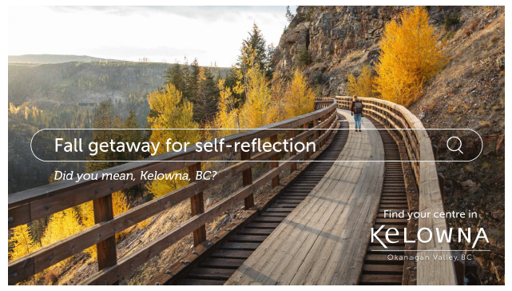 These paid advertising tactics are in addition to all the other marketing and communication tactics that run throughout the year, including our work with travel media, e-mail marketing, social media, and content marketing work, including our website.
We saw a solid first half of the year and will closely monitor industry indicators and impact through the second half. While it takes a while for monthly and quarterly data to be collected and shared, initial assessments show a significant impact in late August and the first week of September, with recovery underway. Fall is an important time for local businesses to continue to generate economic impact and contribute to the quality of life for local residents, and Tourism Kelowna's efforts are significant to help support that growth during the season. 
If you have questions about Tourism Kelowna's destination marketing strategy or the additional marketing we've done to help our local tourism industry recover from the wildfires in August, please contact me at chris.shauf@tourismkelowna.com.