At the beginning of October, we launched a local activation focused on encouraging residents to support local businesses during a traditionally slower tourism season. By tapping into the pride residents feel for our community and the businesses that make Kelowna special, we're working with local outlets, businesses, and creators to ensure that supporting local remains top of mind during the fall and early winter.
The following tactics have been rolled out and are in-market until the end of December. 

Relaunching the #exploreKelowna Local Savings Pass
We relaunched the #exploreKelowna Local Savings Pass on October 1, to encourage Kelowna and Central Okanagan residents to frequent local businesses at a typically quieter time of year, with the added bonus of being entered to win great prizes if they redeem a minimum of five offers. Interested in adding an offer? Tourism Kelowna members can take part for free, so email me at carla@tourismkelowna.com if you'd like to discuss this further.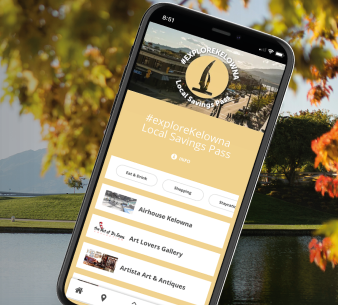 Collaborating with One Peak Creative
Sharing their community pride, One Peak Creative produced the following video for Tourism Kelowna to encourage others to support local and visit locally-owned businesses.

Working with Local Content Creators
In addition to collaborating with One Peak, we are also connecting with creators who regularly highlight what's happening in and around Kelowna, so they can help us spread the word about the #exploreKelowna Local Savings Pass and extend the reach of our messaging.

Coordinating Digital Display Ads and Sponsored Content with Local Media Outlets
Building awareness of our local activation is key, so we are once again partnering with local media platforms to push digital display ads for the savings pass, pictured below, and sponsored content pieces encouraging locals to explore Kelowna.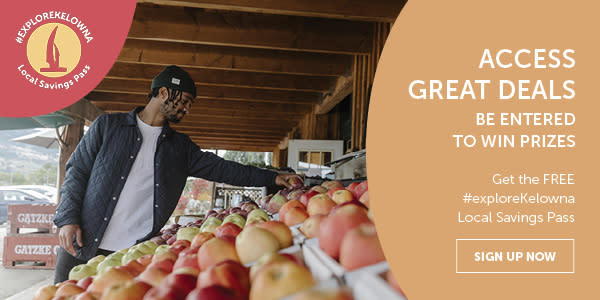 Stay tuned in the new year for updates on the results of this local activation. In the meantime, please feel free to reach out if you have questions about any aspect of this activation - carla@touriskelowna.com.