For the second year, Tourism Kelowna is investing in a targeted paid advertising campaign in the Greater Montreal Area to raise awareness of easy flight options and to invite travellers from that area to come and #exploreKelowna this fall.
The Montreal market has lower awareness levels about all of the activities and offerings Kelowna and area has to offer, but has a strong level of interest and also a high perception that Kelowna is a strong vacation destination. Combined with direct, non-stop flights and growing connectivity, this makes Montreal an important market to advertise in.
The primary objective of our paid advertising campaign is to raise awareness of flight options that make it easy to visit Kelowna and the Central Okanagan. The campaign targets mid-funnel, which means we are intentionally targeting travellers who plan to travel or are actively planning upcoming travel, introducing and reinforcing Kelowna as a great option for them. The campaign runs from mid-September through to early December. The tactics will first feature fall experiences before updating many of them to showcase winter experiences. 
Specific tactics include:
Digital advertising on the aerocolumn network in Montreal's airport (large digital ads on columns in corridors throughout the airport terminal)
Online ads targeting Montreal-based travellers who are searching for, or booking, travel,
Targeted social media ads
Digital ads with an online travel agency website
We are also working closely with Air Canada to place ads on their seatbacks, in their e-mail newsletter, and on their website and other digital properties. Many of the ads push to a French microsite, helping French-speaking visitors start planning their vacations.
Building and expanding on more domestic markets helps our local tourism market grow and develop; it also helps with our ongoing recovery effort and our work to promote non-peak travel seasons, including fall and winter. This work helps balance our destination's visitation and helps tourism businesses year-round. Our Business Development team also works in eastern Canada to secure business events, conferences, and major events that are targeted in non-peak travel months. 
If you have any questions about Tourism Kelowna's target markets or our marketing and communications strategy, please contact me at chris.shauf@tourismkelowna.com. 
Samples of the marketing tactics featuring our fall offerings are below.
Digital Display Ads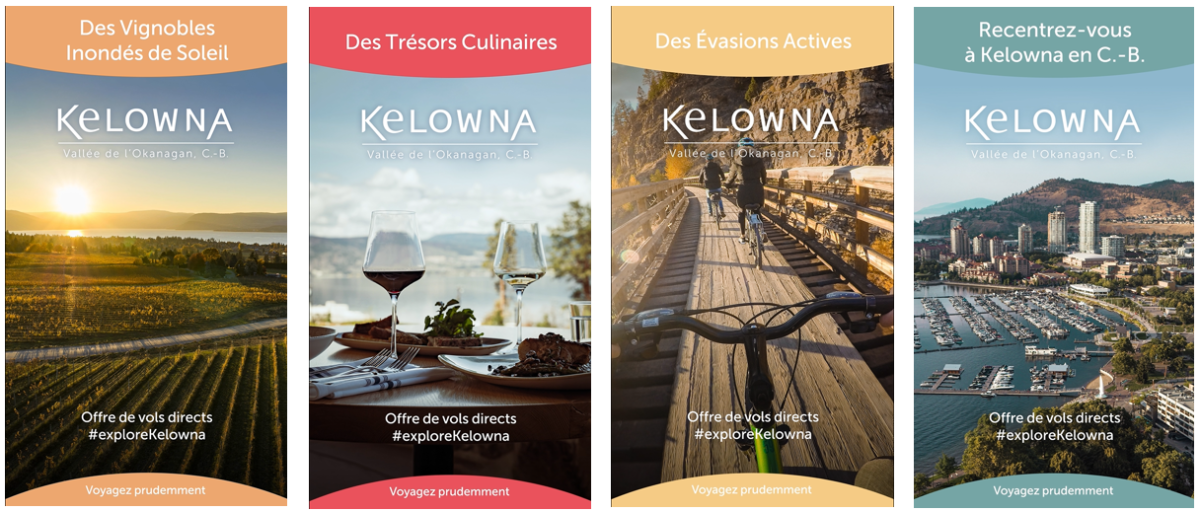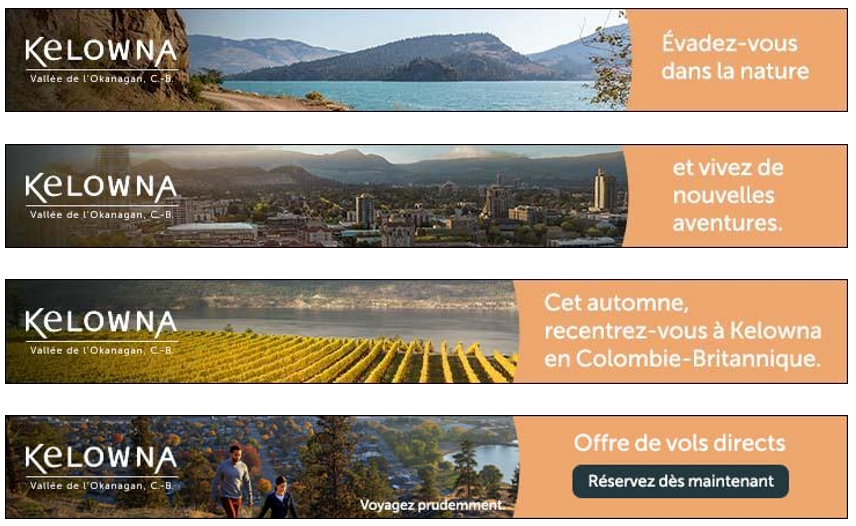 Native Content Ads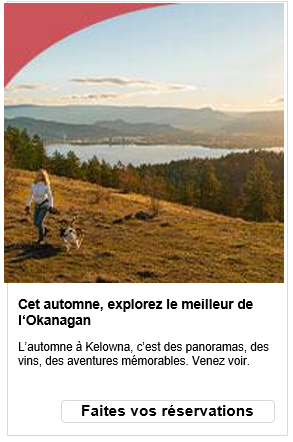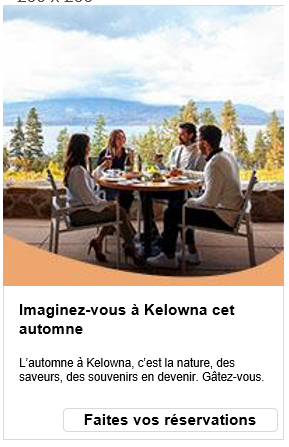 Social Media Ads

Tourismkelowna.com French Microsite