Tourism Kelowna recently kicked off its 2022 destination marketing activities, inviting visitors to come back safely, regain perspective, and get centred while reconnecting with our beautiful destination. With public health measures easing, more travellers are looking to get away, enjoy time with friends and family, and make new memories—we're excited to welcome these visitors back to #exploreKelowna throughout the year and to help local tourism businesses recover.

Connecting with Target Audiences
Our paid advertising efforts will primarily target travellers from British Columbia, Alberta, and Ontario who are seeking a multi-night vacation, though some nationwide marketing tactics will also be implemented. Most of our tactics will be digital, allowing for quick adjustments and customization; these will include video ads, display (web) ads, content marketing, social media advertisements, and partnerships with online travel agencies. We will continue to target audiences who like food, wine, and outdoor experiences including those who are looking to disconnect and unplug from their usual routine as well as those seeking a relaxed, fulfilling visit to a destination with natural beauty. Our tactics will also continue to help residents appreciate the activities and benefits available to them in their own backyard.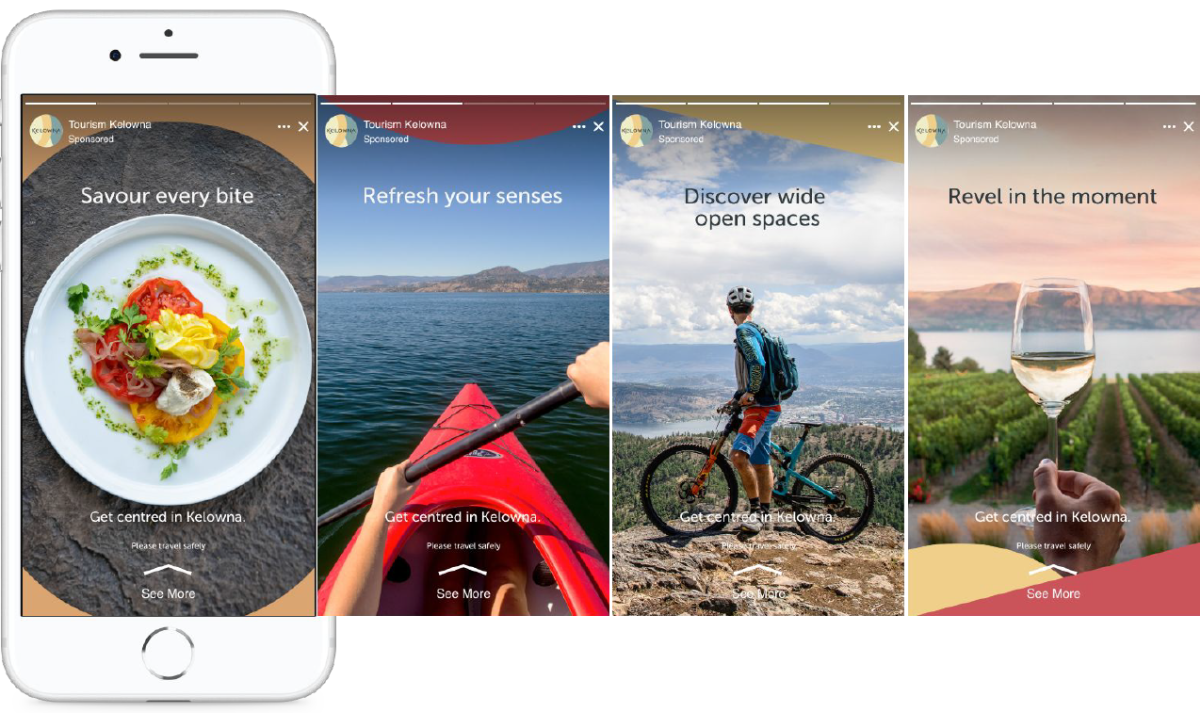 Targeting Seasons With Growth Potential
Over the course of the year, Kelowna will increase marketing efforts to strategically target seasons with the most growth potential. This is a continuation and refinement of work that was being done before the pandemic disruption, which was showing strong returns. Summer is traditionally a season when more people are willing and able to travel, so we will work to maintain Kelowna's strong lure during those peak months. A primary objective of our efforts is to achieve continued expansion of year-round visitation numbers. Our spring paid advertising campaign will run from March through to the end of May. Our fall campaign will launch late August and run to late October, and our winter campaign will run starting in early November.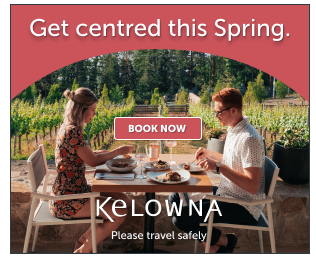 Supporting Business Recovery
Local businesses have experienced significant challenges over the past two years. While there have been moments when momentum seemed to be shifting towards recovery, they were short-lived due to the impacts of the ongoing pandemic and unforeseen natural disasters. To help local tourism businesses fully recover, momentum will need to return and be sustained for a long period of time with strong visitation and spending across all four seasons. Our marketing efforts will support businesses in the short term to recover revenues lost in the last two years and set the stage for longer-term recovery into the coming years. 

Going Forward with an Optimistic Outlook
Early indicators already show strong and steady interest in visiting Kelowna through spring and into the summer months. Search activity for Kelowna accommodations and attractions is strong, and traffic on tourismkelowna.com continues to grow, stronger than ever before in fact. We're also noting strong reservations at local accommodations and inquiries for bookings at local attractions. Our marketing efforts will increase interest and visitation in the spring, sustain strong visitation over summer, and work to carry that excitement well into fall. 
While we're closely monitoring several indicators that could impact the travel and tourism industry in the coming months—weather, rising costs of transportation, labour shortages, and public health measures—we are optimistic about the potential for travel to our destination in 2022.


Making Memorable Visits
Getting visitors and residents interested in exploring our destination is only part of the work we do. Helping them fully immerse and appreciate the lifestyle in Kelowna and the Okanagan while they are here is important, so they leave happy, tell their friends, and want to return (or even consider moving here!). Everyone in our local tourism industry plays an important and defining role in making this a reality. Thank you for your continued work to demonstrate value and to deliver memorable experiences for visitors and residents alike!
As travel returns, more visitors will be looking to get out and explore. It also means destinations here in Canada and around the world will be inviting them to travel to their region. To keep Kelowna top of mind, we will need to come out of the gate with strength and sustain that over the long term. Our digital marketing efforts are planned and designed to continually optimize based on audience insights to help reach, inform, and convert travellers—we closely monitor and analyze results to ensure we're marketing smart. We work closely with partners like Destination British Columbia to carry out strong and insightful digital marketing tactics that consider many aspects of planning and booking a visit, so travellers experience all the great things that Kelowna has to offer.
Paid marketing efforts are an important part of the work we do but they aren't all we do. We also fully activate a number of marketing and communication tactics to further build out our strategy to reach, inspire, and convert travellers.
If you have any questions about our 2022 Marketing and Communications strategy and activities, please contact me at chris.shauf@tourismkelowna.com or (250) 861-1515 ext. 203.