While the return of the Canadian Meetings + Events Expo (CMEExpo) this year brought excitement from meeting and event professionals, 2022 was especially noteworthy for Tourism Kelowna—for the first time, we joined forces with six other destinations (Burnaby, Kamloops, Richmond, Vancouver, Victoria, and Whistler) to create an Experience BC area, showcasing the best of BC to planners.
The Experience BC showcase took up half an aisle, with dedicated signage at each end of the area. CMEExpo was inviting planners to 'get a taste of tourism' at this year's event, which aligned perfectly with the BC collaboration since each destination offered a food or drink item that the attendees could enjoy while learning what each region has to offer for meetings and events. Since Kelowna is well known for its cherries and is the largest producer in Canada, we handed out bags of dried cherries from Lake Country Harvest, alongside our meetings and conferences-program partners from 50th Parallel Estate Winery, Argus Properties (Eldorado Resort), and Delta Hotels by Marriott Grand Okanagan Resort.
While we all worked together to move attendees from one booth to another, the group also created a postcard with two questions about each destination; once the card was complete, it could be entered into a prize draw. While CMEExpo is rebuilding to pre-pandemic levels, the quality of the planners in attendance was excellent. We received positive feedback on the Experience BC collaboration, with some planners saying it was the best aisle of the expo.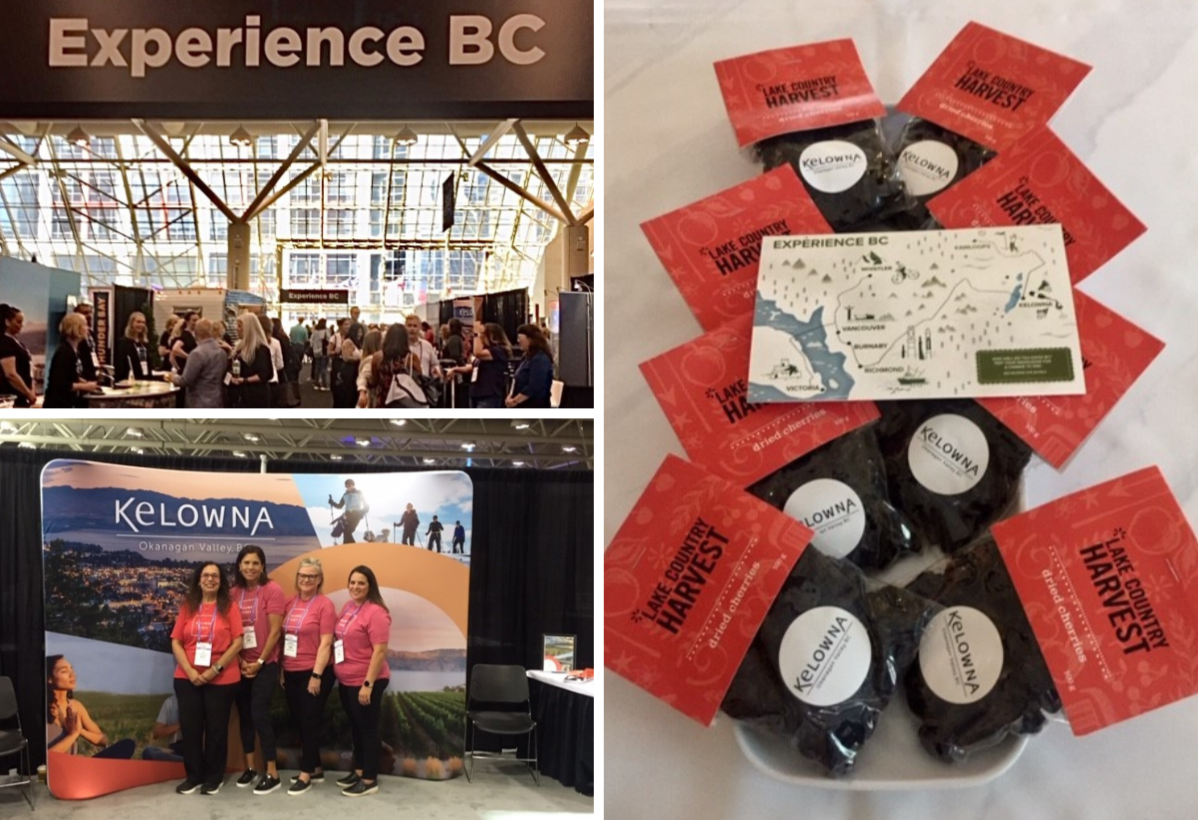 As an added bonus, the Tourism Kelowna delegation attended a Strategic Site Selection (SSS) event the night before CMEExpo, where we had the opportunity to promote Kelowna and network with 120 SSS clients in attendance. I was also given some stage time, which was another chance to put Kelowna top of mind and to highlight our partners who were in attendance and had contributed to our "Taste of Kelowna" door prize basket.
The Experience BC collaboration came together thanks to the Government of BC's Business Events and Conferences Restart Fund, which allocated up to $5 million this fiscal year and up to $3 million next year to assist with the restart of the sector. City Destination Management Organizations (CDMOs) that were significantly involved in attracting and hosting business events, conferences, and exhibitions before the COVID-19 pandemic were eligible for funding through this restart program. This applied to Tourism Kelowna and the six other CDMOs that were part of the Experience BC showcase. 
With the success of CMEExpo, we will take Experience BC on the road to the Canadian Innovation Conference, hosted by the PCMA Canada East Chapter in Niagara Falls this November. As part of the event, we will host a BC evening on Monday night for planners attending the conference. After this event, the group will also host an Experience BC event in Toronto on November 23.
We anticipate CMEExpo to be the first of many Experience BC collaborations where we will work together to showcase BC's exceptional offerings for meetings, conferences, and events.  For further information about CMEExpo, Experience BC, or the Toronto market, please contact me at pat@tourismkelowna.com or at (416) 994-4378.