Earlier this month, the Central Okanagan Economic Development Commission (COEDC) won two International Economic Development Council (IEDC) awards—Gold in the Magazine and Newsletter category and Silver in the Special Purpose Website category—for the OKGo marketing campaign, which was produced by local creative firm, CREW Food & Beverage Marketing Partners, and launched through a partnership between the COEDC, Accelerate Okanagan, and Tourism Kelowna.
"Entrepreneurs in the OKGo campaign's five industry sectors - Advanced Manufacturing, Aerospace, Agriculture, Viticulture, and Digital Tech – are innovating to create jobs, solve big problems, and drive economic recovery across the region," says Krista Mallory, COEDC Manager, "The OKGo Partnership is about working together to leverage the strengths of Tourism Kelowna, Accelerate Okanagan, and the COEDC to tell the story of the vibrant and diverse entrepreneurial ecosystem in the Central Okanagan to national and global audiences"
As outlined in the COEDC's recent press release, OKGo is a multi-year marketing campaign that tells the story of entrepreneurship and innovation in the Central Okanagan through stories of local entrepreneurs. While each partner organization has a unique mandate and individual goals, the project provides the region and all partners with a cohesive regional story that can be shared and leveraged through each partner's individual networks to further the impact and reach of the campaign.
"OKGo allows us to highlight our region's expertise in the five industry sectors when connecting with planners in our networks across Canada and the US Pacific Northwest," says Tourism Kelowna's Director of Business & Destination Development, Jennifer Horsnell. "When we welcome business events aligned to our local industries and economic strengths, we not only drive recovery in the region but bring opportunities for research and development, talent attraction, and business investment into our community."   
More information about the OKGo campaign, including a promotional video of the region, a digital copy of a high-end magazine that showcases the stories of some of the region's local companies, and a media kit, can be found on the campaign's website, ok-go.ca.
For a copy of the COEDC's full press release, click here. If you have questions or would like to learn more about Tourism Kelowna's involvement with OKGo, contact Jennifer Horsnell, Director of Business & Destination Development, at jennifer@tourismkelowna.com.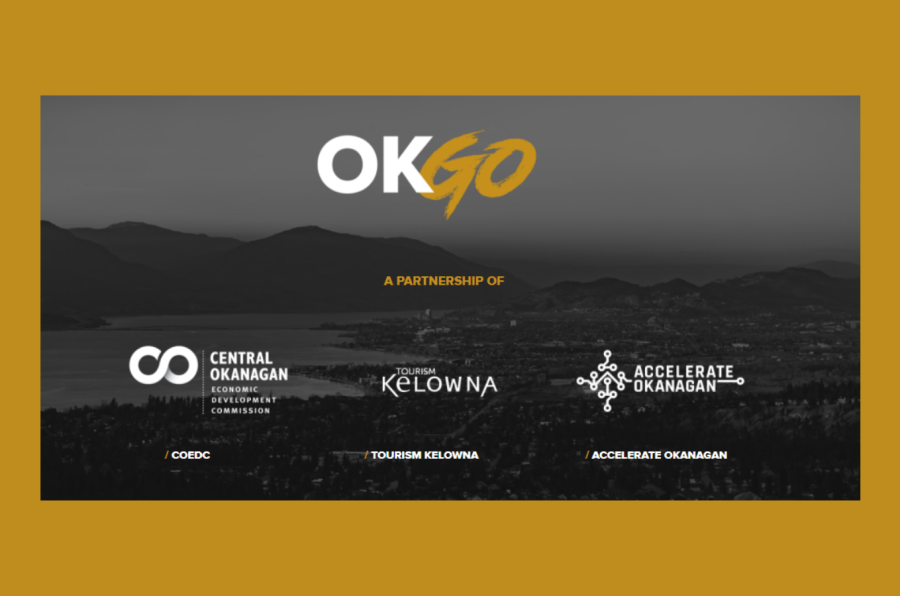 About the Central Okanagan Economic Development Commission
The COEDC is a service of the Regional District of Central Okanagan with a mandate to work in partnership with regional stakeholders to facilitate and encourage the development of a healthy and sustainable economy by supporting existing businesses and encouraging new investment within the Regional District of Central Okanagan. The region includes the communities of Lake Country, Kelowna, Westbank First Nation, West Kelowna, Peachland, and the East and West Electoral Areas.
About Tourism Kelowna
As the lead destination marketing organization (DMO) for the Central Okanagan, Tourism Kelowna works on behalf of over 400 local businesses and the larger tourism and hospitality community to generate overnight visitor demand that economically benefits Kelowna and its surrounding areas. Meetings, conferences, and event tourism play a major role in Tourism Kelowna's four-season development strategy, helping to round out hotel occupancies and local spending during traditionally slower tourism months.
About Accelerate Okanagan
Accelerate Okanagan (AO) is a not-for-profit organization that gives entrepreneurs the mentorship, connections, and community they need to build technology driven ventures.  At Accelerate Okanagan we work with everyone from students to well established companies. Aspiring entrepreneurs, startups, job seekers, career-changers, companies looking to expand and grow, and companies with proven track records come to Accelerate Okanagan to learn and foster their success. Our programs are designed to meet the ever-changing needs of our community. To find out more, visit: accelerateokanagan.com or okgntech.com.
About the International Economic Development Council
The International Economic Development Council (IEDC) is a non-profit, non-partisan membership organization serving economic developers. With more than 5,000 members, IEDC is the largest organization of its kind. Economic developers promote economic well-being and quality of life for their communities by creating, retaining, and expanding jobs that facilitate growth, enhance wealth and provide a stable tax base. IEDC's Excellence in Economic Development Awards recognize the world's best economic development programs and partnerships, marketing materials, and the year's most influential leaders.