For the first time since 1968, the world's most famous national men's curling championship will be played in Kelowna, B.C., as announced today by Curling Canada. The 2025 Canadian men's curling championship will take place February 28–March 9 at Prospera Place in Kelowna. The city was tapped to host the Brier in 2021, but that event was moved to the bubble in Calgary due to the COVID-19 pandemic.
"We couldn't be happier to see Kelowna get this opportunity to bring the Montana's Brier back to the Okanagan after nearly 60 years," said Danny Lamoureux, interim Chief Executive Officer of Curling Canada. "It was such a disappointment that the event couldn't happen in 2021, but we know Kelowna will make up for lost time with a spectacular event in 2025."
Kelowna, located in British Columbia's lush Okanagan Valley, last hosted the Brier in 1968 when Alberta's Ron Northcott hoisted the Tankard at Memorial Arena. Prospera Place, home to the Western Hockey League's Kelowna Rockets with a seating capacity of 6,886, will play host this time around, giving fans the opportunity to enjoy a stroll to nearby Okanagan Lake between draws.
"We extend a warm welcome to all participants, spectators, and visitors to the traditional territory of the Okanagan syilx people," said Westbank First Nation Chief, Robert Louie. "The 2025 Montana's Brier not only showcases the pinnacle of men's curling but also provides an opportunity to appreciate the rich cultural heritage and natural beauty of our lands in the Okanagan Valley. We are excited to share our traditions, our hospitality, and the essence of our vibrant community with all those who gather here for this special event."
"Kelowna has a strong curling community with a long history of producing elite talent and hosting major curling events," added Kelowna Mayor Tom Dyas. "With one of the largest curling clubs in Canada, Kelowna is equipped with a strong team of volunteers to make the event memorable, while our entire community looks forward to showing our hospitality to fans, players and officials."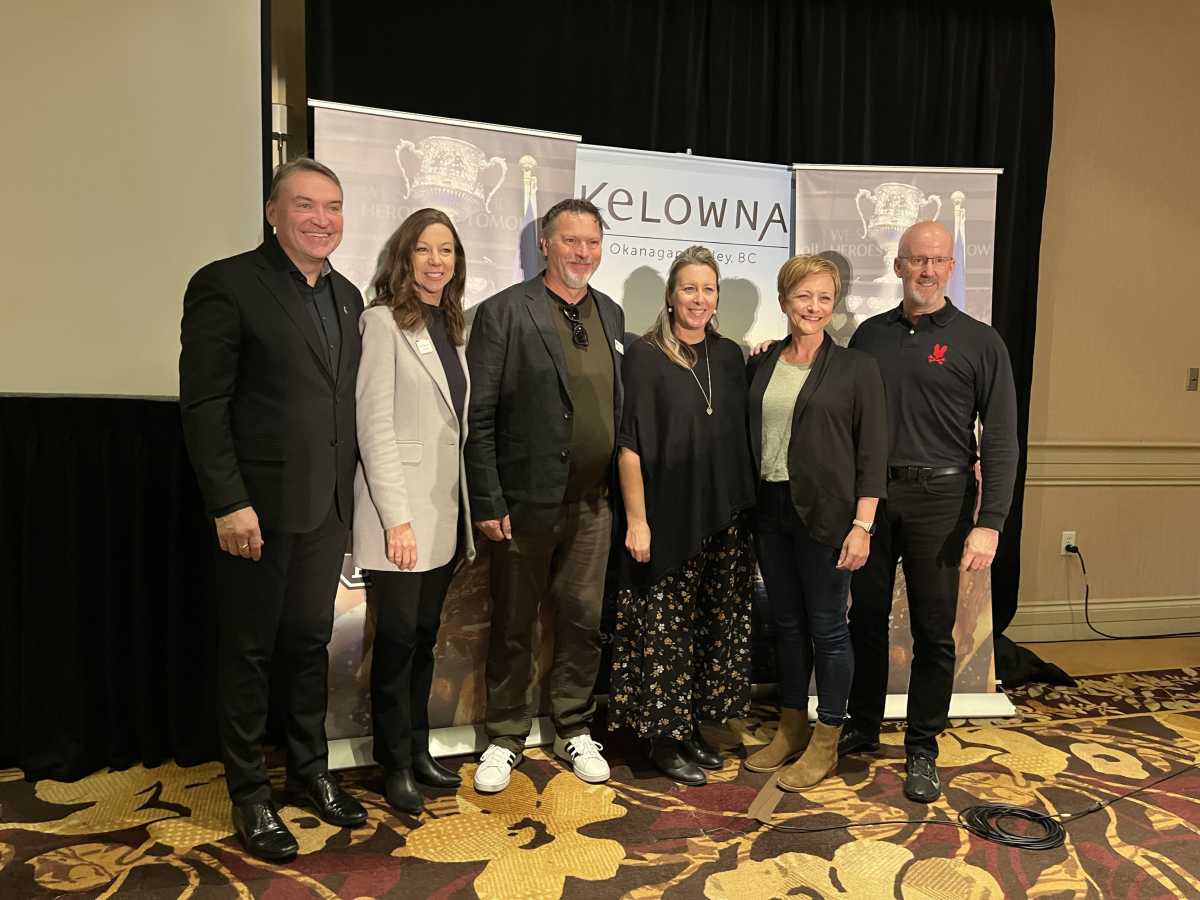 Pictured (left to right): Mayor Tom Dyas; Tourism Kelowna, President & CEO, Lisanne Ballantyne; Kelowna Curling Club, General Manager, Jock Tyre; 2025 Montana's Brier Host Committee Vice-Chairs, Sasha Carter, Tanya Stroinig, and David Stephenson.
Kelowna is no stranger to hosting major curling events, including the 2023 Pan Continental Curling Championships, which get underway on Sunday, October 29, at the Kelowna Curling Club.
Other major events over the years in Kelowna include the 1986 World Women's Championship (won by Canada's Marilyn Bodogh), the 1989 Scotties Tournament of Hearts (won by Team Canada's Heather Houston), the 1999 Canadian Junior Championships (won by Ontario's John Morris and Quebec's Marie-France Larouche), the 2002 World Junior Championships (won by Canada's David Hamblin and Cassie Johnson of the United States), and, most recently, the World Mixed Curling Championship in 2018 (won by Canada's Mike Anderson).
"Congratulations to Kelowna for being chosen to host the 2025 Montana's Brier," said Lana Popham, Minister of Tourism, Arts, Culture and Sport. "We look forward to showcasing the best of the Okanagan Valley to fans and competitors from across Canada, while bringing the community together in celebration and for the thrill of sport."
The Kelowna edition of the Brier will be the second year of title sponsorship from Montana's BBQ & Bar, which entered into a multiyear partnership with Curling Canada last month.
"We are incredibly excited that the 2025 Montana's Brier will be played in Kelowna, and we'll be joining fans across the country in cheering on our top men's teams as they contend for the national championship," said Yianni Fountas, Director of Marketing at Montana's BBQ & Bar. "Our restaurant in Kelowna is ready to join the action and make the 2025 Montana's Brier memorable for everyone."
It will be the eighth time the event has been played in British Columbia, with the most recent edition in 2014 in Kamloops.
"There's an enthusiastic group of curlers, volunteers and fans in the Okanagan who will be working very hard to make the 2025 Montana's Brier a big success story," said Scott Braley, CEO of Curl B.C. "There's no doubt in my mind that the whole province will get behind this event, and we'll all be ready to welcome the country to Kelowna in 2025."
The team that prevails in Kelowna will go on to wear the Maple Leaf a few weeks later at the 2025 BKT Tires World Men's Championship, to be played in a Canadian city (location, dates TBA). 
With a top-six finish at the 2025 world championship, the 2025 Montana's Brier winner will also qualify for the 2025 Canadian Curling Trials, where Canada's four-player teams for the 2026 Winter Olympics in Italy will be decided. As well, the 2025 Montana's Brier winner will return to the 2026 Montana's Brier as the defending champion Team Canada.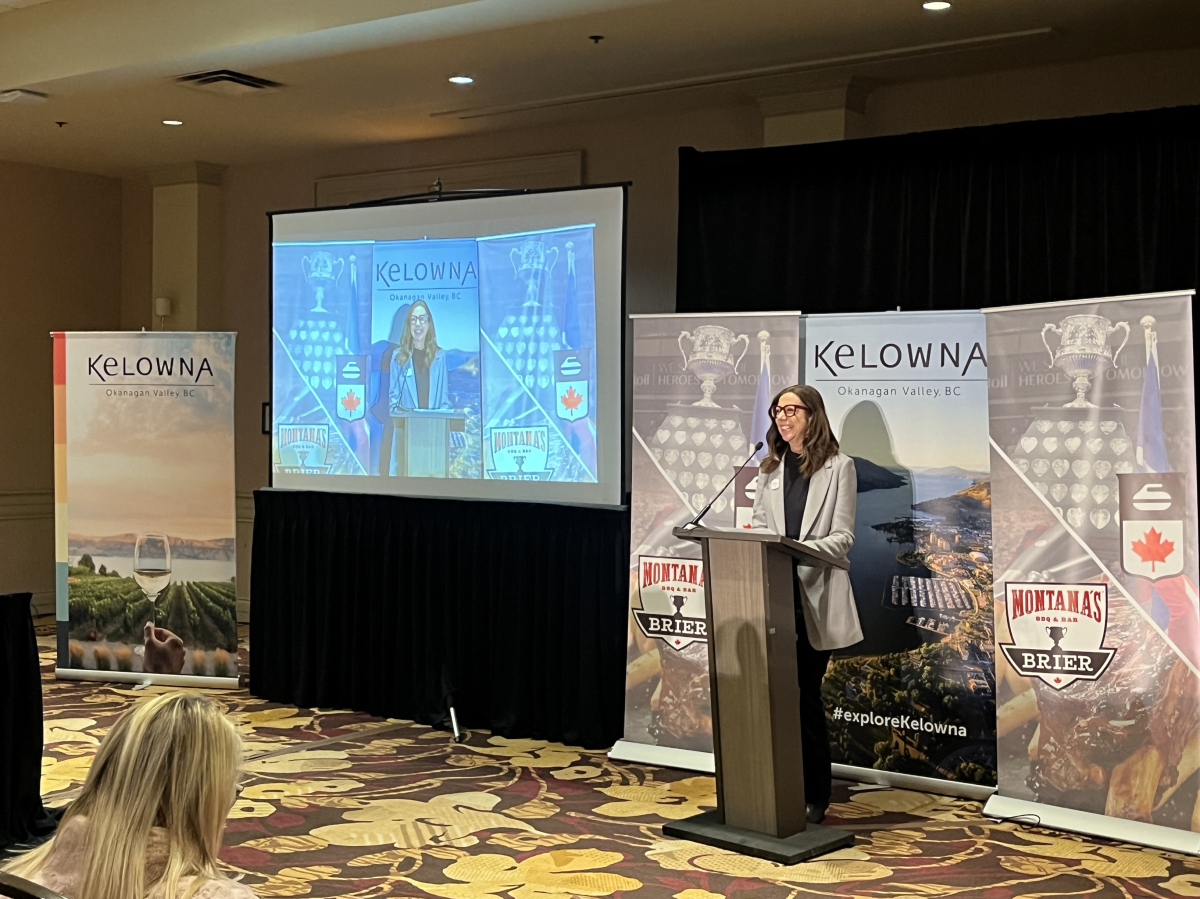 Tourism Kelowna President & CEO, Lisanne Ballantyne.
"The Montana's Brier has long been identified by Tourism Kelowna and the City of Kelowna as a major event to pursue based on the significant new spending it will generate during Kelowna's slower winter tourism season," said Lisanne Ballantyne, President & CEO of Tourism Kelowna. "This hugely popular event will deliver an estimated 9,000 total room night bookings and an estimated economic impact of $8 million to $15 million for local businesses. We are thrilled to have Kelowna highlighted nationally through TSN broadcasting, continuing to build the Central Okanagan brand as a hub for major winter sport tournaments."
The Brier has been played in 31 cities across Canada, from Victoria to St. John's, N.L. Alberta leads in Brier victories with 28, followed by Manitoba with 27. New Brunswick, Prince Edward Island, the Yukon, Northwest Territories and Nunavut have yet to win.
The first entry into the 2025 Montana's Brier will be decided on March 10, 2024, in Regina, as the 2024 Montana's Brier winner is decided that day, and will play as Team Canada in Kelowna.
Ticket and volunteer information will be released in early 2024. Fans are encouraged to sign up on the Curling Canada Collective to receive updates.
Content provided via Curling Canada's official press release.