Holiday shopping have you ready to relax this Christmas Eve? Decided not to cook a big meal for Christmas Day? Looking for somewhere to continue toasting 2019 on New Year's Day? These Kelowna dining establishments have you covered. 
Christmas Eve
Enjoy classic French cuisine at Bouchon's Bistro. They're hosting a decadent three-course Christmas Eve dinner. Reservations recommended.
Some still taking dinner reservations: OAK + CRU, Milestones, Hotel Eldorado's Lakeside Dining, West Coast Grill
Try a festive theme night like Train Station Pub's Ugly Christmas Sweater Night (they're also hosting trivia!). Or pop in to happy hour at Smack DAB, Summerhill Pyramid Bistro, or Gulfstream

Christmas Day
Bonfire Restaurant at The Cove Lakeside Resort is crafting a festive Christmas dinner celebration complete with a sparkling wine greeting. Reservations required. 
OAK + CRU Social Kitchen and Wine Bar wants their CRU to take care of you. Offering a three-course Christmas dinner menu which highlights all your holiday flavour favourites, including options to add wine pairings and family-style dishes. 
Also inviting you to their Christmas dinner: Smack DAB

New Years Day
It was a long night, and now you're ready to enjoy great food and drink and reminisce about 2018 and the celebrations that closed it out. Head to one of these great local tables:
Hotel Eldorado's Lakeside Dining (for New Year's Day Brunch), Old Vines Restaurant at Quails' Gate Winery, The Keg Steakhouse + Bar, OAK + CRU, Smack DAB, Milestones, Moxie's, Bonfire at The Cove, West Coast Grill   
---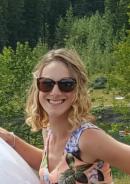 Jen Widmer is a proud Kelowna resident who loves highlighting everything great about our city to media and potential visitors through her Tourism Kelowna role. Away from the office, Jen enjoys game nights, golfing one of Kelowna's stellar courses, a good book with a glass of local wine, Netflix (who doesn't) and scoping out great food and wine events in Kelowna. She and her husband have two young girls that love weekend brunch, Okanagan Grocery croissants, and exploring the many wonderful parks and walking paths the city offers.