For the second year in a row, Kelowna has been nationally recognized by the Canadian Sport Tourism Alliance (CSTA) as the top mid-size city (population 50,000 – 150,000) in Canada for sport hosting. The award recognizes the collaboration between the City of Kelowna and Tourism Kelowna on attracting national championships and international competitions hosted in 2019 and those awarded for 2020 and beyond.
"We remain committed to partnerships that continue building Kelowna's national reputation as a host city for sports excellence, tournaments and major events like the Apple Triathlon and Okanagan Marathon," said Kelowna Mayor Colin Basran. "Sports and event tourism are important draws for travel to Kelowna, and a key component of the tourism sector's $1.25 billion in annual economic output."
"Now more than ever Tourism Kelowna's major event strategy is needed to rebuild lost visitation and business, especially in months that could use it most," said Lisanne Ballantyne, President and CEO of Tourism Kelowna. "This announcement recognizes the expertise, infrastructure, and partnerships in our community that will allow us to attract future city-wide events – creating much-needed revenue for local businesses and bringing exciting sports competitions for residents to enjoy."
There were 122 cities across Canada that participated in the index and this is the third year the awards have been handed out. The award index was compiled prior to the cancellation of many of the scheduled 2020 sport events due to COVID-19.
"This was a heartbreaking year on so many levels when we've missed out on the excitement and economic impact from several important events cancelled due to COVID-19," said Ballantyne. "We thank the event organizers including the many community volunteers for their work, and we look forward to events returning and our role as host for the 2021 Tim Hortons Brier."
Awards were handed out in four categories divided by population. In the 50,000-150,000 category two other B.C. communities were honoured, Kamloops was second, followed by Victoria in third.
Background: Kelowna Events Considered For 2020 Index / Ranking
2019

SPN Nationals Slo-Pitch Championships
Boys Field Lacrosse Nationals (U15/U18)
Canadian Firefighters Curling Championships
Sail West
Western Canadian Rugby Championships (U16)
Skate Canada International
GolfBC Championships - Mackenzie Tour
Apple Triathlon - CAMTRI Sprint, Canadian Triathlon Championships

2020

World Mixed Doubles & Senior Curling Championships
Memorial Cup presented by KIA
U-16 & U-18 Western Canadian Rugby Championships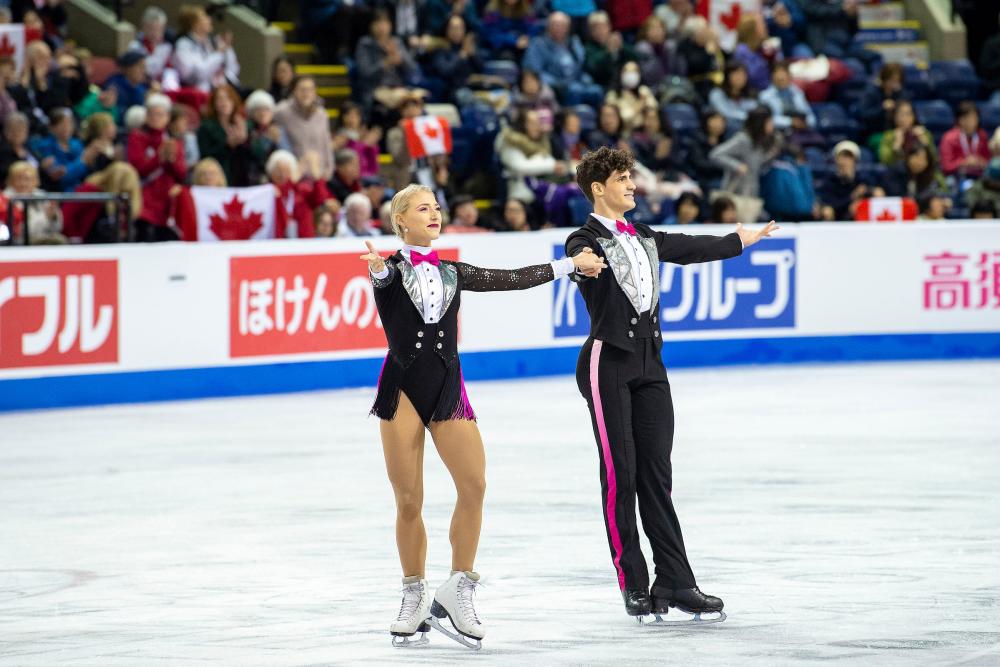 Piper Gilles & Paul Poirier, Rhythm Dance Program, 2019 Skate Canada International (photo credit: Shoot the Breeze) 
About Tourism Kelowna
As the lead destination marketing organization (DMO) for the Central Okanagan, Tourism Kelowna works on behalf of over 420 local businesses and an entire tourism community to generate overnight visitor demand that economically benefits Kelowna and its surrounding areas. The BC tourism industry recently named Tourism Kelowna the 2019 DMO of the year for Professional Excellence, recognizing the organization's performance, accountability, and commitment to uplifting the local and provincial tourism industry sector. A four-season outdoor playground, Kelowna attracts 2 million visitors annually who in turn generate $337 million in local spending. A vital economic driver for the region, Kelowna's tourism industry provides 12,000 jobs, $142 million in tax revenue, and generates $1.25 billion in total economic output annually.
For more information:
Chris Shauf, Director of Marketing & Communications
Tourism Kelowna
(250) 861-1515 ext. 203
chris.shauf@tourismkelowna.com