On Wednesday, July 28, Melanie Mark, Minister of Tourism, Arts, Culture and Sport, announced that Kelowna had won the right to host the 2026 BC Summer Games. From July 23 - 26, 2026, Kelowna will welcome over 4,000 athletes, coaches, support personnel, and families to our city for the biennial multisport competition.
President of the BC Games Society, Alison Noble, called it a very competitive bid process with five communities in the running. Noble commended the quality of Kelowna's bid, stating that "Kelowna put their best foot forward. They reached out, they got all the local sport organizations involved, they spoke about how well the venues could host these games. And it was an opportunity to give the bid to the community that put their best bid forward." Kelowna previously hosted the Games in 1990, 1994, and 2008. 
"Hosting the BC Summer Games in 2026 will not only generate direct economic impact for our region but will also be a source of great pride for our community," said Tourism Kelowna President & CEO, Lisanne Ballantyne. "The event will be a welcome opportunity to showcase our destination to the next generation of visitors."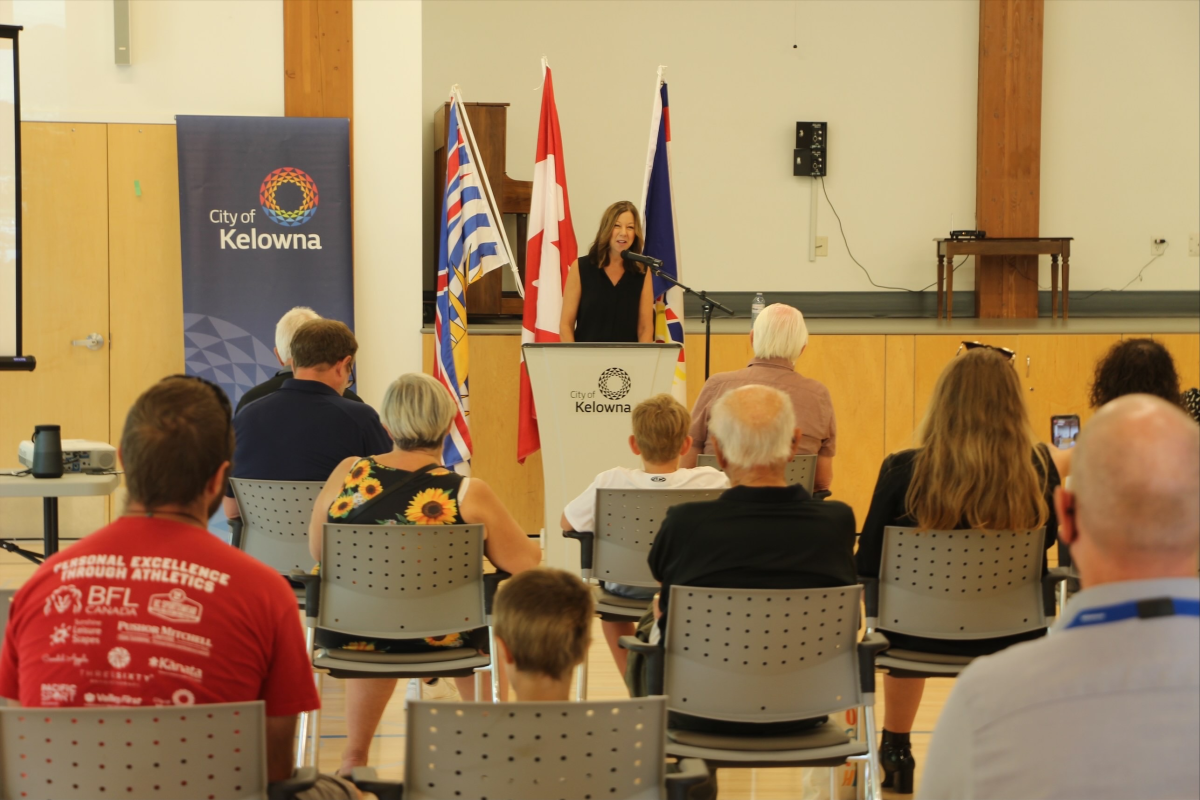 Tourism Kelowna President & CEO, Lisanne Ballantyne, speaking at the local event for the 2026 BC Summer Games announcement. Photo Credit: City of Kelowna
Kelowna's bid was built on collaboration and partnership with Tourism Kelowna, the City of Kelowna, School District 23, and PacificSport Okanagan leading the bid committee. Eighteen local sporting organizations and several community organizations also threw their support behind the bid. 
"With five Kelowna athletes competing at the Olympics right now, we understand the value of these events to growing athletes. These Games give the best emerging high-performance athletes a chance to show their skills in serious competition and we are thrilled to be able to host these games here in Kelowna," said Mayor Colin Basran in a City of Kelowna press release.  
The games are expected to generate over $2 million in economic impact for Kelowna and the Central Okanagan through expenditures from planning and staging of the Games and spending by participants, spectators, and volunteers.
Kelowna has demonstrated success in winning bids for prestigious and historic events, with the BC Summer Games in 2026 adding to our city's robust hosting resume. Recent sport events hosted in Kelowna include the 2018 World Mixed Curling Championship and 2019 Skate Canada International. Our city was looking forward to big years in 2020 and 2021, with rights to host the World Mixed Doubles & Senior Curling Championships, The Memorial Cup presented by KIA, and the Tim Horton's Brier. Due to the ongoing implications of the pandemic, Kelowna was unable to host these major events and many other sporting and cultural events that were confirmed to take place.
Since the start of the pandemic, our team has continued to strongly position our destination for the return of safe live events and we look forward to welcoming more events to Kelowna in the years to come. 
To read the Government of BC's press release, click here.