This year, local tourism businesses have demonstrated their resilience and innovation as they've adapted and pivoted in response to the COVID-19 pandemic. As we get set to wrap up the year, we wanted to take a moment to again recognize some of the ways in which our industry has shown its strength and worked to keep serving our community, safely.

Accommodations
With extensive COVID-19 protocols in place, our local accommodators were prepared to welcome guests safely. Instituting advance booking for amenities like the pool and hot tubs, minimizing interaction with housekeeping staff, while elevating cleaning procedures between guests, and offering flexible cancellation policies were just some of the ways area hotels were able to ensure a safe stay for all those who travelled to Kelowna.

Air Travel
Kelowna International Airport (YLW) has been diligently adhering to extensive COVID-19 protocols so that those travelling to and from Kelowna can do so safely. Most recently, they added an innovative chatbot, Link, to their customer service team to answer questions and to help travellers find information quickly, while also having the ability to connect people with a live agent as required.

Live Events
With various restrictions on live events, much programming had to be altered. In the summer, Festivals Kelowna transitioned its Parks Alive! Program into "Parks Alive! On Tour," taking the free concert series out to people in their own communities to enjoy with their bubbles, while also hosting live music as part of the "Animate Bernard" program and putting health and safety programs in place for their buskers' program.  
Rebellious Unicorns launched its online streaming service, Unicorns.LIVE, earlier this year and most recently, was set to bring back in-person concerts at the Kelowna Community Theatre with Live at the KCT!; however, the new restrictions meant the shows would be online only. As part of the revised programming, they have offered music lovers the opportunity to be part of the audience, as cardboard cutouts filling the seats at the KCT during the shows.
The Sandman Hotel & Suites Kelowna also took an innovative approach to live events as they prepared to turn their atrium into a concert venue, with guests set to enjoy a night's stay at the hotel and watch the concert safely from the private balcony or viewing window in their rooms. While the event had to be postponed due to the province-wide restrictions, it was yet another example of innovation within our industry.

Arts & Culture
Organizations like ArtsCO, the Kelowna Art Gallery, Kelowna Museums, Okanagan Regional Library, the Rotary Centre for the Arts, and Sncewips Heritage Museum quickly transitioned to online formats—from Facebook and Instagram Live, to pre-produced videos, and more—and continue using them to stay connected with those who might not be able to visit in person, while also offering a mix of safe, in-person programming, where possible.

Meetings & Conferences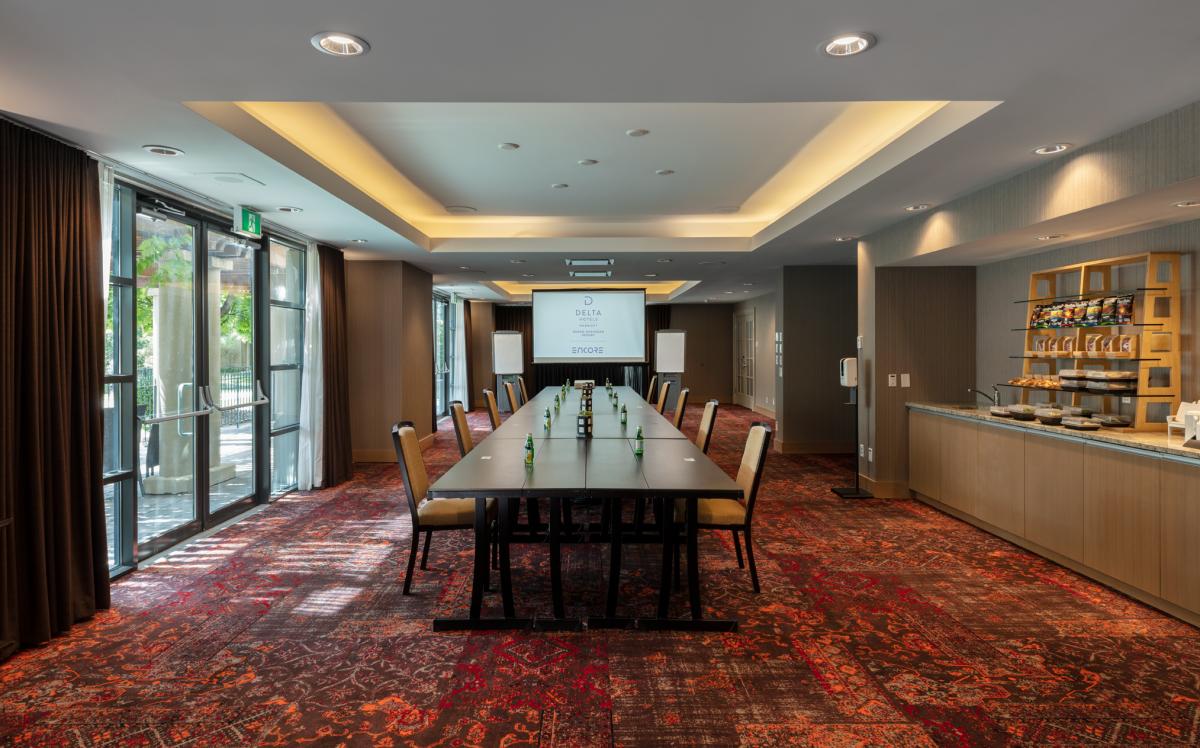 Delta Hotels by Marriot Grand Okanagan Resort
While large meetings and conferences were put on hold this year, our local facilities and suppliers worked to put processes into place to support smaller meetings and events. Delta Hotels by Marriott Grand Okanagan Resort introduced its Smart Meetings program, which included a variety of protocols and optional hybrid elements to make meeting safe and easy. Hybrid meetings were an option at venues like Eldorado Resort and the Kelowna Yacht Club, while group tastings were made possible through virtual means by Mission Hill Family Estate and CedarCreek Estate Winery. These are just a handful of the ways the industry adapted for those who wanted to meet in-person or virtually.  

Food & Drink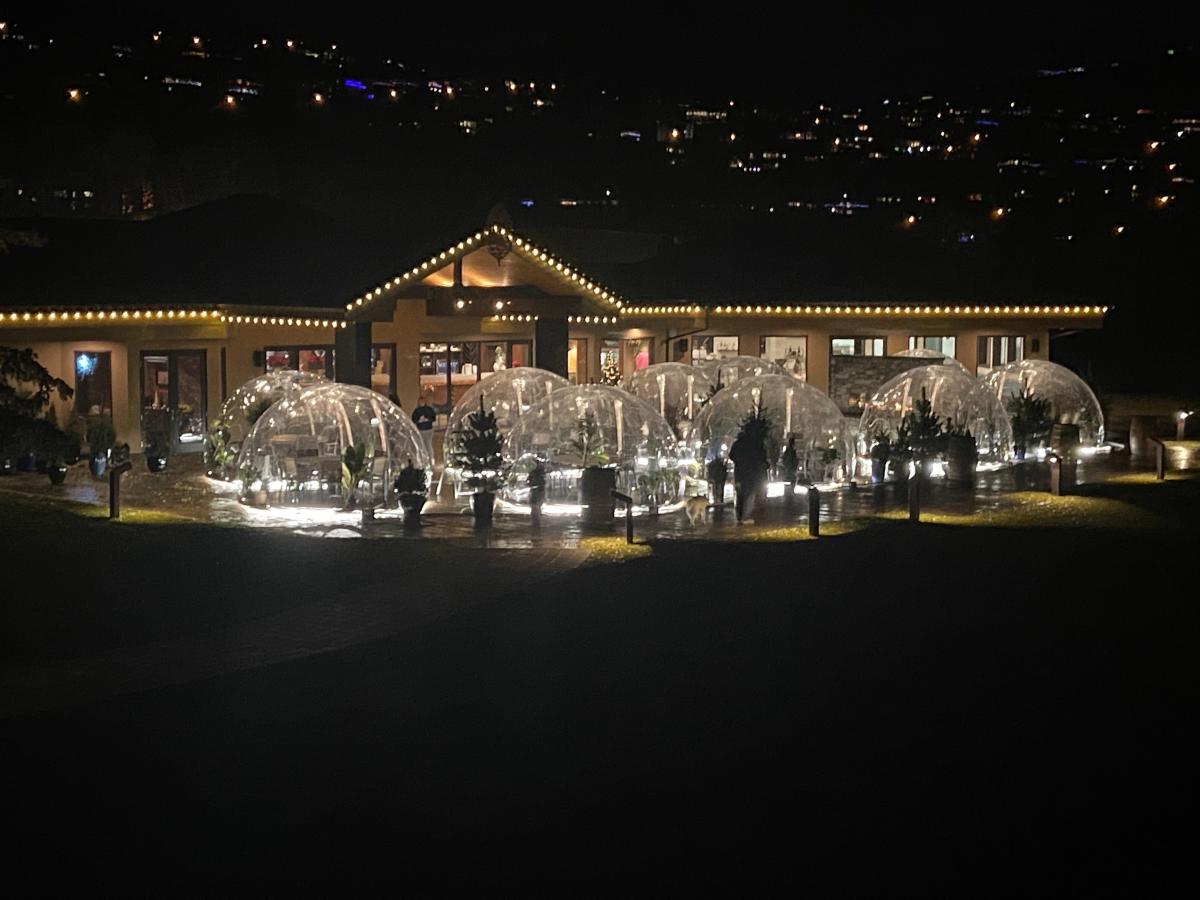 Frind Estate Winery 
From experiences like dining in a dome at The Curious Café and Frind Estate Winery to private dining for households in Quails' Gate's Stewart Family Library or in The Cellar at OAK + CRU, local food and drink establishments have come up with new and fun ways for people to continue exploring Kelowna, safely, while staying local through during the winter season.

Holiday Season
Through the holidays, we've continued to see more examples of resilience, with numerous businesses going out of their way to find ways to support their customers. For example, in mid-November, The Okanagan Table, Textile Apparel, and olive & elle joined forces to host private shopping parties for their customers. Local restaurants have once again come up with a variety of take-home options and introduced new dine-in concepts, like Krafty Kitchen + Bar's Sunday Fondue or Summerhill Pyramid Winery's Holiday-themed Sparkling High Tea. 
Businesses also showed their community support in numerous ways, such as the Bake the World a Better Place fundraiser, with 26 Okanagan Chefs and Bakers baking pies in support of the Central Okanagan Food Bank, Vivid Tours' "12 Days of Kindness" campaign, delivering random acts of kindness to those in need, or the variety of donations collected for charitable organizations—like Tiki Time Tours—and numerous other businesses—helping to collect toys on behalf of KelownaSantas, Priest Creek Family Estate Winery collecting donations for the food bank, or Wicked Tours making its annual donation to the Canucks Autism Network. 
There have also been several local initiatives designed to encourage locals to continue supporting local, such as Downtown Kelowna's 12 Days of Christmas and GetintheLoop Okanagan's Uptown Rutland Shop Local giveaways. The Downtown Kelowna Association, Kelowna Chamber of Commerce, and Uptown Rutland Business Association also came together to create a "Shop Local" video series to highlight local businesses and to remind everyone to support local as much as possible this holiday season.