We're excited to announce that BreakOut West is returning to Kelowna for the third time. A hand-off event took place in Calgary on October 2 as part of BreakOut West 2022, revealing Kelowna as the host city for 2023 and showcasing what delegates and attendees can expect from our destination.
Tourism Kelowna, alongside the City of Kelowna, proudly supported the successful bid for BreakOut West 2023, assisting the local Host Committee, consisting of Creative Okanagan and a small group of community volunteers, with their bid development, familiarization tour, and strategic partnership opportunities.
"Kelowna has hosted successful BreakOut West events in 2010 and 2018, and 2023 promises to build on that legacy. The Central Okanagan has a strong, connected music and cultural community, terrific venues, and passionate volunteers ready to host in 2023," says Tourism Kelowna President & CEO, Lisanne Ballantyne. "We are excited to welcome back attendees to our amazing four-season outdoor playground, including new live music and performance spaces. Tourism Kelowna is proud to partner on important events like BreakOut West that increase economic impact while contributing to Kelowna's quality of life. The entire tourism industry is excited for BreakOut West and the Western Canadian Music Awards to return next year!"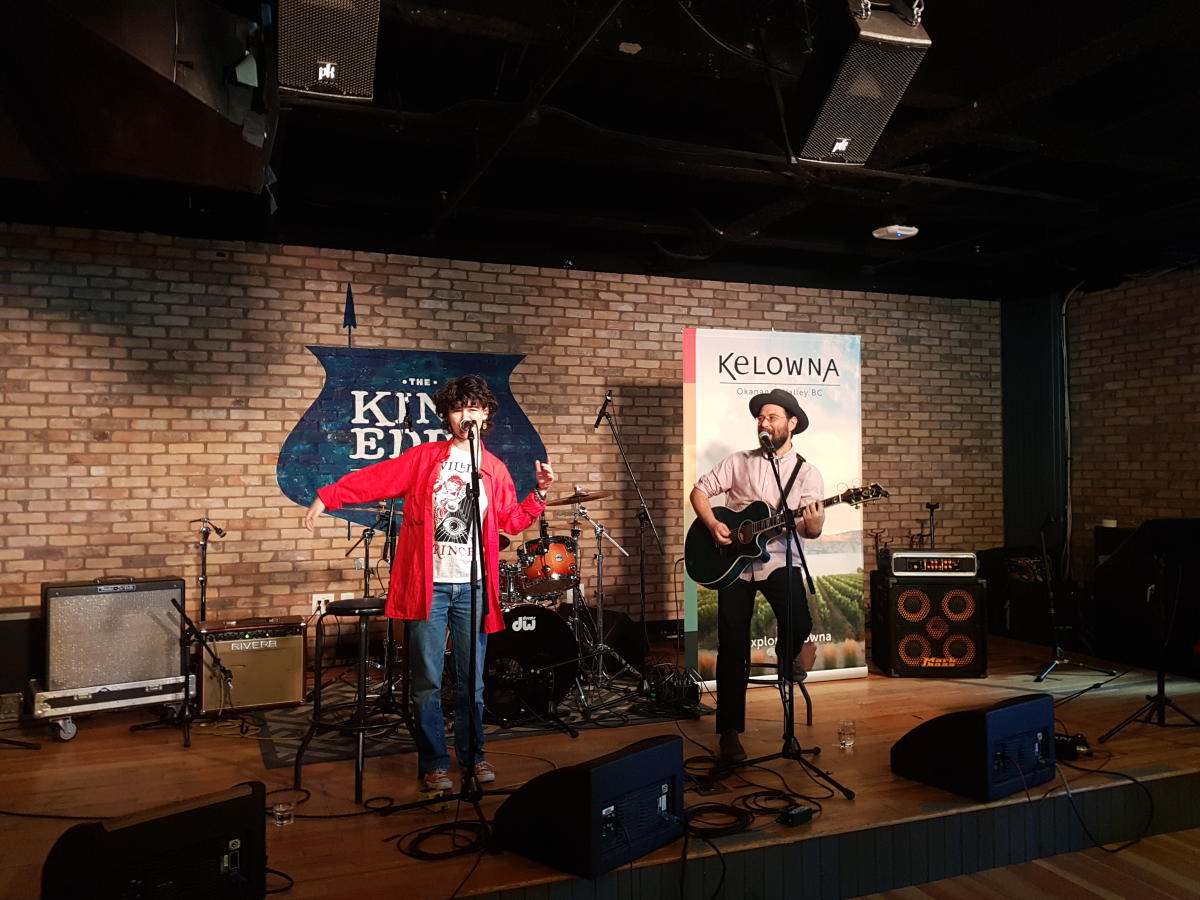 Kelowna's Ezra and Ruth Cipes, two members of the 2022 Western Canadian Music Award Children's Artist of the Year winning group, The Oot n' Oots, perform at the October 2 hand-off reception at Calgary's King Eddy.
The once-a-year event, which is celebrating its 20th anniversary this year, is sure to be one of the highlights of Kelowna's cultural calendar in 2023 as musicians, industry professionals, fans, and delegates descend on the city for a 4-day music industry conference, 3-night multi-genre showcase festival at various downtown Kelowna venues, and the Western Canadian Music Awards.
"Kelowna has had massive success in hosting BreakOut West in the past. The event has enabled us to showcase our local artists and unique venues and further establish Kelowna as a community that loves live music," says Karma Lacoff Nieoczym, Creative and Executive Director with Creative Okanagan and Host chair. "MusicBC has strongly supported us in submitting the bid. We look forward to offering our local musicians opportunities to perform at the festival,  attend the conference, and submit entries for the Western Canadian Music Awards."
"We love seeing Kelowna animated in a positive way for our residents. BreakOut West definitely does that, and it also helps to highlight some of the incredible talent, venues and culture we have here in our city," adds Event Development Supervisor with the City of Kelowna, Chris Babcock. "We also know it has a long-term net positive impact on our community. We've seen BreakOut West be a big success here twice in the past, and I know 2023 is going to be great, too. I can't wait!"
Local and visiting music fans will love the BreakOut West Showcase Festival featuring over 50 of Western Canada's best emerging and established artists (and a few international acts, too). BreakOut West is run by the Western Canadian Music Alliance and a volunteer committee in the host city.
More details will be announced in the coming months, but for now, save the date for BreakOut West 2023, October 11-15. You can learn more about BreakOut West here.

About BreakOut West
BreakOut West is an annual music event that includes an immersive music development conference and music festival hosted by the Western Canadian Music Alliance.
The Western Canadian Music Alliance is an organization created by the Music Industry Associations (MIAs) of British Columbia, Alberta, Saskatchewan, Manitoba, The Northwest Territories, and the Yukon Territory to promote and celebrate western Canadian music.
Every year the event is held in a different western Canadian city on a rotational basis. A volunteer host committee helps organize and coordinate the event in each host city. 
The BreakOut West 2023 Kelowna Host Committee would like to respectfully acknowledge that they live, work and play on the unceded, traditional territory of the syilx/Okanagan people.

About Creative Okanagan
Creative Okanagan's vision is to have a thriving music scene that is inclusive, connected and valued. Its mission is to build a stronger music ecosystem by creating and encouraging accessible music experiences that serve audiences, artists, and stakeholders in the Central Okanagan.