As meeting and event planners, we know you often have your sights set on the future, looking at least a year ahead to find the perfect spot for your company or client's next event. Now that fall is just around the corner, it's the perfect time to highlight the variety you can take advantage of when planning or hosting future events in Kelowna during the autumn months.

Celebrate the Best of Fall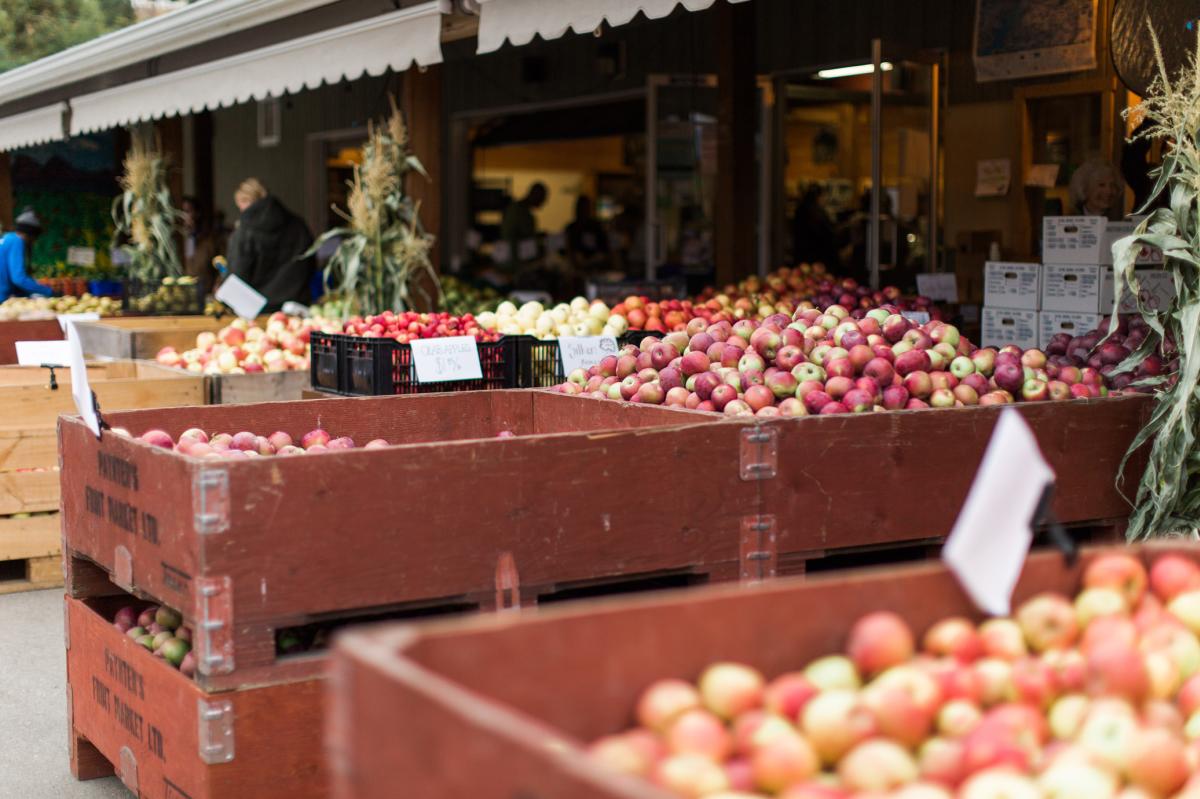 Paynter's Fruit Market (Photo credit: Wines of British Columbia)
There is much to love about fall in the Okanagan, especially the bounty of the fall harvest. With access to fresh, local produce, restaurants showcase the best of the season—apples, pears, squash, and more will be readily available and highlighted on Kelowna menus. In late September, at the start of fall, Rose Hill Orchard and Davison Orchards have u-pick apples, allowing attendees to get in on the action of selecting their perfect piece of fruit. Local markets like BC Tree Fruits Market, Don-O-Ray Farms, Kelowna Fruit Stand, or Paynter's Fruit Market offer locally grown produce and ready-to-eat items, while the Kelowna Farmers' & Crafters' Market hosts an array of vendors at its outdoor market until late October. 
Temperate fall weather is another major plus, as it allows Kelowna to have one of the longest, driest golf seasons in Canada, with courses staying open into November most years. Most of the area's 19 golf courses offer expansive views full of fall foliage, allowing your delegates to witness the splendour of the season while hitting the links on a golf tournament or in their free time outside the official agenda. 

Sip the Best of Kelowna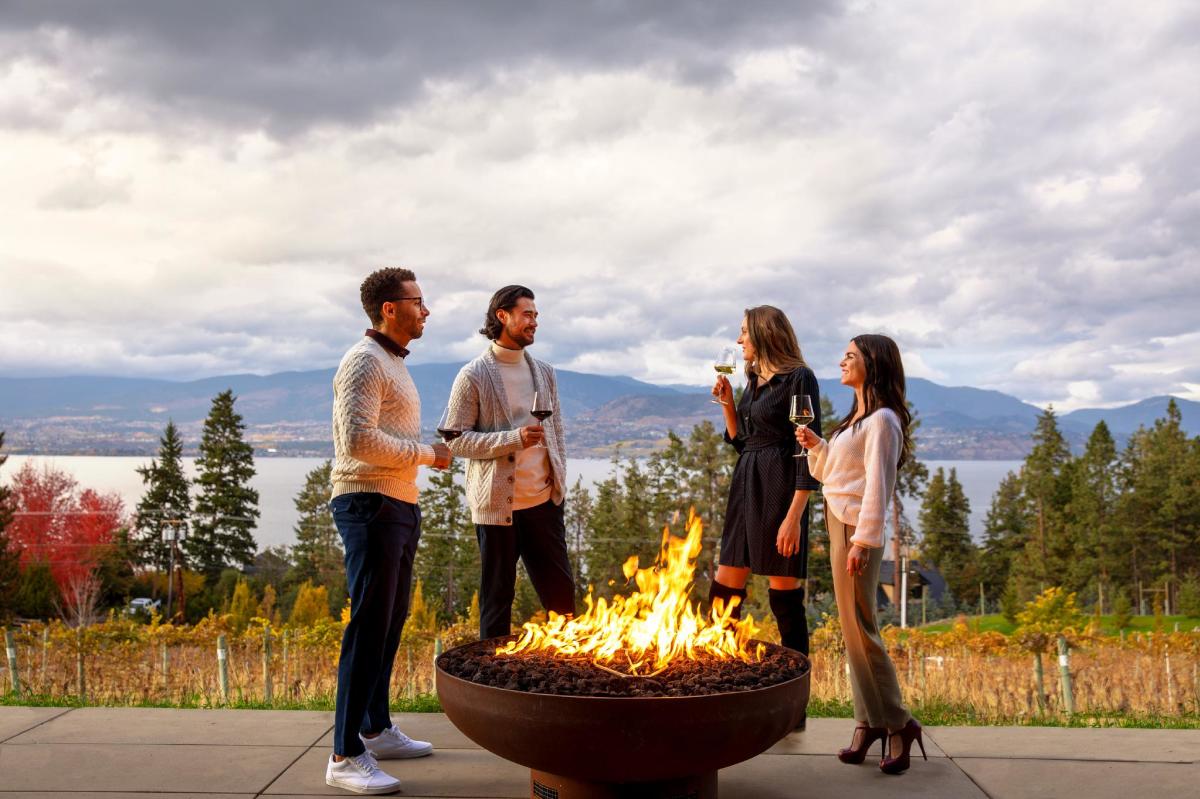 CedarCreek Estate Winery (Photo Credit: Darren Hull Studios)
No matter when you host your event, you will have no trouble incorporating wine visits or tours into your event itinerary or as a pre- or post-conference activity, thanks to the more than 40 wineries operating in and around Kelowna. October is BC Wine Harvest Month, so fall event attendees will get to see the vineyards at their peak, bursting with grapes ready to be harvested and transformed into the 2023 vintages. They can also be among the first to taste the latest red wine releases. 
The wineries in and around Kelowna are also exceptional destinations for your off-site activities, like receptions and hosted meals. In south Kelowna, you'll find CedarCreek Estate Winery, named Winery of the Year at the 2022 WineAlign National Wine Awards. With a focus on regenerative farming and organic winemaking, attendees will delight in CedarCreek's exceptional cuisine, showcasing fresh, seasonal produce served alongside its award-winning wines, which are some of the best in the region. Guests will also have magnificent views thanks to the winery's lakefront location. The winery's restaurant, Home Block, can accommodate up to 60 people indoors, with an additional 60 on the restaurant's terrace. Additional event spaces are available, so connect with Tourism Kelowna's team to discuss your needs. 
Delegates can also take some time outside of the official agenda to learn about the history of Kelowna's wine industry at the Okanagan Wine and Orchard Museum, located in the historic Laurel Packinghouse. The space is also available as an event venue for groups of up to 300.   

Discover Kelowna's Craft Breweries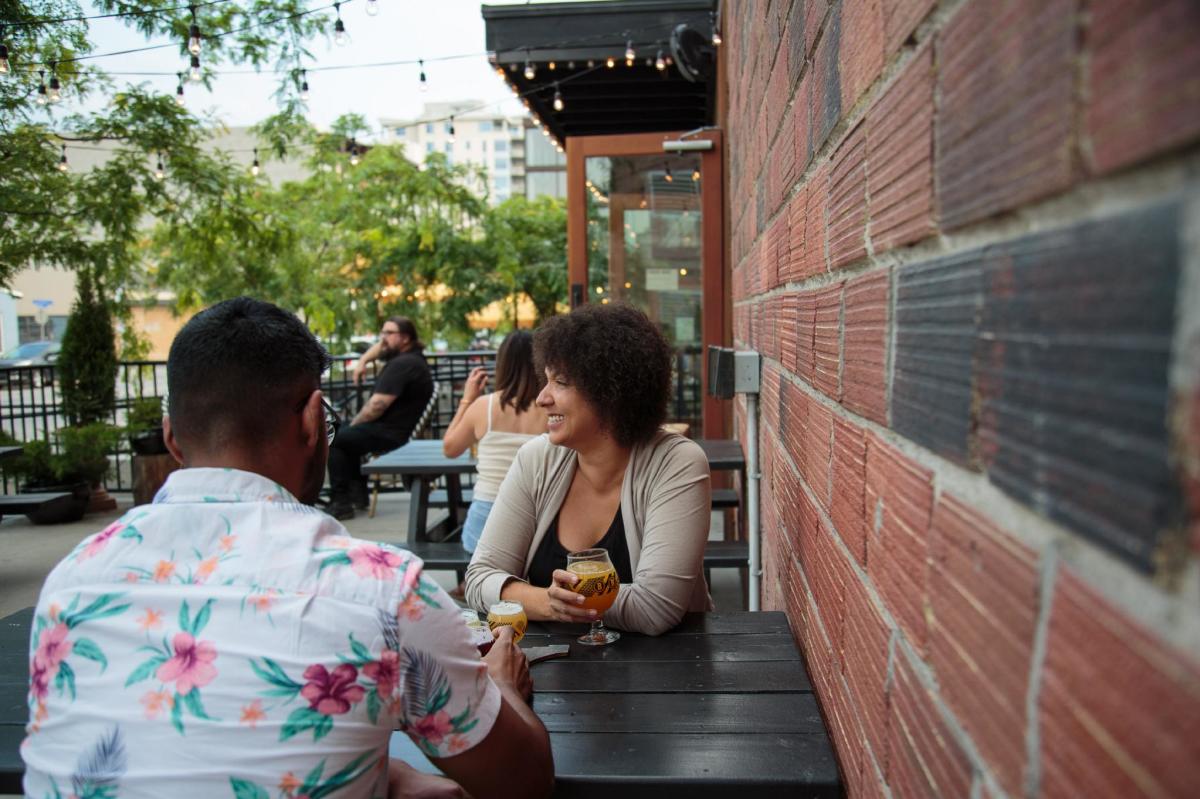 BNA Brewing Co. (Photo credit: BC Ale Trail)
There are dozens of craft breweries in and around Kelowna, taking local ingredients and transforming them into sippable ales, lagers, stouts, and more. In 2022, the first-ever Kelowna Beer Week took place in early October, offering visitors the opportunity to stop at local breweries and celebrate their brews—stay tuned for details on the 2023 event.
Tour companies like Smile Cycle Tours offer a fun way for your delegates to get around and explore the breweries (and distilleries and wineries) located in downtown Kelowna and beyond. Many of the breweries also offer delectable eats to pair with their beers, including out-of-this-world pizza at Jackknife Brewing, locally-made soft pretzels at Kelowna Beer Institute, mouth-watering Big Boards from Provisions Kitchen at Kettle River Brewing Co., house-cured and smoked meats at Vice & Virtue Brewing Co., and so much more. With conveniently located, unique spaces, many breweries can also be rented as event spaces for receptions or other parts of your program. 

Choose from Centrally-Located Venues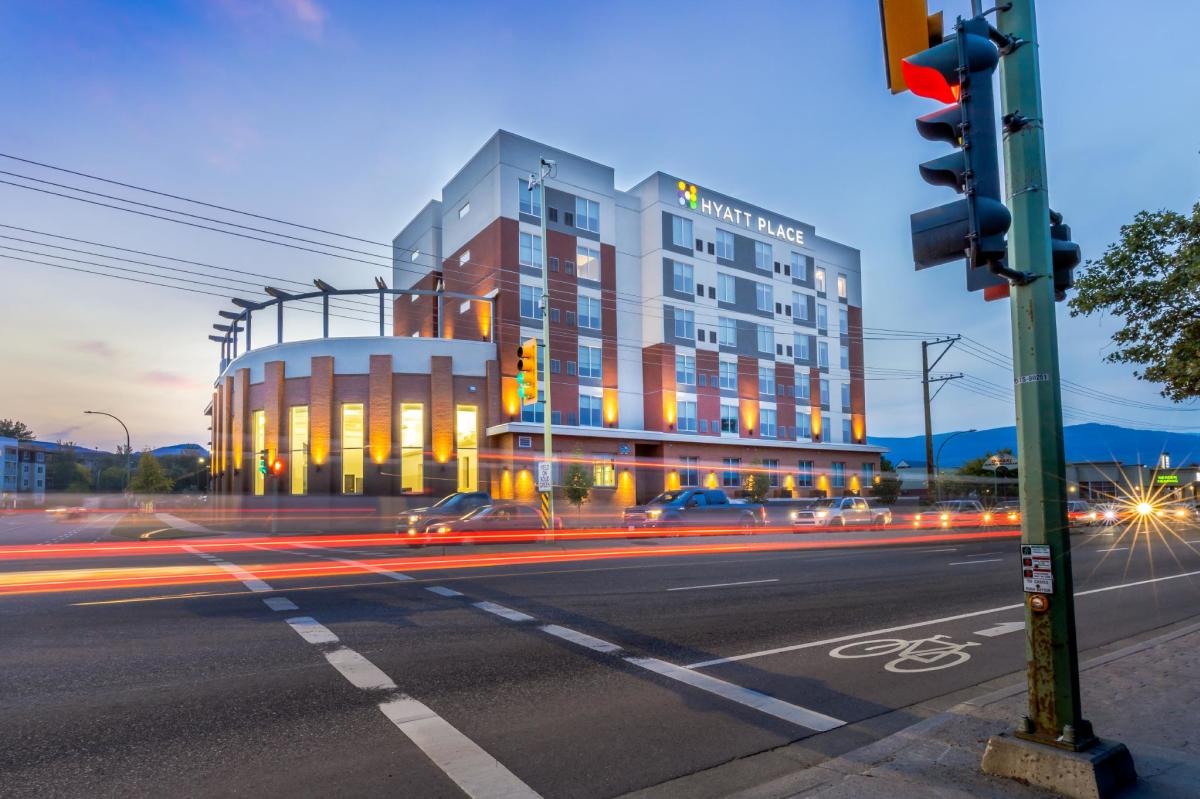 Hyatt Place Kelowna
Hosting your meeting, conference, or event during the fall in Kelowna means having more choices when it comes to available venues and accommodations, many of which are centrally located, making it easy for attendees to get around and explore Kelowna during their downtime. 
Hyatt Place is one of Kelowna's newest hotels, with sleek and modern decor in its 161 rooms and event spaces, which include a licensed outdoor terrace. From the hotel, attendees can access the Okanagan Rail Trail—a leisurely walk in the crisp fall air will bring them into downtown Kelowna, specifically near the north end, where many of the city's breweries are located. The hotel has four meeting rooms and can host groups of up to 60 for seated banquets.   
A quick trip west will have you at the Coast Capri Hotel, which offers one of the largest conference facilities in Kelowna, with more than 16,000 sq. ft. of flexible function space. When delegates break from the official program, they can take advantage of the heated outdoor pool, open year-round, or book an appointment at the on-site spa, Beyond Wrapture.
The Hyatt and Coast Capri are a short walk from the Landmark District, where attendees can choose from an array of local eats and sips. Frankie We Salute You! serves up delectable plant-based dishes—the Sweet Corn Queso is a must-try—alongside regional wines, craft beers, and seasonally-inspired cocktails. Within the area, they can also have breakfast at one of Kelowna's newest restaurants, Porter's, get caffeinated with locally roasted coffee from Bean Scene Coffee Works, or discover craft brews at Copper Brewing. 
Further east, along Kelowna's main thoroughfare, you'll find the Ramada Hotel & Conference Centre and the Sandman Hotel & Suites, which offer 6,749 and 6,000 sq. ft., respectively. Both properties are a short drive from downtown and the Kelowna International Airport. They are also situated across from Interior BC's largest shopping centre, Orchard Park, and nearby by numerous other restaurants and shops—a highlight is Sandrine French Pastry & Chocolate. The hotels are also only a couple of blocks away from the Farmers' Market and Mission Creek Regional Park, where visitors can see the Kokanee salmon spawning in the early fall. Both properties offer expansive meeting space options perfect to accommodate large groups comfortably.
Find more information about hotel venues in and around Kelowna here. 
These are just some ways your delegates can experience the best of the Okanagan when they #meetinKelowna. Be sure to connect with Tourism Kelowna's team about how Kelowna can host your next business event.