Our Visitor Experience team is excited to be launching a mobile activation as part of the Meet Me on Bernard project this summer, which will see Bernard Avenue open to pedestrians only—from July 1 to September 6—with patios, activations, and park-like spaces set up for locals and visitors to enjoy. 
Located on the 400 block in the Neighbourhood Plaza, our activation will see Tourism Kelowna team members and volunteers stationed alongside our newly wrapped van, complete with an awning for shade, from approximately 11:30 a.m. to 6 p.m. daily. In addition to visitor information and maps, we will have a #meetmeonbernard and #exploreKelowna photo booth and device charging station set up, as well as Love for Kelowna and Kelowna Vibes retail items on sale.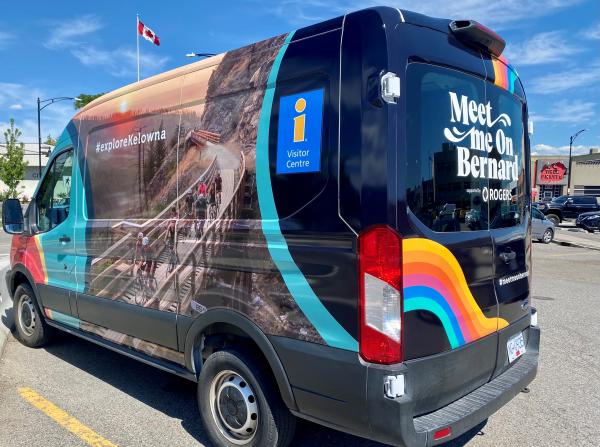 Meet me on Bernard builds off last year's transition of Bernard Avenue to a pedestrian-only thoroughfare during the summer, with appropriate physical distancing and COVID-19 health and safety measures in place as needed. Our team has been working closely with the City of Kelowna and the Downtown Kelowna Association (DKA) to ensure that the area is fully activated, with opportunities for visitors and locals alike to rediscover this section of downtown in a new way and to take in a variety of local arts and culture. 
Blocks along the avenue have been aptly named to describe the activations—the 200 and 300 blocks are Restaurant Row, the 400 block is Neighbourhood Plaza, and the 500 block will be known as Community Square. For more information on all the activations and activities taking place as part of Meet me on Bernard, refer to the DKA's recent newsletter. 
In addition to the sections along Bernard Avenue, the Kelowna Farmers' and Crafters' Market is now taking place in Kerry Park every Sunday, from 8 a.m. to 2 p.m. and will remain in this location until Meet me on Bernard wraps up. Festivals Kelowna will also be producing Parks Alive, with live music on Tuesdays, Fridays, and Saturdays starting July 6, as well as additional events and programs.
For more information about the Meet Me on Bernard project, please visit tourismkelowna.com/meetmeonbernard or connect with me at sydney@tourismkelowna.com or (250) 861-1515 ext. 220.