Tourism Kelowna and Okanagan Lifestyle Apparel Inc. have collaborated to open a new retail store in the Kelowna International Airport (YLW) departures lounge. Okanagan + Co. will sell a selection of Love for Kelowna, Kelowna Vibes, and Okanagan Lifestyle merchandise and apparel. 
"We are excited to be collaborating with Okanagan Lifestyle to bring Okanagan + Co. to Kelowna International Airport. This initiative will bring an additional storefront offering to the departures lounge, helping to exhibit a sense of place, and providing more options for travelling residents and visitors," says Chris Lewis, Director of Community & Visitor Engagement at Tourism Kelowna.
This partnership offers the opportunity for travellers to purchase souvenirs for friends and family, or something for themselves to remember their trip to our beautiful region, either at the end of their journey when they are travelling home, or as they begin their trip to visit and explore other parts of the world.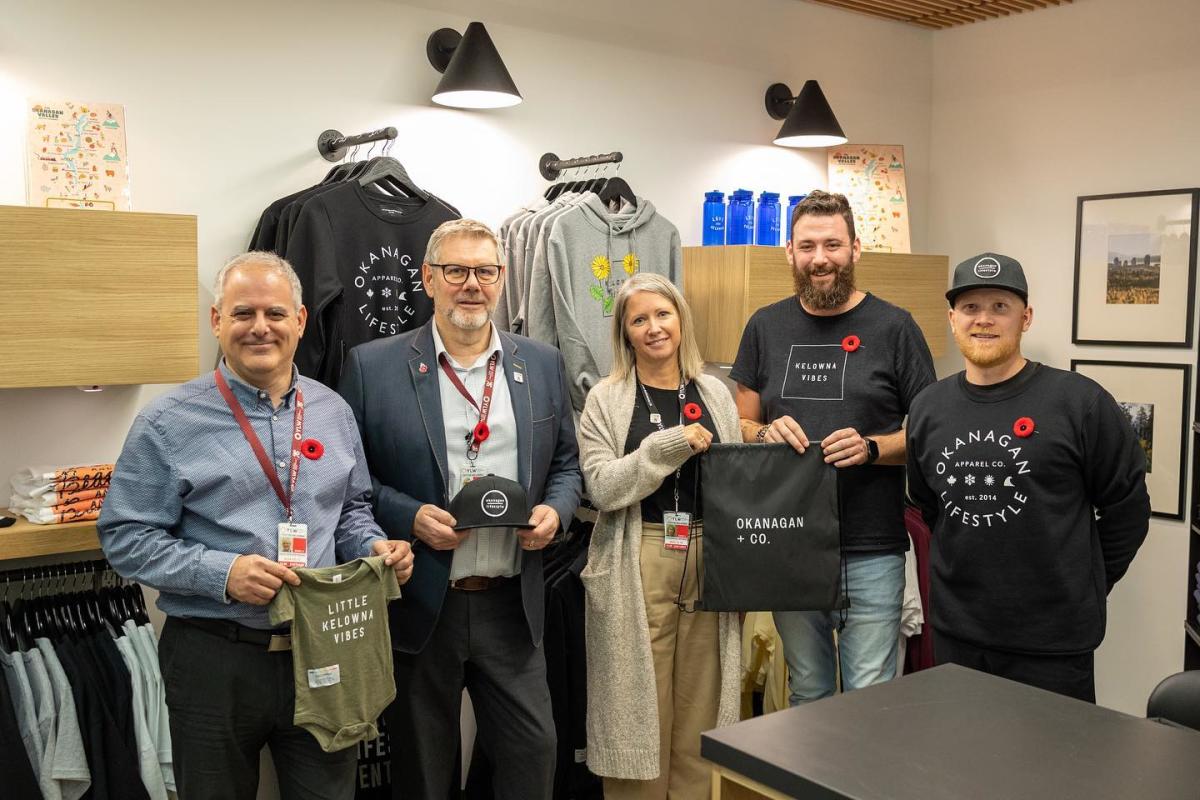 Pictured (left to right): Deputy Director, YLW, Phillip Elchitz; Senior Manager, Airport Development, YLW, Geoff Ritchie; Airport Commercial Development Manager, YLW, Tonja Molina; Director of Community & Visitor Engagement, Tourism Kelowna, Chris Lewis; Co-Founder/Co-Owner, Okanagan Lifestyle, Ryan Robertson.
"As passionate locals, we couldn't pass up this opportunity to connect with the diverse and amazing body of humans who flow in and out of our stunning Okanagan Valley through Kelowna International Airport and to connect with like-minded Okanagan enthusiasts!" says Jaclyn Robertson, Founder of Okanagan Lifestyle Apparel Inc. "We're thrilled and thankful equally. Together with Tourism Kelowna, we can't wait to connect with everyone through the new adventure that is Okanagan + Co. Special thank you for the already incredibly warm welcome from the YLW airport community." 
"Okanagan + Co. will make a great addition to the departures lounge at YLW and provide passengers the ability to take a piece of the Okanagan with them on their journey," says Sam Samaddar, Airport Director, Kelowna International Airport. "We are excited for this opportunity to partner with local businesses and to showcase our Okanagan community."
Okanagan + Co. will also include products from local businesses and artisans such as Gamer Gadgetry, UBC Okanagan, Meadow Vista Honey, Karat Chocolate, Ashleigh Green Studios, and more. 
Current hours of operation are 10 a.m. to 8 p.m. daily. The location will be accessible to those in the departures lounge of Kelowna International Airport. For those not travelling through the airport and interested in purchasing products, visit the Love for Kelowna and Okanagan Lifestyle online stores, or visit in person. 

For more information:
Chris Lewis, Director of Community & Visitor Engagement
Tourism Kelowna
Phone: 250-861-1515 ext. 207
Email: chris@tourismkelowna.com
Jaclyn Robertson, Founder & Chief Visionary
Okanagan Lifestyle Apparel Inc.
Phone: 250-300-8007
Email: jaclyn@okgn.ca
Cassie Brannagan, Communications Advisor
Kelowna International Airport
Phone: 250-317-0579
Email: cbrannagan@kelowna.ca