To acknowledge Tourism Kelowna's dedication to both the local community and to visitors from outside of the Central Okanagan, we have changed the name of our Visitor Experience department to Community & Visitor Engagement.
The shift towards this new name has happened naturally, particularly since the 2018 opening of the Kelowna Visitor Centre (KVC), which is now a community hub providing valuable services to both residents and visitors. In fact, during the past year, local traffic to the KVC was the highest it's ever been, with 64% of traffic being made up of residents, an increase from 52% in 2020. While we will continue to serve visitors and those travelling into the area, we will also focus on furthering the KVC's reputation as a community-shared value and hub for the Central Okanagan.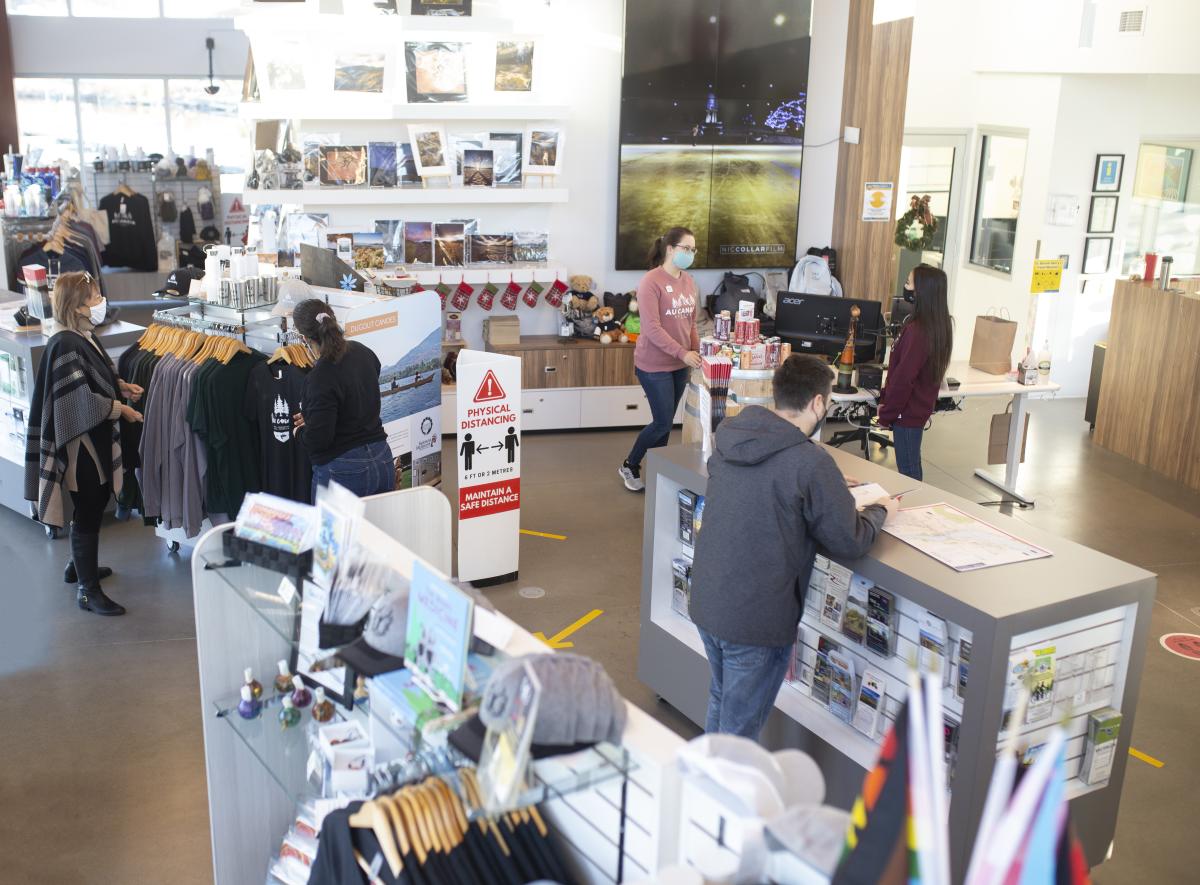 With this change in department name, and acknowledging the shift in focus, several team members have also had title changes.
Sydney Solland is now the Manager of Community & Visitor Engagement. She is responsible for the operations of the KVC, the Kelowna International Airport (YLW) Kiosk, and Tourism Kelowna's mobile servicing and event teams. Sydney will continue to action many of the partnerships and activations within the community, such as Meet Me on Bernard.
Michelle Dupuis is Community & Visitor Engagement Coordinator. Michelle coordinates Tourism Kelowna's retail program, consignment and feature artist program, and the Love for Kelowna social media channels. 
The KVC's frontline team of staff and volunteers are now Community Specialists, acknowledging their expertise on all things related to the communities of Central Okanagan, which include Lake Country, Kelowna, West Kelowna, Westbank First Nation, and Peachland. Our frontline team is often the first point of contact for visitors, community members, and others who might be using our services in person, online, or over the phone. 
Chris Lewis will now be Director of Community & Visitor Engagement and he will continue to oversee the department while being accountable for its performance. Chris will also continue initiating and building relationships with community organizations and residents, spearheading initiatives, and identifying and executing partnership opportunities. He will also be popping up throughout the community to deliver presentations on the value of tourism, which will help stakeholders, community groups, and other organizations understand the importance of the tourism industry in the Central Okanagan as well as the important work that Tourism Kelowna does. 
If you have any questions about the department's name change, or an idea to connect our organization with the community and visitors, please reach out to Chris Lewis at chris@tourismkelowna.com or (250) 861-1515 ext. 207. For a full list of Tourism Kelowna's departments and staff, please click here.