The summer season has provided the Kelowna International Airport (YLW) with several reasons to celebrate. 

Provincial Funding Supports Air Terminal Building Expansion
At the beginning of July, the Government of BC announced that YLW will receive $500,000 in funding from the Mass Timber Demonstration Program to support its Air Terminal Building Expansion. 
"This project showcases what is possible when we promote innovation in the construction sector and support the development of mass timber in large infrastructure projects in B.C.," said Ravi Kahlon, Minister of Jobs, Economic Recovery and Innovation in an associated press release.
"With the increases in both aircraft movement and passenger traffic that we are expecting over the next two decades, this terminal expansion enables the Kelowna International Airport to continue offering the highest level of service," added YLW Airport Director, Sam Samaddar.
Construction of the expansion is scheduled to begin in 2023 with phase 1 of the project being completed in 2026. Visit the YLW website for more information on the Airport Terminal Building Expansion. 
Canadian Forces Snowbirds Soar Kelowna's Skies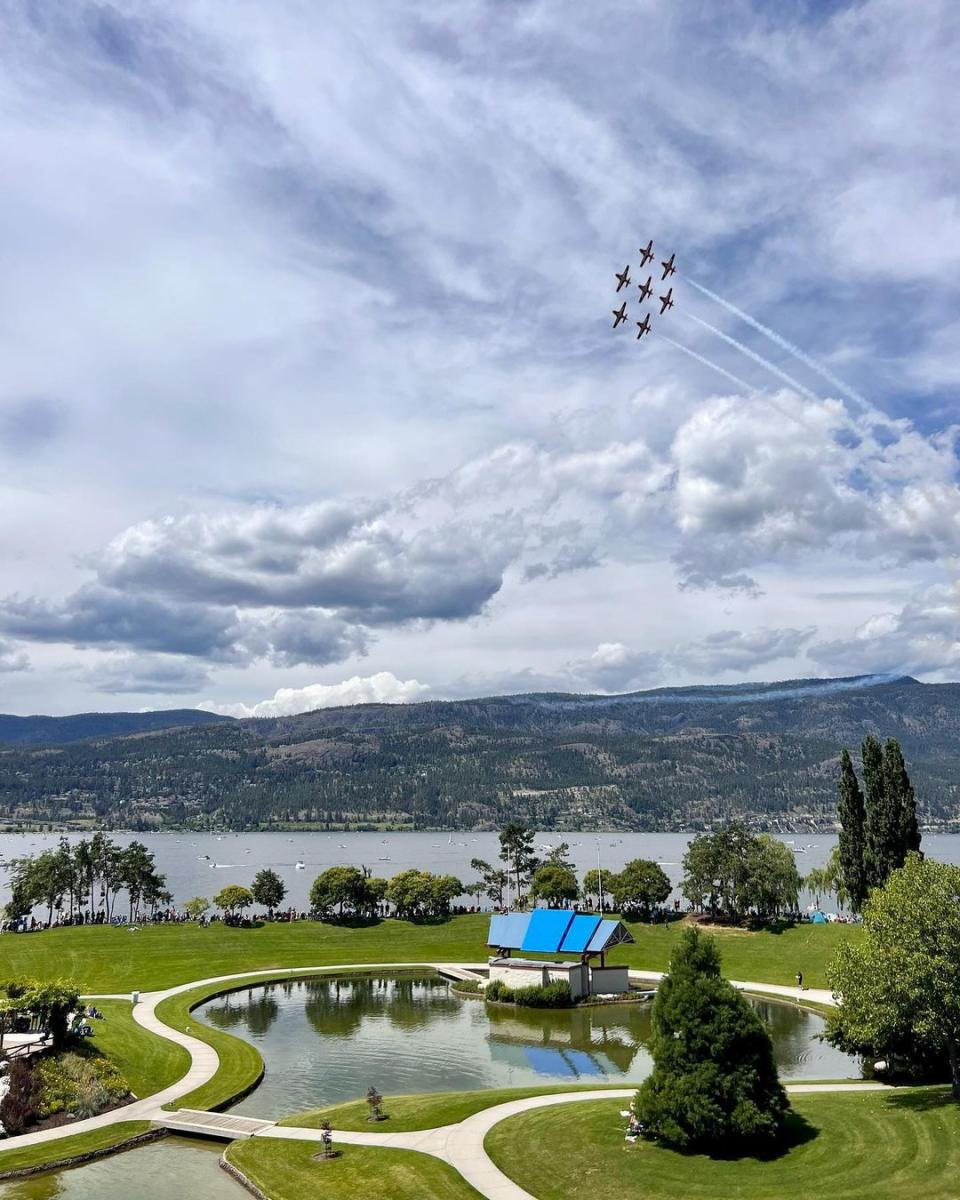 Photo credit: Chris Lewis (@tourismchris)
As part of the celebrations for YLW's 75th Anniversary celebrations, the Canadian Forces Snowbirds made their way to Kelowna for two performances over Okanagan Lake on July 9 and 10. The KF Centre for Excellence hosted Wings n' Wheels on July 9, allowing visitors and locals the chance to meet the CF Snowbirds and see the CT-114 Canadian Tutor up close. 

The first flight took off from YLW in 1947, with the grand opening of the terminal building following in 1949. By 1997, YLW was one of the fastest-growing airports in North America and in 2018, the airport passed the 2 million passenger mark. You can find out more about the airport's past, present, and future on the YLW website.

Airport Passenger Numbers Increase
In the Central Okanagan Economic Development Commission's recent release of economic indicators, YLW reported an increase in airport passenger numbers of 311.1% in the first six months of 2022, as compared year-over-year. From January to June 2022, there were 770,736 passengers through YLW.
Additional information is available on the Facts & Statistics page of the YLW website. 

COVID-19 Updates
YLW has compiled helpful information for travellers flying into and out of the airport—be sure to review this list in preparation for your flight. 
Individuals arriving at YLW can access information about Kelowna and area at our YLW Information Kiosk where volunteers are onsite throughout the week. There is a selection of brochures at the kiosk and a touchscreen that allows arriving travellers to explore our website and online retail store before they set out to explore Kelowna. 
For more information about the measures Canadian airlines are taking to keep travellers safe, visit the following links: