At a press conference held today at Kelowna, BC's Red Bird Brewing, the final wave of artists who will showcase at the 2023 BreakOut West music festival was announced.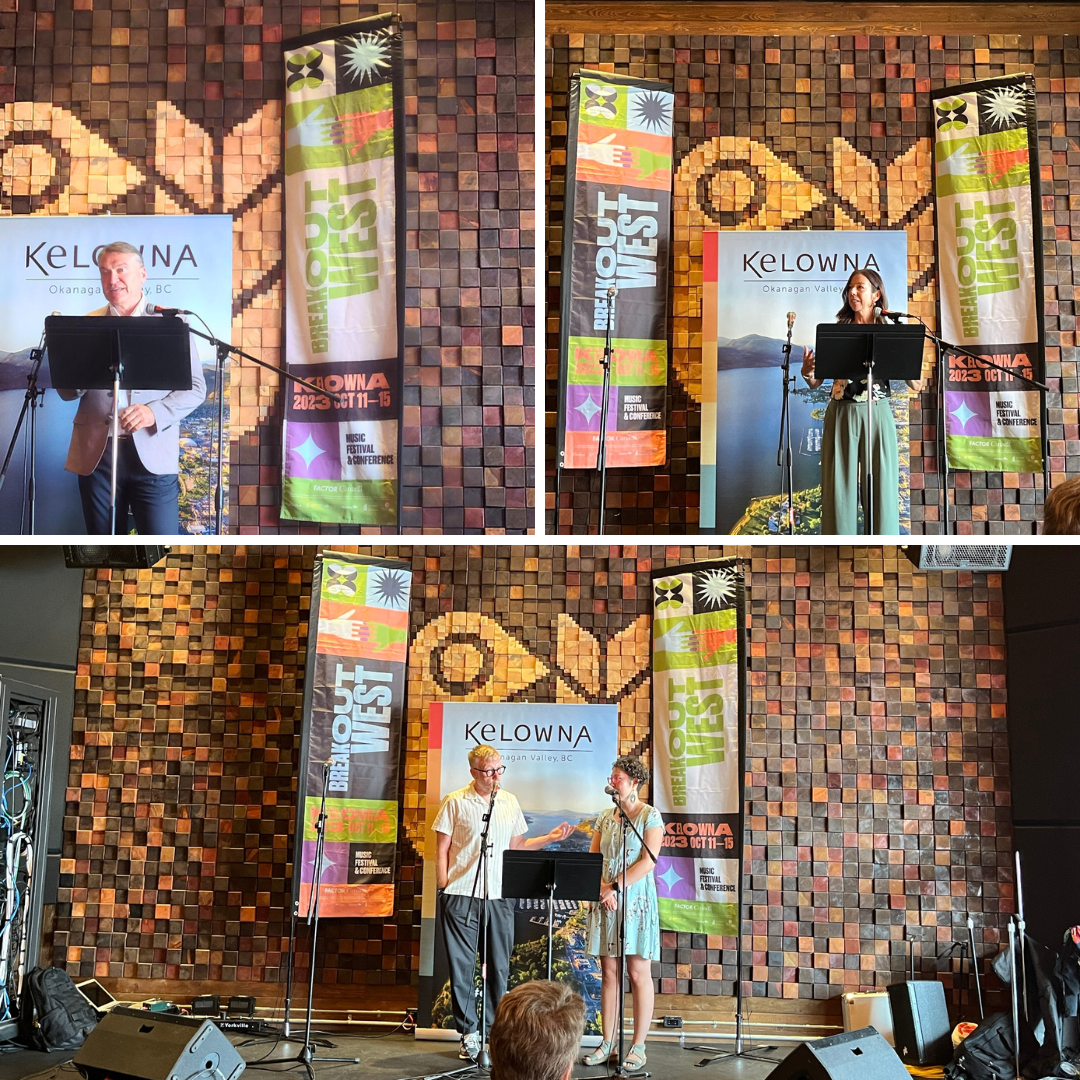 Pictured (clockwise from top left): Mayor Tom Dyas, City of Kelowna; Lisanne Ballantyne, President & CEO, Tourism Kelowna; Michael Dawson, Executive Director, BreakOut West (left) and Karma Lacoff Nieoczym, Executive and Creative Director, Creative Okanagan (right)
The three-night, multi-genre festival will run from October 12-14 with showcases at venues across the city and will feature more than 50 exciting acts from across western Canada and the northern Territories, along with select artists from eastern Canada, Wales, Hong Kong, Ireland, and Sweden.
"We are so excited for BreakOut West's return to Kelowna," says Karma Lacoff Nieoczym, Executive and Creative Director, Creative Okanagan. "This partnership continues to build our shared vision of supporting the development of the Central Okanagan music ecosystem, of which musicians, audiences and local industry are critical."­­­
"We are thrilled that BreakOut West has once again chosen Kelowna to host the 2023 event. From a tourism perspective, events of this calibre help grow Kelowna's visitor economy by promoting destination appeal, attracting new visitors, and encouraging local spending in October, a traditionally quieter month for tourism," says Tourism Kelowna President & CEO, Lisanne Ballantyne. "Breakout West amplifies Kelowna's reputation as one of Canada's most desirable destinations by shining the spotlight on our thriving creative and cultural sector. When the event was last here in 2018, it generated national media attention and over $700,000 in economic activity in Kelowna over the four days of the conference and festival."
After having previously hosted the annual music festival and conference in Kelowna in 2010 and 2018, BreakOut West (BOW) is thrilled to be returning to the city for its 21st year. BOW officially begins on Wednesday, October 11, with the start of its five-day career development conference and international industry program, which runs until Sunday, October 15. Conference speakers and delegates include industry professionals from across Canada, as well as international guests from the U.S., Japan, Norway, Germany, Hong Kong, Mexico, France, Netherlands, UK, and Estonia.
Please see below for the complete list of performing artists, and visit breakoutwest.ca for a full schedule of events. Festival wristbands are selling fast and are available here.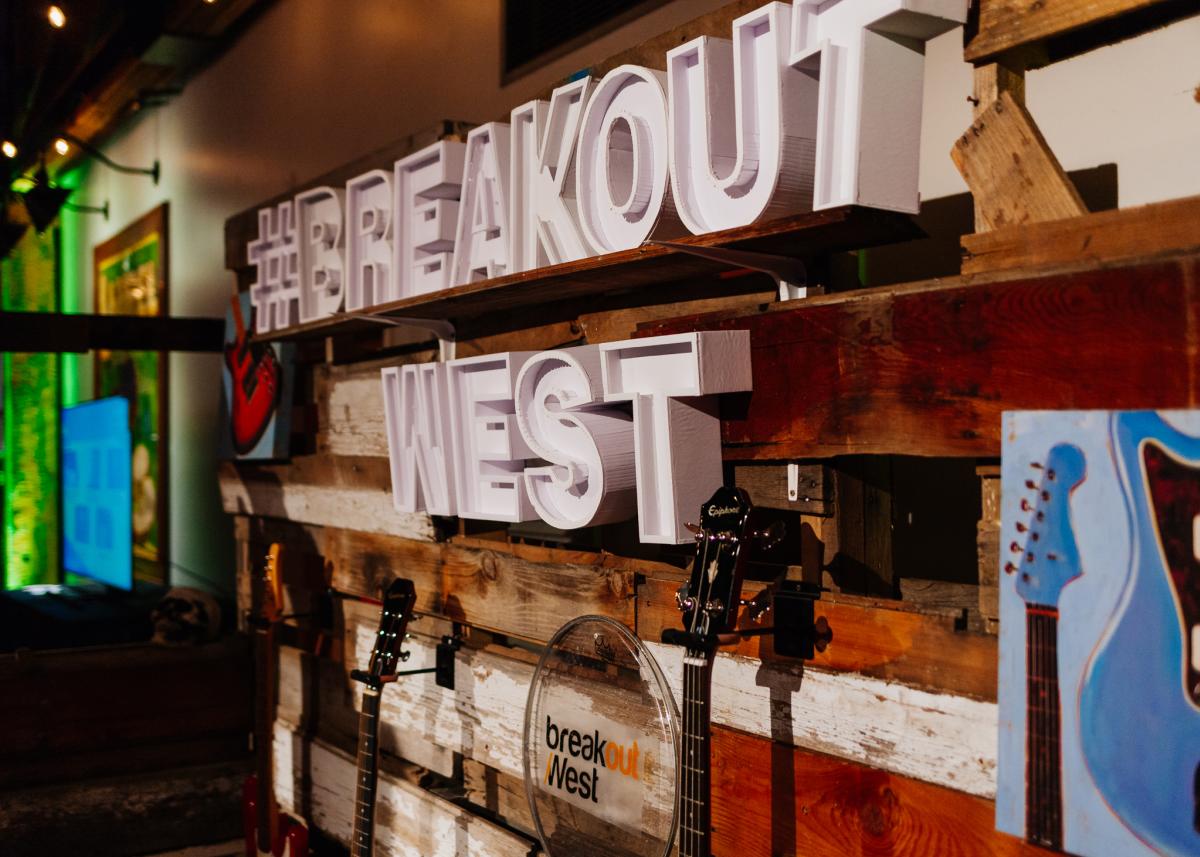 Participating Kelowna Venues
Black Box Theatre
BNA Brewing Co. Tasting Room
Kelowna Curling Club
Kettle River Brewing Co.
Metro Hub
Red Bird Brewing
 

Pictured: BC's Teon Gibbs performing at the press conference.
2023 BreakOut West Festival Performers
Aasma – Sweden
Actor Director - SK
ADEOLUWA – SK
Alexis Normand - SK
Ami Cheon - MB
Andrina Turenne - MB
Arcana Kings – SK
Ariel – SK
Berk Jodoin – SK
Black Belt Eagle Scout – USA
Black Pontiac - BC
Boogey The Beat – MB
Bria Rose N' Thorns - YT
Brigitte Jardin – YT
Caley Watts – BC
Celeigh Cardinal – AB
Charming Way – Hong Kong
Ché Aimee Dorval – BC
Clave – Hong Kong
Cody Lawless – BC
COSMIC DOG FOG – Wales
Crook The Kid - NWT
Field Guide – MB
Gillie – Wales
Gina Burgess - NV
Gnarwhal - NWT
Ila Barker – MB
Jade Turner – MB
katie phelan – Ireland
Keeper E – Nova Scotia
Khanvict - BC
Kimmortal - BC
Kris Ulrich – MB
Lev Snowe - MB
Marcus Trummer – AB
Mother Sun – BC
Munya Mataruse – NWT
NADUH – BC
Nick Faye – SK
sean beaver – AB
Sinzere – AB
Skunkadelic – Wales
So Sus - BC
Tea G – AB
Teen Daze – BC
Teon Gibbs - BC
the della kit – BC
The Follower – YT
The Garrys - SK
The Hertz – Hong Kong
The Lucky Ones - YT
Thomas Thomas – AB
Vanstones - YT
Vox Rea – BC
Whale and the Wolf – AB
Wolf Castle – New Brunswick
Wyatt C. Louis – AB

About the Western Canadian Music Alliance / BreakOut West
The Western Canadian Music Alliance (WCMA) is a pan western organization created by the Alliance Member Music Industry Associations (MIA's) of British Columbia, Alberta, Saskatchewan, Manitoba, The Northwest Territories, the Yukon Territory, and in partnership with Nunavut, to promote and celebrate western Canadian music. WCMA, with the financial support of each provincial and territorial government partner, FACTOR, the Government of Canada and of Canada's private radio broadcasters, WCMA annually hosts their core artist and industry development event, BreakOut West. The event is held in a different western Canadian city on a rotational basis and is the prime music industry event in western Canada. BreakOut West 2023 will be held October 11 – 15 in Kelowna, BC, and includes a five-day music conference, three-night multi-genre music festival, and special events. The 2023 Western Canadian Music Artistic Awards and Industry Awards will be announced in October 2023.

Land Acknowledgements
WCMA's head office is in Winnipeg; the organization recognizes the ancestral lands, from Treaty One Territory, the original lands of Anishinaabeg, Cree, Oji-Cree, Dakota, and Dene peoples, and the homeland of the Métis Nation.
Kelowna is situated on the traditional, ancestral, and unceded tm̓xʷúlaʔxʷ (land) of the syilx/Okanagan people who have resided here since time immemorial.