We want to recognize and celebrate some of the award wins and highlight notable news from our local tourism industry that occurred over the past few months.

Award Wins

Heart of Hospitality Awards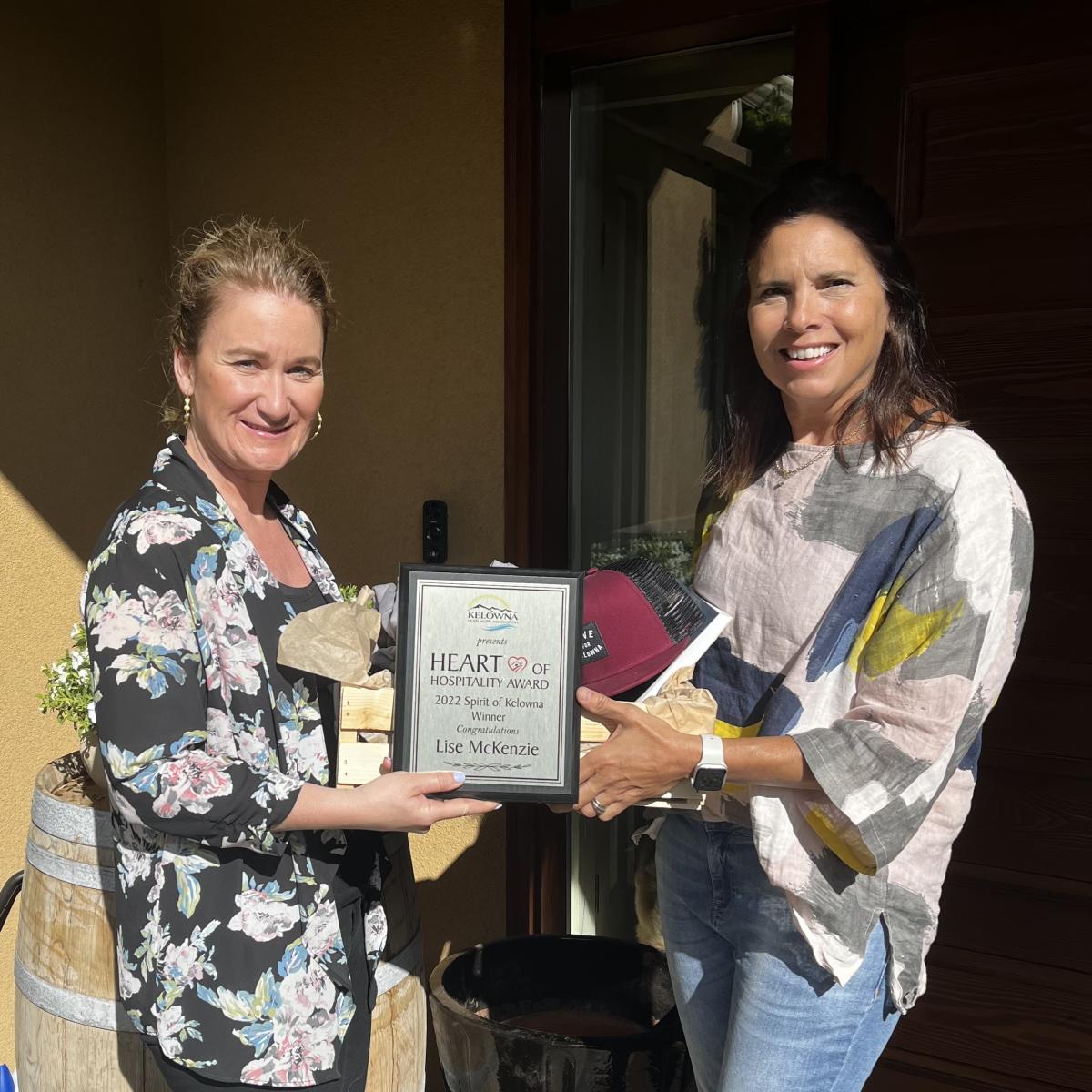 On Friday, April 28, the Kelowna Hotel Motel Association celebrated its 6th Annual Heart of Hospitality Awards. Tourism Kelowna's Director of Business Development, Nikki Robinson, was proud to announce the winner of this year's Tourism Spirit Award: Lise McKenzie, Senior Sales Manager for Argus Group. 
Two other awards were handed out during the ceremony:
Michelle Gagnon from Accent Inns was presented with the June Ord Heart and Soul Award.
Zoi Tomusilovic from Royal Anne Hotel was awarded the Service Superstar Award.

2023 BC Restaurant Hall of Fame Inductees
Several members of Kelowna and area's restaurant sector will be inducted into the BC Restaurant Hall of Fame at the 19th Annual Induction Ceremony, held in Vancouver on October 23, 2023:
Local Champion: Ross Derrick, Broken Anchor Hospitality
Active Restaurateur: Audrey Surrao, RauDZ Creative Concepts Ltd.
Women in Hospitality: Kelsey Oudendag, Okanagan College/RauDZ Creative Concepts Ltd.
Those wishing to attend the event in person can purchase tickets through the BC Restaurant & Food Services Association website. 

Chardonnay du Monde International Competition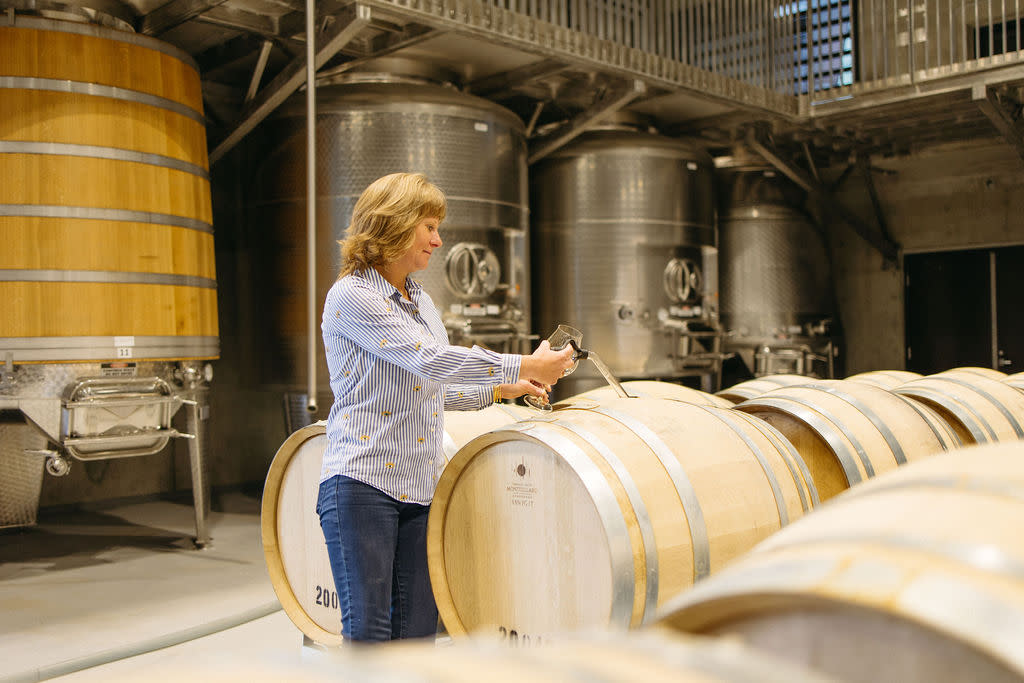 O'Rourke Family Estate Winemaker, Nikki Callaway
Out of 537 entries from 32 countries, Lake Country's O'Rourke Family Estate was the sole Canadian winery recognized in the top 10 at the prestigious Chardonnay du Monde wine competition held in Burgundy, France.

Canada West Ski Areas Association (CWSAA) Peak Performance Award
Big White Ski Resort's Ski Patrol Centre Manager, Heather Moore, received the 2023 Peak Performance Award at the CWSSA Spring Conference in Whistler. Big White notes that the award "honours Heather's dedication to safety for all those visiting, working, and residing on Big White Mountain and is the highest achievement in our industry."

39th Annual Wood Design and Building Awards
Meiklejohn Architects Inc.—who also worked on the Kelowna Visitor Centre—won the Sansin Sponsorship Award at the 39th Annual Wood Design & Building Awards for its work on the KF Centre for Excellence, which used mass timber in its design. 

2023 PGA of BC Assistants' & Seniors' Championships 
After a three-way playoff, Rob Anderson, Head Golf Professional at the Kelowna Golf & Country Club, won the Seniors' Championship at the 2023 PGA of BC Assistants' & Seniors' Championship, held in Chilliwack at the end of June.

Notable News
The Government of BC is providing more than $40 million in funding to Okanagan College for its new Centre for Food, Wine and Tourism, which will include modern teaching spaces, food labs, beverage research and development facilities, and common spaces. 
Tourism Kelowna, Destination Osoyoos, Tourism Kamloops, Tourism Vernon, and Travel Penticton have partnered to launch a new regional initiative, Traveling Out in the Thompson Okanagan, thanks to funding from Destination BC's Co-op program.
Uber expanded its services to Kelowna, officially launching at the beginning of June. 
Pacific Coastal Airlines is launching non-stop air service from Nanaimo to Kelowna in September 2023.
Summer 2023 marks the 25th anniversary of Okanagan Wine Country Tours.
Kalala Organic Estate Winery celebrated its 15th anniversary with a pop-up SOURCED dinner by Paisley Notebook on July 9.
Farming Karma has expanded its products to include a line of zero-proof canned cocktails.
Players Choice Sports has relocated to a space on Banks Road with three times more space than its previous downtown location.
SOPA Fine Arts expanded and renovated its space earlier this year, launching SOPA Spotlight to highlight its pieces further. 
Recently Opened:
| | |
| --- | --- |
| Black Sheep Coffee Bar | BNA Burger |
| Born to Shake | Catelowna |
| Coop Chicken | Craft 42 Roasters |
| Empire Crepe | Humo Izakaya |
| Kelowna Food Bike Tours | La Diperie |
| New Course Cuisine | Okanagan Pasta Company (retail location) |
| Perch Sky Lounge | Ricco Room |
| Sweet Cloud Ice Cream Rolls (food truck) | Taco Delhi |
Coming Soon
Buffalo Rouge Brewery
Chilango
Revelry Music + Food
Three Lakes Brewing

Join us in congratulating all the award winners and recognizing all those who achieving great things and delivering exceptional experiences to visitors and locals alike!
Have an award win, achievement, or notable news to share? Email us all the details so we can include the information in our next roundup.