Kelowna is known for its fabulous weather, so let's play outside! Here is a list of some of the best activities to do with the whole family while taking in some fresh air.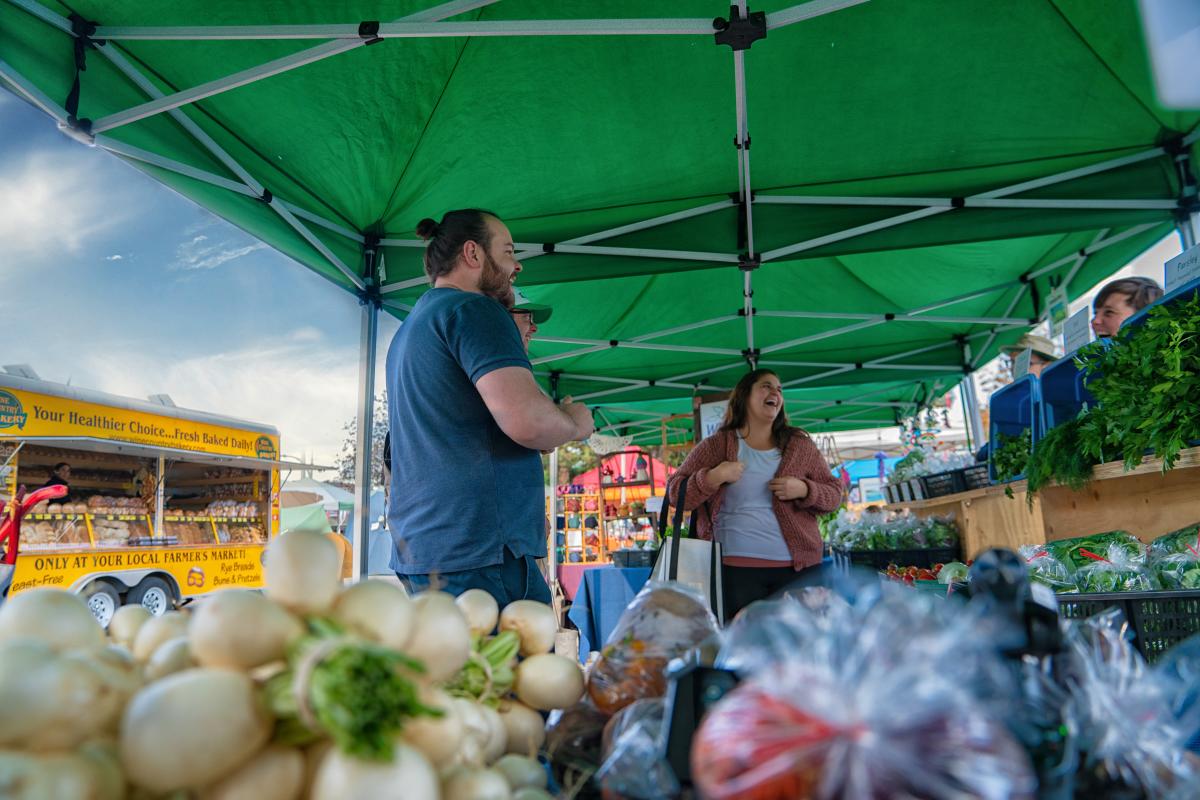 Photo by: David McIlvride
Get locally-grown vegetables, treat yourself to baked goods, and enjoy local musicians all in one place!
The Kelowna Farmers' & Crafters' Market is now open for its outdoor season every Wednesday and Saturday from 8 a.m. to 1 p.m. at the corner of Dilworth and Springfield. There is also the downtown satellite market that takes place on St. Paul Street every Sunday from 9 a.m. to 2 p.m. The satellite location will open for the season on Father's Day - June 16, 2019.
Just across the street from the market's Dilworth location are the trails and playground of Mission Creek Regional Park.
Bring your bike and ride along the greenway or if you're looking for a break from the sun, this park is also home to The Environmental Education Centre for the Okanagan. This discovery centre is where kids can come to learn about Okanagan flora and fauna, and local ecosystems, by checking out fun exhibits.
About 20 minutes from downtown Kelowna in Lake Country is the Kangaroo Creek Farm. Home to kangaroos, wallabies, emus, capybaras, and more, this interactive farm is open seven days a week, 10 a.m. to 3 p.m., until the Thanksgiving long weekend. Make sure you check out the baby kangaroo exhibit and try holding a joey.
Admission is $10 for adults and $5 dollars for youth under 19 years of age and seniors over 65. Don't forget to bring cash - credit cards and debit cards are not accepted.

Biking at Myra Canyon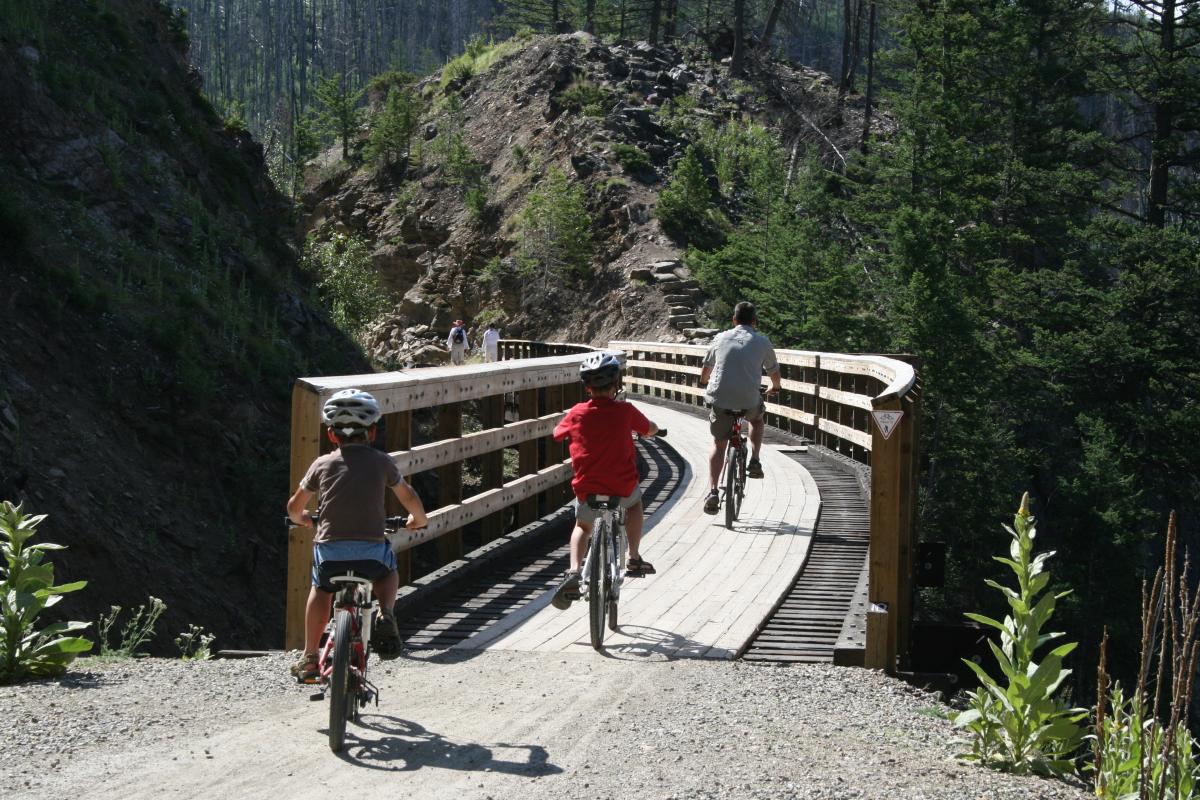 Photo by: Myra Canyon Bicycle Rental & Tours Inc.
Part of the Kettle Valley Rail Trail, the Myra Canyon portion is a scenic hiking and cycling trail with 18 trestles and 2 tunnels. It takes about 40 minutes to get there from downtown Kelowna and there is a gravel road involved to get to the trailhead; however, most vehicles would be capable of making it during the warmer months. There are also shuttles available from Kettle Valley Railway Cycling Company, Cheers! Okanagan Tours, or Myra Canyon Bicycle Rental & Tours.
Because the trail is flat, even younger kids can ride or walk across the trestle bridges and through the tunnels to take in the valley views. Don't have a rack to haul your bikes? Once at the trailhead of Myra Canyon Station, bikes are available to rent from Myra Canyon Bicycle Rental & Tours.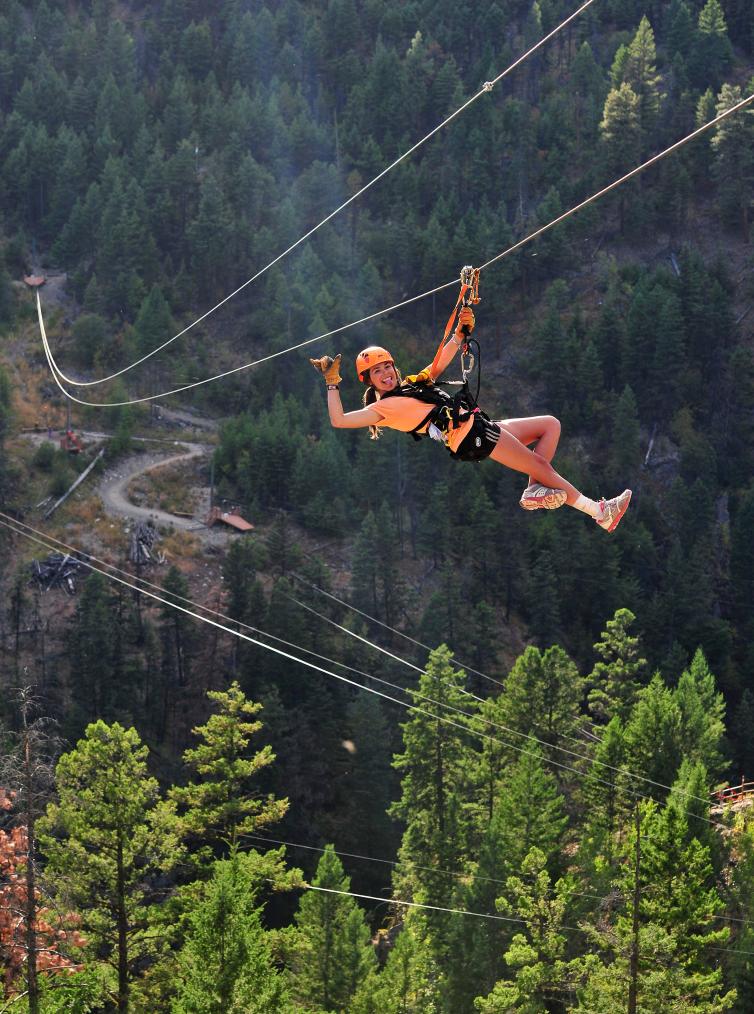 Photo by: Zipzone Adventure Park
Canada's highest freestyle zipline is right here in the Okanagan Valley! With several options of adventures, every member of the family can join in on the fun.
For those who would prefer to stay on the ground, there is a puzzle and games area. Or, if you're looking to get the adrenaline rushing, try their Leap of Faith, the obstacle where you get to climb an 80-foot tall pole that is perched on the edge of a 300-foot cliff. Once you're at the top, you then leap into thin air.