Wine & Food
Wine, wine, and more wine! Now that we have your attention, allow us to share with you some of the best wine tours around Kelowna. No matter what varietal is your favourite, there are countless choices among Kelowna's 40+ wineries. Many can be found just minutes from downtown.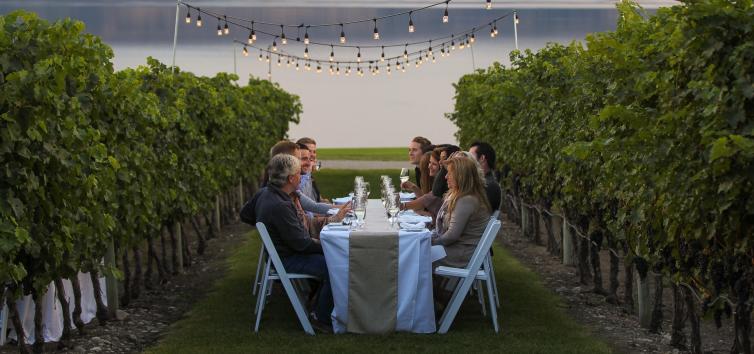 Boasting one of the most dynamic dining scenes in B.C., and the former home of the Canadian Culinary Championships, Kelowna has everything from local organic ingredients, to unique twists on cuisines. Check out the list below for some of our favourite places to eat and drink!
The View Winery: The name says it all. Check out the view here and know that you are supporting a business that participates in Kelowna's annual Sugarplum Ball
Hatch Winery: This unique winery, located in West Kelowna, is a must-see! They are also a proud supporter of the Sugarplum Ball.
Oak & Cru: Where do we start - lakefront dining, delicious food, a killer happy hour and one of the hosts of MX - 2SLGBTQIA+ networking events? Enough said! Check out this spot on your tour of Kelowna.
Okanagan Spirits: Locally owned and operated farm-to-flask distillery! Okanagan Spirits is a lead sponsor of Kelowna's Next Drag Superstar and a superb spot to enjoy tours and tastings!
Friends of Dorothy: The first 2SLGBTQIA+ lounge in the Okanagan is the best spot in town for cocktails, dancing, upscale share plates and drag brunch on weekends. 
QB Gelato & Bakery: Proudly 2SLGBTQIA+ owned and operated, including 50% of staff who identify as 2SLGBTQIA+. Making amazing from scratch gelato, baked goods, and more.
Farmers markets and U-Pick experiences: You've found your spot for fresh! Visit the farms around Kelowna for a farm to table experience, Okanagan style.