The Tourism Kelowna Society held its 2021 Annual General Meeting (AGM) on Wednesday, May 11, at the Coast Capri Hotel to select the 2022-23 Board of Directors, update its membership on recent accomplishments, and outline future priorities. The Society's financial statements and report were also endorsed, noting another clean report from the auditors.
"Our local tourism industry persevered through another very challenging year in 2021," said Kelly Watt, Vice-Chair of Tourism Kelowna's Board of Directors, who chaired the AGM. "In many cases, 2021 had many of the same obstacles as 2020, plus additional considerations from severe weather conditions. Despite that, tourism businesses continued to contribute to our local economy, provide good jobs, and raise the quality of life for residents."
"It makes me very proud to report on the activities the association did on behalf of its members, industry stakeholders, and local tourism community, and I'm amazed by the resilience of local tourism businesses who had to dig in even deeper last year. Though the length of time we were up against the ropes was longer than anyone had imagined, we are now looking forward to recovery with more certainty. Through the second year of the pandemic, the board prioritized ongoing work to support and sustain our local tourism economy and then turn the focus towards a strong, sustained, and strategic plan."

Tourism Kelowna Board of Directors
The 2022-23 Tourism Kelowna Society Board of Directors is unchanged from the past year as all directors seeking re-election were successful, and includes:
Annika Betts, Sandhill Wines
Audrey Surrao, RauDZ Creative Concepts Ltd.
Carla Carlson, Comfort Suites Kelowna by Choice Hotels
Cedric Younge, Hyatt Place Kelowna
Dale Sivucha, Coast Capri Hotel (Kelowna)
Edan Fay, The Royal Kelowna
Gail Given, Counsellor, City of Kelowna
Jon De Bruyne, Kelowna Concierge
Joseph Clohessy, Delta Hotels by Marriott Grand Okanagan Resort
Kelly Watt, Sandman Hotel & Suites Kelowna
Kristi Caldwell, Wiseacre Farm Distillery
Michael J. Ballingall, Big White Ski Resort
Nataley Nagy, Kelowna Art Gallery
Natalie Corbett, President, Kelowna Hotel Motel Association; Accent Inns / Hotel Zed
Penny Gambell, Counsellor, District of Lake Country
Sam Samaddar, Kelowna International Airport
Thom Killingsworth, Kelowna Yacht Club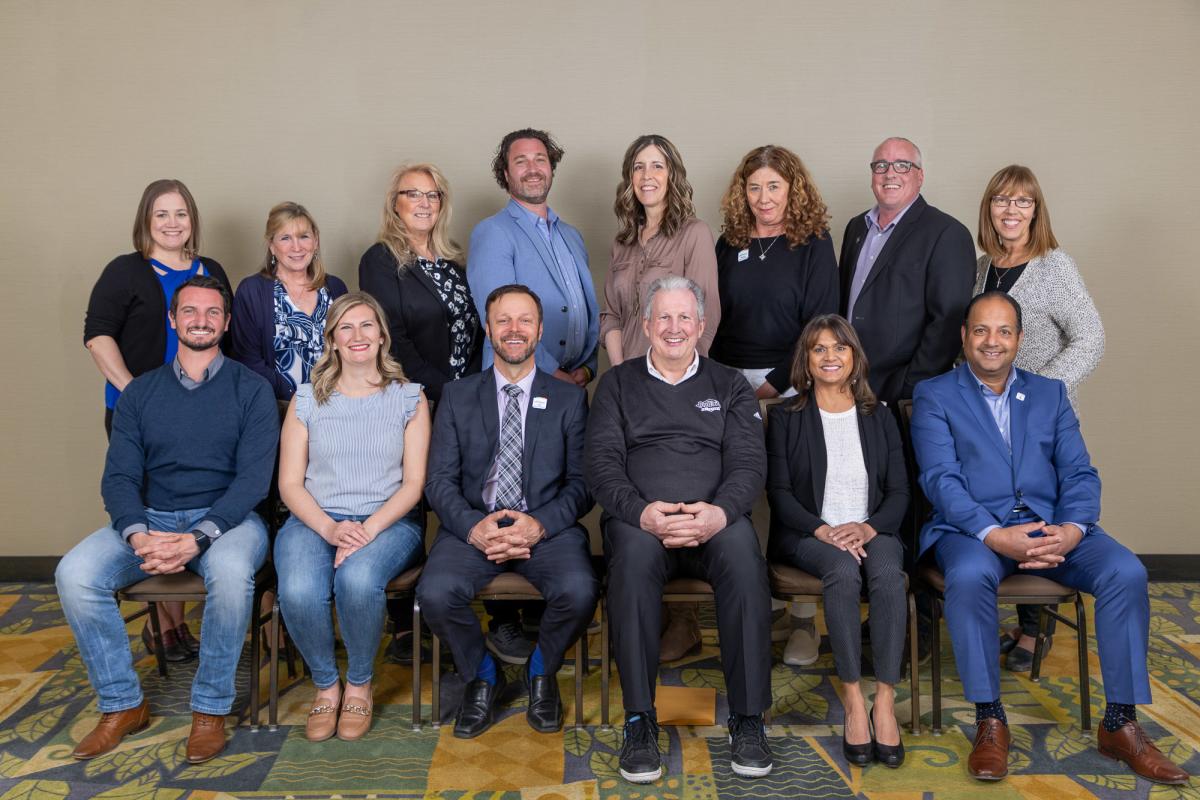 Top row (left to right): Natalie Corbett; Kelly Watt; Carla Carlson; Cedric Younge; Kristi Caldwell; Nataley Nagy; Edan Fay; Gail Given. Bottom row (left to right): Jon De Bruyne; Annika Betts; Dale Sivucha; Michael J. Ballingall; Audrey Surrao; Sam Samaddar. Missing: Joseph Clohessy; Penny Gambell; Thom Killingsworth
The Society's board will elect directors to executive roles at the upcoming May board meeting. The board also recognized two individuals who recently retired from their roles in the industry - Stan Martindale and Heather Schaub - both of whom served multiple years on Tourism Kelowna's board.

2021 Accomplishments
A few select highlights of Tourism Kelowna's 2021 accomplishments include supporting the City of Kelowna's 5-year renewal for the continuation of the Municipal and Regional District Tax (MRDT) and formalizing an agreement with the City to co-create a Tourism Destination Development Plan that will guide the sustainable growth of the visitor economy to benefit residents, tourism businesses, and visitors alike.
Tourism Kelowna built on partnerships with local business and community organizations to launch campaigns to drive meetings and conference bookings in key economic sectors. The campaign, "OKGo," received two international economic development council awards. Working closely with the Downtown Kelowna Association (DKA) and the City of Kelowna, Tourism Kelowna partnered to animate "Meet Me On Bernard," and is excited for its return in 2022.
A new digital passport program provided savings for residents, promoted Kelowna and area's many wineries to visitors, and encouraged discovery of the remarkable Rutland Murals in partnership with the Uptown Rutland Business Association (URBA). Through a partnership with the Orchard Park Shopping Centre, a satellite visitor centre was introduced at the mall's guest services kiosk.
Tourism Kelowna also introduced new air service marketing campaigns to support direct flights from Montreal, and launched a marketing campaign in the Lower Mainland to drive awareness and bookings of air travel when major highway routes were closed.
For a complete look back, please read Tourism Kelowna's 2021 Report to the Community.

An updated strategic plan
The Society's updated strategic plan (2022-2025) was also outlined and includes four key goals around seasonality, destination management, internal excellence, and external engagement:
Establish Kelowna and the Central Okanagan as a four-season travel destination;
Foster the sustainable growth of the destination;
Ensure organizational excellence; and
Engage partners and external stakeholders to collaboratively grow the Central Okanagan visitor economy.
"The past two years have reinforced the importance of tourism in our community," said Lisanne Ballantyne, President & CEO of Tourism Kelowna. "There are the clear impacts, like the millions in spending and billions in economic impact it brings, but it's important to also recognize the less-obvious benefits that contribute to our life here – the jobs, the infrastructure, and the opportunity for us all to enjoy additional amenities and activities right here at home."
"Our updated strategic plan makes clear it's important that Kelowna continue to attract visitors and maintain a successful visitor economy. We are also doing additional and deliberate work to ensure that residents benefit from the tourism economy as well. We're excited to broaden our focus to both market and manage our destination for long-term benefit. The stage is set for a strong and sustainable recovery."
For more information, contact Chris Shauf, Director of Marketing & Communications, at chris.shauf@tourismkelowna.com or at (250) 861-1515 ext. 203.
About Tourism Kelowna
As the lead destination marketing organization for the Central Okanagan, Tourism Kelowna works on behalf of over 400 local tourism businesses and the larger tourism and hospitality community to support and market the destination of Kelowna in a sustainable manner that strengthens the economy and enriches the quality of life for residents.
Kelowna's $2.1 billion dollar visitor economy is a major economic driver, attracting 2.2 million visitors annually who in turn generate 13,000 jobs, $204 million in tax revenue, and $443 million in direct spending at local businesses.