At Tourism Kelowna, we want to ensure that all travellers who visit tourismkelowna.com have equitable access to our digital content, which is why we recently added web accessibility technology to our website.
After a thorough vetting process, we chose AudioEye, a trusted leader in automated web accessibility and remediation. AudioEye stands out because they have Ally Toolbar, which immediately improves website accessibility, and a managed service to mitigate compliance risk by ensuring the website achieves and maintains substantial conformance, including ADA-related guidelines and best practices.

How It Works
The web accessibility technology runs in the background of the website to automatically detect a set of requirements, including Web Content Accessibility Guidelines (WCAG) 2.1 Level AA Success Criteria violations, which is the international standard for website accessibility. Upon detection, the technology automatically fixes many accessibility issues while the page loads.
The remediation team at AudioEye is also monitoring the website and running automated and manual tests to ensure all the content meets the standard.
In addition, if someone ever needs additional assistance, there is a 24/7 help desk that can help answer any questions or report accessibility issues and grievances should they be encountered.
The AudioEye Ally Toolbar is accessed through the recognizable accessibility icon that appears in the bottom left corner of the website, as pictured in the screenshot below.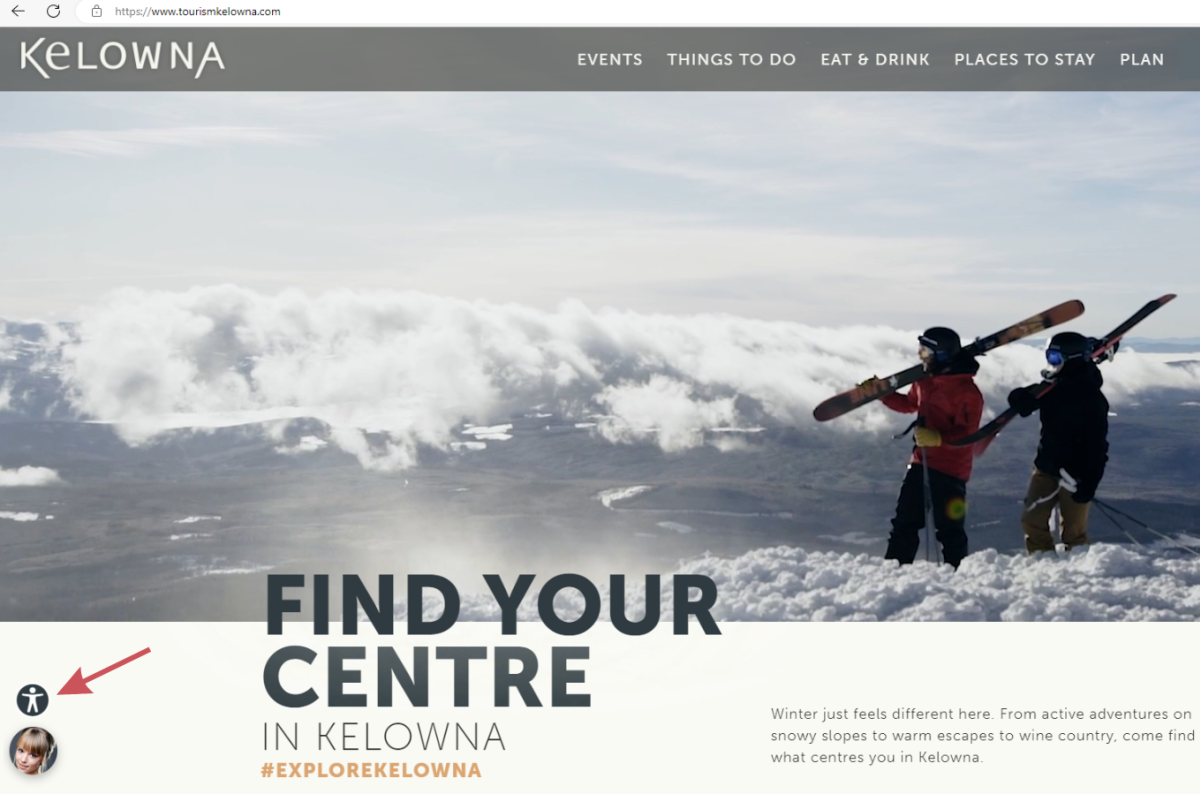 Why It Helps
Removes access barriers potentially impeding access for individuals of varying abilities.
Ensures that our website substantially conforms to ever-changing web accessibility standards.
Reduces risk of potential compliance lawsuits and legal demand letters.

No matter your ability, we encourage you to test out the toolbar, which can shift the colours for colour blindness, adjust the font for dyslexia, provide guide or window functions for easy reading, and much more. Thanks to this newly integrated technology, Tourism Kelowna's website is more accessible than it's ever been before.