This past week, Tourism Kelowna attended the Advancing Women in Agriculture Conference West (AWC West) in Calgary alongside our OKGo program partner, Central Okanagan Economic Development Commission (COEDC). Together, we showcased our region's strengths and success in agriculture, aiming to attract meetings and conferences, new talent, and business investment to Kelowna.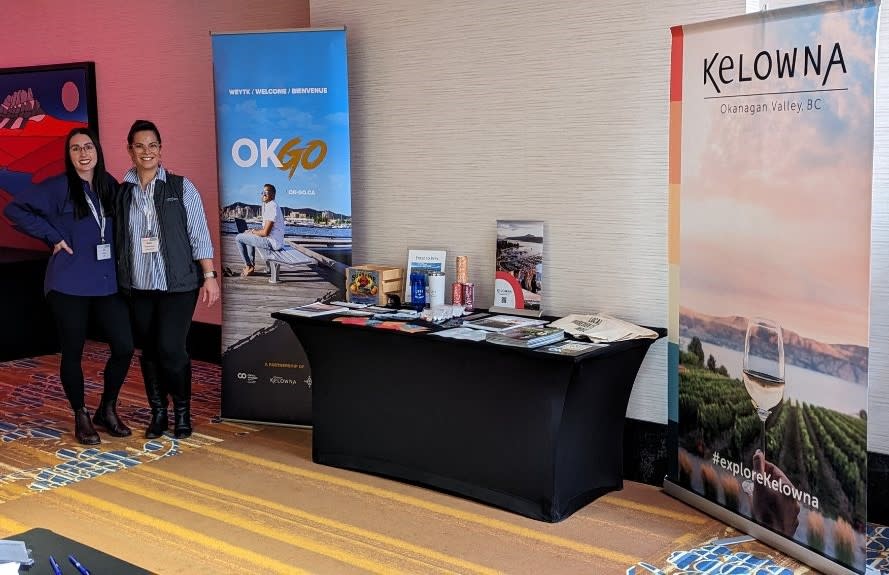 Pictured: Eva Weston, Business Development Officer, COEDC (left) and Nicolle Gomez de Sousa, Business Development Consultant, Tourism Kelowna (right). 
The comprehensive three-day conference, which celebrated its 10th anniversary this year, provided numerous networking opportunities and sessions focused on timely and relevant topics affecting Canada's agriculture industry. Approximately 350 delegates from across North America attended the conference, with representation from across the industry, including government, producers, researchers, and ag-tech innovators, along with service providers like legal firms, insurance bureaus, financial institutions, and supply chain experts. The Honourable Marie-Claude Bibeau, Canada's Minister of Agriculture and Agri-Food, also addressed the conference on the importance of diversity in the sector.  
On the final morning of the conference, one of Kelowna's agriculture leaders and OKGo Ambassadors, Jennay Oliver, owner and operator of Paynter's Fruit Market, delivered an exceptional keynote presentation on the evolution of farming in the Central Okanagan, further highlighting the region's agricultural roots and well-established expertise through the story of her family's more than 100 years of farming. You can learn more about Jennay and Paynter's through the OKGo profile video, available on YouTube.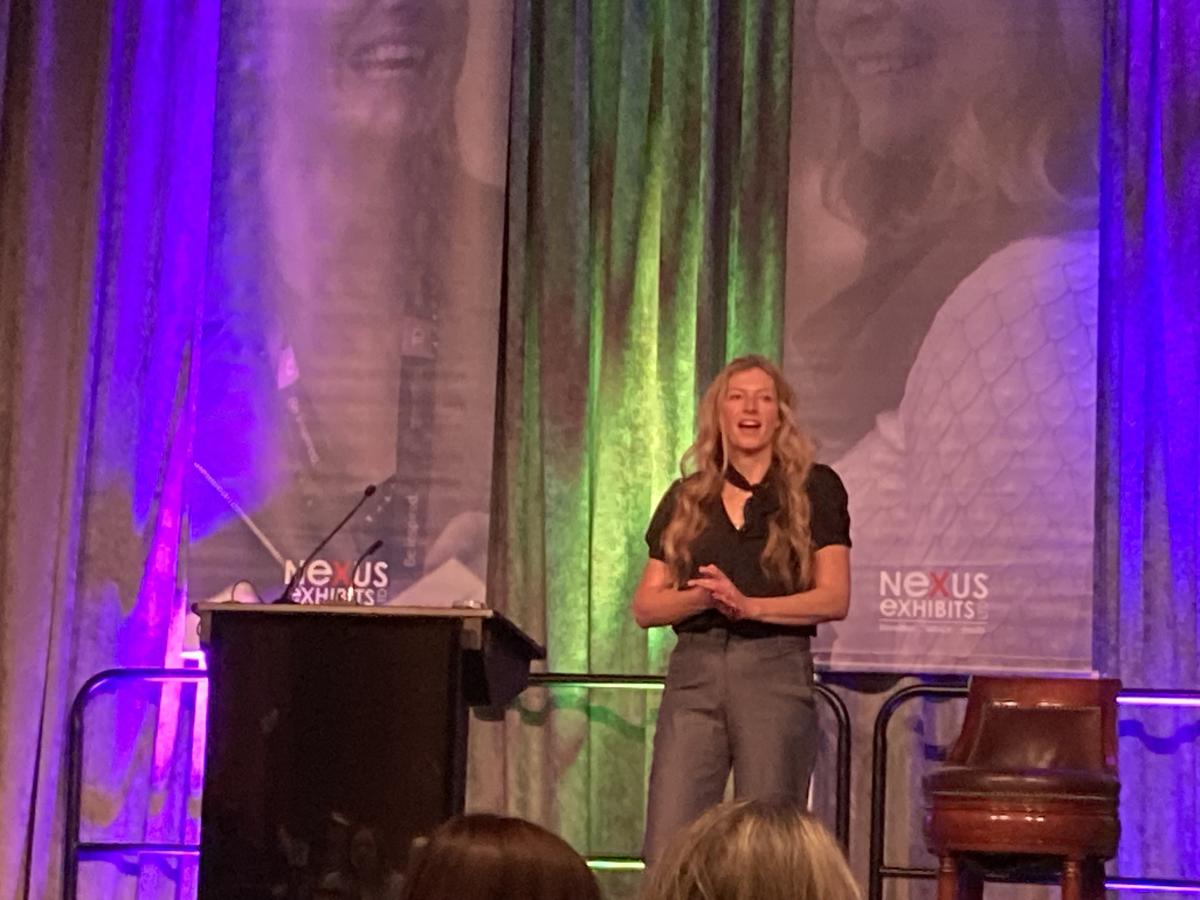 Pictured: Jennay Oliver delivering her keynote presentation on March 14, 2023. 
Tourism Kelowna sponsored a student to attend the conference for the second year in a row. This year's recipient, Weiyi Yan, is in the Master of Food Science program at The University of British Columbia. Weiyi expressed her gratitude to Nicolle in person and through a LinkedIn post, where she also noted that she is "committed to continuing my education and deepening my knowledge in the fields of women's development and agricultural advancement, in the hope of making a meaningful contribution to society and helping those in need."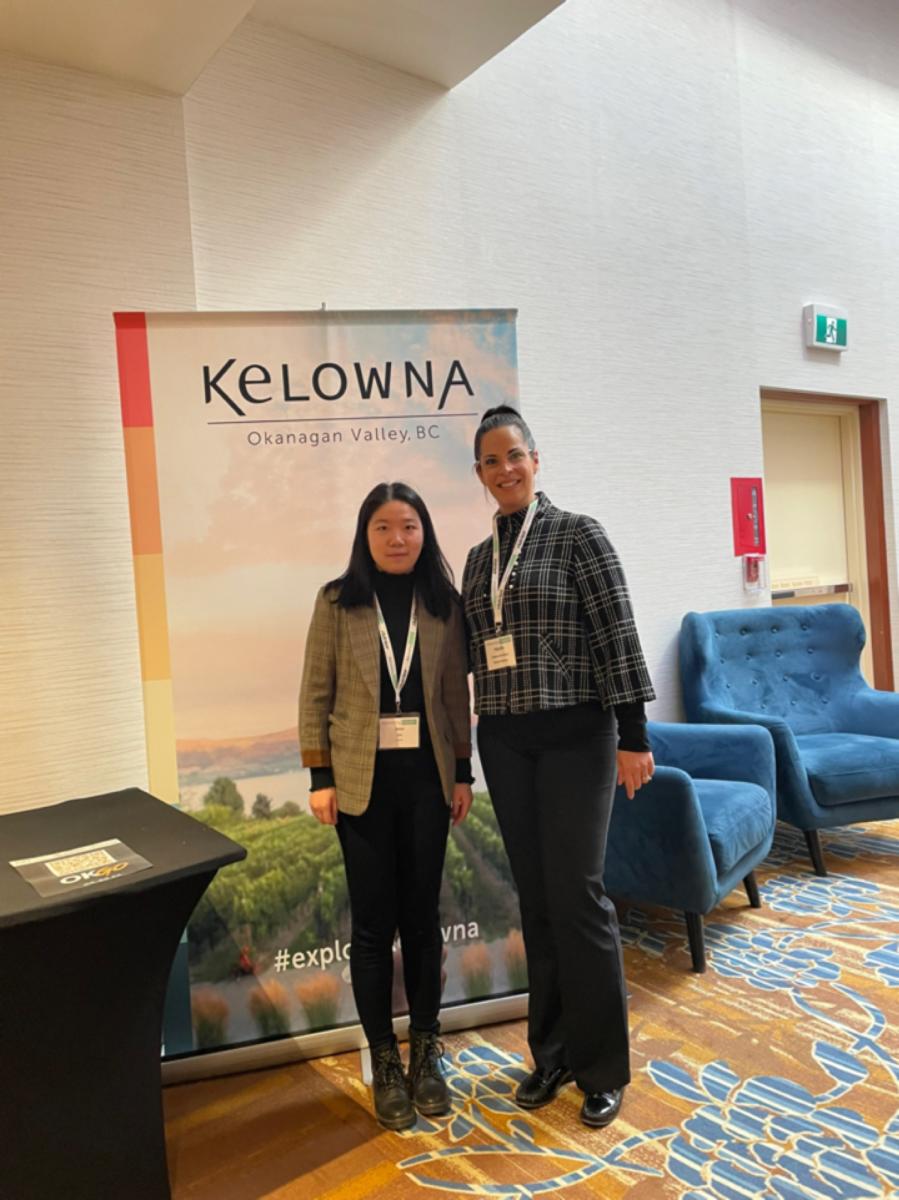 Pictured: Weiyi Yan (left) and Nicolle Gomez de Sousa (right). Photo Credit: Weiyi Yan
Since 2018, our business development team has showcased our region's strengths and success in agriculture as part of our economic sector strategy (ESS), which aligns with Destination Canada Business Events' ESS, to attract meetings and conferences. In late 2019, Tourism Kelowna and the COEDC signed a Memorandum of Understanding to further both organizations' work and jointly leverage the region's key sectors to generate tourism and business investment. This evolved further with the launch of the award-winning OKGo marketing campaign in 2021, a collaborative project created through a partnership between the COEDC, Accelerate Okanagan, and Tourism Kelowna. 
Through participation at AWC West, and similar events, Nicolle has been able to demonstrate the unique value proposition Kelowna can offer to business events in the agriculture industry. As such, Nicolle has a follow-up meeting scheduled with the AWC Conference organizer to discuss Kelowna's bid to host this important event in the future. 
For more information on AWC West 2023 or Tourism Kelowna's business development endeavours in Western Canada and the Pacific Northwest, contact Nicolle Gomez de Sousa at nicolle@tourismkelowna.com.