The Kelowna Chamber issued the following news release on August 30, 2023, in partnership with Tourism Kelowna.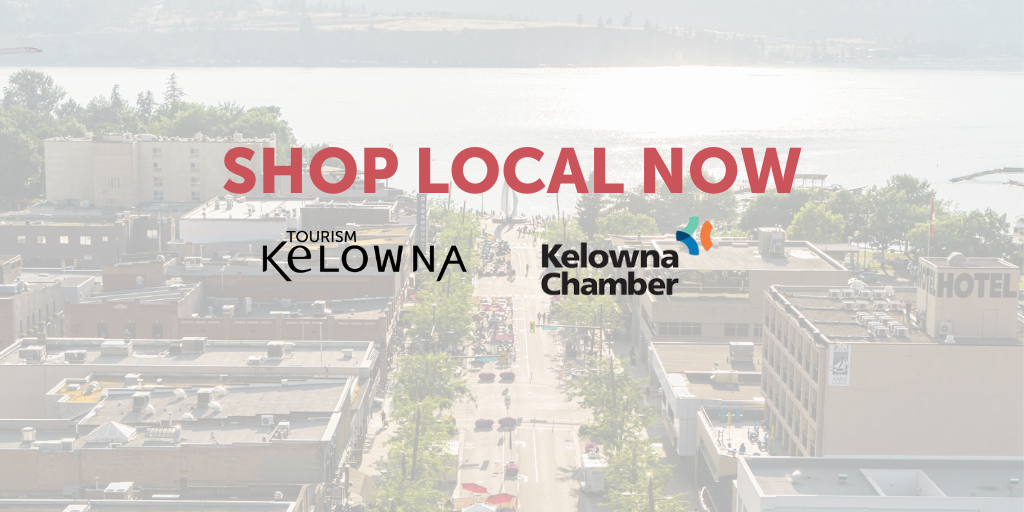 What better way to round out the summer than with a renewed commitment by residents to shop local? After a few days of staying indoors to dodge smoky skies, making a few short shopping trips looks more appetizing than ever.
Two of the valley's largest business-focused organizations, Tourism Kelowna and the Kelowna Chamber of Commerce, are reminding residents and visitors of the bounty of the Okanagan after the August fires are mostly quelled.
"Small businesses are the backbone of not only the Canadian and BC economy," says Dan Rogers, CEO of the Chamber, "but also lie at the heart of the Okanagan and Kelowna life. These are our neighbours, our friends, our members: we are here for them."
A short shopping trip, an outing to a local restaurant, visiting a farmgate market and a local winery—all can lift the spirits of locals while helping local businesses make up for lost out-of-town tourists who changed travel plans during the fires.
Lisanne Ballantyne, CEO of Tourism Kelowna, said, "The recent wildfires had a direct and immediate impact on our communities. In recent days, many local businesses rallied to support our communities, and now is the time for us to support them as much as we can, too."
Tourism Kelowna and the Chamber represent more than 1,400 businesses in the area.
"Eighty-five percent of our more than 1,000 Chamber members are small businesses," said Rogers. "You can imagine the challenges they are facing as they see their late summer bookings drying up, and they look for ways to ensure they can keep paying their staff and keep their doors open into the fall months. We can all lend a hand by visiting and ensuring that our Okanagan dollars stay home where they do the most good."
Ballantyne echoes the sentiment: "While we know recovery will take time for visitation levels to return, we can support our local businesses now. We encourage our locals to get out and explore Kelowna and the Central Okanagan safely and invite friends and family to join. If you can, make an extra trip to your favourite local business or make a list of new businesses you've yet to try. Every bit counts, and together, we can all make a difference."